What's a valaikappu? Bangle Ceremony for Pregnant Woman or Eastern Baby Shower.
Pregnancy is such an exciting time in a new mom's life and what better way to celebrate the beginning of something new than with a party? I was lucky enough to have two baby showers: 1 had your traditional western shower filled with baby games, friends and baby gifts. The other was a celebration of my culture. In many South Asian cultures, the blessing of new life is celebrated with a bangle ceremony or valaikappu honoring the new mama-to-be. South Asian culture is huuuuge on celebrations. Our wedding festivities go on for days, baby's milestones are celebrated in big ways and even becoming a woman requires a PSA (I wasn't too thrilled about this one when I was a kid). But I was over the moon about my bangle ceremony, or valaikappu in Tamil.
What's a Bangle Ceremony (Valaikappu)?
A valaikappu (in tamil) or bangle ceremony is a Hindu ritual performed to celebrate the new mom-to-be, ensure protection from the evil eye and offer a safe pregnancy and delivery by calling on elements of the Earth and dieties to bestow their blessings on the new mama that typically happens in Tamil Nadu and Sri Lankan. Tamils and South Asian's in general, are big on numbers and numerology so of course there are guidelines to your ceremony.
When is Valaikappu Performed?
It has to be performed in the third trimester and it has to be an odd month, so either in your 7th month or 9th month. We opted for the 7th month as I didn't wanna risk cutting it too close and not being able to have one.
What Happens During A Bangle Ceremony?
Bangle Ceremony OOTD
The mama-to-be gets all dressed up in a new silk saree, usually given to her by her own mom and adornes herself with jewels and jasmine flowers. Traditionally, the saree is either yellow or orange as it's supposed to be lucky but I opted out and went with pink. I loved this part of the ceremony because I love playing dress up but I found it a bit difficult to drape a saree with a huge baby bump. You wear it over the bump, and although more comfortable, you look like a granny. You wear it under and it's cute but I'm short so I was tripping over it the whole time.
The smell of jasmine flowers always reminds me of weddings, they look and smell beautiful and not too strong so my mom was sure to bring me some to wear since she knows I love them but can't easily pick them up where I live.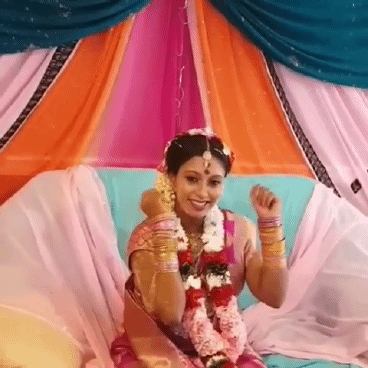 For your bangle ceremony it's also customary to have henna done on your hands and feet but I didn't get around to doing that. For those that don't know, henna or mehndi is beautiful, intricate patterns that are drawn on your hands and feet using a paste made from dried and powdered henna leaves. They usually last for a few weeks and are a big part of South Asian wedding traditions.
I was feeling like a bride again being all dolled up and decked out. One of my sweet sweet sis-in-laws even gifted me the beautiful jewelry set I'm wearing here (@mljewelbox on instagram). I was feeling like a spoiled preggo and loving every minute of it.
Guest List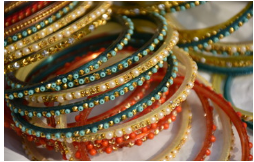 Unlike traditional Western baby showers, during a bangle ceremony, the whole family is invited: men, women and children. I thought this was wonderful, the dad-to-be should be able to share in the fun too. Even for my Western baby shower I had a co-ed party because I really wanted my hubby to feel involved and celebrated as well, after all it is his baby too (even if I'm the one that has to worry about the hard part lol). I had my parents, my sisters, my hubby's family, cousins, nieces, nephews and our friends all in attendance. It was so nice to have everyone together in one room for one last hurrah before our lives changed completely.
Offerings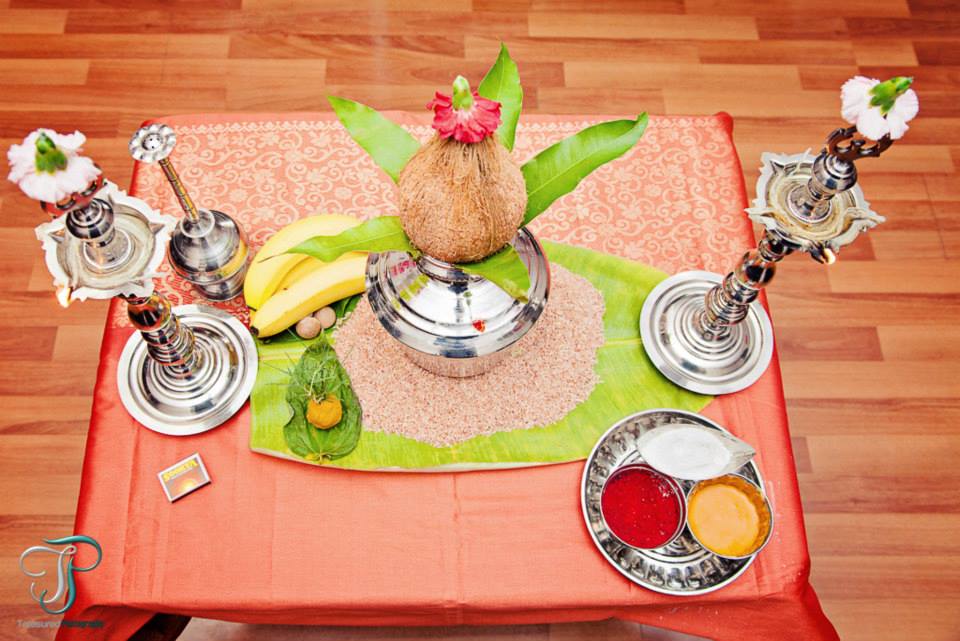 You'll notice that there's a wide array of food and particularly fruits all around me. Food and fruit offerings are a big part of the presentation. Typically, these have to be offered in odd number parings as well, usually 9 or 11. Normally, these include the exotic fruits that are found locally in South Asia like pomegranates, bananas, jack fruit. There are usually incense that are lit as well so it smells amazing and reminds me of walking through a temple.
The Actual Ceremony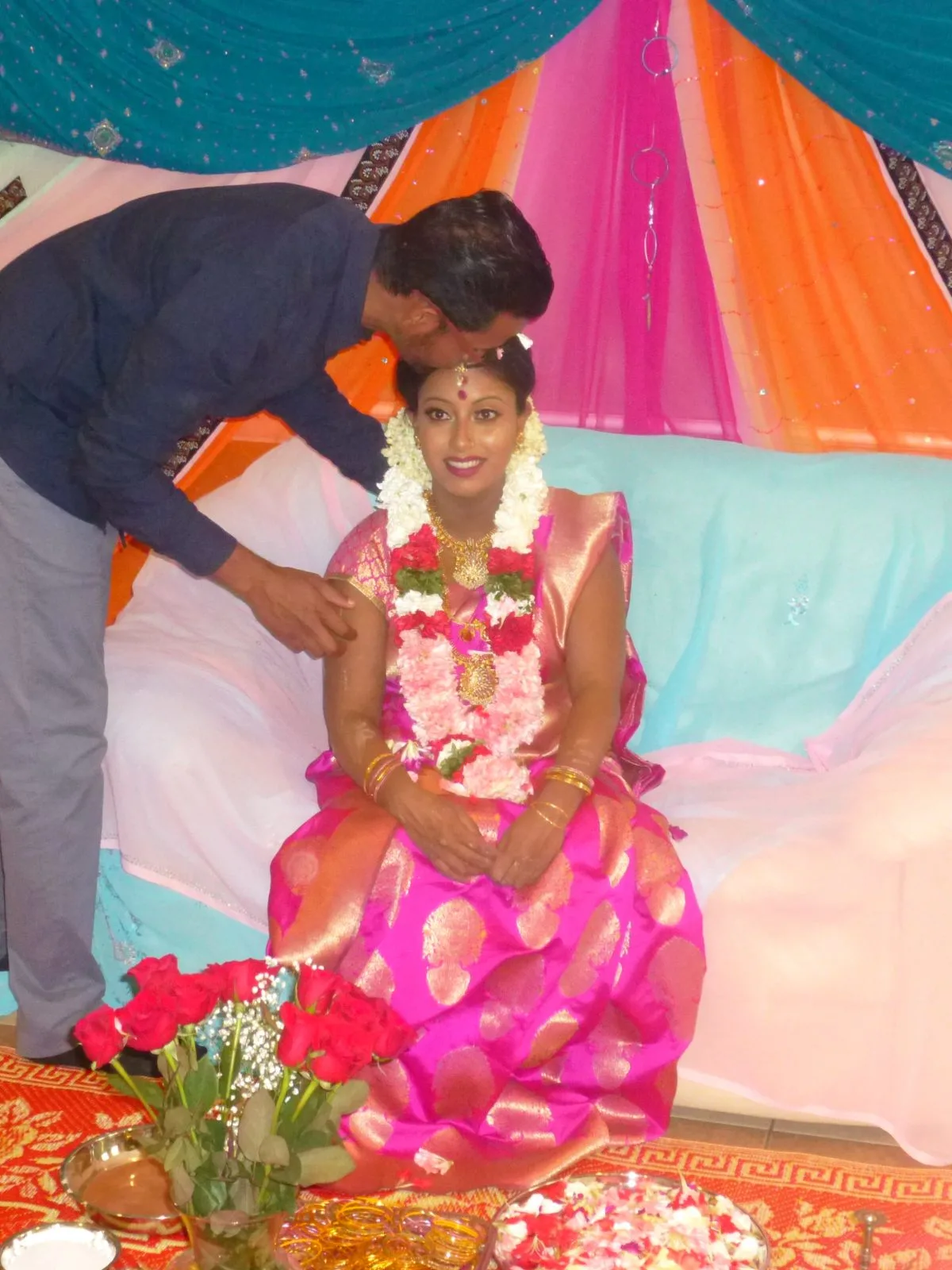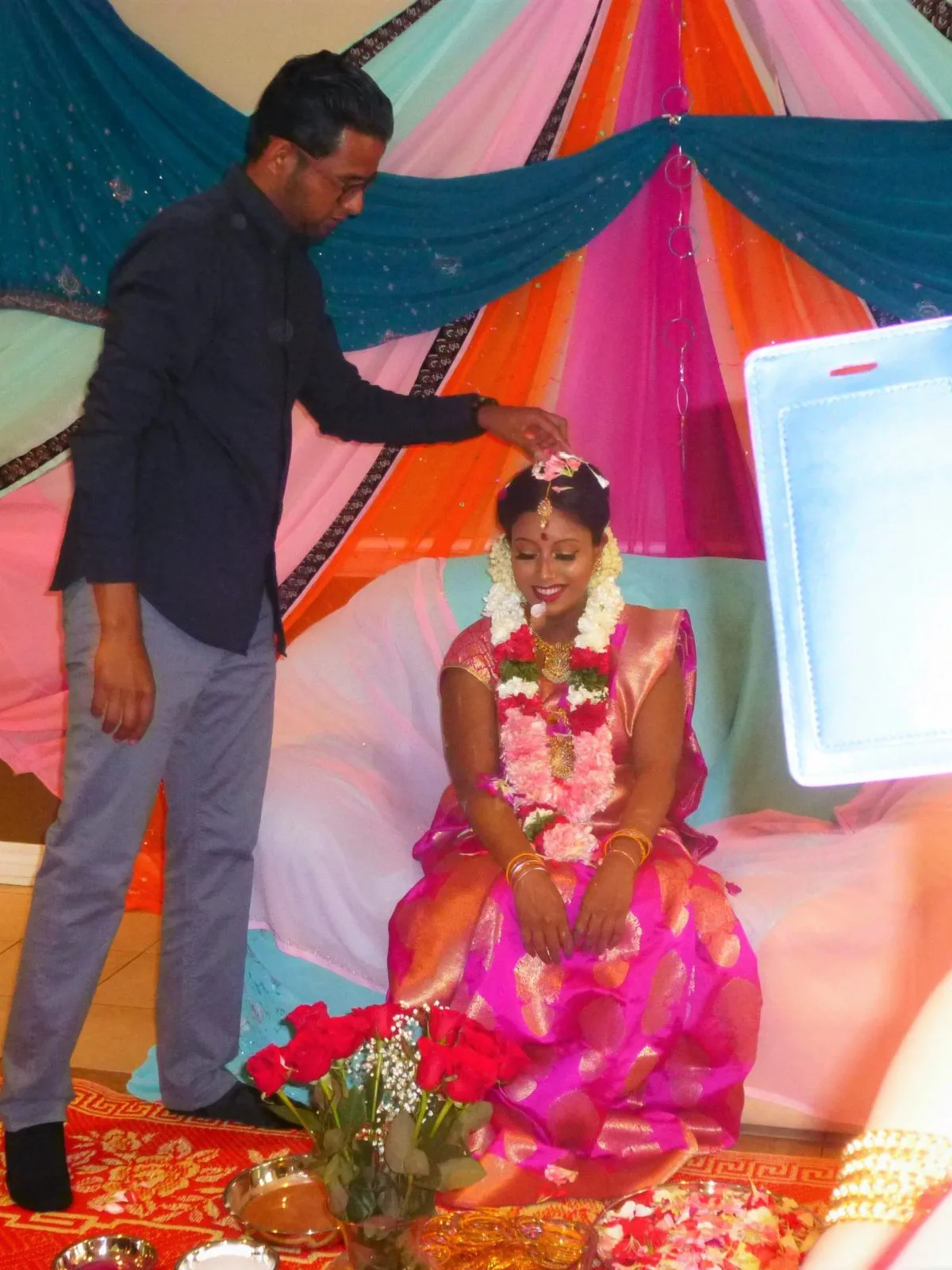 A bangle ceremony starts off by lighting the oil lamps then everyone forms a line and one by one they approach the pregnant woman. There are 3 steps that come next. First, you apply the tumeric and sandlewood paste to the mom's arms and face. Next, you choose some lovely glass bangles and put them on her arms. Then you shower her with some love and flowers and uncooked rice. The first to shower the mama with love and affection is usually the father-to-be, followed by your immediate family. Each guest repeats this process until mama-to-be's arms are covered in bangles.
It was such an amazing feeling to have all my friends and family show up and shower me with their smiles, loves and blessings. I truly felt cherished and I was beaming from ear to ear.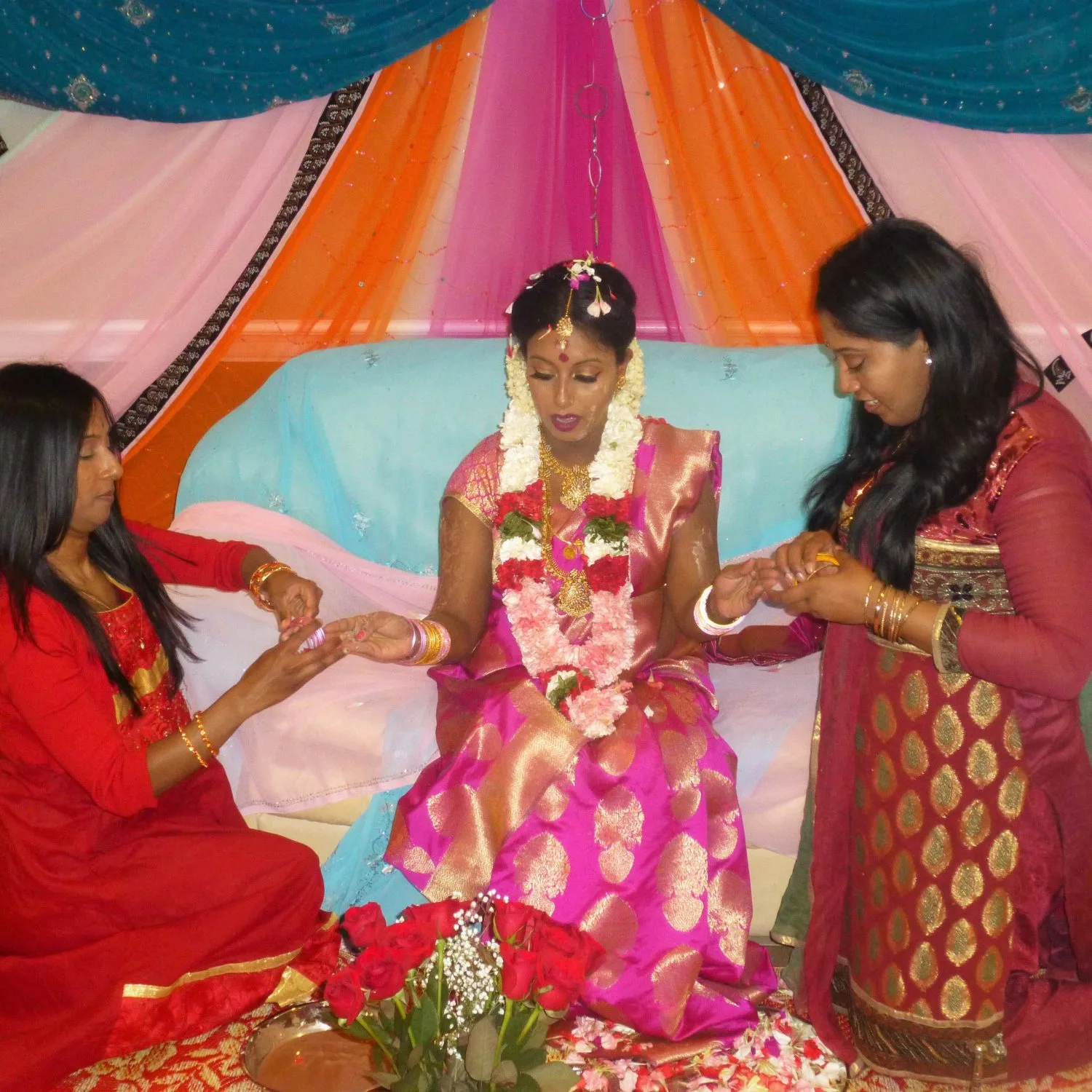 Significance
Once the bangles are on, they're meant to stay on until the mama-to-be is ready to deliver. My tiny little arms were covered up to my elbows so, unfortunately I couldn't keep them all on because I couldn't bend my arms. I did keep a few, the one's I still have on and will always keep with me are the gold bangles that were gifted to me by my late grandmother. It's so special to know I will always carry a part of her with me and that she was right there with me through this milestone.
It's believed that the sound of the glass bangles clanging about and making their music can be heard by baby and awaken his senses. I thought this was so sweet! I talked to my little bug throughout my pregnancy and during my ceremony I was really hoping he would be listening so I shook my arms repeatedly, delighting in the in sound.
Here's my sisters just making it rain flowers.
Then We Feast
No South Asian party is complete until you've stuffed your face so much that you can hardly move. Traditionally, you have a vegetarian feast filled with rice and many of mama's favourite curries and boat loads of sweets for dessert. I had to opt out of sweets for myself because I had gestational diabetes during my pregnancy. I also had to watch my rice intake so I got a little hangry but all in all I enjoyed myself.
Tips For An Epic Bangle Ceremonoy
1. Planning is key– download our checklist so you don't miss a thing
2. Delegate– Preggos should avoid heavy lifting/climbing so get helpers
3. Decor doesn't have to cost a lot– use old sarees as backdrops
4. A picture's worth a 1000 words– delegate or hire someone to take pictures/videos throughout the event
5. Mama-to-Be Self Care– it can quickly become a long day delegate someone to bring you snacks and drinks to keep your energy up
6. Saree Selection– pairing different colored blouses with your saree will give beautiful contrast and pop in pictures.
7. The Art of Wearing a Saree– tying your saree above the bump is far more comfortable to wear but below the bump looks super cute. Comfort or style?
8. Auspicious Time– the auspicious time to have your ceremony is either month 7 or 9. I'd recommend 7 to be on the safe side in case of early labor.
9. Infographic Welcome Cards– If you have attendees who are not familiar with the traditions, it's nice to provide a little print out so they can follow along too. Download our free info-cards at the bottom
10. Follow the leader– have one of the elders who are familiar with the ceremony demonstrate the order in which to bless the mommy-to-be so everyone cn follow along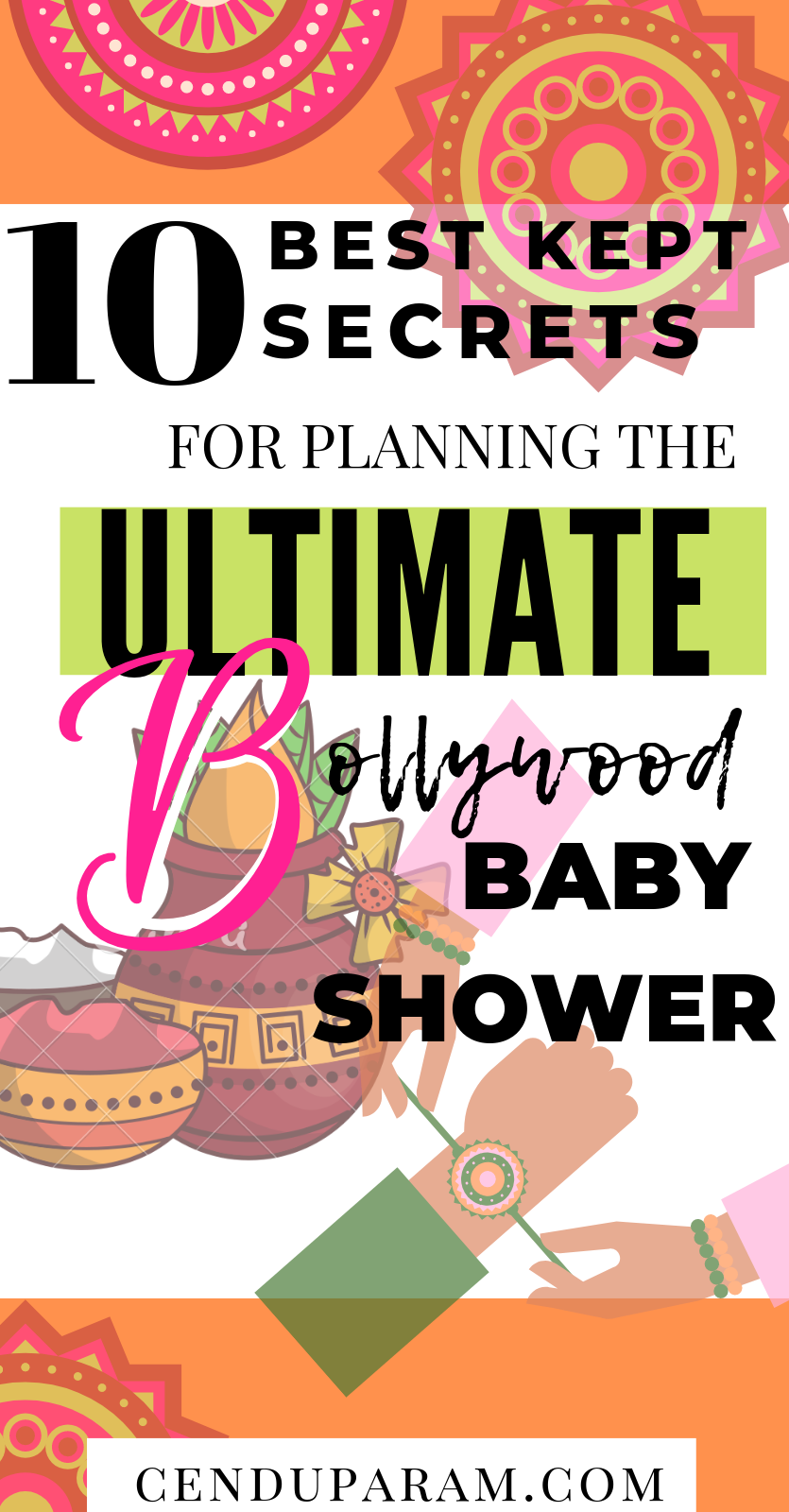 PIN IT
.
Last Thoughts
This was one tradition I was more than happy to continue. I had attended a few as a child and I thought it looked so beautiful. I was patiently waiting for my turn and it was everything I imaged and more. Seeing my mom so happy was a highlight of the day. I don't know too much about the details so I was very lucky that my mom was able to take care of all the small things like what should be presented in the offerings, when it should take place and what I should wear and what the steps were. My mom even bought me my saree for the event. It was such a perfect day celebrating my little miracle. I had such a sense of peace and calmness about the upcoming birth after this event. It was as if all the women gave me their strength and I felt that I could handle it. I can't wait to show my little man how many people were so excited for his arrival. Have you got nontraditonal pregnancy/baby rituals? What are they? I'd love to her about it. What did you think about the bangle ceremony? Leave me a comment.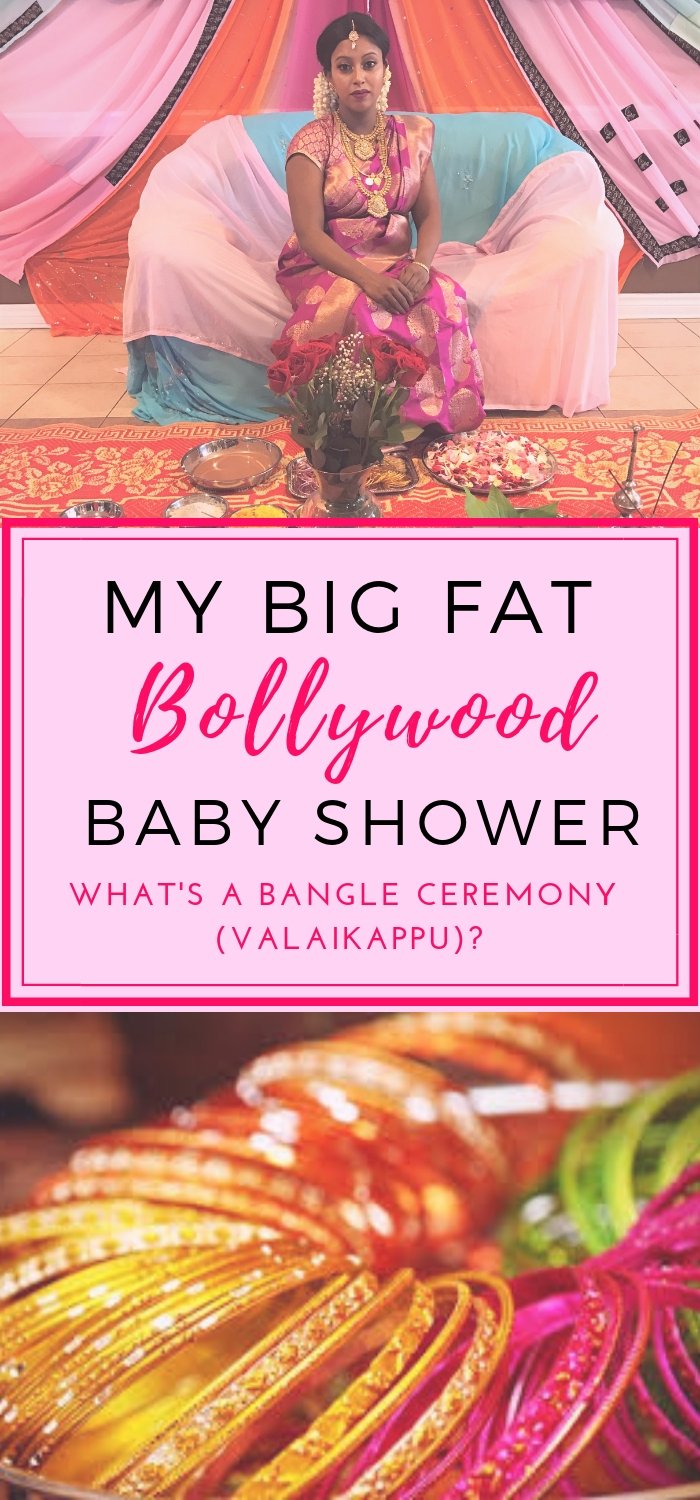 CHECKLISTS AND INFO CARD
Now that you made it all the way to the end, don't forget to download your checklist so you don't forget a thing.
I've also included a free info card you can print at your local printers (I use Staples for my printing needs) for guests who may not know about the ceremony.