Easter Printable Activities pdf
Looking for some fun things to do with the kids this Easter? Try these fun and FREE Easter printable activities made just for kids.
Printable Easter worksheets are a great way to celebrate and learn at the same time.

There's a bunch of different ones to choose from with varying difficulty levels. You'll find everything from cute, simple, and easy preschool Easter worksheets that are perfect for toddlers too. These are the coloring pages, simple scavenger hunt lists, and easy I SPY printables.

For older children, there are a bunch of more challenging elementary Easter printable worksheets like word scrambles, scavenger hunt clues, word searches, and more.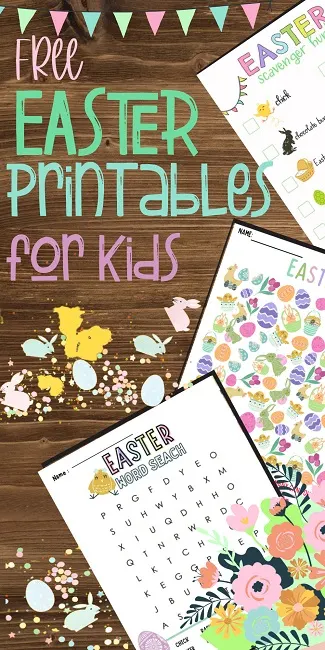 FREE PRINTABLE EASTER ACTIVITIES FOR KINDERGARTEN, PRESCHOOL AND ELEMENTARY

Here's a collection of free Easter activities and printable worksheets for kids of all ages. If you see one you love just click the read more button to explore all the related printables and activities on that page.

Your kiddo will love these cute games, puzzles, and activities for Easter. You can even print out all the freebies and make a little Easter activity booklet to add to their Easter baskets.

You'll find tons of Easter printable activities pdf downloads and they don't even need a signup!
If you do love what you see and want to see more or favorite a post check out that little heart in the corner. It'll help you do just that!



EASTER PRINTABLE ACTIVITIES FOR KINDERGARTEN
If you're looking for Easter activities for little kiddos in kindergarten or preschool (or even Easter activities for toddlers), here are the ones from above that work best:
Easter Coloring Pages For Toddlers
There's a mix of coloring pages for all ages but some are really simple ones that are perfect for little ones. They may even enjoy creating their own Easter egg design on the egg templates.
Easter Scavenger Hunt For Toddlers and Preschoolers
This one has two difficulty levels. There's one made just for little kids in kindergarten, preschool or toddlers. This easy Easter scavenger hunt uses a list with both pictures and words making it easy to use for little ones.
Easter I Spy Activity Page For Kindergarten and Preschool
There's 3 different versions of this printable Easter activity. The easiest one is perfect for younger kiddos in preschool or kindergarten because they have larger images that are more spaced out and easy to count.

The totals of each item are less than 10 so it should be fairly easy for preschoolers and kindergarteners to use.
Easter Books For Preschool
The Easter reading list includes age appropriate books for all levels so you'll find a nice mix of fun Easter books for toddlers, preschoolers or kindergartners featuring the Easter bunny, Easter eggs and more.
If you're looking for more Easter resources for kids try checking out the Education Learning Library. I use those all the time when I don't have enough time to create my own for my class.
MORE HOLIDAY PRINTABLES POSTS
Free Christmas Printable Activity Pages
Free Thanksgiving Worksheets For Kids Free Printables
Halloween Activity Pages Printable PDFs for Kids
St. Patrick's Day Coloring Pages For Kids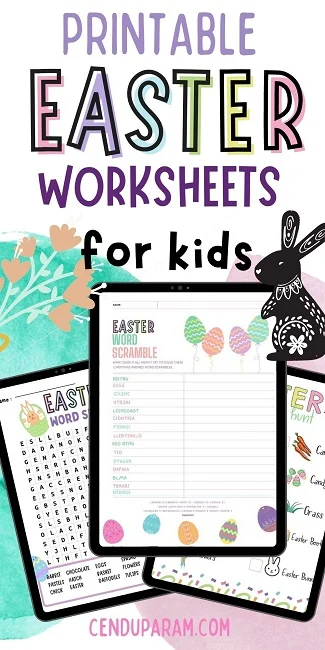 WRAPPING UP FREE EASTER WORKSHEETS PRINTABLE ACTIVITIES



Wishing you all a happy Easter in these strange and uncertain times. I hope your children find a little joy in these fun games and puzzles. Easter at home doesn't mean it can't be great. It just requires a little more planning.

I hope you found some useful resources for your Easter printable activities. If you're still looking for something, let me know in the comments below. I'm always looking for inspiration to add more freebies!

Hoppy Easter, friends!
Be sure to checkout all the free resources and let me know what you think 🙂