Mother's Day Coupon Book From Child

Looking for a cute DIY gift to make for mom this Mother's Day? Try this easy peasy Mother's Day coupon book from your child. Use the already done-for-you Mother's day coupon templates to get the job done quickly and easily.

Mom will love this special personalized gift! It's great on its own or added as a bonus. You can even customize the coupons because there's a blank template as well.

The ready-made coupons include fun stuff like breakfast in bed and a pass to sleep in until noon as well as some papering like a spa day at home.

She'll LOVE that!

She'll appreciate this heartfelt gift and she can even frame the coupons when she's done. It makes such a cute keepsake!

It's an easy-to-make gift you can do right at home, and as a mom, I can say I love this way more than anything you can buy in a store. Most moms probably tell you they have everything they need so this is the perfect gift for that mom who has everything!


Disclaimer: As an Amazon Associate I earn from qualifying purchases but this comes at no additional cost to you.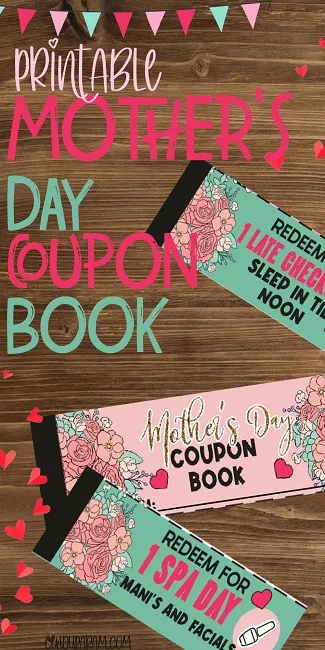 HOW TO MAKE A MOTHER'S DAY COUPON BOOK

MATERIALS AND SUPPLIES YOU'LL NEED

This mother's day coupon book is super easy to put together.

It can be as simple or complex as you make it.

There are two options available to print. One is a pre-done book that simply requires you to print and assemble it. The other one lets kids color and create their own masterpiece. So If you pick option two you may need a few more items like markers or pencil crayons to color.

For the best results, I like to print the coupons on thick cardstock paper but feel free to use whatever you have on hand. You can always print them on regular paper and glue them onto another material to reinforce them (like colorful construction paper).

Here's exactly what you'll need:
• Coupon Book Templates
• Cardstock Paper (or regular printing paper 8.5 x 11)
• Color Printer
• Scissors
• Ribbon or Stapler/Staples or Binder Ring
• Markers, Pencil Crayons, Glitter etc
WHAT DO YOU PUT IN A MOTHER'S DAY COUPON BOOK?
WHAT DO YOU PUT IN A MOM'S COUPON BOOK?


You can put anything you think you're mom would enjoy. These could be help with chores around the house, some ideas to pamper mom, or just giving her some time off. Here's a list of fun coupon ideas you could use:

• Sleep In Until Noon

• Breakfast in Bed

• At-Home Manicure and Pedicure

• At-Home Facial

• Do The Laundry (Wash and Fold)

• Car Wash

• An Hour of uninterrupted 'Mom-Me Time'

• Movie Night Mom's Pick

• A Meal Mom Doesn't Have To Cook (or Clean Up)

• Do The Vacuuming

• Uninterrupted Bubble Bath

• Foot Massage

• Cleaning Duty of Mom's Choice

• A Family Photoshoot

• Family Game Night Mom's Choice

• 1 Clean Room (No Whining)

• 1 Piping Hot Beverage With No Interruptions

• Unlimted Hugs & Kisses

• Date Night For Mom and Dad

• A portrait of mom drawn by Me

• Ice Cream Date

• A Day of No Whining or Complaining

• Screen Free Day With Mom's Choice Activity

• Lunches Packed By Dad

• A Family Walk

• Mom's Fav Take Out
HOW DO YOU MAKE A COUPON BOOK FOR YOUR MOM?

Since you're already here, this will be pretty easy to make! The templates are already made so it's a simple assembly job and you're done!

1. First choose which style of coupon book you want (the one you can color in or the ready-made one).

2. Print your desired coupon book template.

3. Cut along the dashed lines so you create 4 coupons per page.

4. Place your coupons in any order you choose, just make sure to put the cover at the front.

5. Use the blank template to add any additional coupons you want.

6. Now, you have two options: (1) stack your coupons together and staple along the left side twice or (2) add 2 hole punches about half an inch apart on the left side (where the black bar is). Now loop a ribbon through the holes and tie a bow. Alternatively, you can also put just one hole punch and use a cute binder ring along with some ribbon for a more put-together look.

7. Voila! You're done!
MOTHER'S DAY COUPON BOOK TEMPLATE

First, check out the pre-made Mother's Day Coupon Book template. This one is all ready to print, no coloring needed. Just print and assemble this pretty template into the perfect little mother's day DIY gift.

Mom will absolutely love these special coupons created by little hands. It's such a fun and thoughtful gift that she can even frame and keep. This is why I love printing them on stock paper. It just makes for a prettier presentation and keepsake.

Don't you love the gold detail on the cover?!

This first set includes a cover and 7 free coupons plus a blank template for your child to create their own custom coupons for mom.

Just use the download buttons under the images to open and print each item you want.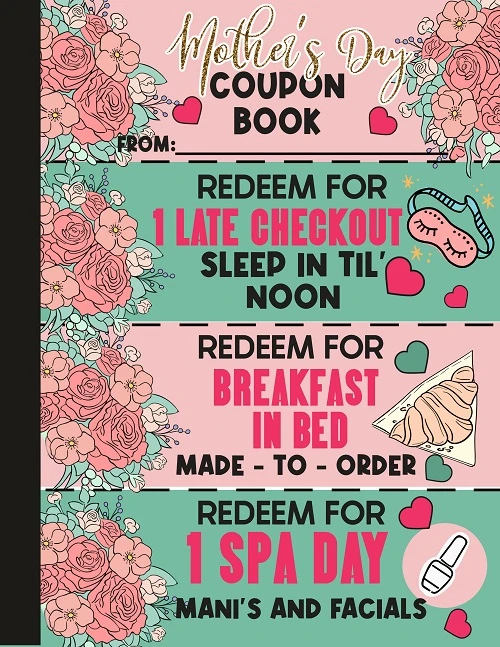 Now, for the other 4 fun printable coupons!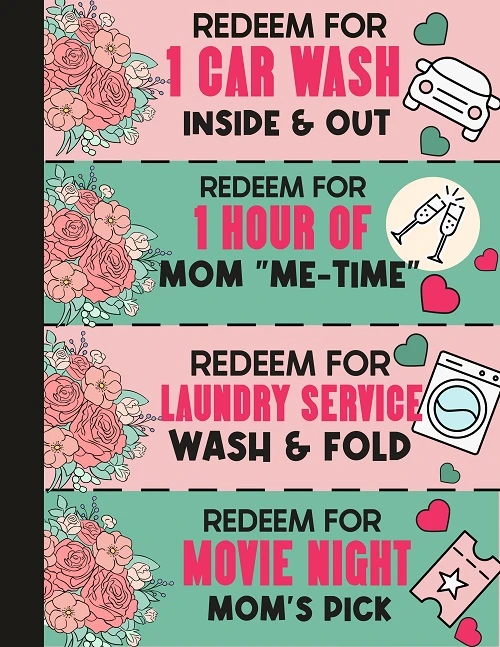 MOTHER'S DAY COUPON BOOK BLANK TEMPLATE


As I mentioned, there's also a blank template for the Mother's Day coupons in case you want to create personalized coupons for mom that we haven't thought of here.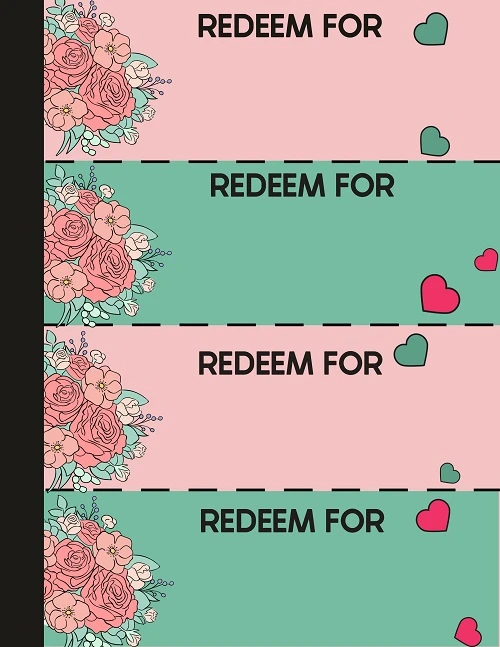 MOTHER'S DAY COUPON BOOK TO COLOR

If you want to turn your personalized Mother's Day coupons into a Mother's Day craft for kids, try this version instead. Your child can print and color each coupon however they like it to create a more special personalized and homemade gift for mom.

This way they can use mom's favorite colors and even create unique coupons that they know mom will want. There's absolutely nothing better than a gift made for mom by special little hands.

It doesn't hurt that this activity keeps the kids occupied a bit longer too! You can even use beautiful glitter gel pens or metallic pens for something extra special.


Here's the second page of black and white mother's day coupons to color.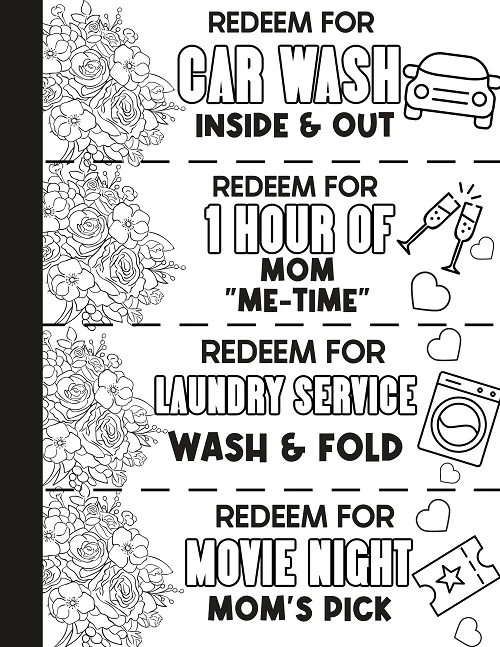 PRINTABLE BLANK MOTHER'S DAY COUPONS


Last but not least, we have our blank Mothers' day voucher templates for your little one to personalize for mom.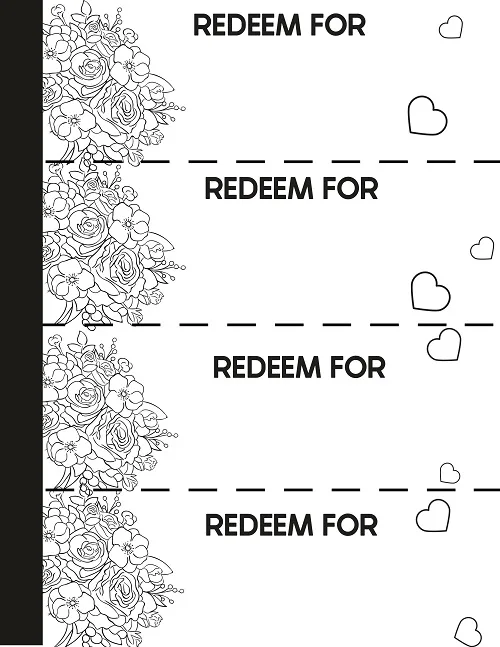 MORE MOTHER'S DAY POSTS
What Mom's Really Want For Mother's Day
Ultimate Mother's Day Gift Guide For The Busy Mom
Cute Mother's Day Coloring Pages FREE Printables
Mother's Day Coloring Pages For Grandma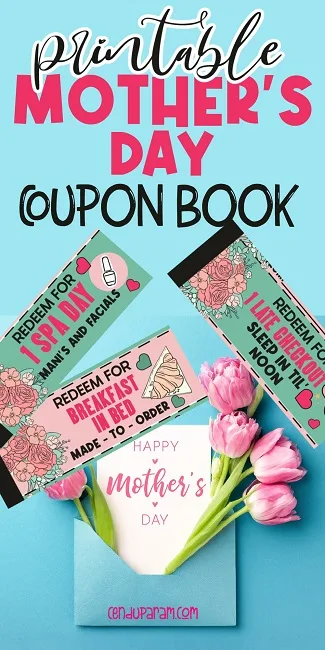 WRAPPING UP MOTHER'S DAY COUPON BOOK IDEAS

I hope you and you littles enjoy making your own homemade Mother's Day coupon books! I can pretty much guarantee that the special mom in your life is going to LOVE it!

If you're looking for more ideas to make Mother's Day special for mom, make sure to check out some of the posts listed above.

As always, if you have questions, comments or suggestions please leave them in the comment box below!

Happy Mother's Day!