MOTHER'S DAY FOR GRANDMA COLORING PAGES FREE

Looking for a simple and easy Mother's Day craft that the kids can make for their grandmother? Why not try one of these cute and FREE printable Mother's Day coloring pages for grandma? It's an easy activity for any age and makes a sweet little keepsake that grandma can proudly hang up around the house. Plus it keeps them busy for quite some time while working on their fine motor skills and exploring their creative side. Win-Win!

This is the perfect easy peasy Mother's Day printables for grandma that's super sweet and inexpensive. They can be made into cards for grandma or pop your little one's masterpiece into a frame for a special homemade gift.

If you're going that route, I think the Mother's day coloring pages with grandma-related quotes would be perfect gifts for grandma or nana!

It's the perfect way to say, I love you, grandma!

Let's check out some cute Mother's Day coloring sheets for grandma (or nana).
Disclaimer: As an Amazon Associate I earn from qualifying purchases but this comes at no additional cost to you.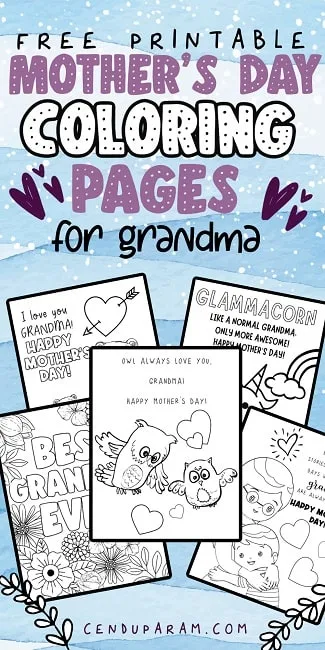 HOW TO PRINT FREE MOTHER'S DAY COLORING PAGES FOR GRANDMOTHERS



These free printable Mother's Day coloring pages for granny are so simple to print. They don't even require a sign-up but if you love what you see and do want to keep in touch so you can come back for more free printables you can use that little heart in the corner to subscribe!

Simply click on the download pdf button located under each picture to print that particular picture. It should open in a new window that allows you to print.

Just click the printer icon in the top right-hand side corner and you're done!
You can just print them on regular paper but if you want it to look more like a Mother's Day card to color for grandma, I would suggest using something a little thicker like cardstock paper instead.

For an extra special touch, frame your little one's artwork once they're finished and have them help wrap it for nana.
All the coloring pages are standard 8.5 x 11 so you could use that size frame or go a little larger like 11 x 14 (I prefer this one, it looks more like your little one made something that belongs in an art gallery).




HAPPY MOTHER'S DAY GRANDMA COLORING PAGES

Wish grandma a happy Mother's day with one of these cute printable coloring pages. There's quite a few with some cute quotes about grandma that would make a great DIY Mother's day card for nana or even a lovely handmade gift if you decide to frame it for grandma.

Let your little one be an active participant in the gift by letting them choose their favorite coloring page. Or they can print them all out and make a cute Mother's day coloring book for grandma instead.

They can even add their own personalized messages to make it extra special.

There are two versions of the first grandma hugs image featuring grandma and her granddaughter as well as grandma and grandson.

Or you can go with the no-fail, best grandma ever coloring page or even a nice bouquet of flowers. They're even better than the real thing because grandma can keep these flowers forever!


GRANDMA HUGS WITH GRANDSON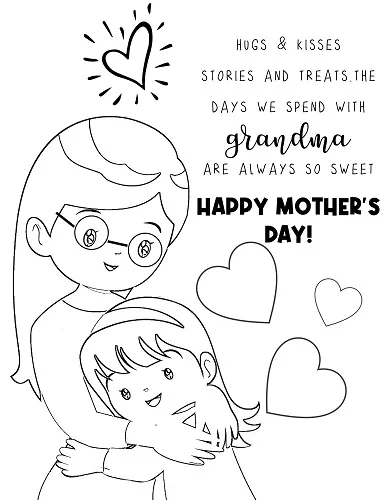 GRANDMA HUGS WITH GRANDDAUGHTER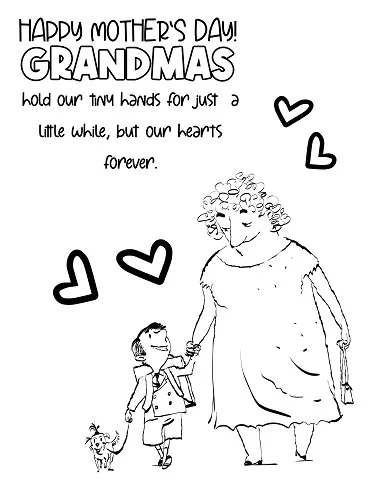 GRANDMA QUOTE MOTHER'S DAY COLORING SHEET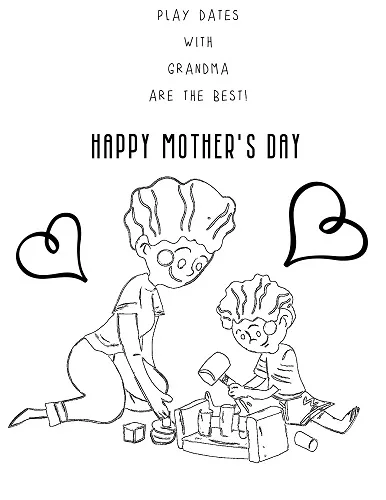 PLAY WITH GRANDMOTHER MOTHERS DAY COLORING PAGES FOR GRANDMA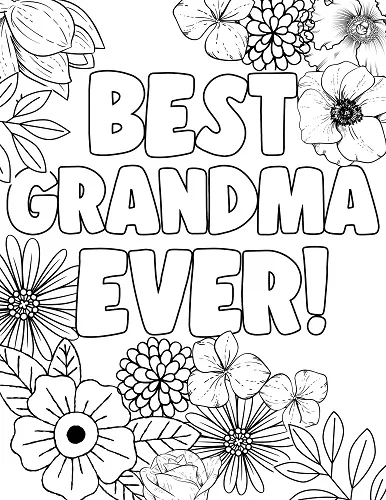 BEST GRANDMA EVER COLORING PAGE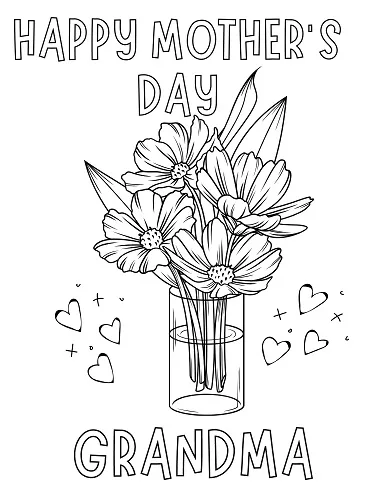 MOTHER'S DAY FLOWERS FOR GRANDMA COLORING PAGE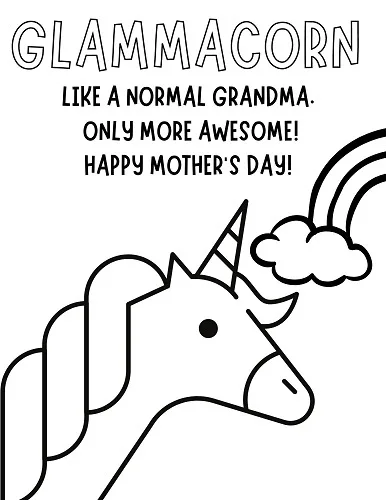 GLAMMACORN GRANDMA UNICORN COLORING PAGE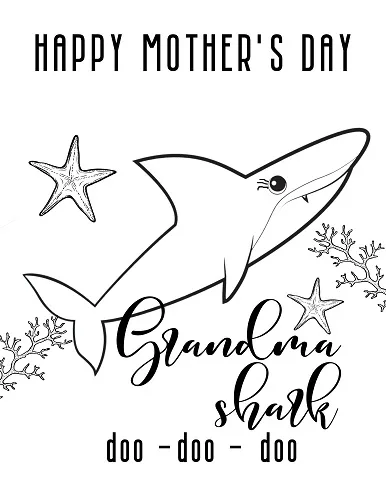 GRANDMA SHARK MOTHER'S DAY COLORING PAGE
I LOVE YOU GRANDMA COLORING PAGES

Here are some super cute Mother's Day coloring pages to say I love you, grandma! They feature cute animal families like bears, owls nad bunnies, and sweet quotes and messages of love for your grams or nana.

Use them as coloring cards for grandma or make a special handmade gift made with love by little hands.

It's the best gift that any grandmother would love!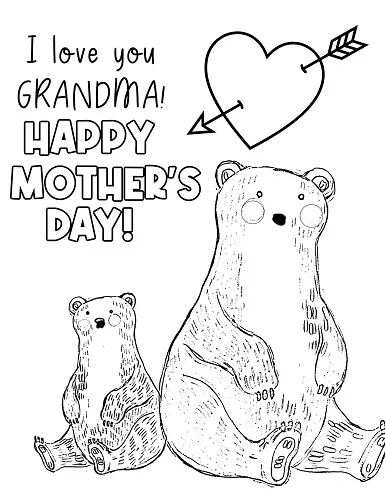 I LOVE GRANDMA COLORING PAGE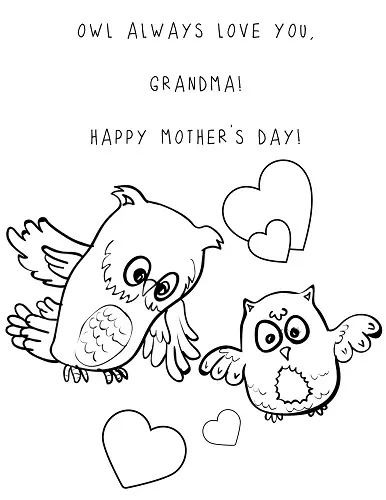 I LOVE YOU GRANDMA OWLS COLORING PAGE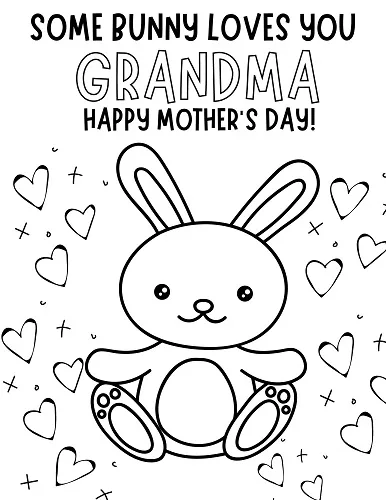 SOME BUNNY GRANDMA MOTHER'S DAY COLORING PAGE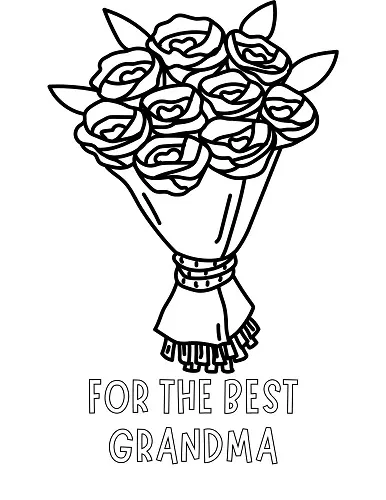 MOTHER'S DAY BOUQUET FOR GRANDMA COLORING PAGE
MORE MOTHERS DAY POSTS

Mother's Day Coloring Pages PDF Free Printables
Mothers Day Coupons Free Printable
Sweet and Thoughtful Things To Do For Mom on Mother's Day
Mother's Day Gift Guide For The Mom Who Has Everything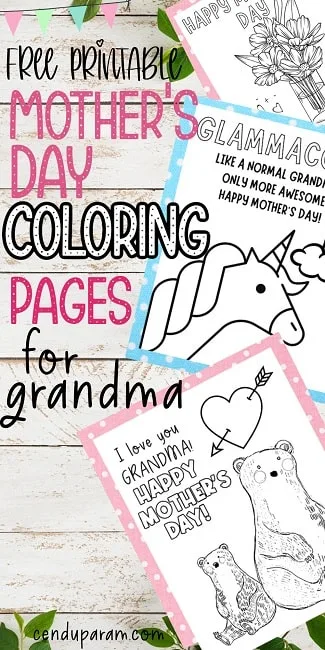 WRAPPING UP MOTHER'S DAY GRANNY COLORING PAGES

Grandma, nana, gran, granny or any other sweet name you call her, there's nobody quite like your grandmother. Make her Mothers Day extra special with a cute, sweet, and thoughtful gift made my little hands.

I hope you and your little ones enjoy creating some special masterpieces for your grandma. I'm sure she's going to love it!

I hope you enjoyed these fun and FREE Mother's Day coloring pages for grandma and I sure hope she loves them too.

If you have any comments or suggestions please leave them below!
Happy Mother's Day!