Oh my goodness! The year just seems to be flying by and it's almost time to celebrate my third Mother's Day as a mama.

How are you planning to spoil your special lady? I know finding just the right gift can be tough (especially if she's picky or already has EVERYTHING).

That's why I've rounded up the BEST gifts for moms under $200 (almost all are under $100) for your shopping pleasure. Yay! There's a little something for everybody or at the very least it'll give you some ideas that you can customize for your mom.

Even if you're a last-minute shopper, I'm sure you'll see something you can order right from Amazon (and OPT for the Prime trial if you're REALLY last minute for the fastest delivery options).

Disclaimer: As an Amazon Associate I earn from qualifying purchases but this comes at no additional cost to you.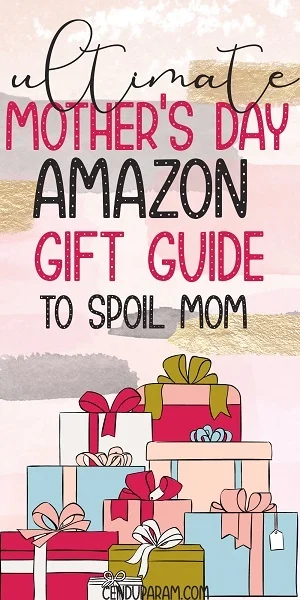 SELF CARE GIFT IDEAS FOR MOM UNDER $50


Moms are always busy running around and taking care of everybody else so they usually forget to take care of themselves or just can't seem to find the time to do that.

Make mom's life a little easier and get her something to treat her to some self-love right at home. Moms can definitely use some TLC so gifts that let her relax and pamper herself are fantastic.

Let mom know you appreciate all her sacrifices by giving her a gift that allows her to focus on herself for a change.

Bonus points if you're gonna take care of the kids so she gets to use them without interruptions.


Most moms are often crazy busy and may not always have time for a full face of makeup. So, focus a few minutes a day on maintaining great skin instead.

This 4-in-1 Electric Facial Cleansing Kit is the perfect Mother's Day gift. It's easy to use and has bonus attachments like an exfoliating facial brush for a deep cleanse and gentler attachments for daily use.

Adding this simple step to your night routine can help create more luminous skin and have mom feeling happier in no time.


FACIAL STEAMER HOME SAUNA KIT For Moisturizing and Cleansing Pores



Give mom the spa experience every day with an at-home facial steamer. The best part, one session with this bad boy only takes 10 minutes so it's easy enough to fit into a busy mom's schedule.

This is a game-changer for better skin because it adds much-needed moisture and is able to penetrate the skin with 10x more effectiveness leaving dry skin a distant memory and reducing blackheads by providing a deep clean.

Such a great idea for a present!



JADE ROLLER AND SHA SCRAPING MASSAGER SET


Is it just me or are everyone and their moms talking about jade rollers right now?

It's supposed to give you a nice facial massage while reducing fine lines, minimizing pores, and tightening the skin.

Well okay then, sign me up!

It's gotta be real rose quartz stone to have all these great benefits, like the one pictured here which is why I included it in this gift guide.

Now here's the personal beauty product that's on my personal wish list! It's the PMD Personal Microderm which will allow mom to have microdermabrasion sessions right at home!
Say hello to more vibrant, radiant, and smoother skin that feels soft and supple. Yup, I need this in my life ASAP!
The hand-held tool uses vacuum action to gently pull the skin towards the disc for optimum exfoliation. Once it removes the dead skin cells and reveals a clear, healthy complexion, your skin is able to absorb products much more effectively.
I love to see what real people are saying, so check out this review from amazon including pics after just 3 sessions with this bad boy!
This is a little pricer but such a sweet option to spoil mom with something she would likely never get herself but love to receive (hint hint hubby if you're reading this).
This inexpensive deep exfoliation mitt is ah-mazing! You might have seen similar ones on tik-tok but this one is way less pricey and does the exact same thing.
Mom just needs to use it once a week when she showers for softer, smoother skin.
You can physically see the dead skin just cascading off your body when you use this mitt. I've never had that with typical loofahs or exfoliating brushes.
This thing is slowly but surely getting rid of my KP (Keratosis pilaris) or chicken skin.
This product is super effective and doesn't require much extra time or energy so mom will love it!


If mom HATES shaving, give her the gift of smooth legs without the effort with this IPL Permanent Hair Removal device!
Imagine never having to shave again!
I always wanted to try laser hair removal but it's so darn expensive! Plus, you have to find time in your busy schedule to go to these appointments week after week until there's no more hair.
Now, imagine doing it for a fraction of the cost and in the convenience of your own home!
This one is rated 4.8 Stars by over 4000 users and boasts a 94% hair reduction rate!

If your mom is anything like me, she probably isn't drinking enough water.
A great mother's day present to get mom drinking her fluids is this pretty rose gold fruit infuser water bottle.

I would love one (hint hint hubby if you're reading this).

I know, just water on its own can get boring, so it's awesome that you can use the infuser to add different flavors and keep things interesting.

I'd call this a creative and thoughtful gift.


BUBBLE BATH OR BATH BOMB GIFT SET



It's probably been forever since mom had a shower that lasted more than 5 minutes.

If you know a new mama with a newborn, she probably hasn't had time to bathe in days.

Why not treat mom to a luxurious soak in the tub with some delicious looking and yummy smelling organic bath bombs like the ones above.

I love the packaging of these ones.

They come as a set of 24 but you can break them up into packages of 6 in case you have a few special ladies deserving some self-care.

Just add a lovely handmade Mother's Day card and you're done!
Mom is always on the go. She has a million errands to run.
So make it comfortable but stylish. Get mom a pair of cute sneakers or runners to help keep those feet supported while she's out taking on the world.
And when she's just at home kicking back, she might just love these mama bear slippers that are super cozy.
The slippers make a great add-on gift!
If you don't want to put a bunch of things together yourself, an easy solution is a done-for-you Mother's Day gift set like the one above.
It looks super pretty and is less expensive than buying each item individually!
This 8 piece set includes:
wine tumbler
scented candle
Bracelets for mom
makeup mirror,
cute cupcake socks
greeting card
cleaning cloth
a jewelry box
Don't forget to add a bottle of mom's favorite wine to go with that tumbler!

Mother's Day Chocolates Gift Basket
If you want to get mom a gift as sweet as she is, you can't go wrong with a decadent basket of chocolates!
If mom has a sweet tooth, she won't be able to resist this delicious gift. It's thoughtful, sweet, and made to share.
If this one is a little too much, you can't go wrong with a sweet and simple box of Ferrero Rocher.
Personally, I love a gift I can eat.
This is why my hubby almost never gets flowers. I prefer the food.

PERSONALIZED GIFT IDEAS FOR MOM THIS MOTHER'S DAY


Every mom will love custom or personalized Mother's Day gifts made just for her. I think the best Mother's Day presents are those that add a personal touch and a little creativity.

Whether you decide to make something my hand or just ordered by hand (online) the gesture is still just as sweet.



This personalized cutting board is such a cute keepsake that mom will love and treasure for years to come.

You can add your names as well.

It can be used as a wall hanging or you can actually use it as a serving platter but I'm guessing mom is gonna want to hold on to this one.

Moms love to wear their titles proudly so why not gift her this adorable mama sweatshirt! It comes in a bunch of different color options as well.
It's super soft and cozy and made of a nice cotton blend.
Mama T-shirts are nice too (especially in the warmer months) but I just love the feel of a cozy sweatshirt.
If you want a more personalized version, I am absolutely in LOVE with this mama sweatshirt from Etsy!
It lets you add an established date!

What could be a more perfect gift than a giant custom canvas print of the whole family together?

If you're feeling extra sweet, set up a fun holiday photography session for family portraits first, get mom all dolled up, and get some great photos to blow up.

This would be my ideal gift! We don't have enough pictures together. Check through yours, I bet there's not many with mom in the pictures too.


I LOVE this beautiful vintage-style jewelry box. It's perfect for all of mom's special pieces.

The best part about this pretty gift?

Most definitely the custom message engraved on top!

How sweet is that?

If you're feeling extra generous, maybe add a Name Letter Necklace with all the kid's first name letters or a charm bracelet that you can add a special charm to each year.


PERSONALIZED INSULATED MUG OR TUMBLER



Being a mom means drinking lukewarm coffee most, if not all, of the time.

Here's a thoughtful and practical gift that will do the job of keeping mom's drinking piping hot or chilled to perfection.

She can finally sit back and enjoy a much-needed coffee that's actually still hot and she's gonna love you for it!


TIME-SAVING PRESENTS FOR BUSY MOMS (UNDER $100)


I don't know anybody who does as much in a day as a mom. It's seriously the hardest job there is but oh so rewarding.

Let mom know you appreciate everything she does to keep everyone on schedule by freeing up some time for her.

Here are some awesome gifts for busy moms to save some time and find a moment of sanity.



If you can't hire mom a personal chef for the holidays, get the next best thing: an Instant Pot (this one is 20% off right now!!!).

This bad boy can whip up delicious meals in no time and without a ton of effort, giving mom a little more time for other things, making it the perfect gift for mom.

COSORI Air Fryer Oven + Recipe Book
Another fantastic option is this #1 Amazon Best Seller Cosori Air Fryer oven (also on sale right now!)
It's perfect for quick stress-free cooking at the push of a button! Plus, I love that this one includes a free recipe book too!
You get that delicious fried taste you love but without the actual deep frying so it's a much healthier option. I don't even use oil for most things I make in here.
It's super versatile and mom will end up using it on a daily basis because it's so easy and cuts cooking time in half.
Plus, the non-stick surface makes cleaning up easy breezy.
Mom will definitely geek out over this gift!
I sure did!

Help mom look a little more put together and feel fab with some great hair that doesn't take all day to style.

You just plug it in and let them warm up, wrap your hair, and secure, then let them cool and release.

Voila, perfect curls or waves every time with less time and effort.


ROBOT VACUUM AUTOMATIC FLOOR CLEANER


Dear children, if you give me the gift of never having to vacuum again, you will be my favorite child. LOL!

If you can take even one chore off mom's plate she will definitely love you for it.

You can pick up a robo vac or offer to do the vacuuming yourself because you're just that sweet.



Another wonderful present for mom would be this time-saving brush.

Imagine styling your hair just by brushing it.

If your mom isn't about the curls, this is such a great gift for easy everyday styling that doesn't take much time or effort.
I would also add this holy grail Olaplex #3 Hair Perfector Repairing Treatment! This is such a great splurge gift mom probably wouldn't get herself (but isn't that expensive as a gift).
I think it's pretty inexpensive considering how well it works.


MEAL KIT SUBSCRIPTION SERVICE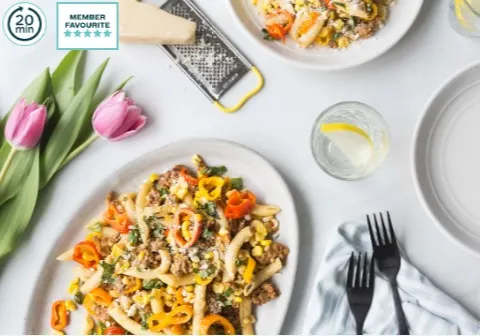 What better way is there to say I love you, mom, than with food? Especially food that mom doesn't have to spend all day cooking.

This holiday season, make sure mom isn't the one in the kitchen.

With helpful services like GoodFood, all the ingredients are delivered right to your door and include step by step instructions with photos so anybody can be a master chef.

GoodFood has got a promo with $40 off your order right now for anybody that's interested.


THE NO MAKEUP HACK: OLE HENRIKSEN BANANA BRIGHT FACE PRIMER



Most days I don't have time for a full face of makeup so I opt for the Ole Henriksen Banana Bright Face Primer (click to read the review) to give my face a lovely subtle glow while minimizing my pores and blurring fine lines.

If your mama is short on time too, this would make a fantastic present. You can grab one on amazon by clicking the link above.



DON'T FORGET THE BEST PRESENT EVER!


As cliche as it may be, it's still true. Your love is the best present ever that you can give your mom.

So shower her with hugs, kisses, love letters, homemade cards, these diy mother's day coupons, and anything else you can think of to show her what she means to you.

Celebrate mom every day because she TOTALLY deserves it!