Easter Handprint Craft For Preschool, Toddlers, & Kindergarten
Are you looking for some fun but easy Easter craft ideas to do with little kids? Then you'll love these easy and adorable Easter handprint art crafts featuring all your Easter favorites like bunnies, chicks, Easter eggs, and more!
Creating these cute Easter handprint crafts is even easier with these Easter handprint template printables.
Create cute keepsake handprints that you can gift to family and friends or simply frame and hang. It's a beautiful reminder of just how tiny those artistic little fingers once were.
It's such a fun and engaging activity for your preschool, toddlers, and kindergartens. They get all the mess and fun of sensory play while creating something special you'll want to keep or share.
This Easter activity is baby friendly too (although it could get a little messy but come on, let's face it, that's the fun part).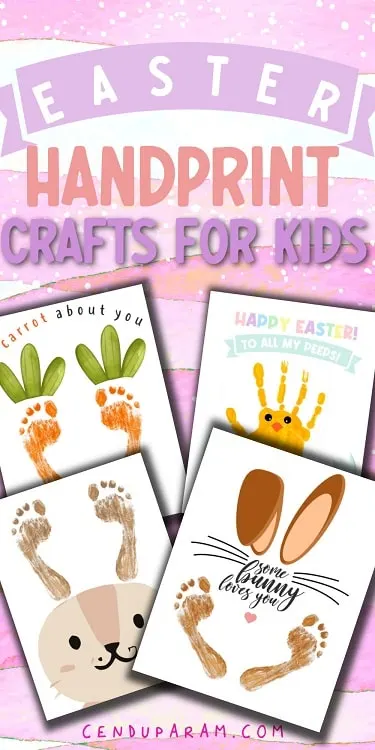 This post contains affiliate links, so we may earn a small commission when you make a purchase through links on our site at no additional cost to you. You can read more about it on the disclosure and disclaimer page.

What Supplies Do You Need For Easter Handprint Craft?
One of my favorite things about handprint crafts is that they don't require a lot of materials or prep work and they keep little ones engaged for a long time.
I've created an Easter handprint Template Bundle to make it super easy and quick to re-create these crafts with very little prep work.
If you fancy yourself the artistic type, you can probably draw your own templates to use but if not, just grab my done-for-you templates and cross one thing off the to-do list.
The bundle includes 10 templates so you can reuse them year after year and create new crafts!
To create your masterpiece, all you'll really need is some US Letter size paper (8.5\ x 11′) to print your templates.
PRO TIP: I opt to use cardstock paper when I'm doing any kind of craft involving paint because it's thicker and sturdier. It doesn't get too damp and wet with toddlers who use too much paint and you have a final finished product that's a bit more durable.
No pressure though, if you don't have cardstock and don't really want to buy it for a single craft, just use your regular paper and make sure to let it dry completely (away from little hands) before you frame it or hang it up.
Another option would be to have your templates printed at your local printers like Staples and choose their cardstock option for printing paper.
You'll also need some non-toxic washable paint and either a paintbrush (so you can paint your little one's hand before they add their print) or pour some paint onto a paper plate and let the stick their hands right in.
They can even explore color mixing and see how to create different colors from primary colors.
Your other option would be to buy large ink pads.
To make clean up afterward a little easier, you may want to cover your table with some newspaper and have some paper towels ready so your little one doesn't decide they want to clean their hands by wiping them off on their t-shirt (yup that's what happens at my house).

1. Easter Bunny Footprint Art Idea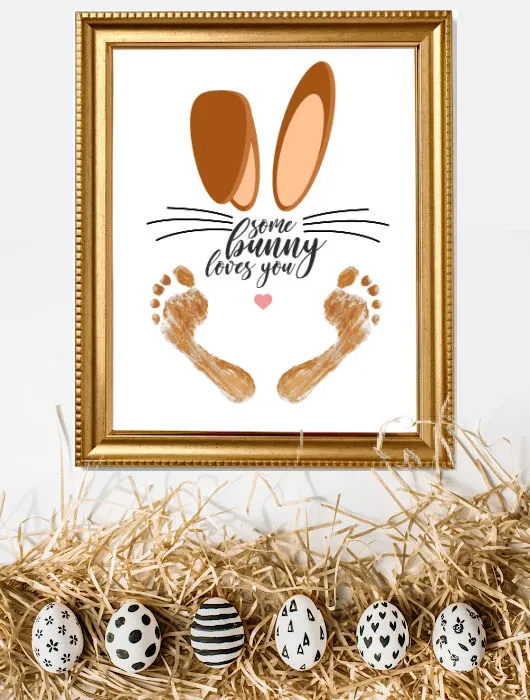 This first Easter craft is perfect for gifting to grandparents, family, and friends! Not only is it adorable, but it also has the super sweet phrase, 'some bunny loves you'.
This cute Easter bunny craft is made using adorable tiny footprints!
I would frame this craft and gift it to loved ones. It's perfect for hanging and oh so sweet.
Don't you love the bunny ears and how those little feet complement them so well?
It's a perfect tribute to Easter.

2. Easter Chick Handprint Craft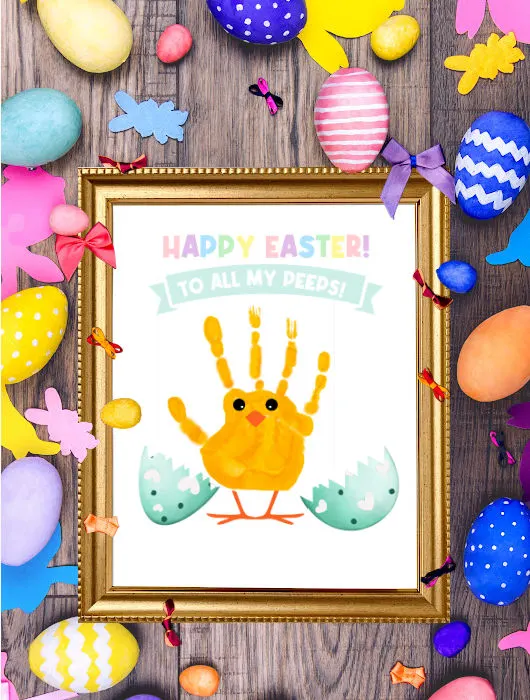 For our next craft, we channeled some adorable little spring chicks hatching from colorful Easter eggs. How cute is this little Easter chick handprint?
It reads, "Happy Easter! To all my peeps! Don't you just love it?!
It's cute, simple, and fun. Perfect for little ones and a popular choice in my kindergarten class.
I think this is a great choice for sharing with family and friends or hanging up for your next Easter get-together.
We decorated our classroom with these for our Easter party and they sure did brighten up our room.

3. Easter Egg Handprint Craft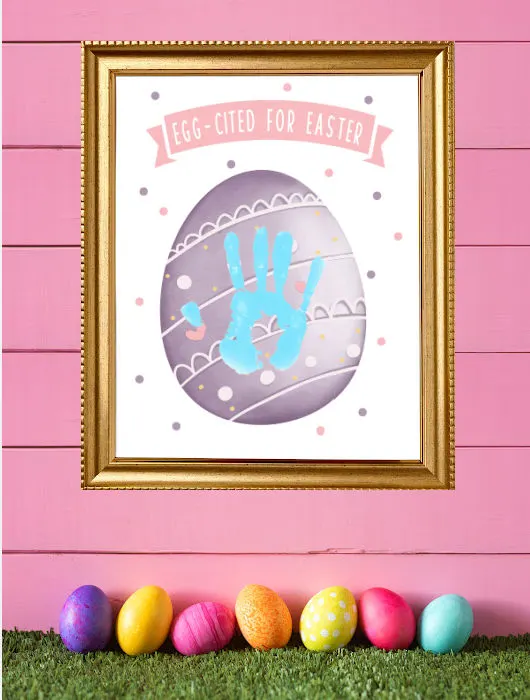 We can't forget colorful Easter eggs! This Easter handprint craft is sweet and simple.
It has a large Easter egg in the center of the page where your child can add any color handprint they choose. You can even print off a bunch and make handprints in multiple colors and hang them up as decorations.
This one has a cute little pun that says, "Egg-cited for Easter!"
The little ones can't get enough of the Easter puns so you'll see a lot of that.
One craft we've done in the classroom with this template is to create a fun 'Happy Easter' banner.
Each kiddo can choose whatever color they like to do their handprint, then once it's dry we used markers to write out the letters and hang them up with some twine and colorful clothespins, and voila!

4. Preschool Easter Handprint Craft Idea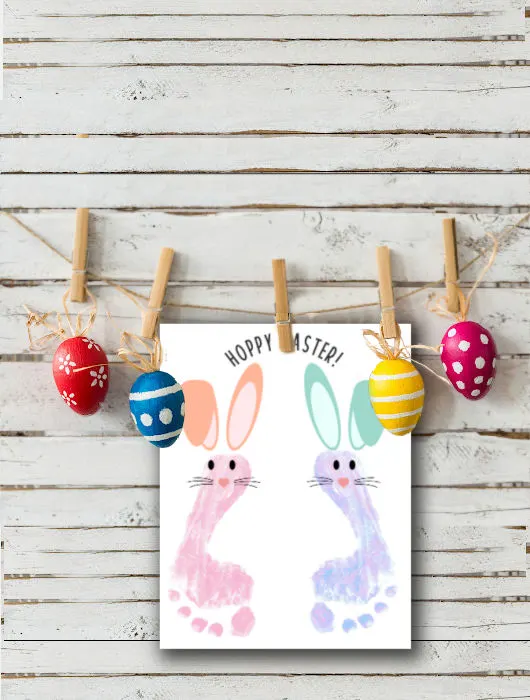 You really can't have enough bunnies when it comes to Easter, right? So here's another adorable Easter bunny footprint craft.
This one is a pair of bunny twins, one pink and the other blue.
Help your little one paint their foot and make a cute pair of Easter bunny siblings.
This template has the cute pun, "Hoppy Easter!" which is just perfect for a pair of bunnies.
There's just something about tiny footprints that get me every time. I made this one with my little man and framed it for his room during Easter.
When we were done, I added it to his craft binder in clear sheet protectors.
It's a simple yet efficient way to keep your little one's artwork together in one place, so they can look through and appreciate them (without it becoming a big mess or accidentally tearing them).
If you want to get really OCD about it, you can even add dividers by grade.

5. Cute Easter Chick Handprint Art Preschool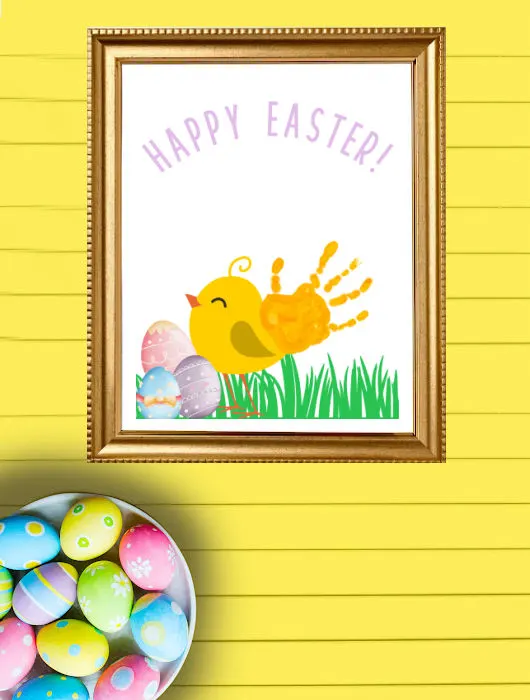 This next one is a cute Happy Easter handprint craft with some Easter eggs lying in some grass.
We've got a happy little chick standing nearby and your little one will place their handprint either on top of the chick's wing or as a little tail feather on the back of the chick.
This sweet and simple creation looks great as Easter decor. Hang it up on your wall, or your fridge or make a hanging rope display and hang them up with clothes pins.

6. Easter Bunny Footprint Craft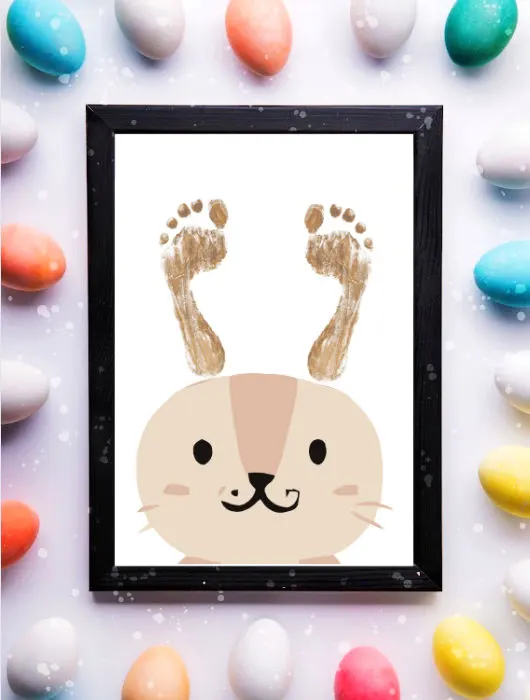 You can't have enough bunnies for an Easter craft, right? So here's one more adorable little bunny!
Since this template doesn't have any text, it's perfect to add your own.
This one is great to gift since your child can write whatever they like on this one.
For this Easter craft, your child will use their footprint to create bunny ears on top of the bunny's head but if you prefer you could always put two handprints instead.

7. Easter Footprint I Carrot About You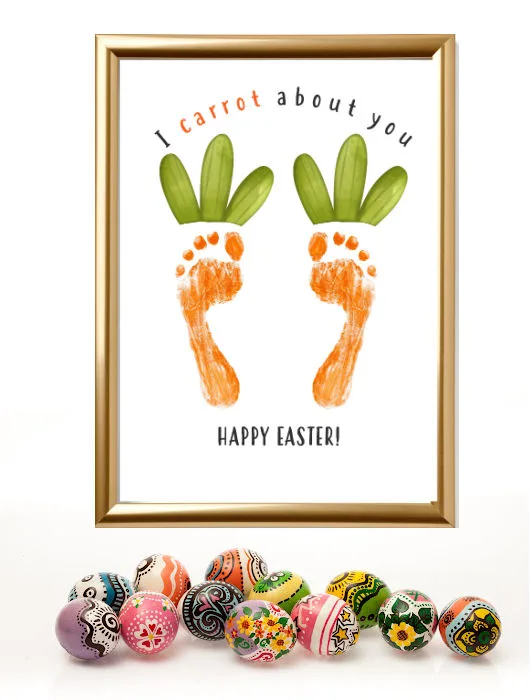 You can't forget about carrots. They're kind of a spring and Easter favorite too.
This Easter 'I carrot about you' footprint craft is one of the cutest in the bundle! I love the adorable carrot feet and the sweet message that goes along with them.
I think this is another perfect one to gift to grandparents (especially in a frame so they can hang it up proudly).

8. Spring Blooms Easter Handprint Art
One of the most beautiful parts of spring has got to be all the lovely flowers that start blooming. I love all the daffodils and colorful tulips you see at the flower markets during Easter.
So of course, we couldn't forget our fresh spring blooms Easter handprint craft.
Your child can pick a flower color of their choice and add a beautiful handprint flower to the vase of spring tulips.
How pretty!
To make it a little more Easter festive I added some colorful Easter eggs and a cut Easter bunny holding a tulip as well.

9. Happy Easter Handprint Craft for Little Kids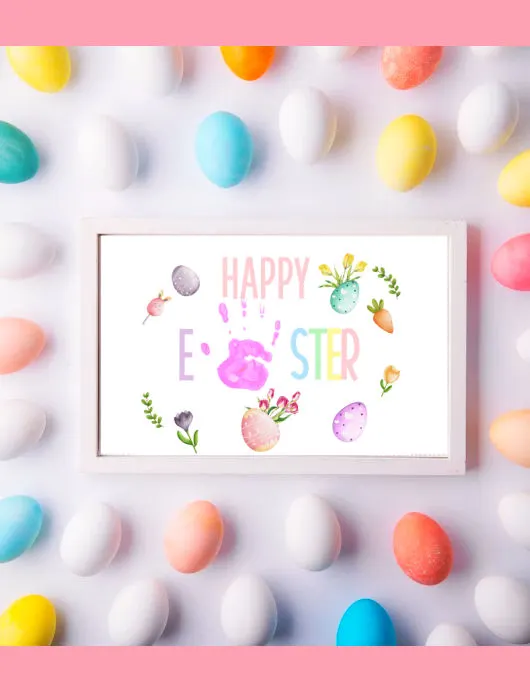 This next Easter handprint template is 1 of 2 horizontal designs. It's a sweet and simple "Happy Easter" design where your child's handprint will fill in the "a".
It's very on theme with beautiful pastel colors, Easter eggs, and spring florals.
This one is pretty multi-purpose, you could gift this one or use it as Easter decoration.
If you have more than one kiddo, they can each pick a different color for their handprint. When it's framed and hung up, it looks really cute together.

10. Happy Easter Fingerprint Craft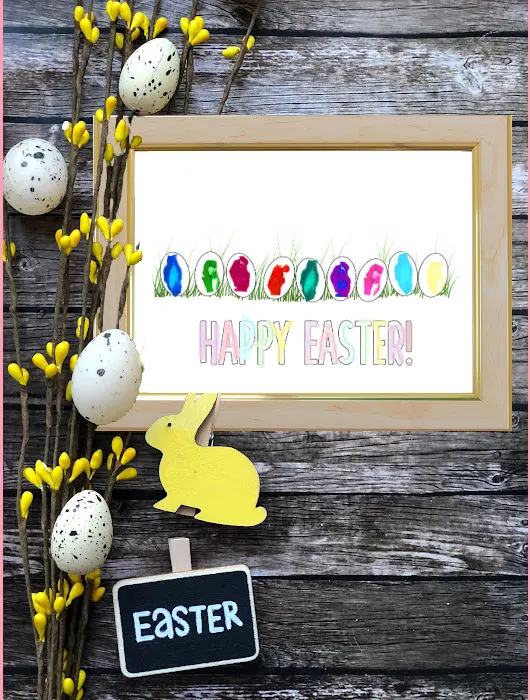 Our last template features a bunch of little Easter eggs lined up in the grass with a sweet and simple Happy Easter written underneath it.
This one is just perfect for using fingerprints. Just add a different colored fingerprint to each egg and you've got a super cute and pretty craft for framing.
I love using pastel colors for this one if you're going for a more Easter look but my kiddo wanted to use some bright colors instead and that's okay too!
You can even add multiple fingerprints of different colors to each egg to make it look more like a decorated Easter egg.
Anything goes! Just have fun!

If you loved these handprint crafts and want to make your own here's the Easter handprint craft bundle!
More Easter Printables and Activities For Kids
If you're looking for some fun and FREE Easter activities, don't worry I have some of those too! Check out some of the posts below for some free printables like coloring pages and games.
FREE Easter Coloring Pages PDF
FREE Easter Basket Coloring Pages Printable
FREE Easter I SPY Game Printable for Kids
FREE Easter Word Scramble Printable PDF
FREE Easter Word Search Puzzles for Kids
FREE Easter Printable Activities For Kids
Christian Easter Activity Placemats for Kids
FREE Easter Scavenger Hunt Printable Clues
Fun Easter Bunny + Friends Scavenger Hunt with Picture Cards to Hide
Fun Easter Activities To Do With Kids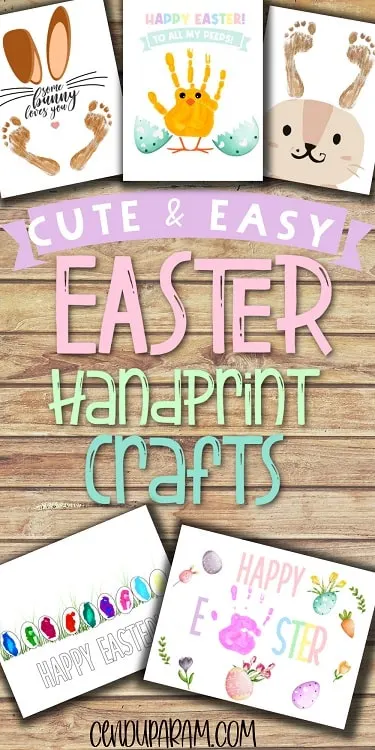 Wrapping Easter Handprint Craft Ideas
I hope this post gave you some ideas for some cute and easy Easter handprint crafts! If you want to make the process as quick and easy as possible, grab my Easter Handprint Template Bundle so that all you need to do is grab some paint and you can get to crafting with your little one!
Don't forget to check out some of the free printables listed above if you're looking for more Easter-themed activities to share with your little ones.