If you're looking for some fun and free Christmas printable worksheets for kids, you're in the right place. There's something for kids of all ages from simple coloring pages to word searches, games, and more!

Have your little ones practice their Christmas vocabulary in a fun way like my memory matching game.

There's a great mix of stuff from preschool to elementary Christmas printable worksheet pdfs.

You'll find:
🎄 FREE CHRISTMAS COLORING PAGES FOR KIDS
🎄 FREE PRINTABLE CHRISTMAS COLORING CARDS
🎄 FREE CHRISTMAS PRINTABLE GAMES & ACTIVITIES ( like Bingo, memory matching game, scavenger hunt etc)
🎄FREE CHRISTMAS WORKSHEETS FOR KIDS (word search, ISPY, word scramble)
Just click the download button and print your own copies for personal use or classroom use.

Disclaimer: as an Amazon Associate I earn from qualifying purchases. This comes at no extra cost to you. You can read more about it on the disclosure page at the bottom.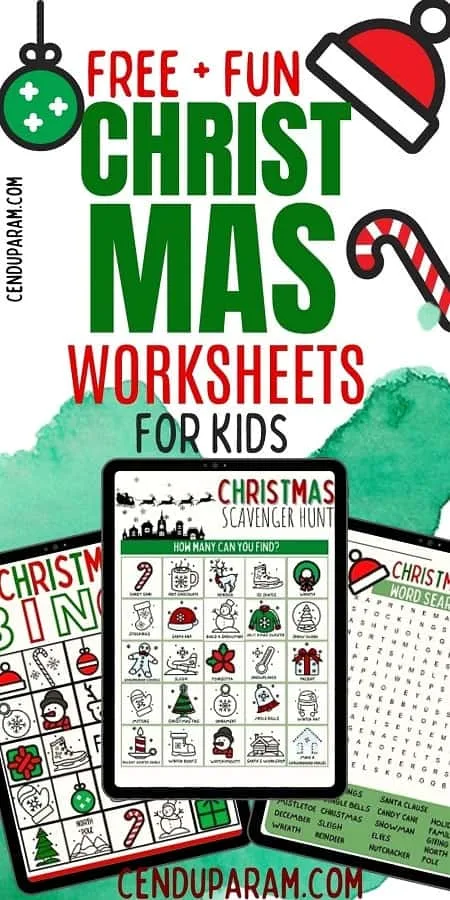 CHRISTMAS COLORING PAGES FREE PRINTABLE PDF


Here are some cute Christmas coloring pages for kids featuring all your holiday favorites like Santa, stockings, and snow globes.

You'll notice there's a couple of different types of coloring pages including your regular coloring pages perfect for all ages, I SPY coloring pages where the kiddos can count and color different holiday-themed objects and printable Christmas cards to color and share.

If you're also looking for some easy peasy Christmas crafts for kids, be sure to check out these related posts!

The Easiest Snowflake Ornament Ever
Beautiful Ribbon Star Tree Ornament Craft



CHRISTMAS SNOW GLOBE COLORING PAGE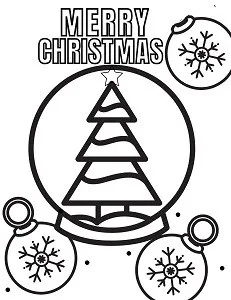 CHRISTMAS WREATH COLORING PAGE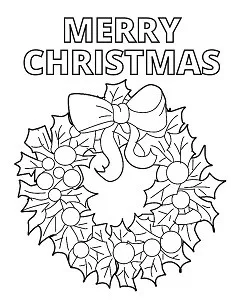 CHRISTMAS STOCKING COLORING PAGE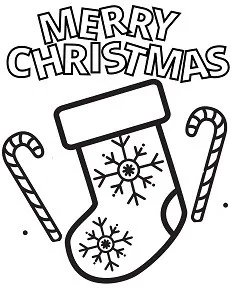 If you're looking for more coloring pages, you can try some of these free coloring pages for kids, I have an entire post of more coloring pages I designed Fun Christmas Coloring Pages PDF For Kids.
I've also got a post on cute Gingerbread Man coloring pages, cute Christmas dinosaur coloring pages, and some fun printable snowman coloring pages.

If you're looking for characters and such you can check out these sites :
Disney Christmas Coloring Pages from Get Coloring Pages
Free Christmas Coloring Pages from Crayola
Free Christmas Coloring Sheets from Super Coloring

FREE CHRISTMAS I SPY COLORING PAGES PRINTABLE


Here's a coloring page that needs a little bit more work for older kiddos.

Have your child find and color all the Christmas and winter-themed icons like candy canes, snow globes, stockings, and more!

Then have them count and record how many of each they found.


FREE PRINTABLE CHRISTMAS CARDS TO COLOR


Your kids will love creating their own Christmas cards to hand out to family and friends!

There are 4 different designs they can pick from to color and personalize with their own special holiday message.

Just fold along the grey dashed line and cut in half!

Don't forget to have your little one write their name on the back where it says 'made just for you by _______________'.

If you're feeling extra fancy, you can glue this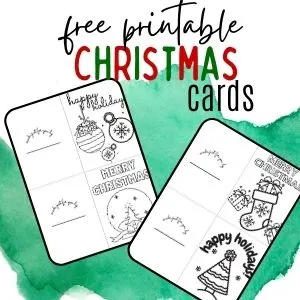 CHECK OUT THIS RELATED POST
Easy Peasy DIY Christmas Cards To Make With Kids


FREE CHRISTMAS WORD SEARCH FOR KIDS PRINTABLE PDF


If you have an older kiddo, then try this fun and free Christmas-themed word search.

Can you find all the holiday-themed words like stockings, ornament, and nutcracker?

You'll have to look in all directions: forwards, backward, diagonally, the works!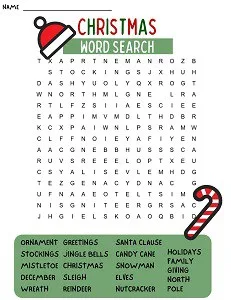 FREE PRINTABLE CHRISTMAS WORD SCRAMBLE


Another fun, language, and literacy worksheet kids love is word scrambles! The words aren't terribly difficult so I think they should be okay for elementary-aged students.

Can you unscramble all the Christmas-themed words in the list?
Fear not, if you can't quite figure them all out, there's an answer key at the bottom.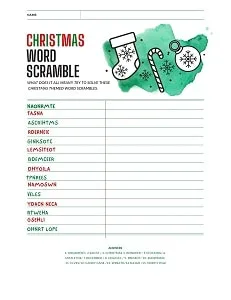 CHECK OUT THESE RELATED POSTS

FREE Printable Letter To Santa Templates for Kids
The BEST Christmas Books For Kids Teacher Picks
Memorable Christmas Traditions To Start With Kids

FREE PRINTABLE CHRISTMAS BINGO CARDS


Another super fun kid's game that never gets old, BINGO! This time, we're doing a Christmas themed BINGO card.

I've created the sample BINGO card below but if you want your kiddos to customize and make their own, no problem.

I've included the sample as well as blank templates that your kids can print out, arrange and glue however they like. This one is great for gatherings and parties too since you can have all the players create their own.

That's just what we do in my elementary classroom.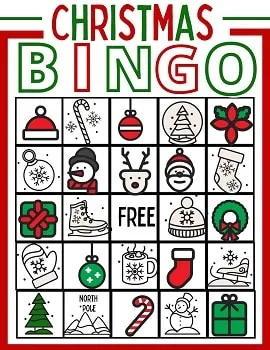 FREE PRINTABLE CHRISTMAS MEMORY MATCHING GAME



Does anybody else love those simple memory matching games? You know the ones where you flip over 2 cards at a time, looking for a matching pair?

It's a great one for kids because they can play independently or with some friends or siblings (if you're lucky).

This Christmas memory matching game can even be modified for toddlers and preschool-aged kids.

If you're playing with young children, print double couples of the picture cards only and have your toddler match them. I suggest just starting with 2 or 3 matching pairs in the beginning until they get the hang of it.

With older children, have them match the pictures to the vocabulary words and compete with friends to see how many points they can get!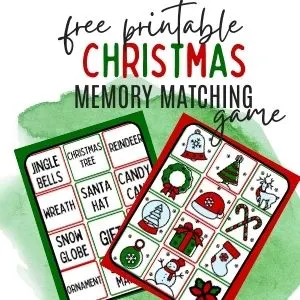 FREE CHRISTMAS SCAVENGER HUNT FOR KIDS



Our last activity is a printable Christmas scavenger hunt for kids. Have the kiddos search high and low around the house and outdoors for all the holiday and winter-themed items on the list.

They're listed in words as well as pictures so it's perfect for any age.

To make this one extra fun, we use this polaroid style camera and snap the kid's findings along the way to make a Christmas photo garland to hang in the classroom.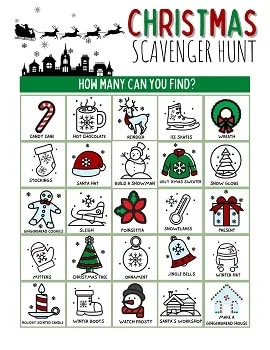 WRAPPING UP FREE PRINTABLE CHRISTMAS ACTIVITIES FOR KIDS

I hope you've found tons of fun Christmas activities, games, and worksheets to keep the kids busy (whether that's for the classroom or at home).
Have yourself a wonderful holiday season and don't forget to count your blessings. There's so much to be grateful for.
If you loved these free printables, I want to hear it! Leave me a comment. Or if you're looking for something you couldn't find, let me know. I'm always adding more stuff and looking for more inspiration.

What kind of printables do your kids love?



MORE HOLIDAY PRINTABLES POSTS
FREE Letter To Santa Templates For Kids
FREE Printable Thanksgiving Worksheets, Games, and Activities for Kids
FREE Printable Halloween Worksheets, Games, and Activities for Kids