Valentine's day is quickly approaching! If you're looking for some wonderful DIY Valentine crafts that are perfect for kids and classrooms, you're in the right place. Check out these Cootie Cleaner Hand Sanitizers!

I love a great DIY Valentines idea, and I love it even more if it isn't junk that my kid is going to throw somewhere in the next 5 minutes.

If you agree, you'll love this DIY Cootie Cleaner Hand Sanitizer Valentine gift idea.

I've made it super simple, you just need a few materials that you probably already have lying around the house and these free Cootie Cleaner hand sanitizer labels.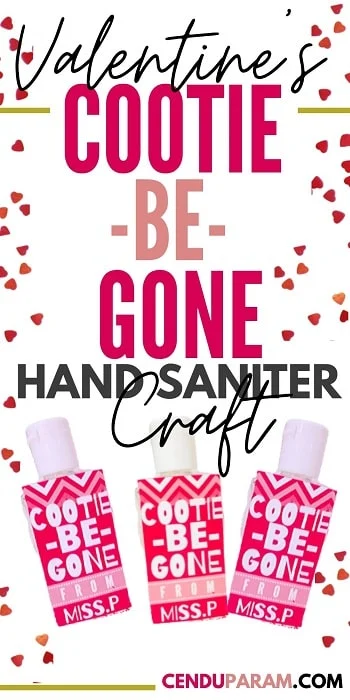 Hand Sanitizer Label Templates


You can download these fun and free hand sanitizer label pdf at the bottom of the post. I've labeled them "Cootie-Be-Gone".

Hand sanitizers make a great non candy Valentine's gift , you can see some more great ideas by clicking the link.

Mini hand sanitizers make a great gift because:

1. You can keep germs and cooties at bay.
2. The hand sanitizer printable is so cute! My class LOVED their cootie blasters so much! I had requests from several parents for the custom hand sanitizer labels afterwards.
3. It's a practical gift that you'll use repeatedly.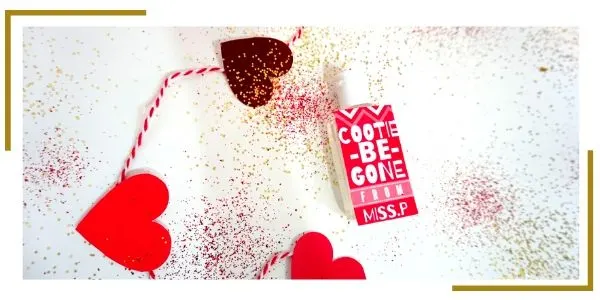 Materials You Will Need To Make Your Hand Sanitizer Valentine


♥ Free Cootie-Be-Gone Hand Sanitizer label template
♥ Scissors/ Safety Scissors (if working with a little one)
♥ Sharpie or Pens
♥ Glue or Tape
♥ 1 oz mini bottles of Hand Sanitizer


Disclaimer: as an Amazon Associate I earn from qualifying purchases. This comes at no extra cost to you.
Where Can You Buy Mini Hand Sanitizers For Favors and Gifts

Amazon is pretty much my one stop shop for EVERYTHING! I found a ton of cute mini hand sanitizers at great price points. Click the link to check them out! Your free printable cootie cleaner labels should fit nicely on these rectangle ones.

Purell Advanced Hand Sanitizer 1 oz- 36

These are inexpensive and and come as a 36 pack so you will probably have a few left over for yourself. It uses a mild formula and contains moisturizers so it's perfect for the kiddies too.

Germ-X Hand Sanitizer 1.5oz 36

These are a few dollars more than the Purell since they're a bigger size. This one also contains moisturizers and vitamin E as well.


Assured Instant Hand Sanitizer w/ Vit E 2 oz

These ones are another great option which also have moisturizers and vitamin E. They are also super reasonably priced. They come in assorted scents (lemon, lavender, aloe) and colors which is fun!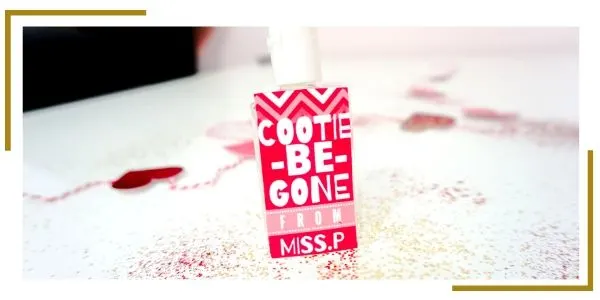 Directions: How Do You Make Mini Valentines Day Hand Sanitizer Gifts

First things first- you'll want to download and print your personalized hand sanitizer label templates. You can totally use your home printer but for BEST results I recommend using a print service. I printed mine at Staples for about 0.50 cents on the thicker cardstock and its totally worth it. The print quality is 100x better with their laser print.

2. Use your sharpie or pen to write your name in the bottom 'from' section and let it dry completely. Wait at least a few minutes. There's nothing worse than smudged ink. Bleh.

3. Carefully cut out your labels.

4. You can either use tape to stick the labels to the bottles or you can add a good amount of glue and stick them on. Personally, I preferred the tape because it was much less messy. I used 1 1/2 inch tape so it covers the entire label and gives a laminated professional look.

5. Hand out your Valentines Day Cootie Cleaners to all your classmates or teachers and watch the excitement!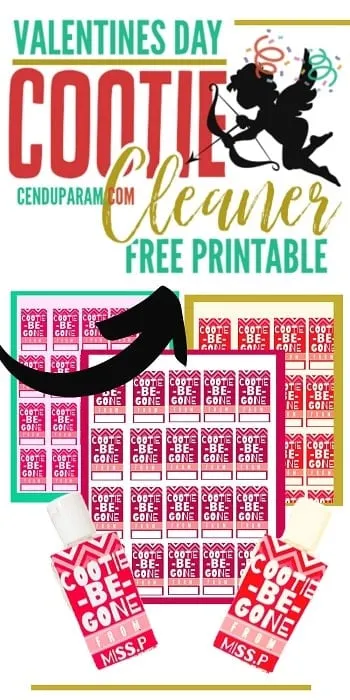 More Valentine's Day Printables and Activities for Kids
The BEST Valentine's Books For Kids
Free Valentine's Day Coloring Sheets PDF
Valentine's Day Dinosaur Coloring Pages Printables FREE
Valentine's Day Gnomes Coloring Pages FREE Printable for Kids
Valentine's Day I SPY Game Printable PDF
Valentine's Day Monsters Scavenger Hunt Game
Valentine's Day Handprint Crafts for Kids
Valentine's Day Crafts For Toddlers
Fun Activities for Baby's First Valentine's Day
Non Candy Valentine's For the Classroom


Cootie-Be-Gone Hand Sanitizer DIY Valentines Craft For Kids

I truly hope you enjoyed this post! I had so much fun recreating my hand sanitizer teacher Valentine's Day Gift for you. It's a HIT every single year. This valentines craft is fairly simple and easy so you can do it with younger or older children. It's also a perfect gift for teachers to hand out to students as well. I would love to hear what you thought. Leave me a link below!
Don't forget to download your free template below by clicking on the link: