UPDATED MARCH 23, 2020


Looking for a strong Hawaiian boy names? I've rounded up some beautiful Hawaiian baby names for boys (and their meanings)- So, whether your looking for a middle name or first name inspiration, I bet you'll find something you'll LOVE!

What's in a name, you ask?

EVERYTHING!

The name you choose for your little one most certainly has an impact and it's definitely one of the toughest initial decisions you'll make for your little one.

I remember how difficult this task was.

We only thought of one baby name and hoped we would think of more during my pregnancy. Nope. Nothing. Not even one more.

When my little guy was born, the one name we had just stuck and it seemed perfectly suited for him. My Navaren. My Nav.

If you're wondering, what are good Hawaiian boy names?

You're in the right place.


While we were searching for baby names, we came across several Hawaiian male names that were so strong, beautiful, and unique.

I loved the baby naming tradition in Hawaii and so I was drawn to it and wanted to learn more.

These tropical boy names are as beautiful and exotic as the island from which they come.

Many of the popular Hawaiian names for boys names are tied to the Earth's elements and nature, which I love!


You'll notice that there aren't name suggestions for every letter.

This is because the Hawaiian language has a limited number of letters, much less than we're used to.

Now, let's hop in and look at some strong Hawaiian male names and meanings for your baby boy.

Disclaimer: This post contains affiliate links which you can learn more about here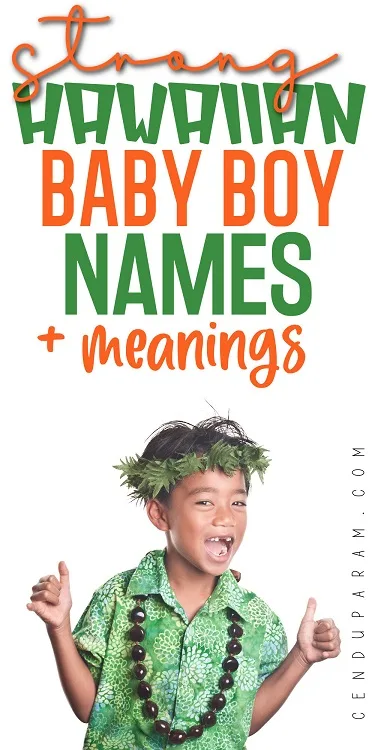 How are Children named in Hawaii?


Typically, the names for a new baby were chosen by elders and a lot of thought was given to the meaning of the names. Often, it's said that the names would come to them in dreams or visions.

How beautiful!


In my culture as well, names are something powerful and a lot goes into choosing them, like the date and time and star alignment at birth.

There's a lot to do with numbers and numerology.


What's interesting about Hawaiian boy names is that they aren't actually typical for boys or girls.

Normally, Hawaiian names are meant to be unisex.

So these names can be used interchangeably if you're choosing a girl name as well.

Many of these Hawaiian boy names would also make a perfect middle name.

Many of these names are inspired by nature and the elements as the Hawaiian people are also very connected to their land.

That reminds me so much of bohemian, hippie baby names which also have a similar vibe.


Popular Hawaiian Boy Names


Here are some beautiful, unique and strong baby boy names that are quite popular in Hawaii and some that have also become well known in United States in general.

Many of these are real Hawaiian boy names (authentic) and some have evolved over time and become more modern renditions as many traditional Hawaiian names are long and people often want Hawaiian names that are easy to pronounce.

RELATED POSTS
Mythical, Magical, Whimsical Girl Baby Names
Strong and Powerful Japanese Male Names
+300 Earthy Nature Inspired Boy Names
Strong Irish Boy Names with Meanings

Hawaiian Boy Names That Start with A

Aikeni – is the Hawaiian (phonetic) version of Aiden -name meaning little fire
Akamai- meaning clever or intelligent
Akamu– meaning made by god or the Earth
Akoni– which means deserving of praise and admiration and comes from Latin origins of the name Anthony
Alani- meaning chief
Alika– meaning guardian
RELATED POST: Experienced Mom Shares How She Gets FREE Baby Products with this Trick!

Beautiful Hawaiian Boy Names that Start with B

Bane- although not a traditional Hawaiian name for boys as they don't use b's- it has become popular in the region-and it means long awaited child. I absolutely love that!

Hawaiian Male Names Beginning with E

Ekewaka– meaning protector of riches and wealth is the Hawaiian version Eddy or Edward

Eleu- meaning alert or alive
♡ Want a free prenatal course + FREE Week-by-Week pregnancy Ebook? ♡

Hawaiian Baby Boy Names that Start with H

Hanale– means one who is lord of the manor
Hani– which means happy one
Hoku- meaning star
Holokai– meaning a seafaring person
RELATED POST:

CUTE 4 LETTER BOY NAMES
Sassy Baby Girl Names From The South
Cool 2 Syllable Baby Girl Names

Hawaiian Names For Boys Which Start with I


Ikaia– meaning god delivers is the Hawaiian version of Isaiah
Ikaika– meaning man of strength
Ioane– meaning the one who is favored by god and is the Hawiaan version of John
RELATED POST:

Strong Boy Names + Meanings For Your Little Fighter
Baby Names Categorized By Theme To Make Your Search Easier
Unique Baby Names For Your Last-Born Child

Popular Hawaiian Boy Names that Start with K

Kai- probably the most popular and common Hawaiian boy name you will hear. The name Kai means from the sea or ocean.
Kahale- meaning a house
Kahuna– meaning a respected person (like the saying the big Kahuna)
Kale– meaning strong or manly
Kaleo– meaning voice or sound or one who shouts
Kalino– meaning brilliant one
Kamalei- meaning adored child
Kawai– meaning coming from water
Keanu– another widely popular Hawiian name. Keanu means the breeze
Kelani– meaning heaven
Keone– meaning the sand
Koa– meaning fighter
♡ You gotta try this FREE Ultimate Breastfeeding Course before baby comes! ♡

Unique Hawaiian Boy Names Starting with L


Label– meaning lion which is the Hawaiian version of Leo
Lani- meaning heaven or sky
Lewai– Hawiian version of Levi
Lilo– meaning generous one
Lui- meaning famous warrior
RELATED POSTS
Unique Boy Names With Cute Nicknames You'll LOVE!

Pretty Classic Girl Names With Vintage Flair

Old School Retro Boy Names With Charm

Hawaiian Names For Boys That Start With M

Makani– meaning the wind
Makoa- meaning a bold man
Maleko– meaning manly or warrior
Mana– meaning supernatural or spiritual energy
Manu– meaning bird
Maui- an island in Hawaii and also who's meaning is not fully known but comes from the demi-god with the same name
Mauna– meaning mountian
Mililani – meaning a heavenly caress
Moana– meaning coming from the ocean is a popular unisex name
RELATED POSTED:

Unisex, Gender Neutral Baby Names For Boys and Girls
Water Baby Name Ideas Inspired By Oceans, Seas and More
Unique and Rare Names For Boys
Cute Middle Name Ideas for Noah

Male Hawaiian Names That Begin With N

Nahele– meaning forest
Nākoa- meaning warriors or fighters
Nalu- meaning wave or surf
Nawai- meaning "the waters"

Hawaiian Boy Names That Begin With O

Ohana- meaning family (I just had to put this one in here because I absolutely LOVE Lilo & Stitch so Ohana has become a favorite word)
RELATED POST: The Cutest Baby Girl Names With Equally Cute Nicknames

Authentic Hawaiian Boy Names That Begin With P

Pakelika – meaning one who is noble
Palani- meaning free man is the Hawaiian version of Frank
Pika– meaning rock
Paulo – meaning little
♡ Prepping for labor? Check out this FREE Prenatal Course ♡

Traditional Hawaiian Boy Names That Begin With U

Uli– means blue or dark color
Ululani– meaning heavenly inspiration
RELATED POST: Cute 3 Letter Names For Boys + Meanings & Origins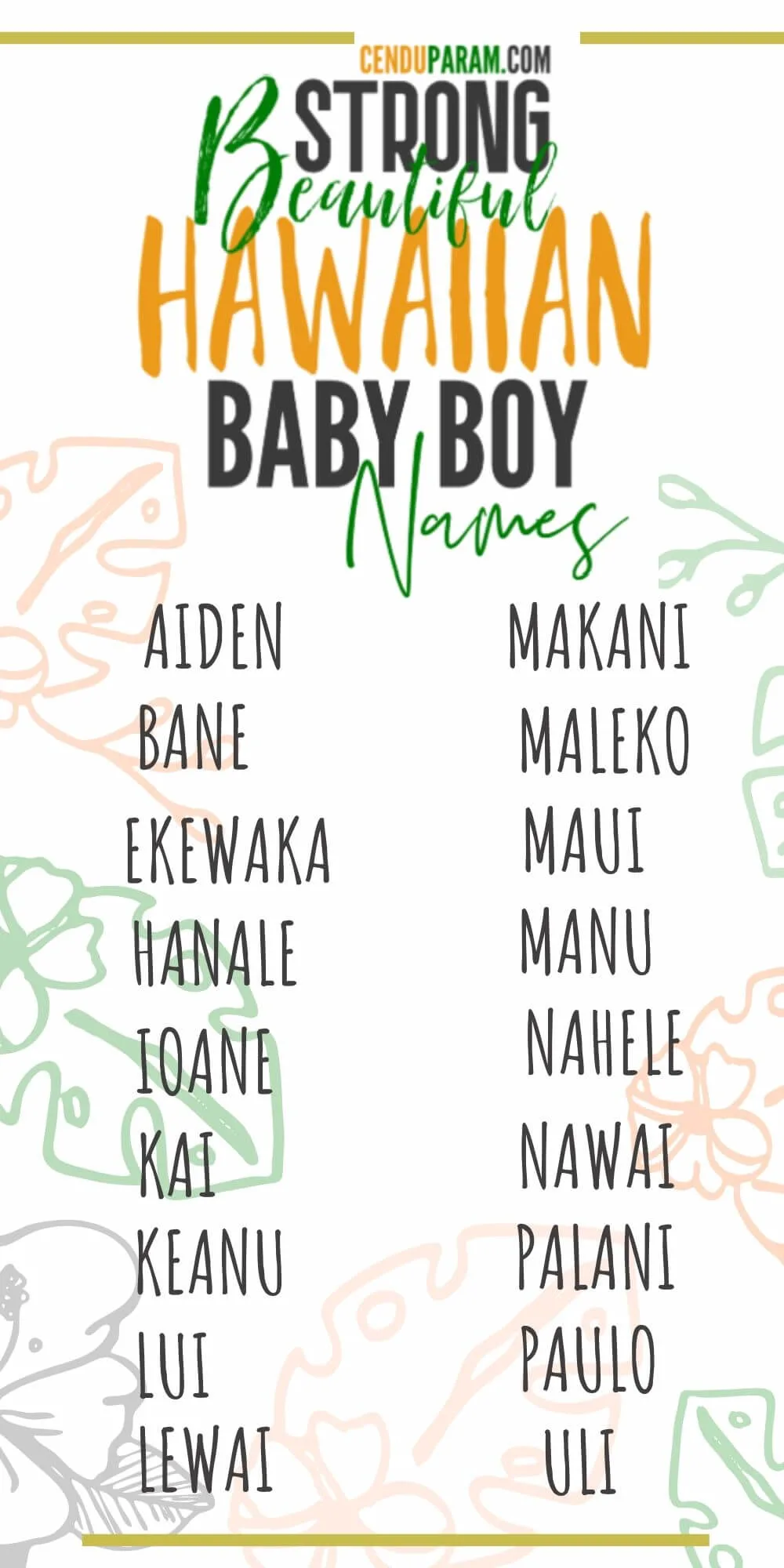 Tips For Choosing A Hawaiian Boy Name

While these Hawaiian baby names are oh so beautiful, you should take some things into consideration when choosing a name from another culture.
Learn about the culture– I think it's important to consider their customs and traditions and learn a bit about their beliefs if you don't want to accidentally do something offensive.
For instance- it would be frowned upon to choose names that mean king or queen.
Hawaiian-English Names– You can also consider opting for Hawaiian versions of traditional English names like Kimo which means James.
Think about the meaning- sometimes you just fall in love with what a name means and then it just fits. Keep in mind there are often multiple meanings depending on origin so if you don't like one- there's probably another.

You can use the Na Puke Wehwehe online dictionary to check Hawaiian words and their meaning to help make this a little easier.

Think about nicknames – more often than not, we end up being called by a shorter nickname rather than our given name, so consider all possible nicknames associated with the name you choose. You should try to find a name where you love the nickname just as much as the given name.

RELATED POST: Boy First and Middle Name Combinations You'll LOVE!

Beautiful Hawaiian Boy Names You Have to Consider


I hope you enjoyed these strong, unique and beautiful Hawaiian boy names. These would make perfect Hawaiian baby boy middle names or first names and have wonderful meanings attached to them.

I hope you found something that inspired you.

These beautifully tropical boy names have me thinking of nature and the four elements: Earth, wind, water, and fire which I find so beautiful.

Do you have a name in mind that I missed? Leave me a comment, I'm always updating these lists 🙂

Want some more inspo? Check out another post!
RELATED POST:

Baby Names that Are Inspired By Astronomy and Outer Space
Seriously Short and Cute Baby Girl Names You'll Love!
Tough Southern Boy Names and Meanings
Brazilian Boy Names That Are Cool and Unique