Valentine's Squishy Card Printable PDF
Valentine's Day is probably the most fun when you're a kid and you get to make and hand out cute Valentines to all your friends. I'm getting to relive this fun now that my kiddo is in Kindergarten and we get to make Valentines together.
For the classroom, I like non-candy Valentine's gifts since most parents aren't too fond of their kids coming home with a sugar high.
This year, we made these super cute Squishy Valentine Cards and they were a hit in the classroom!
Mochi Squishy toys are definitely a classroom favorite, especially with the early elementary crowd (although even the older kids seem to be into them right now). I love that they're cute, fun, and inexpensive.
It's a win all around!

What Are Mochi Squishies?
Technically Mochi is a Japanese dumpling or bun that's super soft and chewy and made of rice. Mochi Squishies probably get their name from that similar type of squishy, soft texture.
Mochi Squishies or Kawaii Squishies are super cute, colorful, squishable toys shaped like all kinds of things (food, animals, clouds, fruits, veggies, almost anything).
They offer an enjoyable sensory experience and are said to reduce stress and anxiety. They work like fidget toys and just feel nice when you squeeze them in your hands.
They're usually made out of nontoxic silicone so they're kid friendly.
Where to Buy Squishy Toys?
You can grab squishy toys at most stores these days like Walmart or Target, but I just grabbed a bulk variety pack from Amazon (this one is a top seller with over 12000 sold) because who needs one more errand to run?
If you're making them for a smaller group of kids or a party at home, you might want to opt for the jumbo slow rising Kawaii Squishies.
My little guy is obsessed with those!
There are literally thousands of different ones to choose from so browse and take a look here.
What You'll Need To Make Printable Squishy Valentine Cards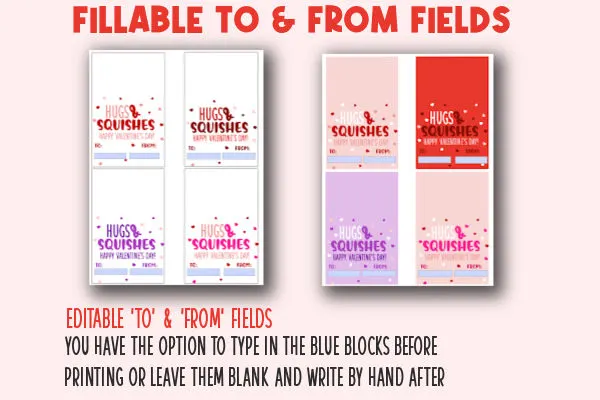 You can make your own Squishy cards or grab my pre-made Squishy Valentine's Day Card printables to make the process even easier.
My Squishy Valentine Tags are PDF files with editable 'To' and 'From' fields so you can either type in your child's name before printing or just print them blank and have your child write in their name afterward.
You'll need a pdf viewer in order to view, edit, and print your files. I highly recommend this FREE Adobe Reader.
Another tip, I would recommend printing your Valentine's cards on thicker cardstock paper, for a sturdier and more professional finish.
Another option would be to get them printed at your local printers like Staples, Walmart, or Walgreens, which also offer different paper choices.
There are 4 cards per page and you get 2 different sets of cards. The cards are approximately 3.3′ x 5.25′.
One is a full-color option (perfect if you're planning to print them professionally) and the 2nd page is the minimal color option for printing at home (because who wants to use up all their ink for 1 project?).
The only other thing you'll need is to order those squishies. Make sure to keep them in their individually wrapped plastic wrap.

How To Assemble Your Squishy Valentine Tags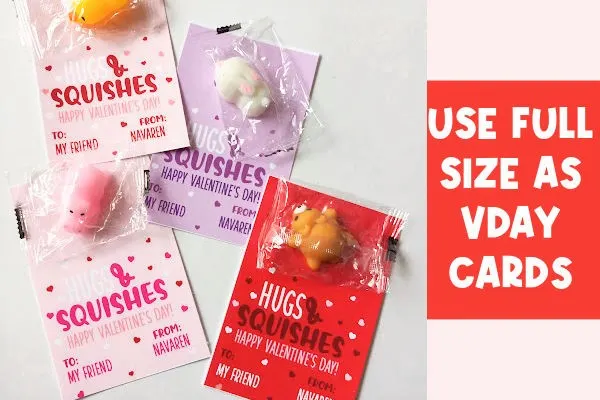 Once you've gotten your squishy toys and printed out your Squishy Valentine Toppers you're ready to start.
Cut out your cards, if you're having your child hand write their name, have them do that now.
In the "To" field, I usually just put To My Friend.
With these cards, you have 2 different options on how to assemble them.
You can either use the full-size card as a Valentine's day card or you can fold them in half and staple it to your mochi squishy toy like a topper. Check out the images above for examples.
If you're using the full-size card, simply staple, tape, or glue your toy with the wrapper still on, to the middle of the card and you're all done.
If you decide to use it as a topper, fold your topper in half, place the toy on the inside between the folded half then staple to hold it in place.
That's it, easy peasy!
It's a fun activity that your little one can help with too.
More Valentine's Day Printables and Activities
If you're looking for more noncandy Valentine's ideas or some fun and FREE Valentine's day printables, activities and game, be sure to check out some of the posts below.
Noncandy Valentine Ideas for School
Cute Dinosaur Valentine's Day Coloring Sheets For Kids FREE
Adorable Gnome Valentine's Day Coloring Sheets FREE Printables
FREE Valentine's Day Coloring Pages PDF Printables
FREE Valentine's Day I SPY Activity Pages Printable PDF
Valentine's Day Handprint Craft Templates Printable
Easy Valentine's Day Crafts For Kids
Valentine's Day Cootie Cleaner Sanitizer Craft
Valentine's Monsters Scavenger Hunt Game Printable
BEST Valentine's Day Books and Stories For Kids
Valentine's Day Celebration Ideas with Baby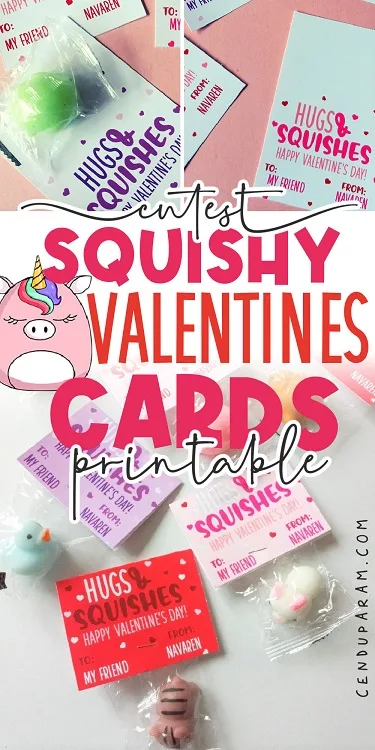 Wrapping Up Happy Valentine Squishy Printable
I hope you enjoyed this idea for a cute and fun noncandy Valentine for the classroom. To save yourself some time and energy you can grab my Valentine's Day mochi squishy cards and simply print, cut and assemble.
If you're looking for FREE Valentine's Day cards and printables be sure to check out some of the posts listed above.
Have a Happy Valentine's Day and spread the love, friends!