Fun Halloween Party Games: Halloween Superstitions
It's spooky season! If you're looking for some fun Halloween games or activities for your next Halloween party or even for the classroom, this Halloween Superstitions Trivia Game printable fits the bill!
It's a fun game to get your partygoers chatting, mixing, and mingling. I love that it's something a little different than the usual games like I SPY or a word search game (although I do have some of those for you if you're interested. I'll link them at the end of this post).
Whether you consider yourself superstitious or not, I bet you've come across a bunch of these little sayings and beliefs over the years.
This fun game tests your knowledge of superstitions from around the world. Some are believed to be good luck and others are spooky bad omens, see how many you and your kiddos can identify.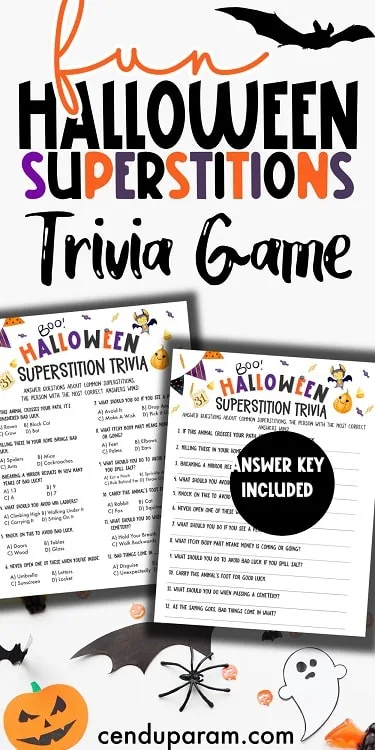 What Do You Need To Play Halloween Superstitions Game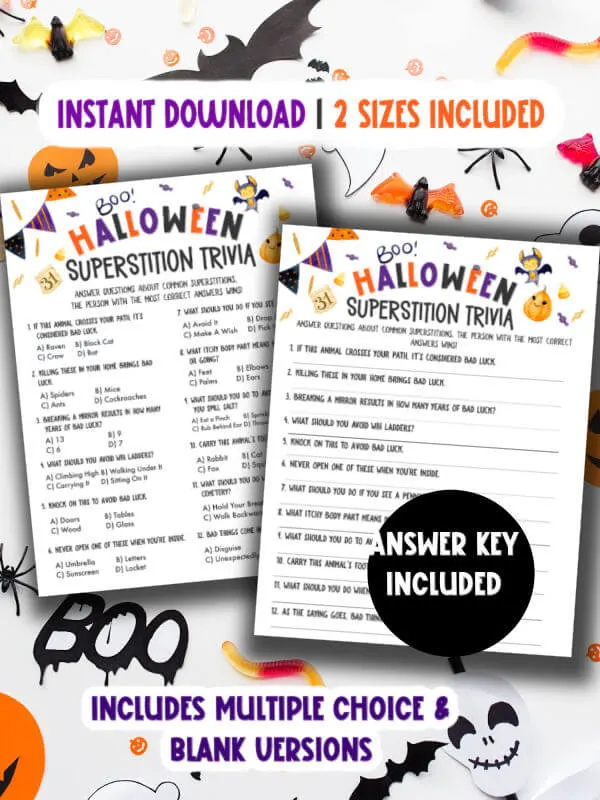 This game doesn't require a lot of prep or materials at all.
Just grab my Halloween Superstitions Printable Game and a printer, some pens, pencils or makers and you're pretty much set.
The game cards come in 2 sizes.
You can either print full-page US Letter Size game cards (8.5 x 11) or if you're printing for a big group and you would rather save on ink and paper, I've also included a 2-per-page option.
The 2-per-page option has a dashed line down the middle to make it easier to cut.
Simply download, print, and cut if needed and you're all set.
Let your group know they'll be thinking about silly superstitions they've probably heard over the years and this fun game is going to test their knowledge.
Hand out the game cards to your players along with a pen or pencil and let the fun begin.
You can have your players competing against each other or working in teams or groups.
You can set a timer if you like and at the end of the game, whoever has the most points wins.
To make the game easier or more difficult, I've included 2 versions of the game. One is the question with multiple choice answers while the other is just the question with a blank line.
Depending on the age of the players, you can decide which version would work best.
Printing Your Halloween Trivia Game Activity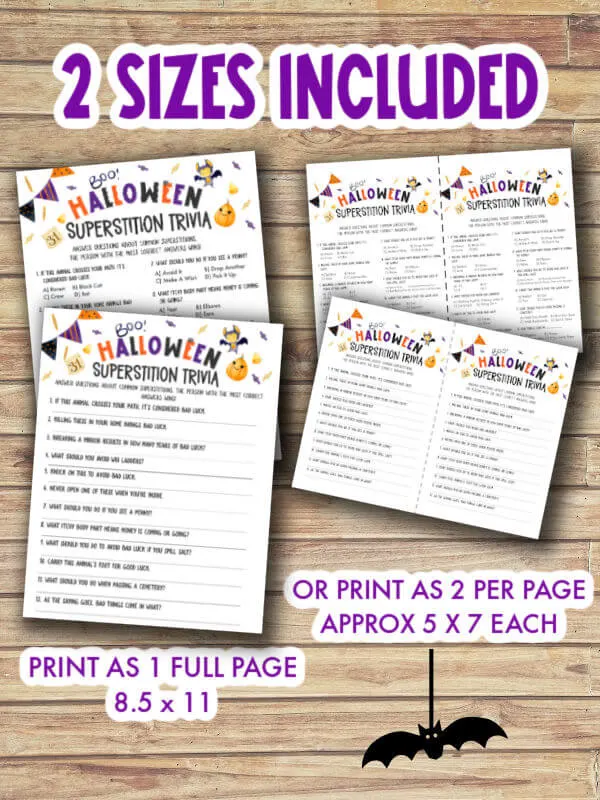 Downloading and printing your game Halloween Trivia game is pretty straightforward.
Once you purchase the Halloween Superstitions Trivia, you'll be given a link to download the files instantly.
You'll see a download symbol near the top right corner, simply click it to download.
To view and print your files, you should have a PDF viewer installed. If you don't have one already, you can get Adobe Reader for free.
You can just print the on regular paper but if you like a thicker more professional finish, you an also opt for cardstock.
If you're using a printing shop, they'll usually have this option for a few cents more per page.
When I use these for the classroom, I'll usually put them in a sheet protector and use dry-erase markers so I can reuse them over and over.
Halloween Superstitions Trivia Questions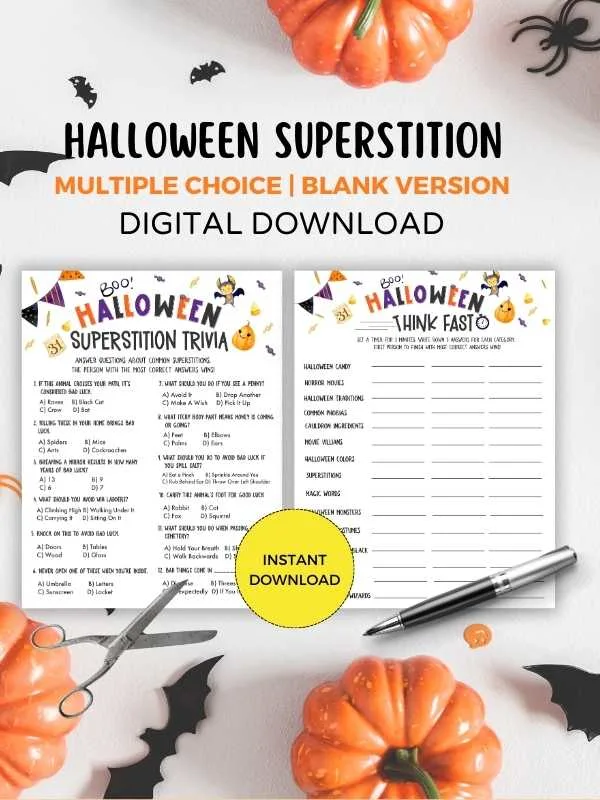 Here's a list of the fun Halloween superstitions trivia questions that are included in the game. If you're purchasing the game, I've also included an answer key for you to make scoring quick and easy.
For the best deal, check out my Halloween Party Games bundle that includes the superstitions game along with a bunch more for a steal of a deal.
If this animal crosses your path, it's considered bad luck.

Killing these in your home brings bad luck.

Breaking a mirror results in how many years of bad luck?

What should you avoid with ladders?

Knock on This To Avoid Bad Luck.

Never open one of these when you're inside.

What should you do if you see a penny?

What itchy body part means money is coming or going?

What should you do to avoid bad luck if you spill salt?

Carry This animal's foot for good luck.

What should you do when passing a cemetery?

Bad things come in __.
FREE Halloween Printables and Activities
If you're looking for some free Halloween games and printables then check out some of the posts below instead for my freebie content.
Spooky Halloween Coloring Pages PDF for Kids
Fun Halloween I SPY Printable for Kids
Spooktacular Halloween Scavenger Hunt Printable PDF for Kids
Halloween Word Search Puzzles for Kids Printable
FREE Halloween Worksheets & Activities for Kids
Another fun game to check out, though not in the freebie category is the Halloween Dice Game printable. This one is perfect to trade Halloween candy after treat-or-treating or as a fun little party game.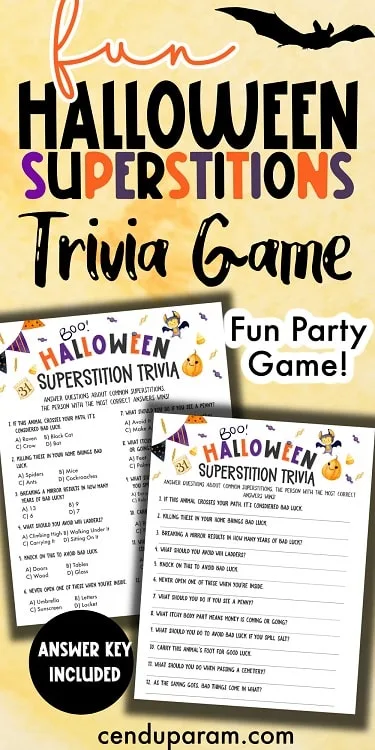 Wrapping Up Halloween Superstitions Trivia Game
I hope you enjoyed this quick breakdown of my Halloween Superstitions Trivia Game. It's such a great way to start the party and is such a fun party icebreaker, especially when you do it in groups. It gives people something easy and fun to chat about.
My classroom kids always adored this one.
If you're interested in more party games, be sure to check out my Halloween Party Games bundle as well. If you're looking for fun Halloween freebies then be sure to check out the post that were linked above.
Have a spooky Halloween, friends!