I think the best part about Halloween (aside from the free candy of course) is dressing up! There's this one day a year where kids and adults alike get to play dress up, what could be better than that?

I'll tell you. BABIES! Babies in costumes! Yes! The only thing better than dressing up yourself is turning your chunky bebe into a chunky monkey or any other cute creature.

I started looking up baby Halloween inspo pretty much as soon as my little guy was born and I've amassed ideas for years to come so I figured I'd share them because the world needs more cuteness overload.

Here's a round-up of some super fun and easy baby Halloween costumes you can snag with a click of a button and have at your door before you can say trick-or-treat (thanks Amazon!).


Disclaimer: as an Amazon Associate I earn from qualifying purchases. This comes at no extra cost to you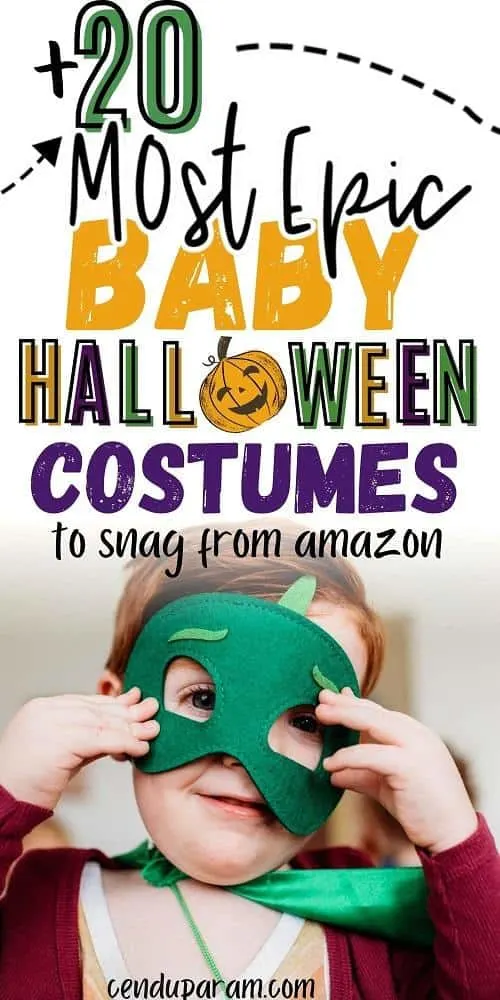 BABY ANIMALS HALLOWEEN COSTUMES


Let's start off by turning our cuties into furry little woodland friends because how cute is your little baby bear? That was the one I went with for my little guy's first Halloween.

I love that the baby costumes often come in the form of sleepers so you can usually still use them after Halloween too! Win- Win!

How cute is this little monkey?!

I'm always skeptical about online purchases because I've gotten too many where the picture looks NOTHING like what I actually received in the mail.

I need real photos, people.

So, whenever possible, I'll try to include a link to actual product photos, not just the pretty stuff.

If you're like me and need a little extra assurance, you can take a look at this customer photo to see what it actually looks like when you get it in the mail.

This one looks pretty spot on!


This one technically isn't a costume. It's more of a jumpsuit with bunny ears but it's super cute and does the job.

Plus, since it's actual baby clothes (organic cotton too!) you can use it more than once. It comes in a bunch of different colors too.

Here's a customer photo for reference. Pay attention to the sizing chart, this mama says to order a size up.

Here's a different bunny style outfit that also caught my eye and is just as cute.

Or if you really have your heart set on an actual costume, check out this one.


This one would be just perfect for a mom and baby costume! Mom could either be Little Bo Peep or school girl Mary.

You can check out this cute little lamb to see it in person.

How cute are they?! Love it!


This one is just adorable! It could lend itself well to an Old McDonald-themed family costume if you're into family costumes.

I love that this one is comfortable for the kiddos. It's a onesie-style costume with a hood so no uncomfortable masks to deal with. It's nice and plush as well so perfect for colder weather and trick or treating at night.
Just note that this costume runs a little large and is more of a loose fit so you may want to size down.





Last up on our animal-themed costumes for babies is this adorable little lion.

Most parents seemed to love this one because of its great quality. It's got an inner lining and also velcro on the legs which makes for much easier diaper changes.

If you want a peek at the real thing, take a look at this cute little friend and their pup.

This would look so cute as a matching family costume. I would go with the Wizard of Oz as a family costume theme with this one.


There are only so many we can fit into this post so I'll list some links to a few more animal costumes below if you didn't see a little furry friend you loved.

DISNEY BABY COSTUMES


Now, onto another favorite theme of mine, everything DISNEY!

Here are a few seriously cute Disney-inspired baby costumes to create that Disney magic at home.

These would be so perfect for family costumes! I'm still trying to convince my husband he NEEDS to do this.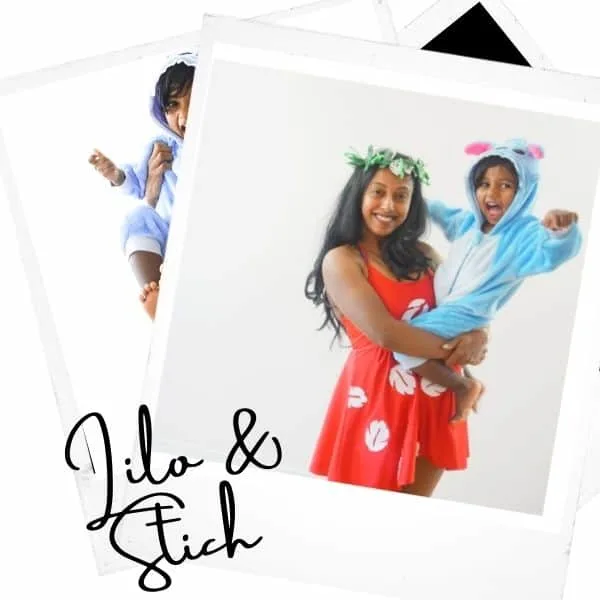 Here's our mama and baby matching costumes from last year!

We went as one of our favorite Disney duo, Lilo and Stitch! I love that this one doubles as a sleeper when you're all done with Halloween.

If you want to DIY your own Lilo and Stitch costumes I've got a separate post to walk you through it.


JACK JACK THE INCREDIBLES BABY COSTUME

Evildoers beware! This baby Jack-Jack costume has the superpower to melt even the coldest hearts.

This one makes such an awesome family costume! Check out this adorable family rocking theirs.

If you're lucky enough to have a partner who just grumbles and then goes along with your crazy ideas, here's the whole family's costumes you can snag in just a click:

MONSTERS INC COSTUMES


This little monster costume looks just as good in person.

The only downside is that it runs small so order a size up to be on the safe side.

This sweet family used theirs for baby's first trip to Disney.
Take a look, so cute!


What could be more perfect than your very own live-action Winnie the Pooh?!

This is what babies are made for LOL! I can't even with this cuteness overload.

Here's a picture of this cutie in his costume.

If you have a younger infant who wouldn't be too comfortable in a full-on costume, opt for a Winnie the Pooh onesie style bodysuit instead.


Like, the Pooh bear one, Tigger also has an infant-friendly Tigger Bodysuit Costume as well.


I can't get enough of this little man in his Dumbo costume, it's beyond sweet!


This one is super cute and comes in different sizes from 6 months to 18 months.


INFANT DISNEY ONESIE JUMPSUITS


I linked some onesie alternatives for really young babies as they may find a full-on costume uncomfortable. Here are a few more in case you have a really little one and don't want to go the costume route.


DISNEY BABY BOY'S 5 PACK DISNEY ONESIES


DISNEY BABY GIRL'S 5 PACK BODYSUITS
MORE LOVABLE CHARACTER COSTUMES FOR BABIES


Now, here's a few more cute characters from fairy tales, games, books, and movies or TV shows that would make great costumes for a baby. I just didn't want a bunch more categories so we'll just call these popular character costumes.


If you're a fan of the classic children's book Where The Wild Things Are, you'll love this adorable baby Max costume.

Technically, I think this is supposed to be a first birthday outfit but hey, it works. I love that the crown is adjustable! That helps.

I think the best part about this one is that it's actually comfortable for your little one to be in all day if they wanted.

If you want to see it in person, check out these photos, this mama was super happy with her purchase.

Maybe your little one is actually a budding wizard. This adorable Harry Potter-inspired onesie and cape set would be the perfect outfit for wizarding school, don't you think?

This person used it on their dog, but you get the point. Looks pretty snazzy!




Magical costumes wouldn't be complete without at least one unicorn.
Just look at this little one, she looks like she loves hers!

It looks just like the image which is awesome. NO surprises.


I know this stock photo looks a little strange like they pasted a baby's head on a toddler or something (I think that's what they did).

But the actual costume on a baby looks awesome! I love that this family opted to go the whole 9 yards with family costumes for everyone.

The only complaint about this one was the hat size. It does run a little small.

Super Mario is a great one for family costumes since there are so many characters to choose from. It works for small or large families.

The only other thing I would add to this costume is the ICONIC Mario stache'. This cute mustache pacifier would be perfect!


If you're a lover of all things Star Wars, you must've seen the Mandalorian by now. Of course, you can't forget 'the child' or the cutie we all call baby Yoda!
This adorable costume is perfect for your young padawan.
If you're into family costumes, the possibilities here are endless!
How about this fun Dadalorian t-shirt if you aren't one for dressing up? Don't worry, there's one for the momalorian too!


BABY GOKU DRAGON BALL Z COSTUME



I'm OBSESSED with this baby Goku Dragon Ball Z costume! It looks so spot on so of course, I had to see if there was a customer photo.

You're in luck, just take a look at this one. Just perfect!

Almost perfect, the one thing I noticed people saying was that it runs big so it would be better to size down for this costume.



FLINSTONES COSTUMES


Watching the Flinstones every Saturday morning was probably one of my oldest memories as a kid.

My sisters and I would fill our cereal bowls and plop down on the couch to catch up with our favorite modern stone-age family.

So, of course, doing a family Flinstones costume is definitely on my bucket list. This family totally nailed it! Love their costumes and check out little baby Pebbles. Ahhh so cute!

If you think that's goals, then go ahead and grab your family costumes too!


TIPS FOR CHOOSING A BABY HALLOWEEN COSTUME



Halloween can be such a fun night for little ones. However, it's also important to keep safety in mind so everyone has a great time. When you're choosing your child's costume, take these safety considerations into account as well.


BE WEATHER READY – Make sure you check your weather forecast ahead of time and dress baby accordingly. You may need to add an extra layer under their costume if its a particularly chilly evening.

BE CAUTIOUS OF FIRE – check to see if the material is flame retardant/resistant. Of course, you want to be vigilant and keep little ones far away from fires but Halloween is often full of spooky lit Jack-o-lanterns and accidents can happen.

INSPECT ANY LOOSE PARTS – some costumes have all kinds of bells and whistles going on. Make sure to inspect costumes that have added trinkets and accessories to make sure they aren't coming loose. The last thing you need is a choking hazard.

Closer Online shares some more safety tips to keep in mind with little ones.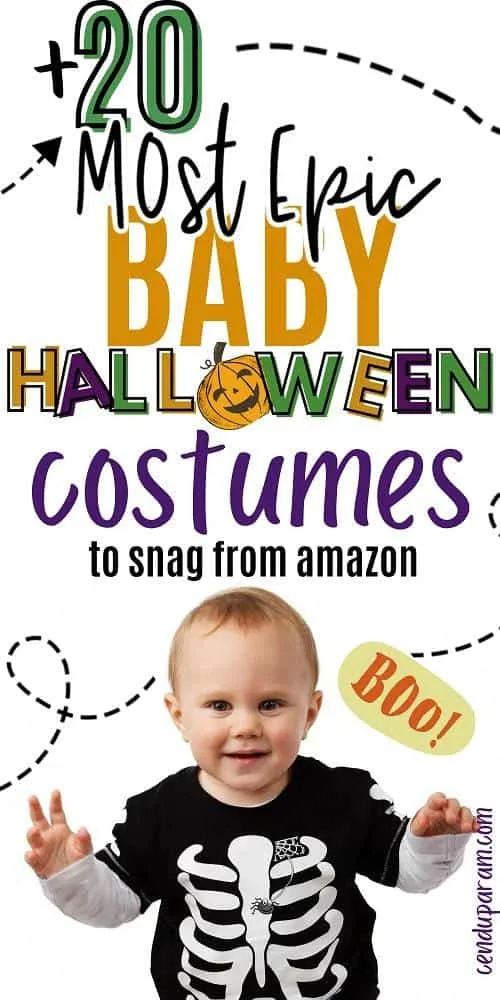 CREATIVE BABY HALLOWEEN COSTUMES



There we have it, over 20 super cute, fun, and creative costume ideas for your sweet babe! I love the idea of getting started on fun traditions early on with the kiddos.

Halloween is a great one where we can all get involved and make some silly memories together. I love that so many of these baby costumes lend themselves easily to family costumes as well.

Which one was your favorite? I'm having a hard time choosing just one, I love them all! I would love to hear what you went with too.

Let me know in the comments below.