Want to make your own DIY Lilo and Stitch Costume this Halloween?

One of my favorite holidays as a kid was always Halloween because I loved dressing up and being someone or something else for a day. So of course I was pretty bummed out about adulthood. Grown ups don't really do the dress up thing so much.

That's why, when I became a mom, I was over the moon about getting to dress up again. But more specifically about matching mommy and me outfits for Halloween.

I fully intend to do matching family outfits every year until my kiddo can scream no more mom, no more. LOL!

So here's our take on one of our favorite Disney duos: the Lilo and Stitch mom and baby costume.


Disclaimer: as an Amazon Associate I earn from qualifying purchases. This comes at no extra cost to you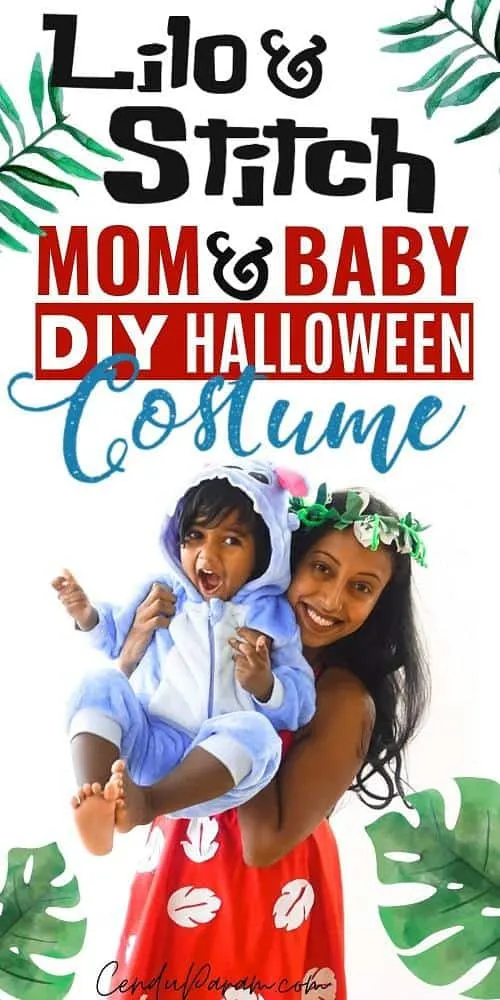 DIY LILO COSTUME



So which Lilo do you want to be? There's essentially 2 iconic Lilo looks to choose from.

You can go with classic Lilo which is the red dress with the white leaf pattern that you see her in throughout the movie like this one below:


or you can go the Lilo Hawaiian Hula Dance Costume route with the red top and green leaf skirt complete with the leaf halo on her head.



LILO DRESS COSTUME DIY


Let's start off with the red Lilo dress costume. I'm no sewer so we're gonna try to keep sewing to a minimum here. If you're comfortable sewing then go right ahead.

I started off with a red dress I already owned so you can certainly use one you already have if you don't mind turning it into a costume. Obviously lets not use our favorite red dress for this.

Here's a few cheap options from amazon if you aren't sure where to start.


Next, you'll need some sort of fabric for the white leaves. Since I'm no sewer, I wanted to stick to the easiest material to work with so I went with felt.

Felt is great since it's easy to cut and sticks well with glue.

Grab some white felt sheets like these:

LARGE SHEET WHITE FELT 12 X 18 (5 PACK)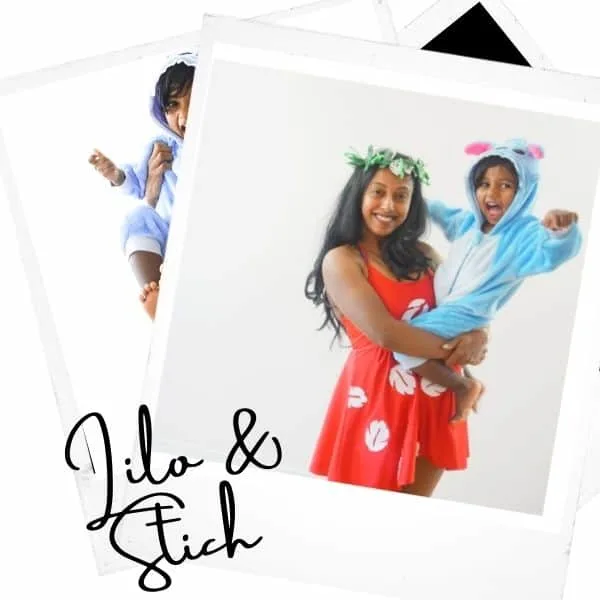 Now, use the leaf template found at the bottom of this post to create your leaves. I've included a large size and small size so print them out and see which size works best for you.


Once you decide on your leaf size, cut out your leaf template

Now, use your leaf template to trace the shape onto your white felt sheets. I find that tracing them alternating between right side up and upside down maximized the most space for me. Play around and see what works.

Next, cut out all your leaves from the felt sheet.
Now, place them strategically on the dress before you actually stick them on so you can figure out how you want them.

Once you're happy with the look, you can glue them onto your dress with either this fabric glue or a hot glue gun.

If you prefer to sew them on, you can do that as well.

Now, just set it aside to let it dry and you're done!

In case you decide not to go the complete DIY route, I'll link a few similar dresses below you can grab instead.


LILO HULA COSTUME DIY



This outfit is fairly easy to put together. You just need a red top and green skirt of some kind.

A red tank top or crop top would work well for this.

Here's a few options from amazon if you don't already have one:



Next up, you'll need a hula skirt. Lilo's looks like leaves so we can either get a grass hula skirt or make your own one by attaching green felt leaves to a green skirt.

Here's a few leaf skirts that are already good to go:



With this skirt, you can either just wear it as it is or attach green felt leaves to the skirt with fabric glue/hot glue or sewing.

Another option would be to buy fake leaves and attach those to the skirt instead (probably easiest with hot glue or fabric glue).


To complete the look, Lilo also wears a leaf crown and leaf bracelets and anklets.

You can either make your own leaf crown or grab a pre-made one.

I combined a few elements from both of Lilo's looks and created my leaf crown using:

– Pipe cleaners and green felt.



HOW TO MAKE A DIY LEAF CROWN

1. Use the pipe cleaners to create a base to attach your leaves.

2. Combine as many pipe cleaners as you need (by twisting the ends together) so that it fits comfortably around your head.
3. Use the crown leaf pattern to create your own leaves out of felt sheets. Cut out and trace the leaf pattern onto your felt sheet and cut out your leaves.
4. Attach the leaves to your crown by folding your leaf pattern at the stem and gluing them around the pipe cleaner crown. Attach the leaves all around in all directions so it looks nice and full.

5. You can use this same method to create your leaf bracelets and anklets if you want the added accessories.

Or you can opt to buy a pre-made leaf crown like one of these below:


If you're curious how it looks in person, check out this customer's photo.


That pretty much completes your Lilo costume!

Now, lets move on to our tiny companion.



STITCH COSTUME DIY FOR BABY


For your baby or toddler stitch costume, I think it would be easier to start with a blue outfit. So you can either go with matching shirt/pants that are a deep blue ( pajamas could would work) or a onesie or even a sleeper gown for young babies.

Here's a few options if you're not sure what to look for.


STITCH'S BODY

Once you have your main outfit, we can just tweak it a little bit.

Stitch has a lighter blue circle area around his body/stomach area.

You can simply cut out a large oval shape and glue or stitch it to your outfit.
I would use some light blue felt like this one.


STITCH'S EARS

Next, let's make a pair of ears for stitch.

You'll need a small headband that fits your little one or a blue baby hat.

You'll also need some stiff blue felt and stiff purple felt.

Now, use this template from Family Disney to create your stitch ears.

You'll cut out the the ears (inner and outer) and trace them onto your felt, then cut those out as well.

Glue your purple inner ears onto the blue outer ears.

Attach these to your baby hat or headband with glue or by sewing them on.

If you prefer a quick cheat option, check this out:


If this seems like a lot. You can grab one of these options for your baby Stitch instead. I actually ended up going with the onesie pajamas for my little guy.

Since they're PJ's he still got to use them after Halloween so that's a win-win in my opinion!

RELATED POST: +20 Adorable Baby Costumes To Snag From Amazon This Halloween

MOMMY & ME HALLOWEEN COSTUMES : LILO AND STITCH

That wraps up our mom and baby Lilo and Stitch DIY costume.

Lilo and Stitch is one of our favourite Disney movies of all time so we just had to recreate the magic.

Remember, don't kill yourself trying to DIY everything! It's not a contest. If there's some things that are just too time consuming, it's totally okay to go the store bought option too.

For my little guy's Stitch costume, some of the items we ordered didn't come in on time (yes, I'm a last minute DIY'er). So we ended up buying that inexpensive pajama onesie instead and it turned out great.

Have any tips or ideas on how we can improve this DIY? Leave a comment below.