Halloween Candy Dice Game Printable PDF
With spooky season right around the corner, you might be looking for fun Halloween activities for kids to do at home or in the classroom.
Grab this fun Halloween Candy Dice Game Printable and get the party started! This game is perfect for Halloween parties at home or in the classroom.
It's fun to play, easy to set up, and doesn't require too many items. You probably have most of the things at home already.
This game was always a favorite in my classroom and you can set it up so each table of kids has their own game card and candy to keep things moving along.
It's a fun way to swap candy as well so you could even play this game after the kids have finished trick-or-treating.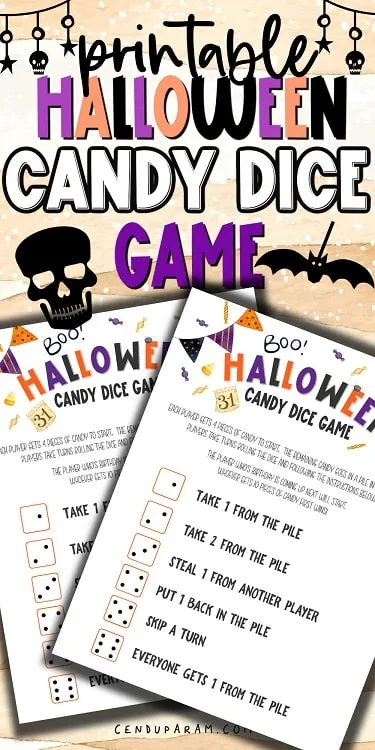 What Do You Need To Play Halloween Candy Dice Game?
As I was saying, this game is super easy to set up and doesn't require a lot of items. Here's what you'll need to get started:
one dice (I'm sure you've got board games somewhere with some dice in them, but if you don't, I love these giant dice stress ball things or these colorful foam dice).

wrapped Halloween candy – about 8-10 per player (you can use whatever the kids want to trade or grab some of your Halloween candy stash, I love to throw in a few full-sized candy bars to make things interesting)

Printable Halloween Candy Dice Game

You might want some treat bags on hand so everyone can easily take their candies to go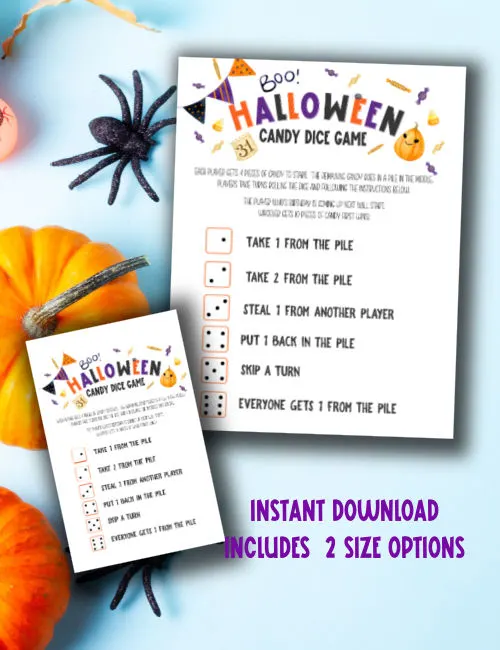 How Do You Play the Halloween Candy Dice Game?
Now let's go over the rules of the Halloween Candy Dice Game.
If you're playing in the classroom, you can have each group at their desk (about 4-6 students per table works well).
If you're playing at home, I would keep it max 6 kids per group so they aren't waiting forever for their turns and getting bored.
Place your candy and chocolates in the middle of the circle.

Each player will start out with 4 pieces of candy in their stash.

You can decide who the first player will be ex. the youngest person in the group or whoever's birthday is next or closest to Halloween.

The first player will roll the dice and follow the instructions on the Candy Dice Game Printable.

Continue clockwise and each player will take a turn.

The first player to get 10 pieces of candy is the winner!

Another option is to play using a timer (set to 5 minutes or whatever you decide) and whoever has the most candy when the timer buzzes is the winner!
Grab your copy of the Halloween Candy Dice Game or get my entire Halloween Party Games Bundle and have even more fun activities to keep the kiddos and adults busy and entertained.
Printing Your Candy Dice Game Halloween Activity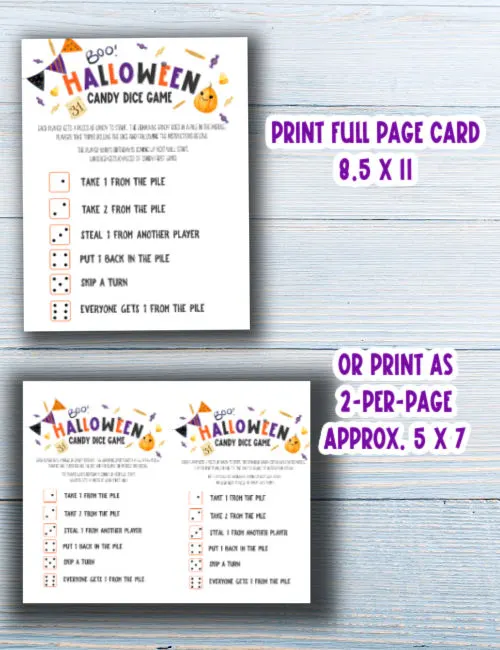 Printing your Halloween Candy Dice Game Printable PDF is easy peasy! You'll need to make sure you have a PDF reader installed on your computer to view and print your files.
If you don't have one already, you can get it FREE from Adobe Reader.
There are 2 size game cards included.
You can either print a full-page game card (standard US letter size 8.5 x 11) or you can save some ink and paper and print the 2-per-page option.
These smaller cards are approximately 5 x 7 each and are perfect if you're having a party or using these for the classroom.
Simply download your files, print them, and cut them in half if needed.
If you love thicker paper and a more professional finish, you can print them on cardstock paper. That's what I do for the classroom, and then put them in sheet protectors so I can use them again and again.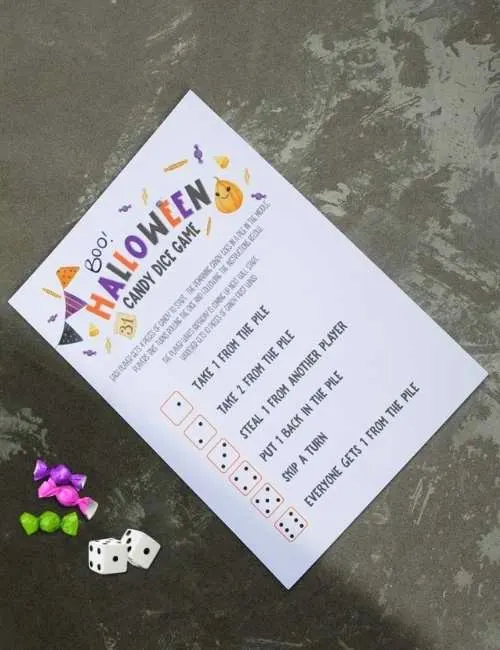 More Halloween Printables and Activities
If you're looking for some Halloween freebies check out some of the posts below instead 🙂
Spooky Halloween Coloring Pages PDF for Kids
Fun Halloween I SPY Printable for Kids
Spooktacular Halloween Scavenger Hunt Printable PDF for Kids
Halloween Word Search Puzzles for Kids Printable
FREE Halloween Worksheets & Activities for Kids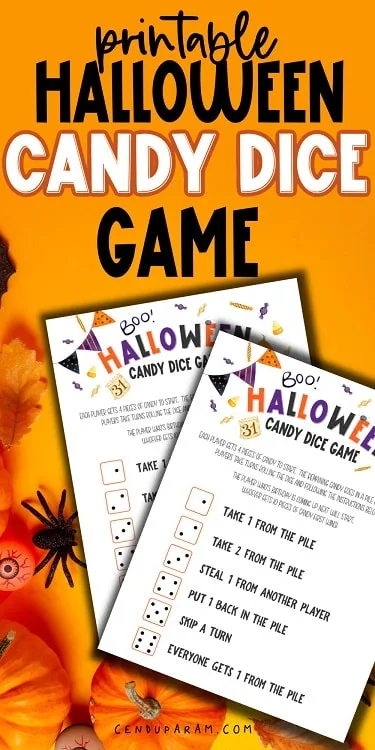 Wrapping Up Halloween Printable Candy Bowl Dice Game
I hope you enjoyed this quick walk-through of how to set up your own game of Halloween candy dice! It's super fun and easy, and will give you a break for more than 5 minutes so it's a win-win!
If you're hosting a Halloween party, you should grab my Halloween games bundle with fun games for kids, teens, and adults alike!
There are a lot of unique games in there that'll keep guests guessing.
If you're looking for some free Halloween activities and printables, be sure to check out some of the posts I linked above.
Have a spooky Halloween!