HALLOWEEN COLORING PAGES PRINTABLE

Looking for some fun and free ways to keep the kids entertained this Halloween? Why not try these cute Halloween coloring pages?
It's a great way to keep the kids busy without staring at a screen all day. It's a fun activity that's also a great way to work on motor skills and color recognition with little ones.
There's a mix of everything from cute and simple Halloween coloring pages for toddlers, preschoolers, and kindergarteners to more spooky scary Halloween coloring pages for older kids (not that scary though).
They're super easy to print and use as all of these are in PDF file format. Simply click the download pdf under the image you'd like to print. It'll open in a new tab where you'll click the printer icon in the right-hand corner.
These coloring pages are for personal (non-commercial use) so feel free to use these at home with the kids, in a loot bag for a Halloween party, or in the classroom for a class party. Or print them all and make a fun Halloween coloring book.

You can even hand them out as a treat for little ghouls and goblins that show up at your door (you can pair it with a couple of crayons too).

Heck, who says adults don't color, you can use these Halloween coloring pages for adults too!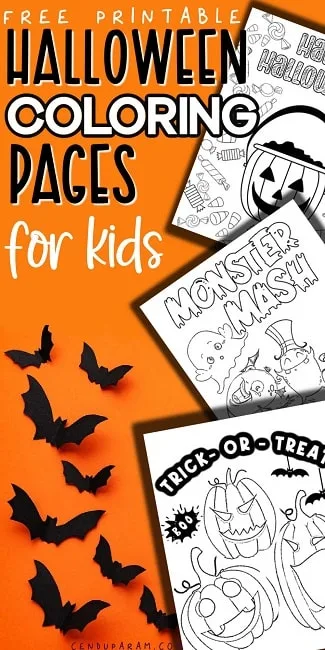 PUMPKIN HALLOWEEN COLORING PAGES

Nothing screams Halloween quite like pumpkins! Here's where you'll find pumpkin coloring pages and cute and fun Jack O'Lanterns. Some are pretty friendly-looking and a few are a little more sinister but they're all ready for some Halloween fun.

These are perfect Halloween coloring pages for elementary school!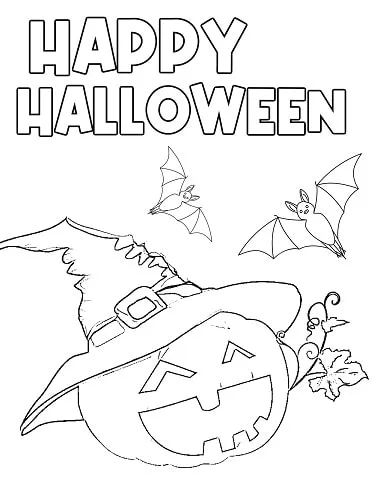 Cute Pumpkin with Witch Hat Halloween Coloring Page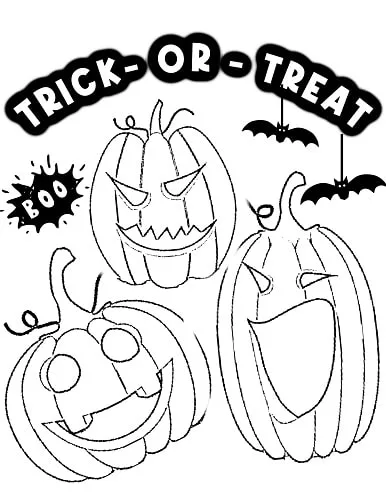 Halloween Jack O Lanterns Coloring Page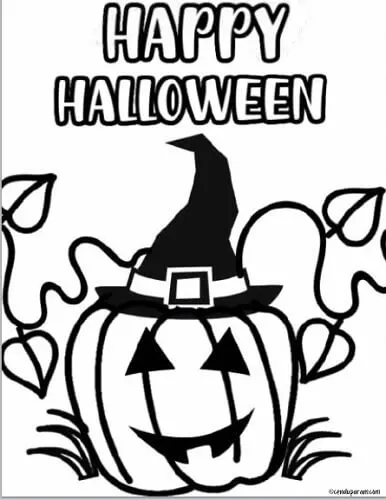 Cute Jack-o-Lantern Halloween Toddler Coloring Page
WITCH HALLOWEEN COLORING PAGES


Witches were always another Halloween favorite of mine. With all their potions, spells, and magic, these wicked witch Halloween coloring pages are sure to make your cauldron bubble!
You'll find some cute not so scary witches (so no worries about scaring the kindergarteners).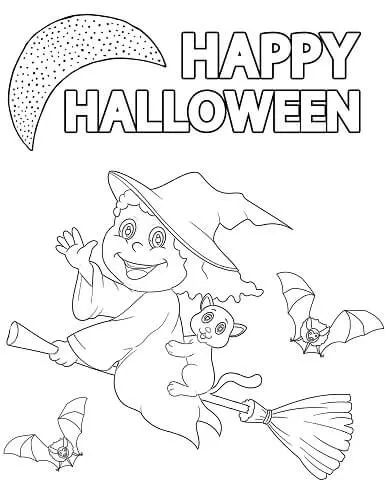 Cute Witch on Broom Halloween Coloring Sheet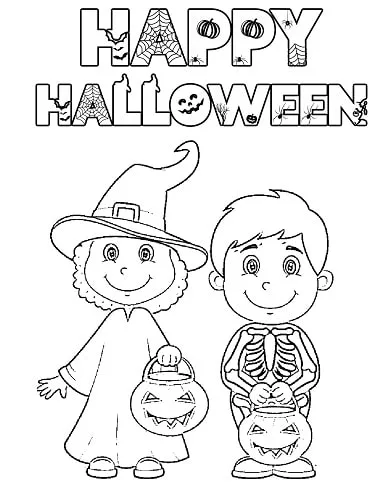 Halloween Costumes Witch and Skeleton Coloring Page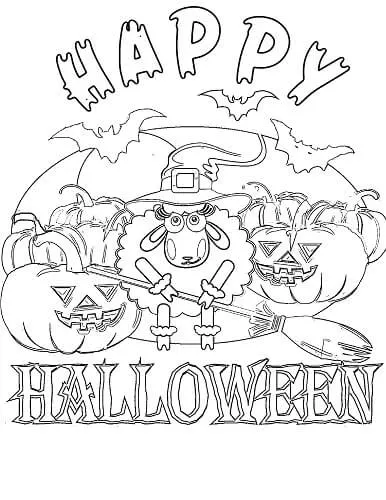 Sheep Witch Happy Halloween Coloring Page
HAPPY HALLOWEEN COLORING PAGES FREE PRINTABLE

This is pretty much any coloring pages I didn't have specific categories for so we'll just call them the happy Halloween coloring pages. You'll find cute Halloween coloring pages featuring Halloween costumes, black cats, treats, haunted houses, and more!

Have fun coloring these cute black and white Halloween coloring pages.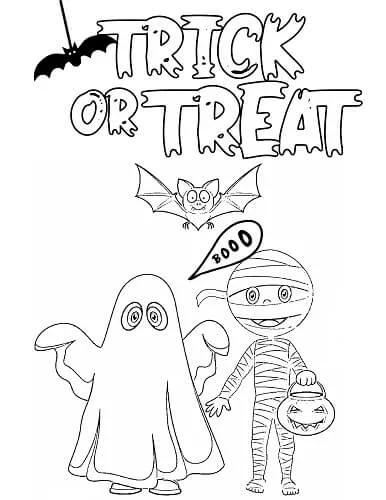 Halloween Ghost + Mummy Coloring Page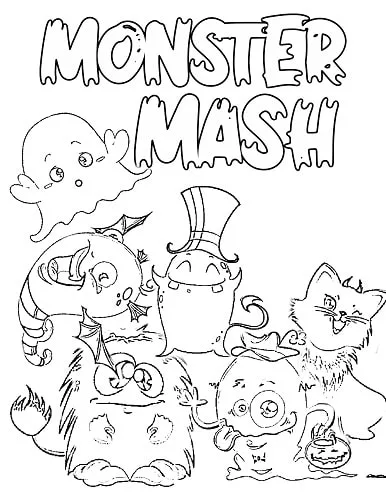 Cute Halloween Monsters Coloring Page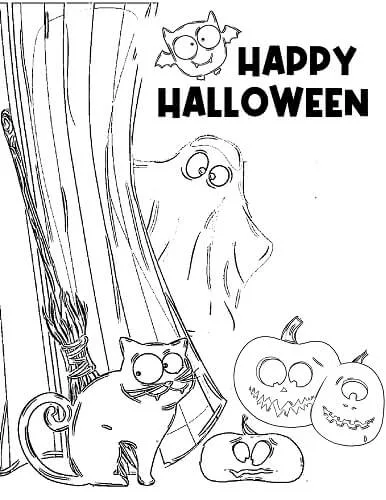 Simple Ghost Halloween Coloring Pages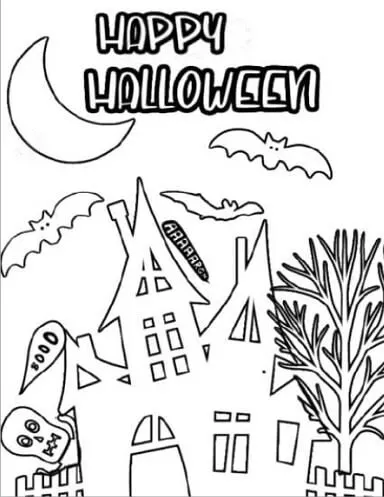 Spooky Haunted House Halloween Coloring Page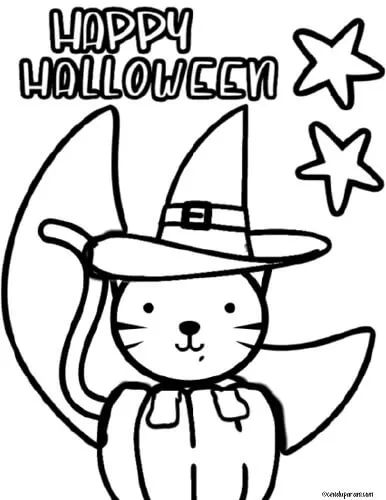 Cute Cat and Pumpkin Halloween Coloring Page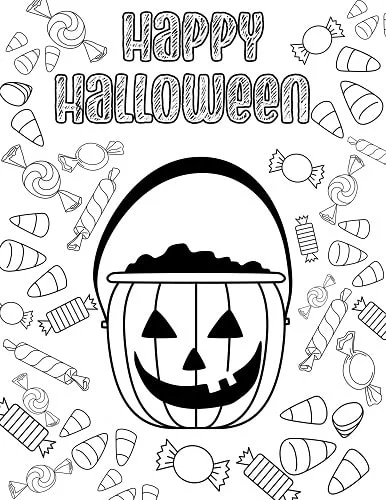 Halloween Candy Corn Coloring Page
MORE CUTE HALLOWEEN COLORING PAGES
You might be looking for some cute Halloween coloring pages featuring your favorite fun characters from Disney like Mickey and the gang, or maybe Clifford or minions.

Unfortunately, because of copyright issues, I can't create and provide those kinds of coloring pages. But don't fret!
There's plenty of places you can get those too!
Check out some of these links below to find your favorite characters.
Disney Halloween Coloring Pages – these have all your favorites like Mickey Mouse, Winnie the Pooh, and even some fairies and princesses.
Peppa Pig Halloween Coloring Pages – you'll find cute images of Peppa and the Family dressed up for Halloween
Paw Patrol Halloween Coloring Pages – Nickelodeon has lots of fun coloring pages as well as other fun Halloween printables featuring the gang from Paw Patrol
Hello Kitty Halloween Coloring Pages – I'm not sure if this is still a thing but I loved Hello Kitty coloring pages as a kid so I figured I'd include some of these too
If these are all too tame and you want some scary coloring sheets this is the place.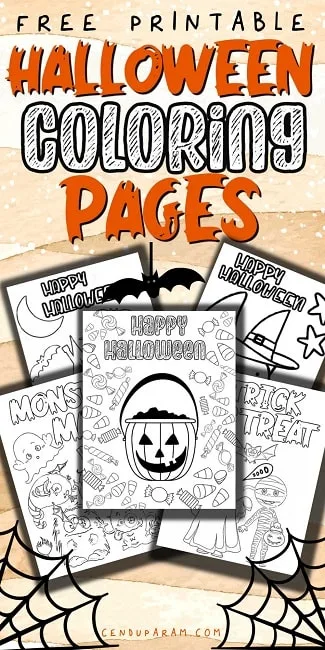 MORE PRINTABLE HALLOWEEN COLORING PAGES AND ACTIVITIES

If you're looking for some more fun and free Halloween printable activity sheets for kids then be sure to check out some of these other related posts!
Halloween I SPY Game Free Printables for Kids
Halloween Scavenger Hunt Ideas (including FREE printables)
FREE Halloween Word Search PDF Printables
WRAPPING UP FREE HALLOWEEN COLORING PAGES TO PRINT
I hope you and your little ones enjoy these free Happy Halloween coloring sheets! It's such a great way to keep kids entertained and doing something creative (that's also screen-free). Because come on, Halloween coloring pages are easy peasy and fun. Even as an adult, I love joining in on the coloring fun.

Plus, when they're finished with their masterpiece you can even hang them around the house as Halloween decorations. That's a double whammy.

We always do that before our class Halloween party and it looks boo-tiful!

If you're looking for more printable Halloween coloring pages and activities, be sure to check out some of the related posts above.
If you couldn't find what you're looking for or have some suggestions, please leave them below and see what I can do!

Happy Halloween!