The BEST Personalized Gift For Dad
Looking for something extra special to gift dad? Whether it's Father's Day, Christmas, his birthday, or any other special occasion, you can't go wrong with a special personalized gift for dad.

I've found the ultimate one!

I've found the gift that's guaranteed to make dads (and granddads) young and old bawl like a baby! It's the perfect gift for the dad who says he doesn't want anything. This is the gift he doesn't know he needs yet.

It's the collection of Hooray Heroes Personalized Books which they were kind enough to gift me one of!
There are SO MANY to choose from for every occasion!

Let's check them out!

Please note the product was generously gifted for me to try by Hooray Heroes but the opinions and ideas expressed here are my own.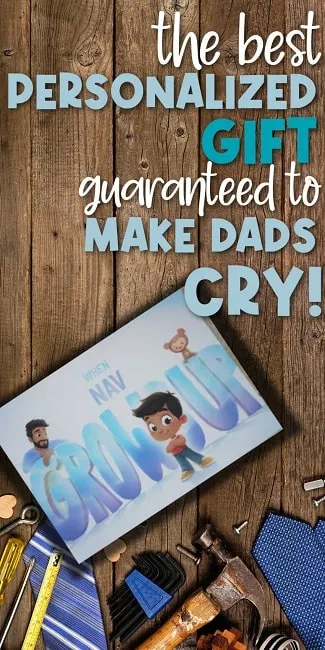 What Are Hooray Heroes Personalized Books?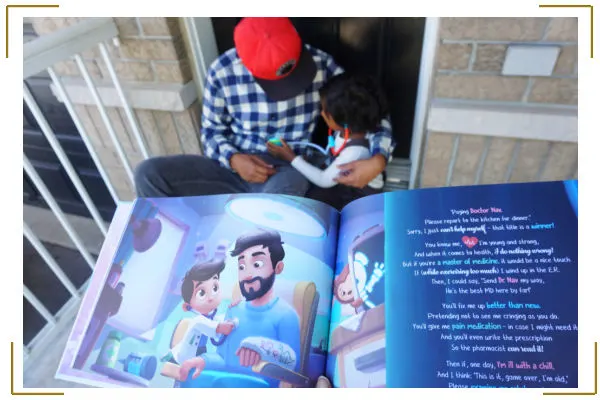 This awesome company creates personalized books featuring your little ones and the whole family! You get to customize the look of your kiddos and dad (or mom or grandparents or whoever you're choosing) and create adorable cartoon versions of them. You choose everything from hairstyle and color to eye color, skin color and you can even add a little stubble for dad (or a full-on beard like my guy).

Then you choose your dedications and storylines and let Hooray Heroes do the rest.
It's super fun and only took me about 10 or 15 minutes from start to finish. Easy Peasy!

Personally, I got the "When Nav Grows Up" book featuring my little guy and his daddy. It's a real tear-jerker that shows all the different things that we think Nav might grow up to be (with daddy in his corner cheering him on). You can pick up to 10 stories and you have the option to add more stories for a small fee.

Our story featured so many of the things we both talked about Nav growing up to be, like a coder, a chef, a race car driver, and a soccer superstar!

You can order it in a hardcover or softcover version.

Let's be real though, if you've got a toddler, I would definitely go with a hardcover book. It looks great too!


Is Hooray Heroes Legit?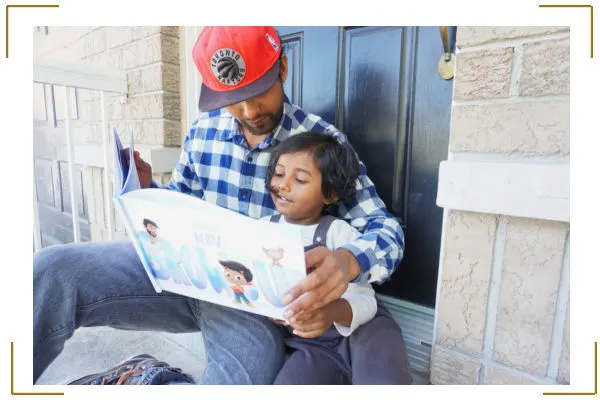 I know it can be daunting and sometimes little scary ordering things online because you don't always get what you see.

Well, in this case, what you see is what you get. In fact, I think they definitely over-deliver!

Our book looks incredible!

The colors are beautiful and vibrant. The quality and finish of the book are fantastic and it shipped super fast! Like a week I think! That's pretty incredible considering it's a customized product shipping in from the UK.

They have different shipping options to choose from. If you aren't in a hurry and are on a budget stick to the cheaper option. If you need it ASAP go for the expedited options.

They also have a fantastic team that handles all their customer service inquires and lets you track the progress of your book from start to finish.
All in all, you can't go wrong with this gift!

Why You Should Order Today!
This is such a unique and special gift that dad will treasure forever! This is a gift that's also a keepsake and for that alone, it's so so worth it!

I don't think dad needs another mug. Plus, I wanted to see tears and I knew this one would definitely deliver.
Have you seen all the dads bawling about their books?

Check out this video on their facebook page to see the tears. I'm not crying! You're crying! (Actually, we were all crying while we were reading Nav's special book).

My guy said that hands down, I totally won the best gifter award.

So, if you want to give dad a once-in-a-lifetime kind of gift that he'll actually LOVE, then go ahead and order today!
He'll definitely thank you later.