Looking for some fun and free Halloween printable activities for kids? You're in the right place! You'll find all kinds of Halloween worksheets, printables, and more (created by me, teacher Cendu).
This post has a couple of fun and free spooky Halloween word search printable activity pages you can choose from with varying difficulty levels for kids of all ages. It's the perfect activity to keep the kids busy and learning all at the same time.
A word search is a fantastic way to work on language, vocabulary, and visual discrimination. All important skills to our little learners.
These Halloween word search printables also make a great non-candy treat, just add a pencil or highlighter. I always put together a little goodie bag with all the free printable worksheets to make a fun Halloween activity book.

If you'd like to make your own, be sure to visit the other blog posts to get them all!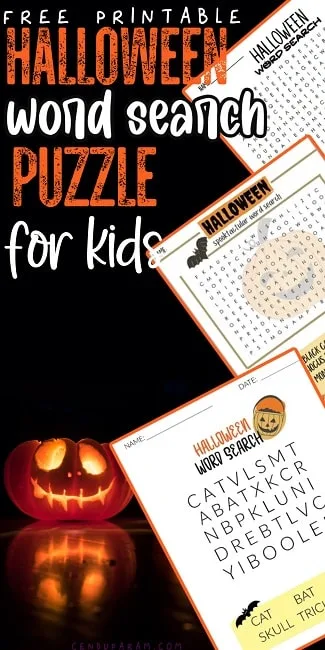 BENEFITS OF WORD SEARCH PUZZLES

Word search puzzles aren't just fun for kids, they learn a lot too!

It lets our little learners work on new vocabulary in a fun way. It's an easy way to learn spelling and new words. They begin to pick up pattern recognition and rules like a 'U' always follows a 'Q'.

It also teaches students to figure out contextual clues because most word search puzzles revolve around a certain theme and all the words are related to that main theme.

Like when you hear Halloween, you think costumes, jack-o-lanterns, and trick or treating.
It's also an easy way to reduce screen time! Word search puzzles are fun and entertaining. All you need is a puzzle and a pencil so kids can put away the iPad for a while.
These kinds of puzzles are beneficial for kids and grown-ups alike, you can read more about the benefits of word search puzzles in this news article if you're interested.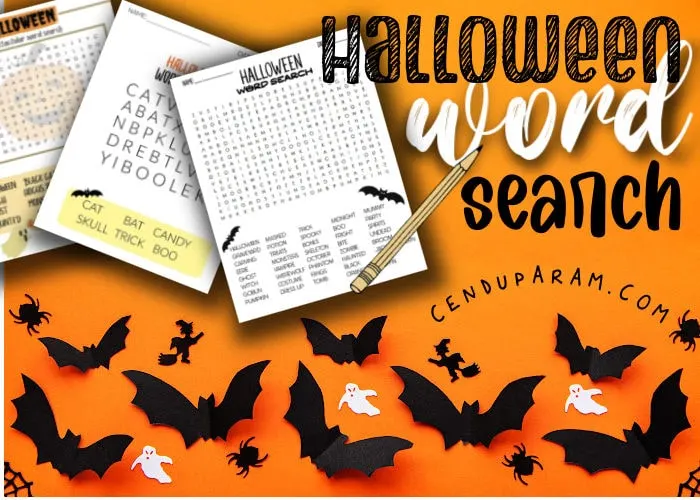 HALLOWEEN WORD SEARCH PDF – HOW TO PLAY

There are 3 different difficulty levels to choose from with your free printable Halloween word search. Choose from an easy, medium, or hard level.

The easy level is perfect for your younger learners in early elementary. We stick to short Halloween words and they'll be found either horizontal or vertical and there won't be any surprises like spelling backward.
The medium level is perfect for your older kiddos who may be around grades 3 and up. Here we'll use horizontal, vertical, and diagonal directions.
In the hard level, anything goes! You'll find words spelled backward, horizontal, vertical, and diagonal.
Make sure to choose the right level for your child to make it just challenging enough and

MORE WAYS TO PLAY

If your child is looking for a challenge you can set a timer and see how many they can find in a set amount of time.
If there are more kiddos playing together (say in the classroom, or at a Halloween party) you can either have them play in pairs or compete against each other to see who will find them all first!

EASY HALLOWEEN WORD SEARCH

Here's our easy Halloween word search pdf! Perfect for your early elementary learners to work on their Halloween vocabulary. I've used this Halloween word search for kindergarten through to grade 1 or 2.

To print, simply click the download pdf under the image and it should open in a new window.
Click the print symbol in the top right and choose your printer.
Easy peasy!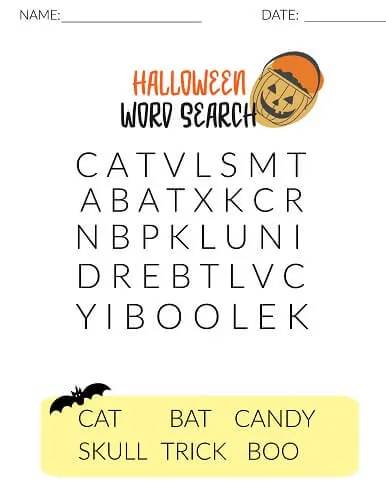 EASY LARGE PRINT HALLOWEEN WORD SEARCH
HALLOWEEN WORD SEARCH FREE PRINTABLE – MEDIUM DIFFICULTY


Next up is the more difficult Halloween word search that's perfect for mid-elementary and up. I usually use these with my grade 3 or older classes.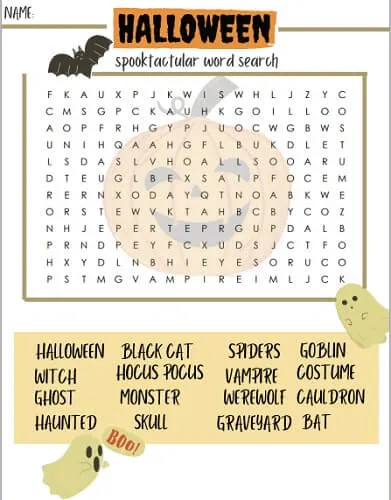 MEDIUM DIFFICULTY WORD SEARCH FOR KIDS
DIFFICULT HALLOWEEN WORD SEARCH

The last one on the list is our more difficult Halloween word search that's suitable for the older kids (I would say maybe grade 4 or 5 and up). This one has words in all directions and backward as well.
Plus there are 40 words to find!
Since this one is kind of a toughie I'll include this advanced Halloween word search with answers.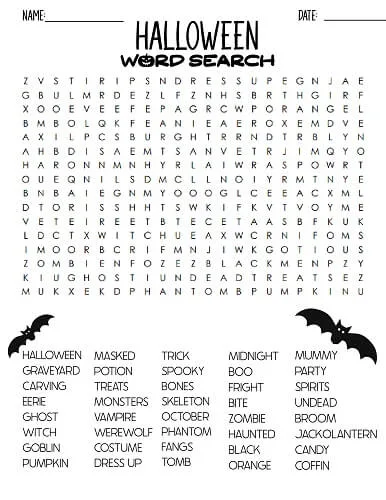 Hard Halloween word search with answers
MORE HALLOWEEN THEMED POSTS

Fun Halloween Coloring Pages To Print

Halloween I SPY Printable Game

Printable Halloween Worksheets For Kids

FREE Printable Halloween Scavenger Hunt For Kids

The BEST Baby Halloween Costumes To Grab From Amazon

Easy Peasy DIY Lilo and Stitch Halloween Costume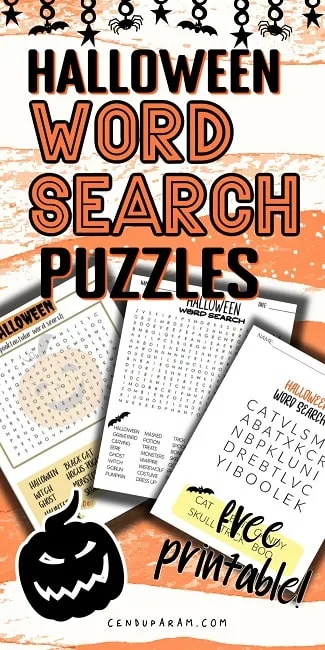 WRAPPING UP HALLOWEEN WORD SEACH ACTIVITY SHEETS

I hope you enjoy these free Halloween word search activity sheets! If you're looking for more fun and free Halloween worksheets, be sure to check out some of the posts listed above.

My personal favorites are the super cute Halloween coloring pages. We love coloring them and hanging them around the classroom to spruce the place up.
Have yourselves a spooktacular Halloween!
Be sure to come back for more fun 🙂