Looking for some printable Halloween worksheets, activities, or Halloween coloring pages for kids? I've got you covered!

As a teacher, I'm always creating tons of printable activities and worksheets for my students and holidays are no exception.

This year has been like no other with lots of parents homeschooling during the pandemic!

So I wanted to offer parents and teachers FREE printable Halloween worksheet PDFs and printable activities to keep the kiddos busy at home.

Just click the download button and print your own copies for personal use.

I've got:
🎃 FREE HALLOWEEN COLORING PAGES FOR KIDS
🎃 FREE HALLOWEEN WORKSHEETS FOR KIDS – (ex. wordsearches, Halloween riddles and jokes etc)
🎃 FREE PRINTABLE HALLOWEEN ACTIVITIES FOR KIDS (ex. Halloween Bingo, Halloween Vocabulary Matching Game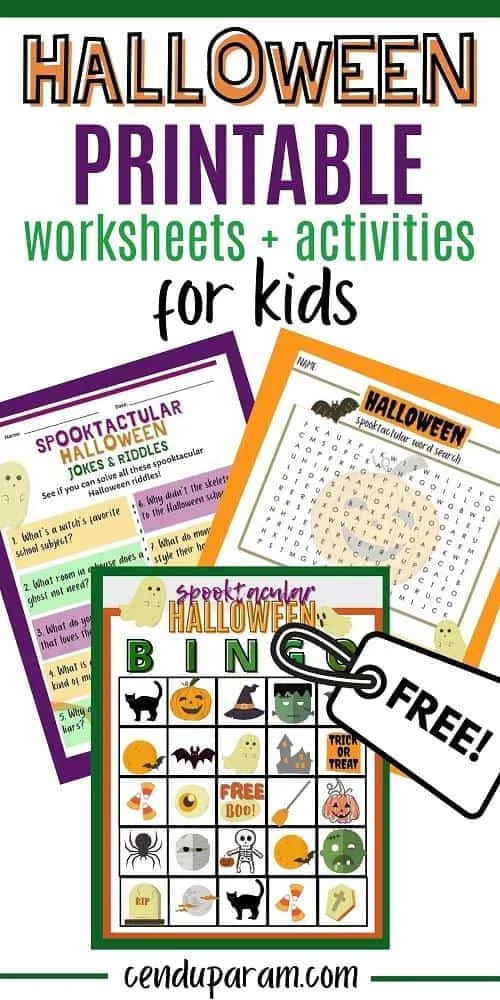 HALLOWEEN COLORING PAGES PRINTABLE PDFS


First off, we've got some cute Halloween coloring pages in printable pdf format!

These are all absolutely free to print and use for personal or classroom use.

RELATED POST: All Things Autumn Printable Activity Sheets For Kids

PRINTABLE HALLOWEEN PUMPKIN COLORING PAGE

Halloween pumpkin coloring pages. Printable Halloween pumpkin coloring pages. These are cute Halloween pumpkin coloring pages. They are also free printable Halloween pumpkin coloring pages. Perfect happy Halloween pumpkin coloring pages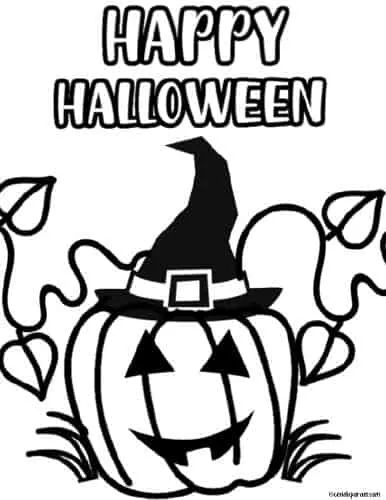 HALLOWEEN CAT COLORING PAGE

Want some printable Halloween cat coloring pages. These cute cat Halloween coloring sheets are FREE and printable PDF files.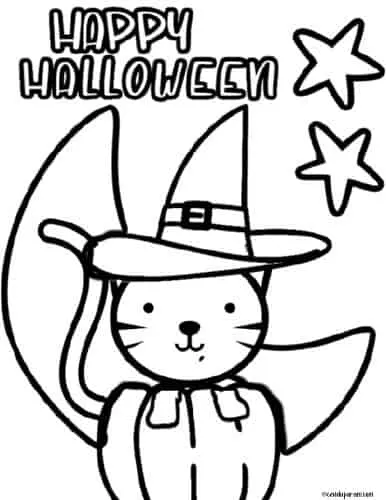 HALLOWEEN HAUNTED HOUSE COLORING PAGE

Looking for free Halloween haunted house coloring pages? This one is a free printable pdf Halloween haunted house coloring sheet for kids and toddlers.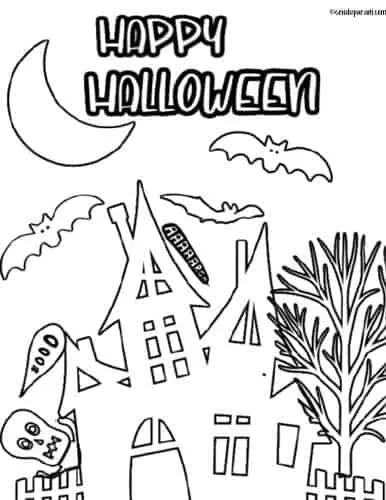 These were the ones I created myself but if you're looking for some more free printable Halloween coloring sheets I have an entire post dedicated to them (I think there's about 10 on that post).
You can also check out these other sites with some great resources!

Disney Halloween Coloring Pages From Mom Junction
Intricate Coloring Pages for Tweens + Teens put together by Pop Sugar
More Kiddie Coloring Pages from Crayola

RELATED POST: The Cutest Halloween Baby Costumes on Amazon

HALLOWEEN I SPY WORKSHEET COLORING PAGE




If you want to work in a little activity while they color, try out this Halloween I spy worksheet that also doubles as a Halloween coloring page.

Have your little one seek and color all the Halloween-themed items like Jack-o-lanterns, bats, creepy crawly spiders, haunted ghosts, and more!

I have another post dedicated to Halloween I SPY games with more printables to choose from with varying difficulties for kiddos of all ages.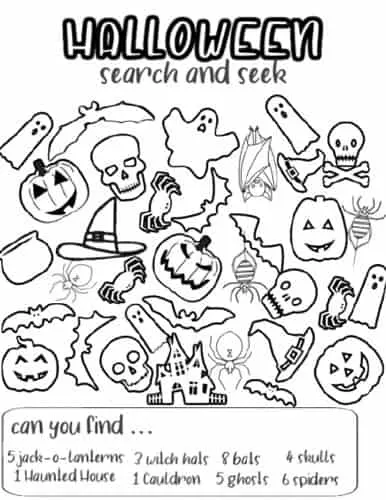 HALLOWEEN WORD SEARCH FREE PRINTABLE



Why not try this fun free printable Halloween word search pdf filled with Halloween-themed words.

Word search worksheets are such a fun way to work on Halloween vocabulary and keep the kiddos busy.
Again, there's another post on just a bunch of different Halloween word search printables you gotta check out!

Halloween word search games are fun.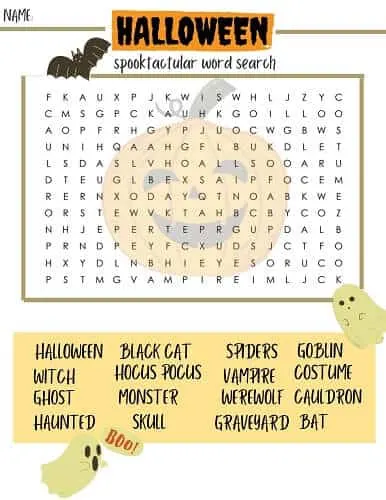 Also, just a heads up, I've removed witch from the printable because I forgot to add that one! You can access the answer key for the word search if needed.
RELATED POSTS: Free Printable Thanksgiving Worksheets and Activities for Kids

HALLOWEEN BINGO CARDS


Another fun Halloween printable activity for kids is BINGO! The one below is a sample I created to give you an idea of how it looks put together. You're welcome to use this one or make your own.

I've created a blank version that you can customize or have your kiddos customize by gluing the Halloween images however they like. Once you open the pdf you'll have access to all 3 printable pages.

Enjoy these FREE printable Halloween bingo cards!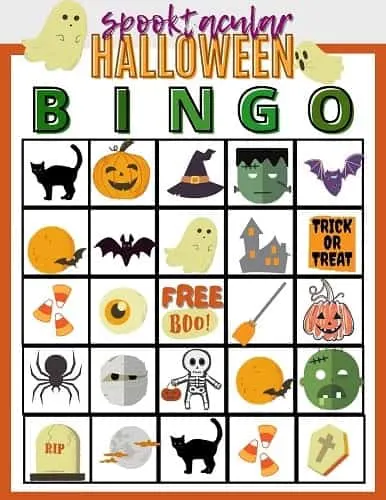 RELATED POST: Mommy and Baby DIY Halloween Costume Lilo and Stitch

HALLOWEEN JOKES AND RIDDLES FOR KIDS



If you want to tickle their funny bones, give your kids this free printable jokes and riddles worksheet.

See if they can figure out some of the witty answers to Halloween's most important questions like What's a witch's favorite school subject.

This one is always a favorite in the classroom!

You'll find the answers on page 2 of the pdf printables.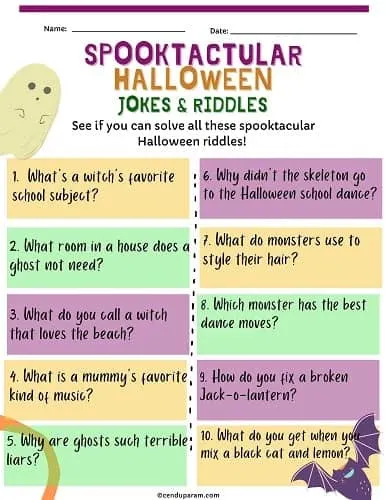 HALLOWEEN MATCHING GAME



Did you ever play those card matching games as a kid? You know the ones, where you flip over cards until you find a matching pair?

Well, this is a Halloween memory matching game! I've made the matching set words so that kids can work on vocabulary and memory at the same time but if you've got a toddler or younger kiddos you could simply print out 2 copies of the Halloween picture cards and match those instead.

Just click the link to download your free Halloween matching game printable pdf.




HALLOWEEN SCAVENGER HUNT


Just because you can't treat or treat this year, doesn't mean you can't enjoy finding all the Spooktacular things around the neighborhood (or even your house).

Get dressed up in your favorite costumes and head out on a wild Halloween scavenger hunt. See how many creepy crawly spooky things you can spot on your adventure and cross them off your list.

How many can you find?!

If you're looking for a Halloween scavenger hunt with clues or easier versions for toddlers, there's a separate post dedicated to that too.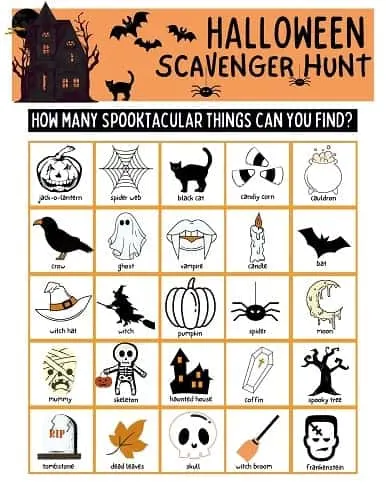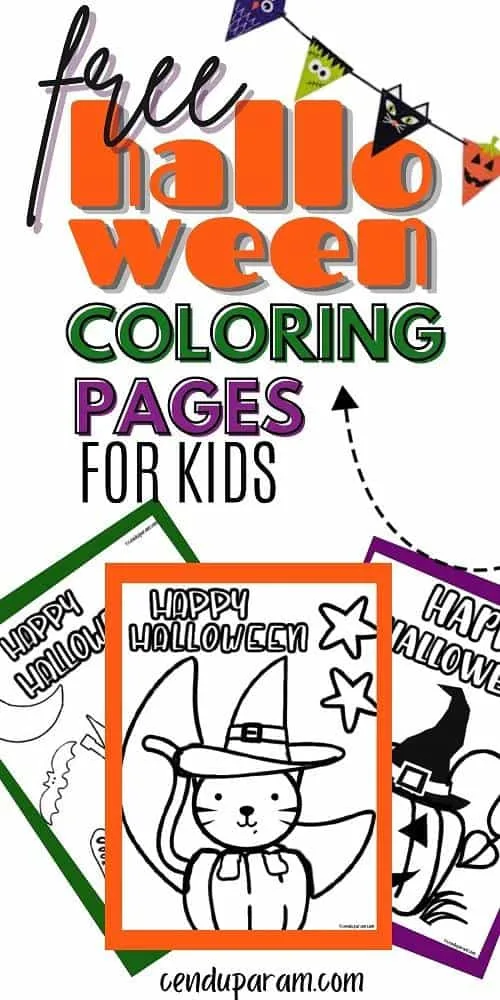 WRAPPING UP FREE HALLOWEEN PRINTABLES FOR KIDS


I hope you were able to find some fun and useful Halloween printable worksheets and activities to keep the kids busy whether in the classroom or at home!

If you're still in the market for some more printable activity sheets, here's another website I often look at to find quick printable worksheets.

I hope you have a spooky good time! If there's any specific printable resources you're on the lookout for, leave me a comment below and I'll see what I can do!

Or maybe you loved these free Halloween resources?

I wanna hear that too!

Leave me comment below 🙂

Happy Halloween!