Halloween I Spy Free Printable
It's almost time for some spooky good fun! That's right, Halloween is just around the corner and that means parties and treats! If you're looking for some fun and sugar-free ways to engage the kids, then try this Halloween I Spy printable.
It's the perfect low prep activity to keep the kids entertained without any screens! It's also super fun and a great learning activity too.
Your kiddos will love hunting for all kinds of spooky creatures like ghosts, goblins, witches, and more!
There are a few different versions to choose from! I've made both black and white Halloween I spy coloring pages as well as colored versions. Plus, there are 3 different difficulty levels too.

There's one set that's more geared to toddlers, preschoolers, and kindergarteners. These have fewer items to find and larger images.

Then we have the easy I spy game which is perfect for early elementary kids and the harder version with lots of items for the older kids.
If you like, you can print them all and make a fun Halloween I SPY book for the kids.


Disclaimer: As an Amazon Associate I earn from qualifying purchases, however, this comes at no additional cost to you.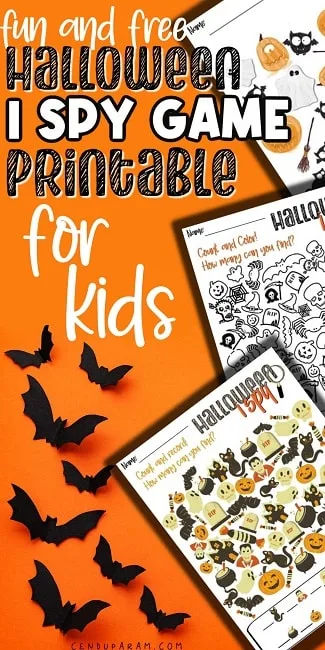 BENEFITS OF HALLOWEEN I SPY GAME

I spy games aren't just fun, they're educational too! Kids actually get a lot of these kinds of activities.
It helps children improve their working memory, visual perceptual skills, visual scanning skills. They need to be able to take in the new information and use these skills to quickly scan and identify similar-looking objects.
Visual discrimination will help students further develop their language and literacy skills because they'll be better able to distinguish between similar-looking numbers and letters.
It's also a fun way to work on their counting and numeracy skills since the main object of this game is to count and record the different items.
In the classroom, we also focus on social skills and social interaction through competitive games or simply by coming together to share our results. We talk about which items had the most and least for example.

HOW TO PLAY HALLOWEEN I SPY FOR KIDS

This Halloween I SPY worksheet is low prep and easy peasy to play.

All you need to do is print out the I SPY activity sheets and provide some pencils, crayons, markers, or pencil crayons, and ask the kids to count and record all the different spooky items on the list.
In our class, we love using these super cute little magnifying glasses during our search.
As I mentioned earlier, there are a few different worksheets to choose from.
There's the black and white version which your kiddos can color and count. This one is great if you want an activity that takes a bit more time or if you're just low on ink.
Then there's the colored version which simply requires counting all the items and recording them.
Both types of printables have 3 difficulty levels to choose from.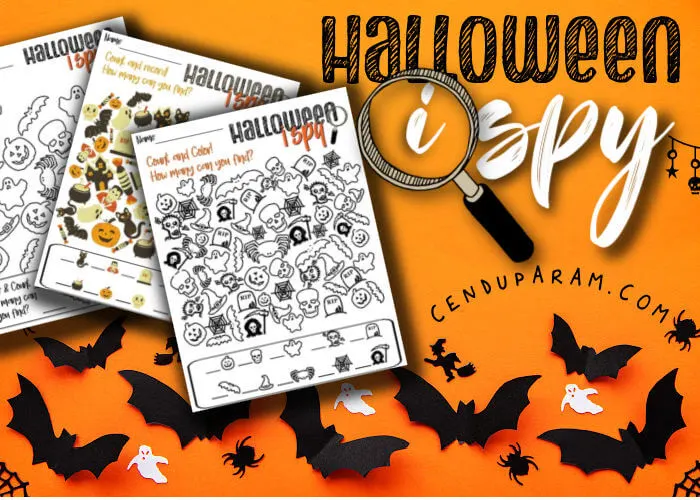 MORE WAYS TO PLAY

If you're using this Halloween I spy activity for a class party or a party at home, you might want to make things a little more exciting by adding a bit of competition to the game.
With the black and white versions, you can host a fun coloring contest.
With the regular version, you can add a timer and see how many the kids can finish in a set amount of time.
Or you could see who can finish the fastest (but it has to be accurate or no win).

MATERIALS YOU'LL NEED FOR YOUR FREE HALLOWEEN I SPY GAME

Feel free to just print them on your regular paper and hand them out to your kids if you like. Personally, I like to have them printed on something sturdier like this cardstock paper because we reuse ours every year in the classroom.

After I print them on cardstock, I also laminate them so the kids can use dry-erase markers and reuse the activity sheets over and over again.

This Crenova A4 Laminator is awesome because it does a great job and it's super inexpensive! Score! Another simple option is to just use some dry erase pocket sleeves.

This way you can keep a few in the car for long trips, waiting for appointments, or even when you're dining out and the kids are bored.

PRESCHOOL HALLOWEEN I SPY ACTIVITY
This first set is perfect for our younger learners. They feature cute and furry creatures that aren't too scary. There are only 5 different items to find and the objects are quite a bit bigger so it's perfect for little ones.
I would use this set of Halloween I SPY for kindergarten, preschool, or toddlers.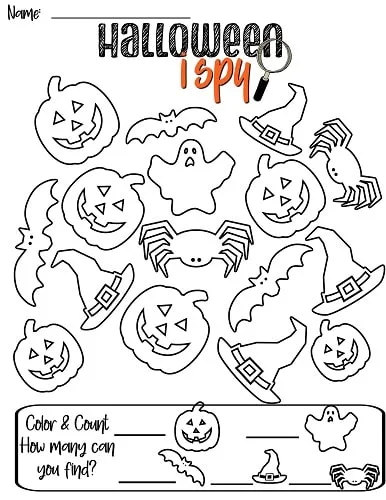 HALLOWEEN I SPY COLORING PAGE FOR KINDERGARTEN AND PRESCHOOL
HALLOWEEN I SPY ACTIVITY FOR TODDLERS
HALLOWEEN I SPY WORKSHEET
Festive games are such a great way to celebrate the fun at school or at home!
Even older kids love games for classroom parties (because they don't even realize we've snuck in some learning).
Have your kiddos try one of these fun Halloween I SPY game templates or do them together as a family activity. It's a great addition to family game nights as well!

Or you can even hand them out to trick-or-treaters as a non-candy alternative.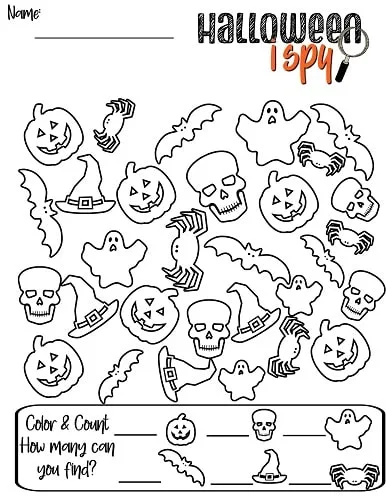 Easy Halloween I SPY Count and Color For Early Elementary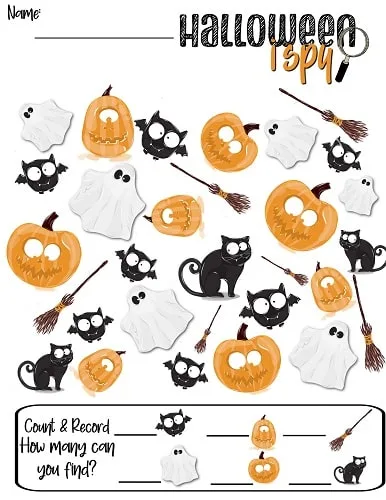 FREE PRINTABLE HALLOWEEN I SPY WORKSHEET FOR ELEMENTARY STUDENTS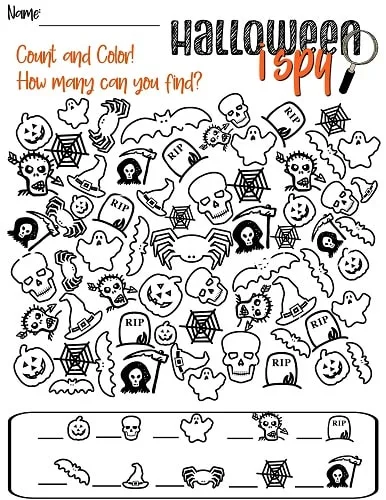 Challenging Halloween I Spy Printable for Kids
Halloween themed I Spy Game Free Printable
MORE HALLOWEEN ACTIVITIES AND WORKSEETS

Halloween Coloring Pages FREE Printables

The BEST Halloween Worksheets and Printables for Kids

Halloween Scavenger Hunt with Clues (or List) Free Printable

FUN Halloween Word Search Puzzles To Print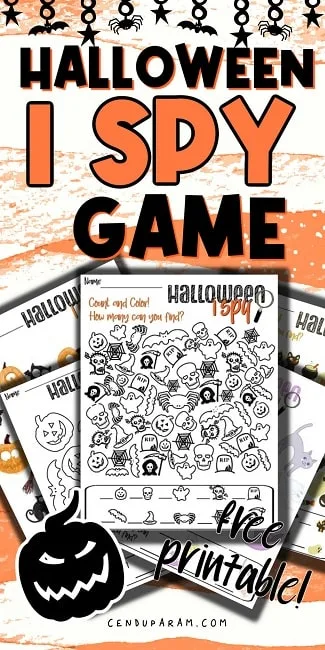 WRAPPING UP HALLOWEEN I SPY FREE PRINTABLES

I hope you and your little ones enjoy these fun and free Halloween I spy pdf printables this spooky season. It's such a fun activity that's hands-on and engaging.
If you're looking for more awesome screen-free ways to keep the kids busy, check out some of the other Halloween activities and worksheets listed above. It's a great way to have fun and get creative too.
If you couldn't find what you were looking for, leave me a comment below and I'll try my best to help.
Happy Halloween!