It's spooky season and if you're on the hunt for easy and fun Halloween crafts for babies, toddlers, preschoolers or kindergarteners then check out these cute and fun Halloween handprint art ideas!
Handprint crafts are always a big hit with little learners. It allows for some messy fun and sensory play while creating some super cute keepsake crafts using handprints and footprints.
If you want minimal prep work to create some cute Halloween handprint crafts, then grab my Halloween Handprint Craft Templates.
These cute printable templates make it easy to create some fun art without a lot of prep. All you need to grab is some paint, something to cover your tables with, and some tiny hands and feet to create the masterpiece.
Handprint crafts are the perfect thing to gift to family and friends too. You can add it to a frame and parents, aunts, uncles and grandparents will treasure it forever.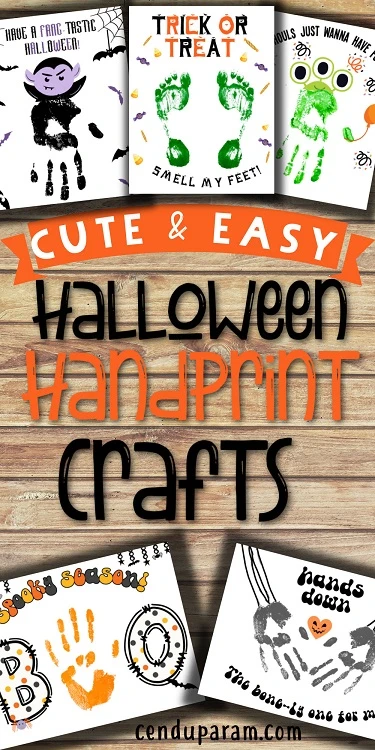 What Supplies Will You Need?
I have a Halloween Handprint Template Printables Bundle to make it easy to recreate these crafts without much effort.
If you're a little artsy, you can probably draw a similar template yourself, but if you need to make a bunch (like for school) then I would suggest grabbing mine and printing out the ones you like.
You'll need standard US letter-size paper (8.5′ x 11′) to print them on.
Although, personally, I prefer to use cardstock paper for printing because it's a bit thicker and more sturdy. I feel like it holds up well with little ones who love to goop on a lot of paint.
If you don't have any, just use regular paper and make sure to let it dry completely on a flat surface (away from little hands) before you hang them up or frame them.
You'll also need some washable non-toxic paint and either a paintbrush to coat the hands or you can pour some paint onto a paper plate and let your little one dip their hands instead.
1. Halloween Witch Handprint Craft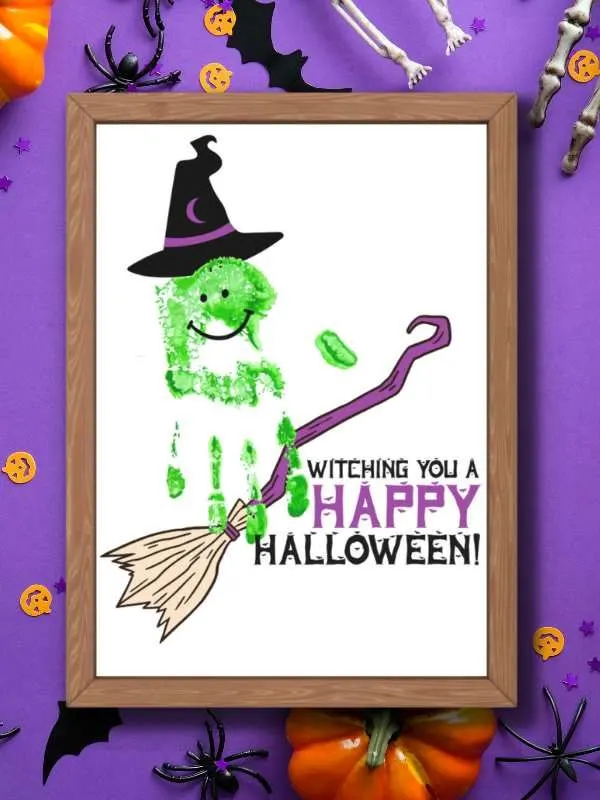 Our first Halloween handprint is a classic one, a cute green Halloween witch.
This one features our wicked witch with a hat and riding a broom.
Who doesn't love a fun caption to go with it? This craft says 'witching you a happy Halloween!'.
If the happy face doesn't peek through well enough after applying the paint, you can simply draw it on with a marker once the craft is dry.

2. Vampire Handprint Craft Idea
This vampire handprint art idea is another cute option.
All you need is some black paint to create his cape and body. It also has a fun Halloween caption. This one says ' Have a fang-tastic Halloween!'.
My kindergarten kids really liked this one. They said it reminded them of the Count von Count from Sesame Street.

3. Magic Want Handprint Craft Idea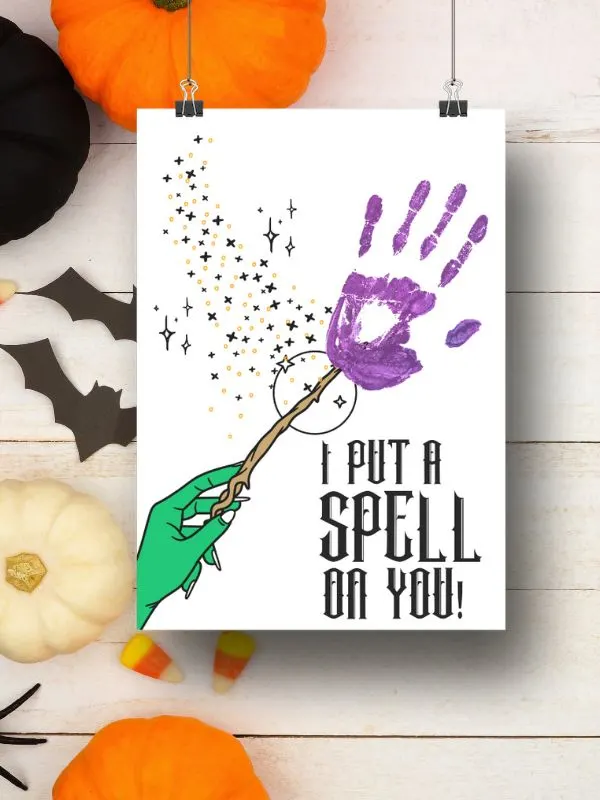 Here's another witch-themed handprint craft but this one focuses on the magic wand. Your little one will add a handprint right at the top of the wand, like a magic orb of sorts. Your kiddo can pick any color they like for this one.
Don't you love the green witch's hand holding the wand?
The magic dust around it adds a nice mystical touch.
The caption is a simple but fun one, " I put a spell on you!".
4. Cute Monster Handprint Halloween Craft for Preschool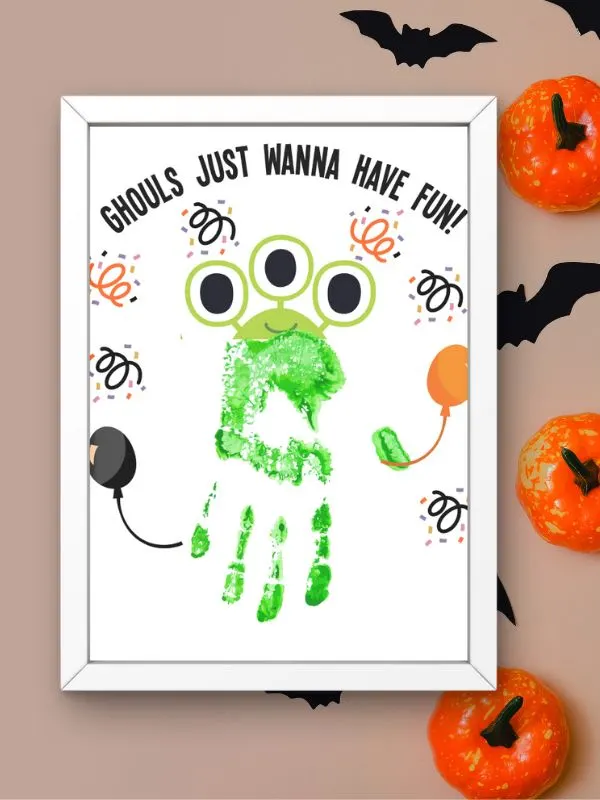 How cute is this three-eyed monster handprint craft? This little monster just wants to party so the caption is perfect.
It says "Ghouls just wanna have fun!" and our little monster friend is surrounded by balloons and confetti.
This is a great one to do at a Halloween party whether at home or in the classroom.

5. Spider Handprint Craft
This Halloween handprint craft is a simple one.
It's a spider web with a friendly little spider that's hanging down. It just has a simple Happy Halloween message.
It's cute and fun, perfect for toddlers who love itsy bitsy spider.

6. Halloween Footprint Craft Idea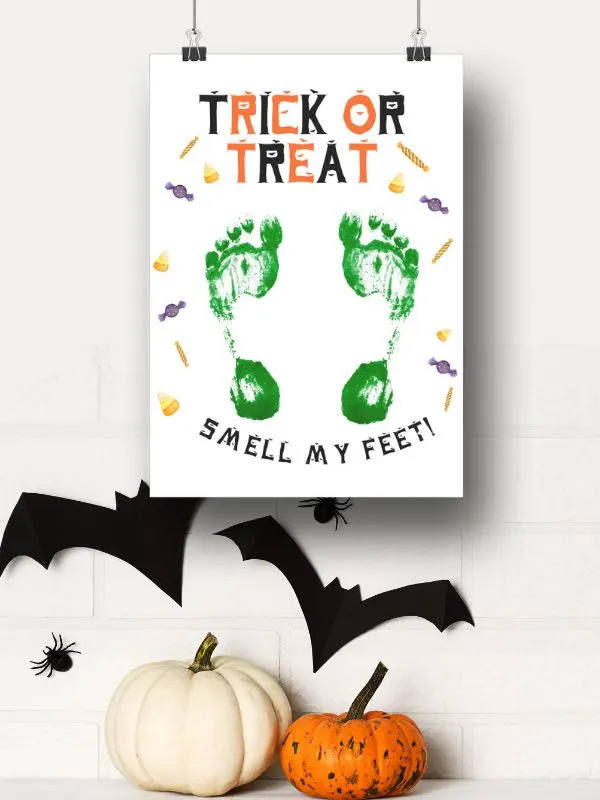 This Halloween footprint craft is a fun and silly one that little kids just love!
It uses the silly Halloween trick-or-treating rhyme and says " Trick or Treat Smell my Feet!".
Since this is a trick-or-treating themed craft, there's fun candy scattered around the edges like candy corn and some cute wrapped Halloween-themed candies.
You can opt for any color paint you like for this one.

7. Witch's Cauldron Halloween Handprint Template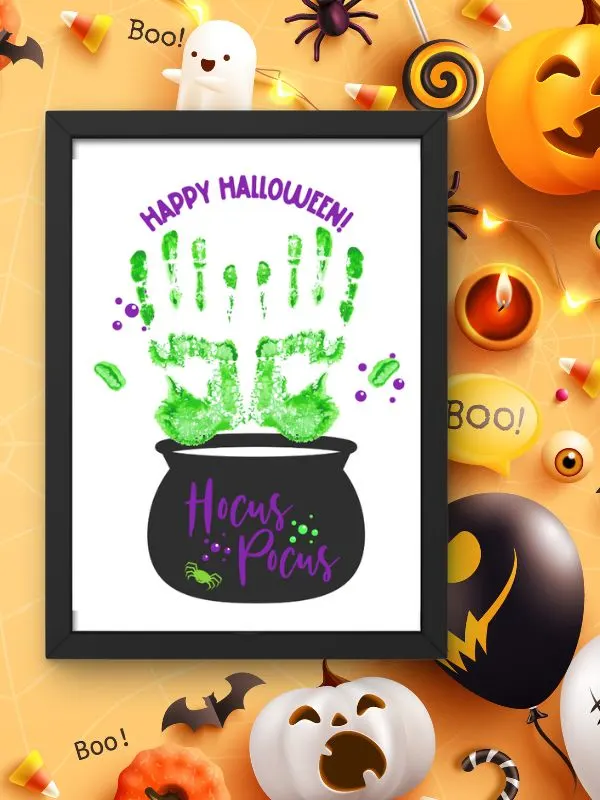 You really can't have enough witch-themed handprints for Halloween, right?
This one is a witch's cauldron handprint craft. It simply says Happy Halloween! and Hocus Pocus on the actual cauldron.
Your little one's handprints make up the swirly smoke from whatever concoction the witches are brewing up.

8. Boo Halloween Handprint Art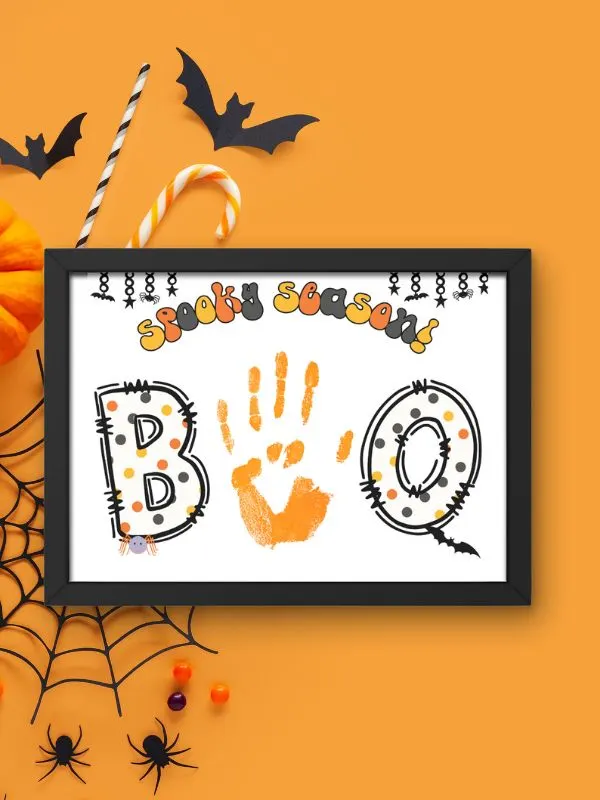 Here's another sweet and simple Halloween handprint art idea. This one simply says Boo!
Your little one can use a handprint or a footprint to make the middle O.
You can use any color you like for this one but I went with orange to keep with the theme of the printable template.
I like the retro Halloween font on this one that says spooky season.
These last 3 handprint crafts are horizontal (landscape) instead of vertical (portrait) like the other ones.
I like having a mix of both to choose from.

9. Bat Halloween Handprint Art Idea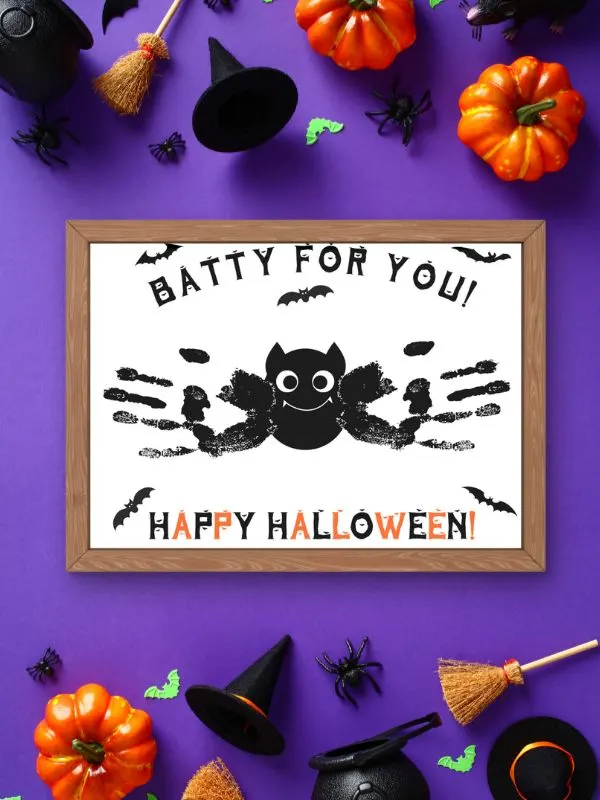 Here's another cute idea for a Halloween handprint craft.
This one is a cute smiley bat and your little one will be making bat wings with their handprints. The caption on this one says " Batty for you! Happy Halloween!".
Simple yet cute.

10. Skeleton Halloween Handprint Craft Idea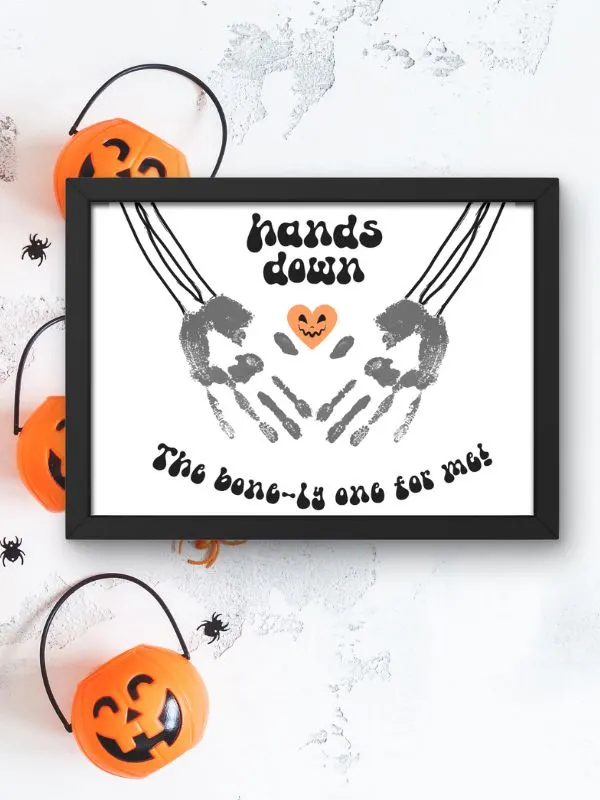 This last Halloween handprint is super cute! This one is a skeleton-themed Halloween handprint idea.
Your little one will use their handprint to make the skeleton hands around the heart-shaped Jack-o-lantern. You can use any color hands you like.
I went with gray for this one because I just liked how it looked with the mainly black-and-white template.
This one also has a cute caption, it says " hands down, the bone-ly one for me!".
If you decide you want the done-for-you templates, grab them here!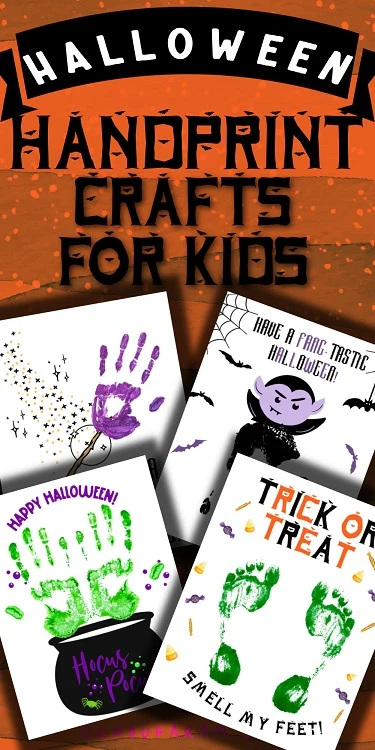 More Halloween Activities and Printables
Halloween Coloring Pages FREE Printables for Kids
FREE Halloween Word Search Puzzles
FREE Halloween Scavenger Hunt Printables
FREE Halloween I SPY Game Printable
FREE Halloween Worksheets Printable
Halloween Superstitions Trivia Game Printable
Halloween Candy Dice Game Printable
Wrapping Up Halloween Handprint Craft Ideas for Little Kids
I hope you enjoyed these cute and easy Halloween handprint craft ideas!
To make recreating them super easy, don't forget to grab the Halloween Handprint Templates Bundle while it's on sale.
Share your cute creations with family and friends or frame them and hang them up as Halloween decorations.
They're such a fun keepsake to look back on years later. Those little hands won't stay little forever so I love creating cute handprint art for pretty much every holiday.