Looking for some fun ways to entertain the kids this Halloween? Why not try an easy Halloween scavenger hunt? I'll try to make it as simple as possible with some fun and free printables to help you on your way! You can plan a spooktacular event that's easy to execute.

There are a few different styles of Halloween scavenger hunts you can try.
One is a list type of scavenger hunt that will get the kiddos searching around the house or their neighborhood for some scary Halloween-themed items like a witch's hat or some candy corn.
The other type of scavenger hunt is more of a treasure hunt-style scavenger hunt with clues that will lead to a final big surprise!
To keep things simple, the treasure hunt clues are for places around your home.
I've made a few different Halloween scavenger hunt printables for you to choose from. There's a little something for everybody! Toddlers, preschoolers, and kindergartners can manage the easy list-style scavenger hunt.
With older kiddos, you can opt for either option!
Whether you're looking for trick-or-treating alternatives (because who knows what this year will bring) or you simply want to have a fun surprise, a Halloween scavenger hunt for kids is a real blast!


Disclaimer: As an Amazon Associate I earn from qualifying purchases, however, this comes at no additional cost to you.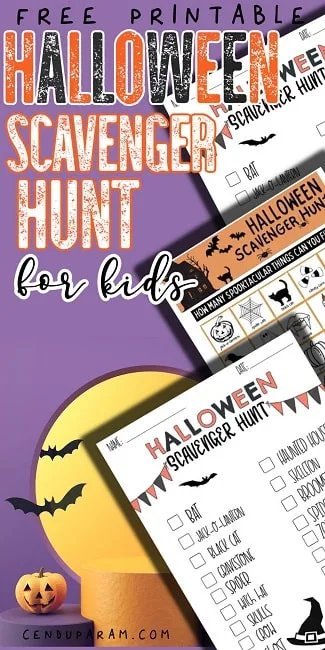 HOW TO PLAY HALLOWEEN SCAVENGER HUNT

As I mentioned above, you have two options for this game. With younger kids, I like to stick to the short list version. With older kids, you have the option of a long list of items to find or a treasure hunt-style Halloween scavenger hunt.
Please note these printables are available to you for FREE for personal use only. That means it's okay to use at home with the kids or for teachers to use in the classroom.
You can even hand them out for free as a Halloween treat or at parties but they can't be sold or reposted on other websites without permission from me.
To access your chosen Halloween scavenger hunt printable, simply click on the 'download pdf' text right below the image.
It should open in a new window.
In the top right corner, you should see a printer icon. Simply click and make sure your correct printer is chosen and hit print!
I love reusing mine every year so I love printing my pages on cardstock paper then laminating my sheets with the Crenova A4 Laminator.
Alternatively if you don't think you'll use a laminator enough to justify a purchase, you could also use dry erase pocket sleeves and don't forget your dry erase markers.
This way you can keep a few in the car for long trips, waiting for appointments, or even grocery runs. Your kiddo can cross things off the list as you shop together and explore the aisles.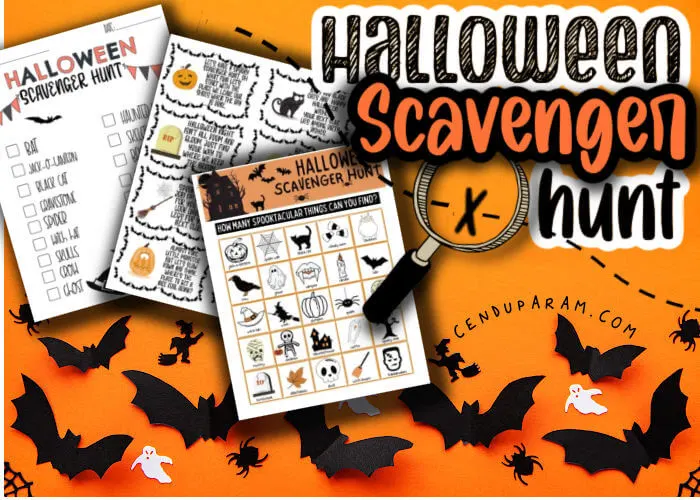 HALLOWEEN SCAVENGER HUNT LIST

This type of activity is perfect for all ages from toddlers to older elementary kids.
It's super fun and so easy to play! It's beneficial for learning through observation as well!
You can either set a timer or let the kids play as long as they like.
In the classroom, we usually use a timer and see how many items the kids can find around the room or even the school.
All you need to do is print off your Halloween scavenger hunt pdf and set off exploring around the house or neighborhood looking for all the spooktacular items on the list and check them off as you go.
It's the perfect activity to take a family walk from ordinary to unforgettable. You can check out all the amazing Halloween decorations in your neighborhood while tackling your list.
It's such a fun way to spend Halloween eve and once you're done, the kiddo with the most items crossed off their list is the winner!
If you're playing with older children, you can have them provide proof of the items by taking a picture of each item they cross off their list.

Halloween Scavenger Hunt Preschool & Kindergarten

Our first printable list is the easy Halloween scavenger hunt for preschool and kindergarten-aged kids (toddlers too). This one has pictures of each item beside the words so reading isn't necessary to be able to play.
The Halloween scavenger hunt items are also pretty easy things like a black cat or a bat which are pretty standard Halloween decorations you'll see around school or your neighborhood.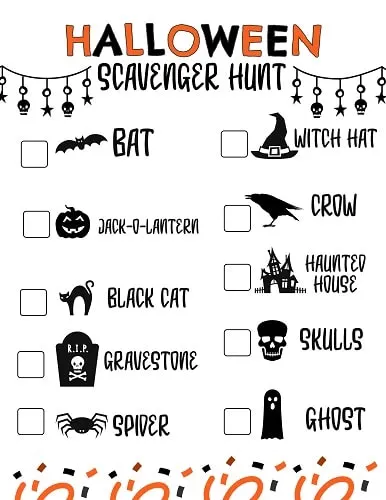 HALLOWEEN SCAVENGER HUNT FOR PRESCHOOL, KINDERGARTEN, AND TODDLERS
HALLOWEEN SCAVENGER HUNT PRINTABLE LIST FOR KIDS

This is the second list-style scavenger hunt but you'll notice this list has many more items than the toddler version and it doesn't include graphics for each item.
This list is perfect for school-aged kids who are able to read (or can read with some assistance). We generally use this list style hunt in grades 2 and above.
It's perfect for use in the classroom, at school, at home or even in your neighborhood since most of the items are easy Halloween decorations you'd see anyway.
We love using this one on Halloween when the kids come in their costumes. It makes it pretty easy to find the spooky stuff like zombies, ghosts and skeletons.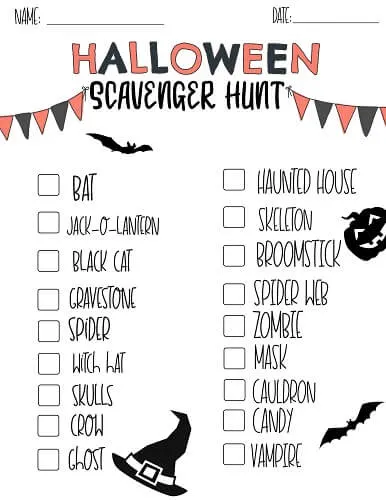 Halloween Scavenger Hunt Print Out Indoor and Outdoor

HALLOWEEN SCAVENGER HUNT FREE PRINTABLE

This next printable Halloween scavenger hunt can be played in a few different ways.
You can either let the kids find as many items on the list that they can within a given time, or you can play this game BINGO style and have them find items in a line (horizontal, vertical, diagonal) or create an X pattern (whatever you like).
If you decide on the BINGO style, it's lots of fun to do with a partner (since there are so many items to find).
Since all the items include a picture, you can certainly use this printable with younger children as well as older kis.

This Halloween scavenger hunt idea is always a big hit in our classroom! We usually take a walk around the school in groups to make it even more fun.

You could do the same with a neighborhood walk and split up the kids into different teams with a parent or guardian in each group if you decide to do it outdoors.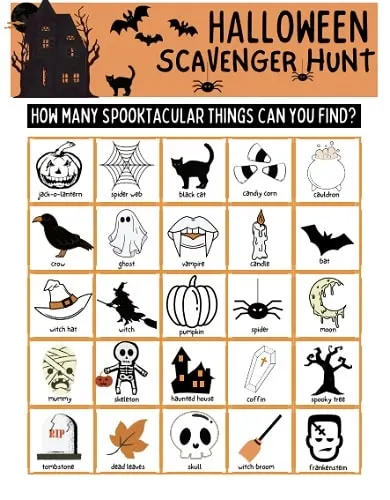 Halloween Scavenger Hunt for Kids FREE
HALLOWEEN SCAVENGER HUNT CLUES

This next printable is for setting up a fun and exciting Halloween scavenger hunt with clues or riddles. In this type of treasure hunt style scavenger hunt, you'll give your little one the first card which will give them a clue to the next hiding place where they'll find another clue.
Eventually, these clues will lead to an ultimate prize!
To keep things easy and simple, these Halloween scavenger hunt clues are for inside your home ( not an outdoor hunt but if that's what you want, I would try one of the printables above).
The clues are pretty simple and easy to decipher and the spots around the home are pretty generic spots that we would all have like the kitchen sink or wherever you keep your plates etc.
Your little one will have tons of fun playing detective and using their problem-solving skills to decipher clues.

HOW TO SET UP A HALLOWEEN SCAVENGER HUNT

Simply print out the Halloween scavenger hunt clues, cut them up into individual cards (you can glue them onto decorative cardstock or construction paper if you want to get fancy), and place each card where they belong according to the clues.
Make sure your last clue leads to your EPIC Halloween surprise!
Easy peasy!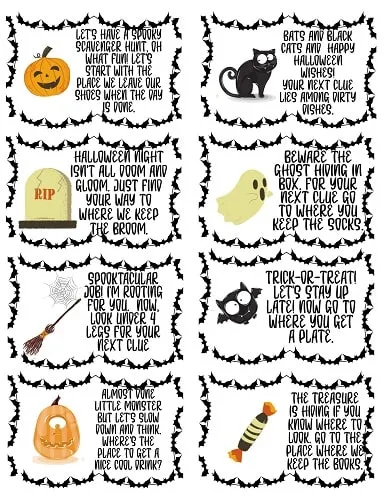 Halloween Scavenger Hunt at Home with Clues
I'll list out the clues here in case you can't quite make out the words on the picture above:

Clue 1: Let's have a spooky scavenger hunt, oh what fun! Let's start with the place we leave our shoes when the day is done.
Clue 2: Bats and Black Cats and happy Halloween wishes! Your next clue lies among dirty dishes.
Clue 3: Halloween night isn't all doom and gloom. Just find your way to where we keep the broom.
Clue 4: Beware the ghost hiding in a box. For your next clue go to where you keep the clean socks.
Clue 5: Spooktacular job! I'm rooting for you. Now, look under 4 legs for your next clue.
Clue 6: Trick-or-treat! Let's stay up late! Now go to where you get a plate.
Clue 7: Almost done little monster but let's slow down and think. Where's the place to get a nice cool drink?
Clue 8: The treasure is hiding if you know where to look. Go to the place where we keep the books.


PRIZES FOR HALLOWEEN SCAVENGER HUNT

The obvious one here is candy and chocolate galore! But if you want prizes for a Halloween Scavenger Hunt that isn't just sweet treats to rot your teeth, consider some of these non-candy alternatives.
Awesome Funny Halloween Books for Kids :
Halloween Haunt and Find I SPY Activity Book
Halloween Sketchbook or Notepad

Glow-in-the-Dark Halloween Blanket
Halloween Stress Relief Squish Toys

MORE HALLOWEEN ACTIVITY SHEETS AND GAMES
Halloween Word Seach Puzzle Free Printables For Kids
Fun Halloween I SPY Game Printable For Kids
Free Printable Halloween Coloring Pages for Kids
Fun Halloween Worksheets & Games for Kids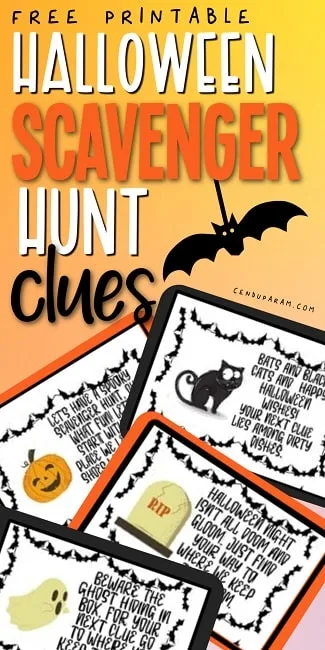 WRAPPING UP HALLOWEEN SCAVENGER HUNT ACTIVITIES
I hope you and your little ones have fun exploring and tackling your scavenger hunt list (or clues)! It's such a fun activity for all ages and doesn't require a ton of prep so it's a win-win!
If you're looking for more fun Halloween games and activities to do with kids (either at home or in the classroom) be sure to check out some of the other Halloween posts listed above.
They're a great screen-free way to entertain the kids and make some spooky good memories together!
If there's something you're looking for and can't find, leave me a comment below and I'll try my best to be of help 🙂
Have yourself a happy Halloween friends!