Cute Valentine's Day Dinosaur Coloring Pages FREE
Love is in the air and it's time to celebrate with some free dinosaur valentine coloring pages! I've got a little dinosaur fanatic at home so we make dinosaur everything over here.
I decided I would share them with you and your little one too.
It's such a great activity to keep little ones busy and entertained. It's not just fun, it's a perfect way to work on skills like fine motor and color recognition.
Coloring is also a wonderful creative outlet and a stress reliever for kids young and old, and even adults too.
These adorable Valentine's day coloring pages are perfect for the classroom, Valentine's day parties or even to hand out as Valentines in the classroom (you might have to play around with your printer settings to print 2 or 4 per page).
You can even use them as Valentine's day decorations and hang up your tiny Picasso's completed artwork around the house.
I've got 10 roarsome dinosaur Valentine's Day coloring pages to choose from so print them all and get creative with your own Valentine's day coloring book!
If you're looking for even more Valentine's day coloring pages make sure you stick around til the end of the post where I'll link a few more coloring page posts as well as some free Valentine's day worksheets and activity pages for more fun.
These files are provided to you FREE for personal use which basically just means you can't resell them or re-distribute them on another web site without my consent.
This post contains affiliate links, so we may earn a small commission when you make a purchase through links on our site at no additional cost to you. You can read more about it on the disclosure and disclaimer page.
How to Print Your Valentine's Day Dinosaur Coloring Sheets
Printing your cute dinosaur coloring pages is easy peasy! You don't even need to sign up or anything, just click the download links that say download pdf text under the image you would like to print.
It should open in a new tab or window and you should see a printer symbol near the top right corner. Just click on it to prompt your printer to print the file.
You also have the option to download the digital file to your computer in case you want to print it later or send it to a printers instead of printing it at home.
If your file doesn't open automatically, it likely means you don't have a PDF reader installed on your computer.
Don't worry, there's an easy fix, and it's free.
Just head over to Adobe Reader and download the program.
Dinosaur Valentines Coloring Pages Printable
Let's get to it! Check out these super cute Valentine's Day dinosaur coloring pages featuring some 'punny' and sweet messages for your special valentine.
There are also lots of hearts because you can't have Valentine's Day-themed pictures without them, can you?
Grab those pink and red crayons (or whatever they like) or maybe even some dot markers and let's get to work!
I also wanted to mention my Valentine's Day Activity Bundle is currently on sale! You don't have to be a Pinterest mom to get creative, just use this cheat. Be sure to check that out!
If you have young kids, you might prefer this Valentine's Day Handprint + Footprint Crafts Kit.
It's the perfect time to get messy and make some fun art.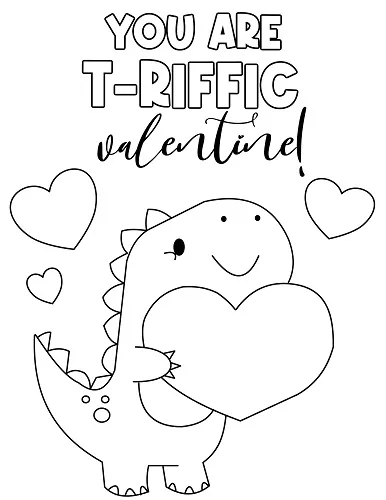 Cute Tyrannosaurus Rex with Heart Coloring Pages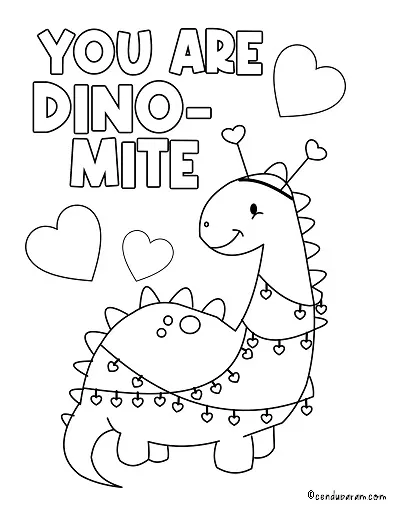 Cute Dinosaur with Simple Hearts Garland Dino-Mite Valentine Coloring Page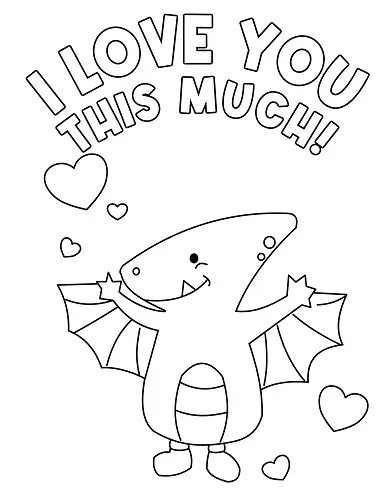 Cute Pterodactyl Free Dinosaur Valentine Coloring Page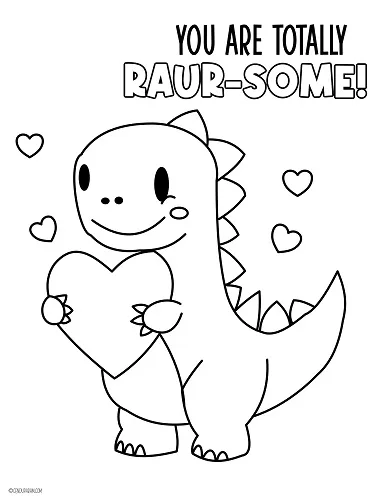 Dinosaur Heart Coloring Page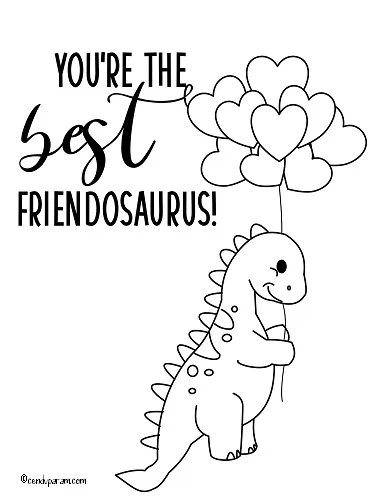 Cute Dinosaur With Heart Balloons Simple Coloring Page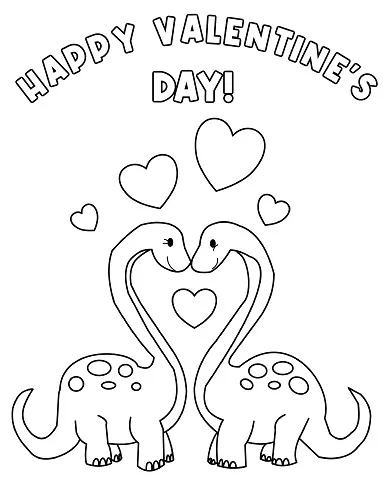 Valentine's Dinosaur Couple Coloring Page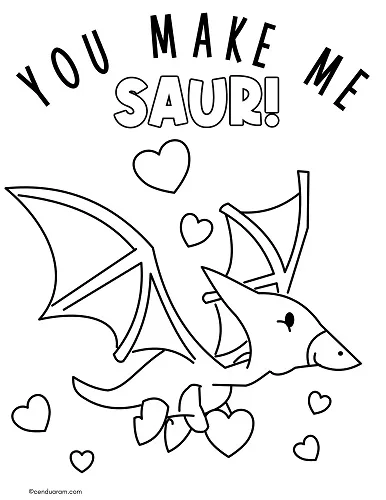 Pterodactyl You Make Me Saur Coloring Page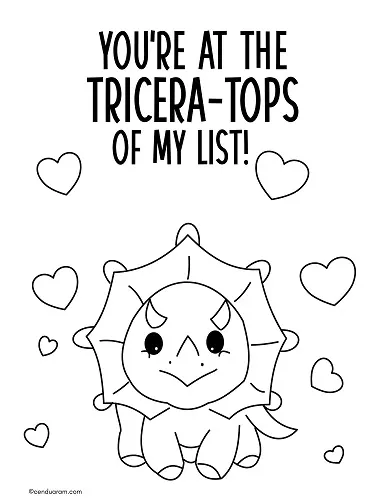 Cute Valentine's Day Triceratops of My List Coloring Page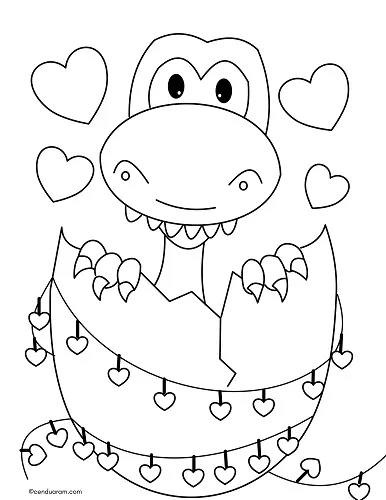 Cute Valentine's Day Baby Dino Coloring Page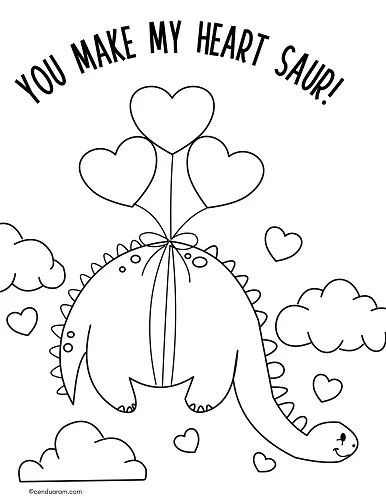 You Make My Heart Saur! Dinosaur Coloring Page
More Valentine's Day Fun Coloring Pages
As promised, I'll link some more of my fun coloring pages and worksheets for you to explore! It's a great way to keep kids entertained at home, in the car, or even when you're in a waiting room for appointments.
Check the all out and grab your free printable coloring pages below! Older kids may enjoy some of these more detailed pictures.
If you plan on printing them as Valentine's Day coloring cards, I suggest using white cardstock paper so it's a bit thicker like an actual card.

Cute Valentine's Day Gnomes Coloring Pages FREE
Valentine's Day Coloring Pages PDF Free Printables

Here are a few more Valentine's Day Posts you can explore:
FREE Valentine's Day I SPY Printable Game For Kids
Easy Valentine's Day Crafts For Kids Round Up
Non Candy Valentines For Kids (Perfect For The Classroom)
Ideas For Baby's First Valentine's Day
The BEST Valentine's Day Books For Kids
Valentine's Day Cootie Cleaner Craft For Kids
Cutest Valentine's Day Monsters Scavenger Hunt Printable
Easy Valentine's Day Handprint Craft Templates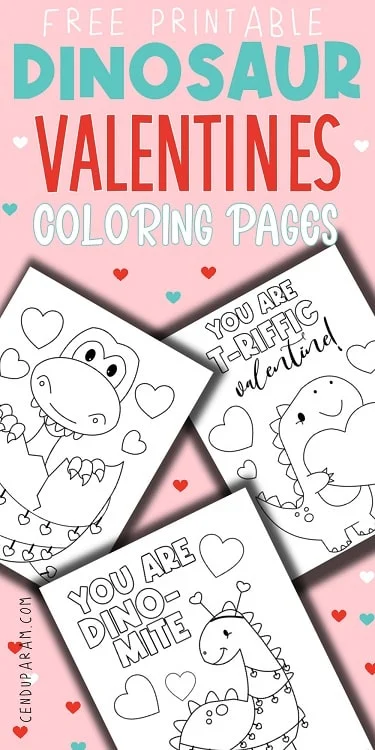 Wrapping Up Dinosaur Valentine's Day Free Coloring Pages
I hope you enjoyed this collection of FREE Valentine's Day coloring pages for kids. It's such a wonderful activity for kids of all ages to enjoy (even adults too).
It's the perfect screen-free activity to relieve stress and let out your creative side.
Get together and make some memories as you create some cute art together.
Wishing you all a great Valentine's Day! Spread the love 🙂