FREE All About My Mom Questionnaire Printable Worksheet
With Mother's Day right around the corner, we need to start looking for some cute Mother's Day DIY gifts to let Mom know how awesome she is. Check out these FREE Mother's Day All About My Mom Printables to make Mom a special gift to show just how well you know her.
It's a day to express gratitude and appreciation for all the sacrifices and hard work that moms put in to raise their children. One way to make Mother's Day even more special is by gifting a personalized printable that celebrates the unique bond between a mother and her child.
These 3 All About My Mom Printables are a wonderful way to make Mother's Day extra special for mom. This printable allows kids to express their feelings and appreciation for their moms by answering fun and creative questions about their moms.
This printable is a great way to encourage children to reflect on what makes their mom special and unique plus reflect on things they love doing together.
It's also a great way to create a lasting memory that can be cherished for years to come.
My little one brought one of these home for me last Mother's Day and I loved it so much I actually framed it and keep it on my work desk as a little reminder of him.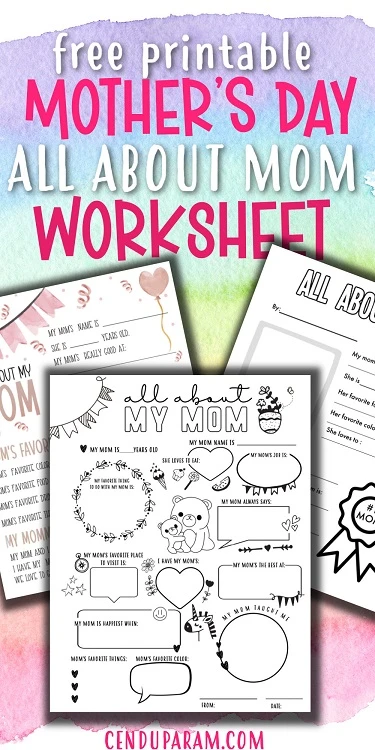 This post contains affiliate links, so we may earn a small commission when you make a purchase through links on our site at no additional cost to you. You can read more about it on the disclosure and disclaimer page.
How to Print Your Mother's Day Questionnaire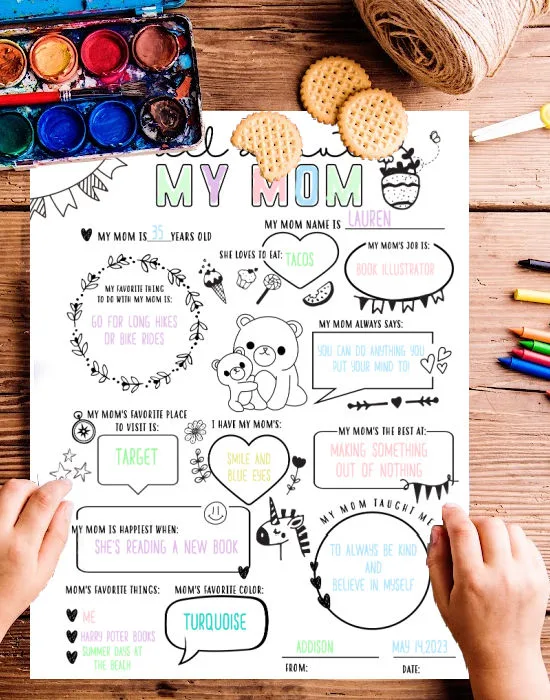 Printing your cute All About Mom printables and accessing your digital files is easy peasy!
You don't even need to sign up with your email address or anything. Just simply click the text under each image that says download pdf and you'll have access to your free file instantly.
When you click the text, it should open in a new tab or window and you should see a download symbol near the top right corner of the page.
Just click on that symbol to download the digital files to your computer.
You also have the option to just print the file without downloading by clicking the printer symbol in the top right corner.
If your file doesn't open automatically, it likely means you don't have a PDF reader installed on your computer and you'll need this to access your files.
Don't worry, there's an easy fix, and it's free.
Just head over to Adobe Reader download and install the program and you should be all set.
Personally, I love printing these questionnaires on thicker white cardstock paper for that more polished look but you can use whatever you have.
They are all high resolution pdf files so they'll print beautifully either way.
Another option, if you would like cardstock but don't want to invest in a whole package, is to send it to your local printers like Walmart, Staples, or Walgreens and select their cardstock option.
Mother's Day Interview Questions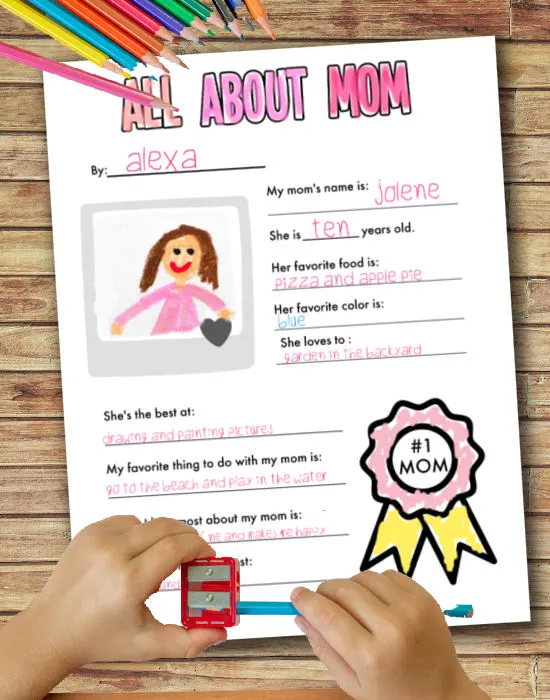 You'll notice there are 3 free Mother's Day All about mom printables to choose from.
There are 3 different designs but the questions are pretty much the same for all of them (although they may not have all the questions in every questionnaire).
The All About My Mom Printable worksheet is a fun and creative way for kids to show their appreciation for their moms on Mother's Day.
This printable worksheet includes a variety of prompts and questions that encourage kids to think about their mom's likes, dislikes, hobbies, and personality.
The prompts are designed to help kids express their feelings and show their moms how much they care.
They include questions like:
mom's name

mom's age

Mom's favorite colors

Mom's favorite food/drink

what does mom love to do?

what do you do with Mom?

favorite food that mom makes

what traits do you share with Mom?

favorite places to go with mom

what do you love most about mom

what makes Mom happy

some pages include a space to draw a picture of their mom
These fun Mother's Day printables make such a memorable gift because kids say the darnedest things so these gifts will certainly give mom a good laugh and something she'll love to look back on years later.
It's perfect because it's a sweet sentimental gift that's easy to make but has a big impact. It's a fun way to celebrate mom on Mother's Day.
If you have older kiddos, you can simply print out their favorite style and have them fill it out for mom.
With younger children, you'll have to ask them questions and record their responses for them. Then you can simply have them decorate and color the printable worksheets to add their own personal touch.
Please note that these files are for your own personal use or classroom use (not commercial use meaning you can't re-sell these or distribute them).
All About My Mom Printable PDF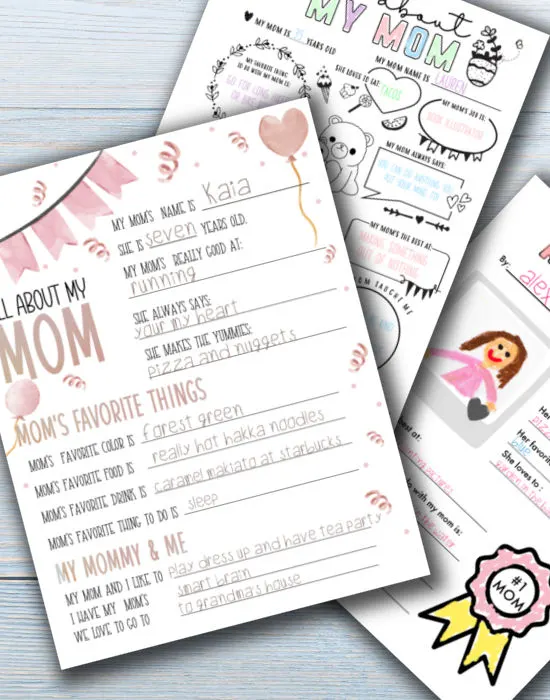 Now let's check out our cute all about my mom worksheet, shall we?! Pick your favorite or print them all. They make a wonderful gift on their own or add them to your homemade cards or other Mother's Day gift ideas.
I do have more fun FREE printable gifts for mom that I'll link at the end if you want to put together a cute DIY gift for mom. You can even use the coloring pages to make homemade cards.
Answer these fun questions and make a special day even more special with this thoughtful gift.
All About Mom Questionnaire
This first All About Mom questionnaire features a bunch of the questions listed above as well as a space to draw a picture of mom. It also has a cute #1 Mom ribbon at the bottom for kids to color in.
Be sure to personalize it by coloring it in and adding your own unique designs or some cute stickers.
Creative and Cute All About Mom Worksheet
This second All about my mom worksheet looks a little different, a little more artsy than your typical questionnaire.
It's filled with cute images and doodles.
It does have a lot of questions about mom but you fill in the answer in fun speech bubbles and other cute shapes rather than your typical lines.
This one is perfect to add your own unique touch.
Fill it out in colorful markers or gel pens and color in the doodles however you like.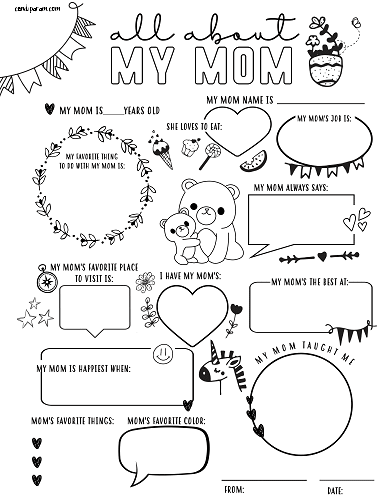 DOWNLOAD CUTE ALL ABOUT MY MOM PDF
Color All About My Mom Printable
The last All About My Mom Printable is the only one that comes in a color version.
This pretty pink watercolor All About Mom printable is a cute addition to any Mother's Day gift.
Simply print, fill it out, and frame it for that extra special touch.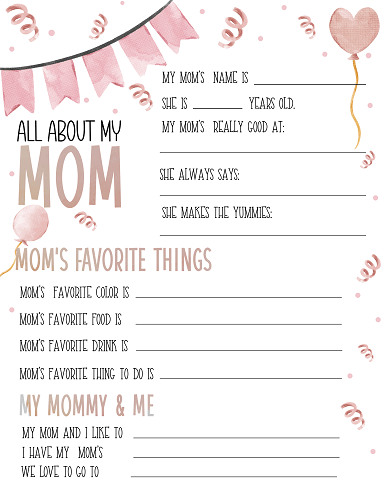 DOWNLOAD PINK ALL ABOUT MY MOM PRINTABLE
More FREE Mother's Day Printables
If you're looking for more fun Mother's Day ideas or some sweet and easy homemade gifts then be sure to check out some more Mother's Day printables and activities in the posts below. They'll help you create a fun keepsake gift for mom or help you make a DIY Mother's day card.
Happy Mother's Day Coloring Pages FREE Printables
FREE Mother's Day Coloring Pages for Grandma Printable
Last-Minute Mother's Day Gift from Amazon
Printable Mother's Day Coupon Book That Kids Can Make
Adorable Mother's Day Handprint Crafts
What Mom's Really Want For Mother's Day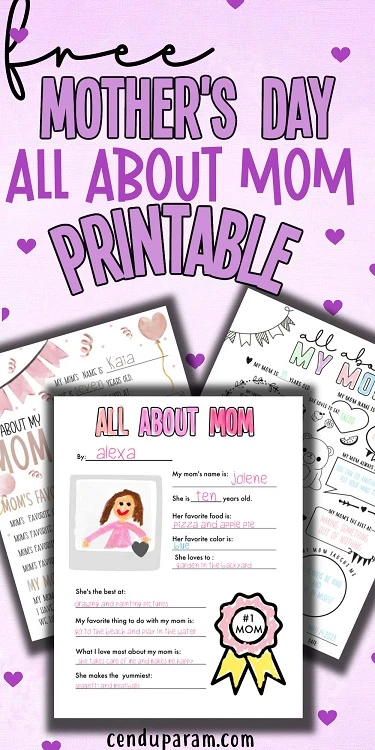 Wrapping Up All About My Mom PDF Printables
I hope you enjoyed this post and the free All About My Mom printables that come with it! Kids sure the the funniest things and this printable captures that beautifully.
Mom will love this sweet and fun gift that reminds her of her favorite person. If you want more fun at-home activity ideas for Mother's Day then be sure to check out some of the posts linked above.
They include more Mother's Day printables and even a grandma version of some printables because obviously, we can't forget grandma.