Mother's Day is just around the corner and that means another opportunity to show mom just how much we adore her! Mother's Day handprint crafts and art are the perfect DIY gift for mom made with little hands.
Moms just melt when the kids bring home handprint crafts for any occasion but especially for Mother's Day.
I've got a keepsake box filled with every handprint craft my little guy has made and I love looking back to see just how tiny those hands once were.
These Mother's Day handprint art ideas are a beautiful keepsake for mom and also great to gift to family and friends.
I'm sure grandma is going to want her own!
It's such a fun and engaging activity for your preschoolers, toddlers, and kindergarteners alike. They get all the mess and fun of sensory play while creating something special you'll want to keep or share.
This Mother's Day activity is perfect for babies too, they'll just need a little extra help (I actually used to make them while he was asleep so it was less messy but I think your little one would enjoy taking part).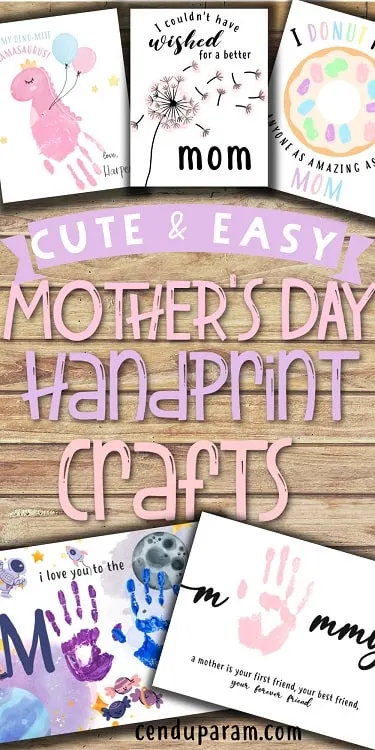 This post contains affiliate links, so we may earn a small commission when you make a purchase through links on our site at no additional cost to you. You can read more about it on the disclosure and disclaimer page.
What Supplies Do You Need For Mother's Day Handprint Art?
One of my favorite things about handprint crafts is that they don't require a lot of materials or prep work and they keep little ones engaged for a long time.
I've created this Mother's Day Handprint Craft Template Bundle to make it super easy and quick to re-create these crafts with very little prep work.
Although if you're the artistic type or just love crafting, you can probably draw your own templates using these examples as inspiration.
If that doesn't sound like you, no worries, just grab the templates and get crafting the easy way.
The bundle includes 14 templates so you can reuse them year after year and create new crafts!
To create your special DIY gift for mom, all you'll really need is US Letter size paper (8.5\ x 11′) to print your templates.
Personally, I really like using cardstock paper for crafts that involve paint because its thick and sturdy and holds up well to wet paint.
It doesn't get too damp and wet with our toddlers who use too much paint and soak those thin papers through.
If you decide you don't want to get cardstock just for one project I totally get that. Just make sure to lay your artwork flat to dry completely (preferably somewhere far away from tiny hands) before your frame it or hand it up.
Another option is to print your template at your local print shop like Staples, Walgreens, Walmart etc and choose the cardstock option in the paper options.
You'll also need some non-toxic washable paint and either a paintbrush (so you can paint your little one's hand before they add their print) or pour some paint onto a paper plate and let the stick their hands right in.
If you want to incorporate more learning into this activity you can even try some color mixing with your little one.
If you want a less messy option than paint, you could also try large ink pads.
PRO TIP: To make cleaning up easier, make sure to cover your crafting table/area with some newspaper or a plastic tablecloth that you can just toss when you're done.
And don't forget to have some paper towels ready so you're little one doesn't decide to clean up by wiping their hands on their shirt (true story).
1. You Are My Sunshine Mom Handprint Craft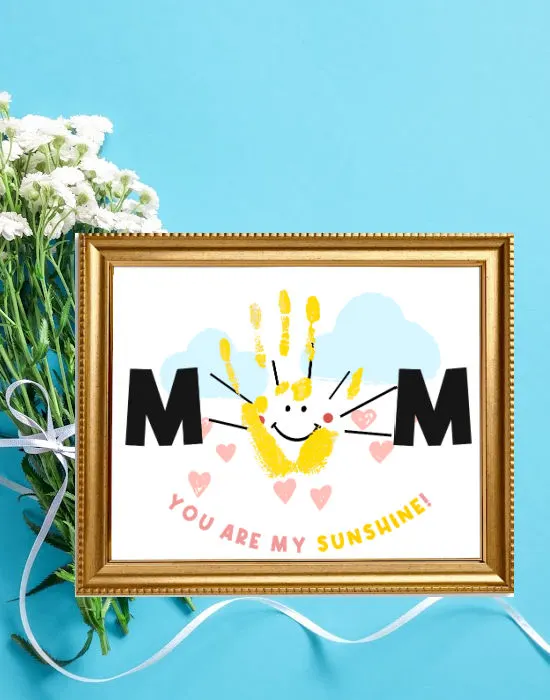 First up we have this super cute Mother's Day handprint craft that reads Mom, you are my sunshine!
How cute is that?
Your little one will use their hand to add a little sunshine to this picture with some yellow paint.
Add it to a frame and you have a wonderful little DIY gift for mom that she can proudly display.

2. Couldn't Have Wished Mother's Day Handprint Art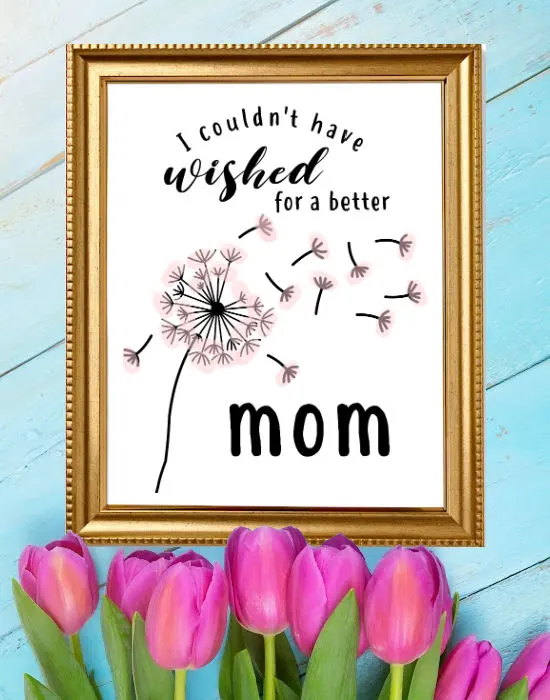 This Mother's Day handprint art idea is one of my favorites!
It's sweet and simple and looks so pretty! Definitely, one I would frame and hang.
As a kid, one of my favorite things was making a wish on those dandelion puffs so I thought it would make such a cute craft idea.
My little guy loves picking dandelion puffs to blow too so it was something super special we share.
The image is a picture of a dandelion puff with little seeds blowing away and the text on this one reads: I couldn't have wished for a better mom.
Cue the waterworks!
For this craft, your little one will use their fingerprint instead of a handprint.
Add a cute fingerprint on each of the seeds to create a beautiful picture!
Your kiddo can pick any color they like. If you want some more of the black detail to show through then have them put their first print on a scrap piece of paper and then add their print on their art piece so it's more translucent.

3. Hands Down The Best Mom Handprint Keepsake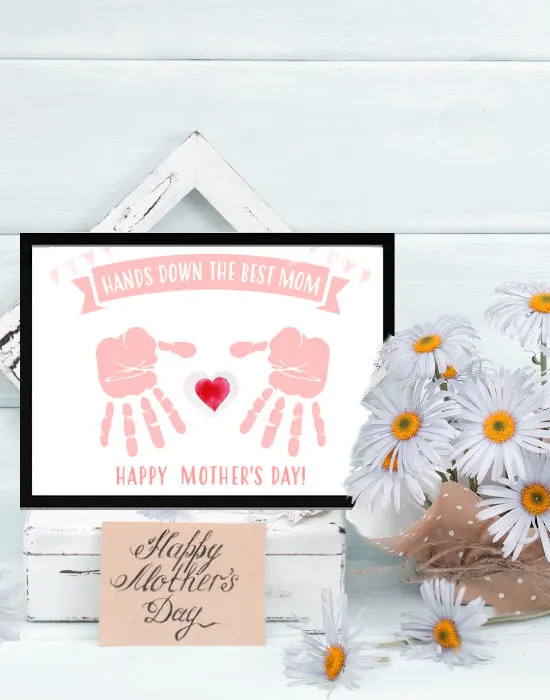 This is another sweet and simple one that's fun.
It reads hands down the best mom. Happy Mother's Day!
Your little one will be making handprints that face down to go with the pun on this one. Fun right?
The center has a cute little watercolor red heart.
This one perfectly displays those sweet little handprints so I love this. Whether it's up on the wall or on the refrigerator, this one tugs at your heartstrings.

4. Flower Bouquet Mother's Day Handprint Craft Idea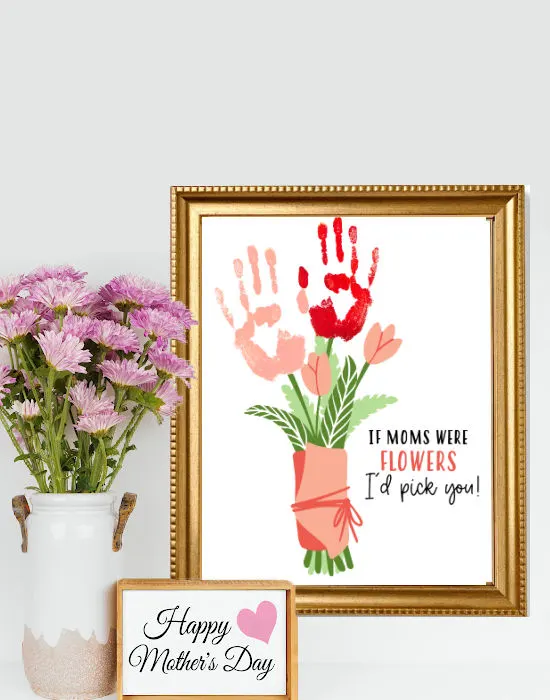 We can't forget flowers for Mother's Day, can we?
I'm sure mom will love these ones because they last forever and feature the prettiest little flowers you can't get anywhere!
Your little one will use their handprint to create 2 flowers to add to this Mother's Day bouquet. They can choose whatever colors they love.
I especially love the text on this handprint craft.
It reads: If moms were flowers I'd pick you!
Isn't that the sweetest?!
Your little one can even write their name on their finished art for that extra special something.

5. Mommy Handprint For Mother's Day DIY Gift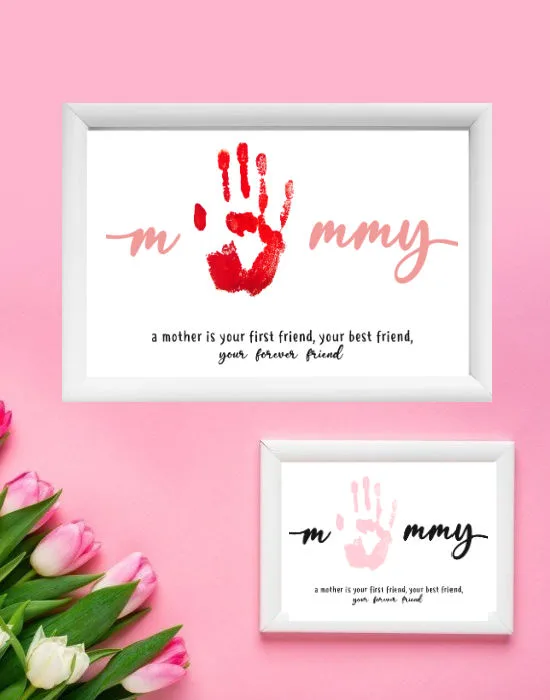 This is a sweet and simple one where it says mommy and your child's handprint replaces the O.
I've included two templates for this one.
There are two color options for this one: one has the text in pink for mommy and the other is a fully black-and-white version.
Who doesn't love more options?! This is also perfect in case you don't have color ink in that printer and need something black and white.
Your child's handprint will add that pop of color which is perfect.
The sweet message on this one reads: a mother is your first friend, your best friend, your forever friend.
I love that!

6. Single Flower Mother's Day Handprint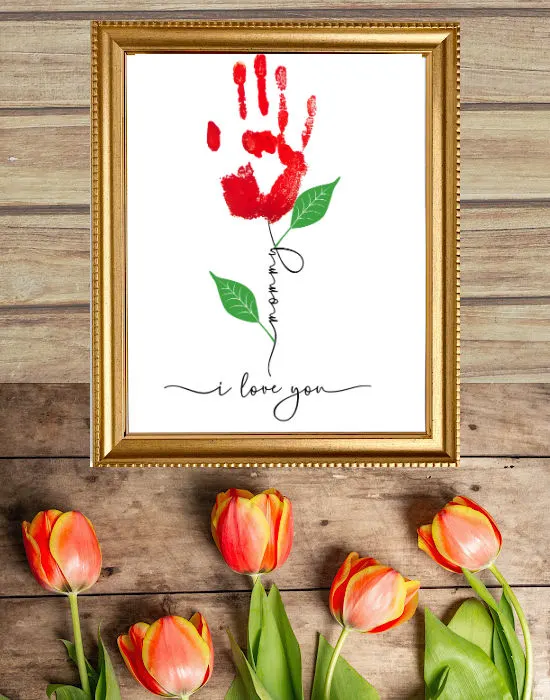 You can never get enough flowers right?
For this one, I wanted just a single flower but something a little different.
You'll notice the stem on this pretty flower says Mommy in cursive and right underneath it we have: I love you.
Your little one can pick their favorite color to create the flower at the top of the stem and make a special Mother's Day gift for mom.

7. I Love You To The Moon Handprint Art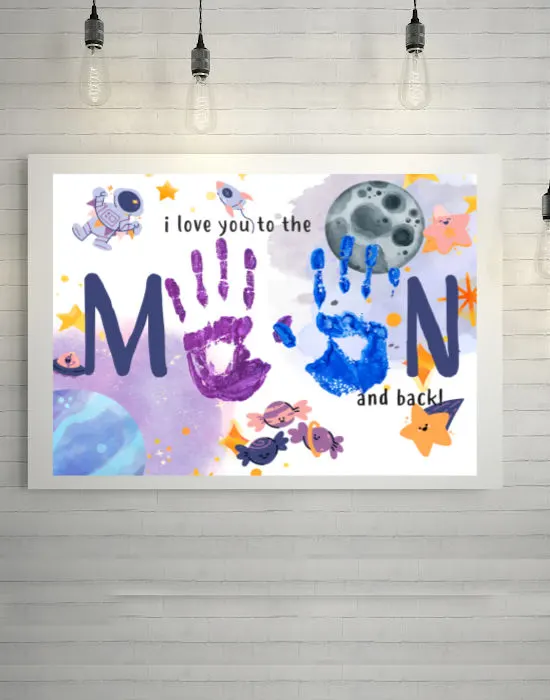 This next adorable handprint craft was inspired by my son's love of space and astronomy!
He's obsessed with planets and space right now so I had to include something around that theme.
This cute handprint craft is perfect for all your space-loving kiddos.
We have a fun space-inspired background with planets, astronauts, stars, and the moon.
The sweet message on this one reads: I love you to the moon and back.
Your child's handprints will create the double O's for this picture. Personally, I think it looks great using two different colors.
You might notice I didn't include 'mom' on all the templates, this was done purposefully in case you want to create some cute handprint crafts for other family and friends.
I'm sure grandma would be over the moon to get this one!

8. Donut Mother's Day Fingerprint Keepsake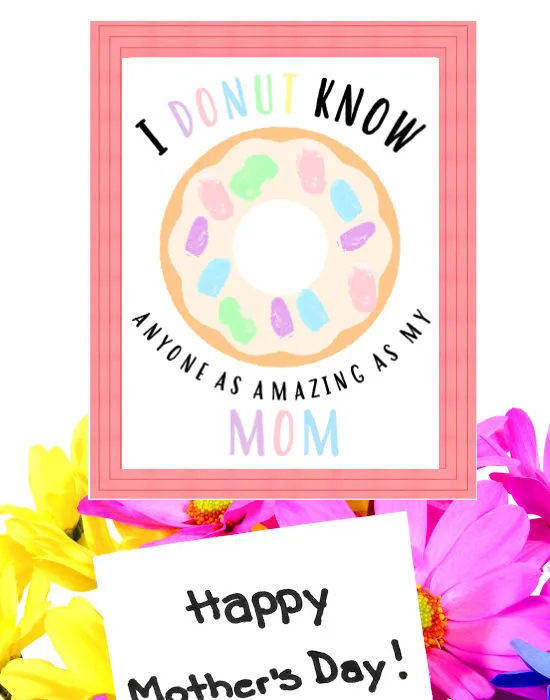 If mom has a sweet tooth she'll love this adorable donut-themed craft! You can even add a box of her favorite treats along with this adorable DIY gift.
This sweet craft has a big donut in the middle and a cute message that reads: I donut know anyone as amazing as my mom.
Your kiddo will be able to add some colorful sprinkles on top with their fingerprints. You can do just one color sprinkle or all the colors, whatever you like.

9. XOXO Handprint Craft Mother's Day
This next one is sweet and simple, it just says XOXO with a space for a handprint between the two X's.
Your little one can choose to do either a handprint or a footprint for this craft, they both look cute!
I've also included 2 options for this one, a vertical template as well as a horizontal template.
This craft looks super cute yet minimalist so it would make a beautiful print for hanging.
Just frame and gift!
Since it doesn't specifically say mom on this one, you can even gift this one to grandma or friends and family.

10. Cactus Handprint Craft Template
If mom is a plant lover then this adorable cactus handprint craft will win her over. You can also add a plant to your gift.
This cute craft says: I couldn't have pricked a better mommy.
Isn't that fun?
Your little one will use their handprint to add a green cactus to this template.
For the little thorns to show up better I have the little ones stamp a scrap piece of paper first and then add their handprint to the template so there isn't too much paint on their hands.
The other option would be to just let the craft dry completely and then use a marker to draw in little black lines for thrones.

11. Dinosaur Mother's Day Handprint Craft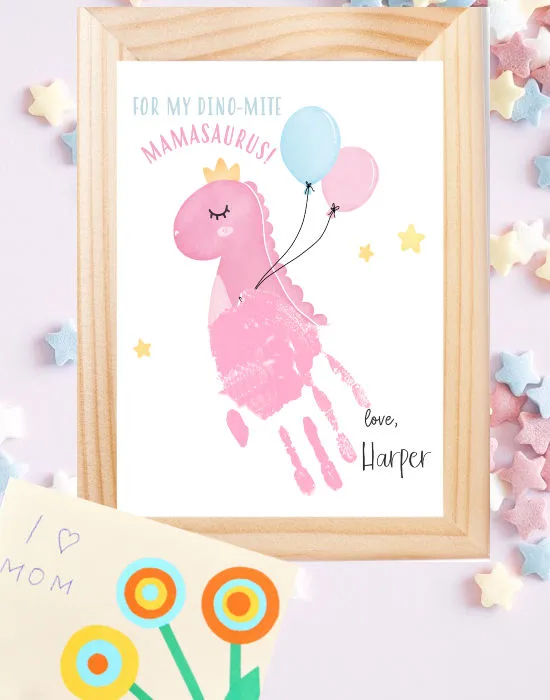 If your little one is a lover of dinosaurs they'll love creating this dinosaur-themed handprint craft for mom.
My little one is a big fan of dinosaurs so I had to include this one.
This cute dinosaur queen is completed with your little one's handprint for legs and a tail.
It says: for my dino-mite mamasaurus! So cute!
This template also leaves a space for your child to write their name as well.

12. My World Mother's Day Handprint Craft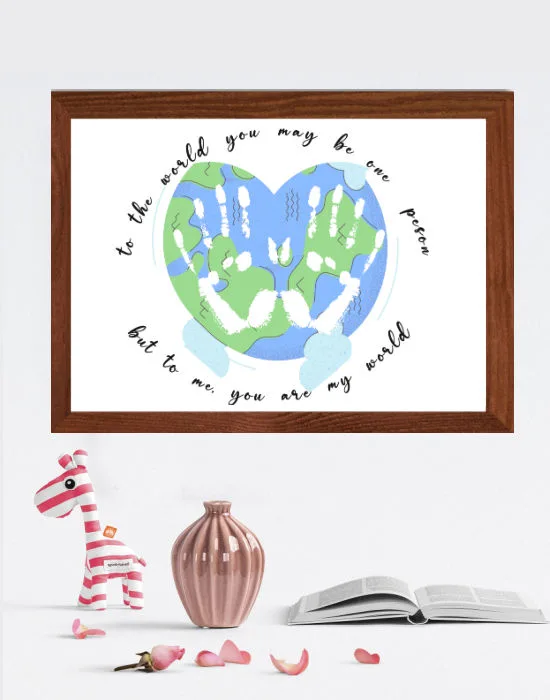 Our last Mother's Day handprint craft idea is this adorable image of the Earth in the shape of a heart with a sweet message around it that reads: to the world you may be one person but to me, you are my world.
Your little one will add a pair of handprints right on top of the Earth picture in whatever color they like.
Personally, I think white looks great because it offers a bright contrast against the blue and green background.
This is another option you can share with family and friends since it doesn't specifically say mom. You can repurpose it for grandma or use it for Father's Day as well.
I love a multipurpose bundle, don't you?!
Grab my handprint templates and check one thing off the craft to-do list!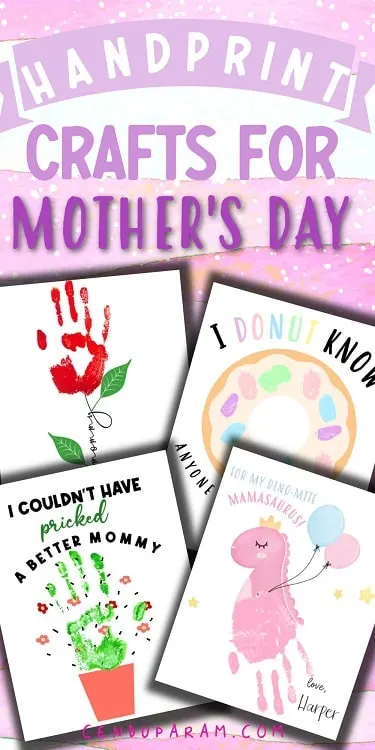 More Mother's Day Printables and Activities
If you're looking for some more Mother's Day printables and activities and even some freebies then be sure to check out some of these posts below where I give you totally free access to some awesome Mother's Day fun!
Mother's Day Coloring Pages FREE Printable PDFs
Mother's Day Coloring Pages For Grandma FREE Printables
FREE Printable Mother's Day Coupon Book To Make
Mother's Day Gift Guide Amazon Edition
Mother's Day Gifts That Don't Cost A Thing
Wrapping up Mother's Day Handprint Art
I hope this post gave you some inspiration for your Mother's Day handprint craft! There are so many cute ways to incorporate tiny handprints into a beautiful DIY craft for mom or grandma this Mother's Day. If you want to make the process easy peasy, be sure to grab my Mother's Day Handprint Craft Templates and simply print and get crafting!
If you're looking for Mother's Day freebies then be sure to check out some of the posts listed above.
Happy Mother's Day!