Easy St. Patrick's Day Handprint Crafts For Preschool, Kindergarten & Toddlers
Are you looking for some fun and easy St. Patrick's Day crafts to make with young kids? Have fun creating sweet and memorable keepsake art with these easy St.Patrick's Day handprint and footprint crafts.
They're perfect to gift to grandparents, family, and friends or simply frame and hang up to display as a memorable keepsake of just how little those hands once were.
It's a fun sensory activity for little ones, you can even do these with babies (although it's usually easier to get a good print when they're sleeping).
It's absolutely perfect for entertaining toddlers, preschoolers, kindergarteners, and early elementary-aged children.
It's an activity that's super engaging and fun so they'll actually want to finish it.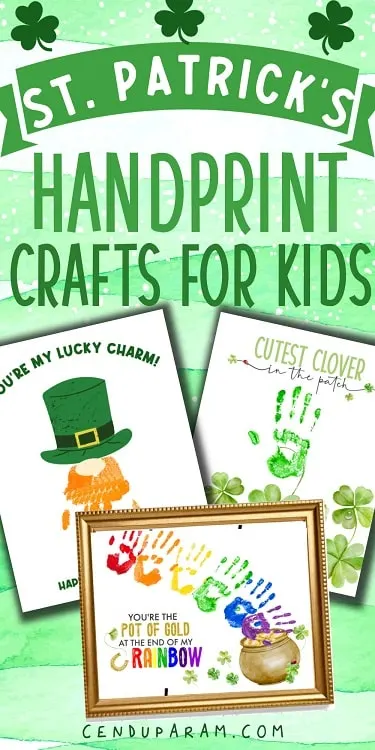 This post contains affiliate links, so we may earn a small commission when you make a purchase through links on our site at no additional cost to you. You can read more about it on the disclosure and disclaimer page.
What Do You Need To Create St. Patrick's Day Handprint Crafts
I've created a St. Patrick's Day Handprint Template Bundle to make it super easy and quick to re-create these crafts with very little prep work.
If you're an artsy person you can probably draw a similar template yourself but if not I would suggest grabbing mine and printing out the ones you like. Plus, you'll have the entire bundle to reuse year after year without worrying about finding more activities.
All you'll really need is some standard US Letter size paper 8.5 x 11-inch to print them on, although I really prefer cardstock paper for painting crafts because it's thicker and sturdy so the artwork lasts so much longer and looks so much better (no crinkly, wrinkly paper).
If you don't have cardstock and don't really want to buy it for a single craft, just use your regular paper and make sure to let it dry completely (away from little hands) before you frame it or hang it up.
Or you could also have it printed at your local print shop and select the cardstock option.
Other than that, you'll just need some washable non-toxic paint and either a paintbrush to coat their small hands or pour some paint onto a paper plate and let them have some sensory fun.

1. The Cutest Clover in the Patch Handprint Craft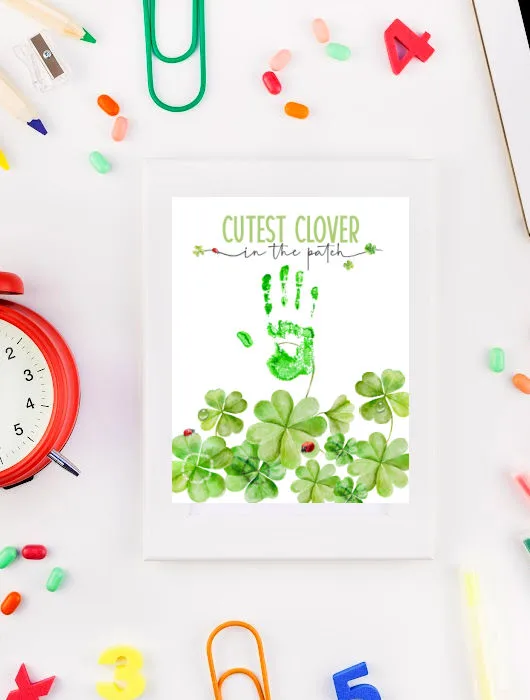 First up is this adorable cutest clover in the patch handprint craft! I actually loved this one so much that I made 2 versions of it, a horizontal one and a vertical one.
You can't have St. Patrick's day without a tribute to shamrocks and clovers, right?
I really love this one with the shamrocks, a couple of little ladybugs, and of course, a big green handprint for the cutest clover of them all.
I think this one is such a sweet one to frame or even gift to grandparents.
The second version has a space to put your child's handprint right on top of the clover and features some cute green boho rainbows.
2. Pot of Gold St. Patrick's Day Handprint Craft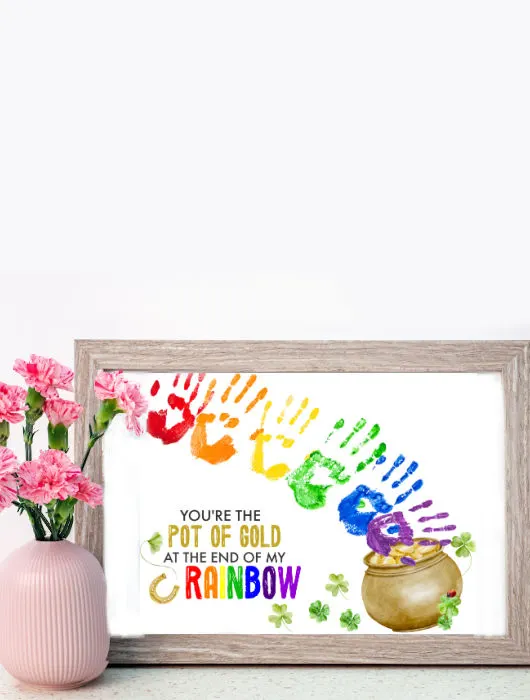 This next one is a St. Patrick's Day pot of gold handprint art template.
I love the idea of creating a rainbow with the handprints, leading o the pot of gold! How cute!
Another idea for this one could be to use fingerprints to create a rainbow leading to the pot of gold.
It has a sweet message that reads 'You're the pot of gold at the end of my rainbow.'
Don't you just love that?
This is another super sweet one to gift. You can add it to a frame and present it to your grandparents and make them gush.
3. St. Patrick's Day Rainbow Handprint Craft
This sweet and simple handprint craft has a cute hand-drawn style rainbow with fluffy clouds on each end where your kiddo will be able to place their handprints.
The text on this craft reads "rainbow kisses + shamrock wishes" and also has a little envelope with shamrocks stuffed inside it (like you're sending someone good wishes).
I'll usually print a few different ones (maybe 2-3) and let my class decide which one they would like to create to take home to their parents.
This one is a pretty popular choice among my kindergartners because who doesn't love rainbows?

4. St. Patrick's Day Heart Handprint Footprint Craft
This St. Patty's Day handprint craft is sweet and simple. It features a green heart made up of shamrocks, clovers, a pot of gold and of course, a lucky horseshoe, as well as few green beads.
This template is perfect for adding a handprint or footprint because the shape is perfect for both.
Since it doesn't have a message, this one is perfect to hang up and frame. Or you could add your own sweet message and gift it instead.
It certainly makes for a sweet keepsake for fans of your little artists.

5. I'm So Lucky To Be Loved by You Handprint Craft for Preschool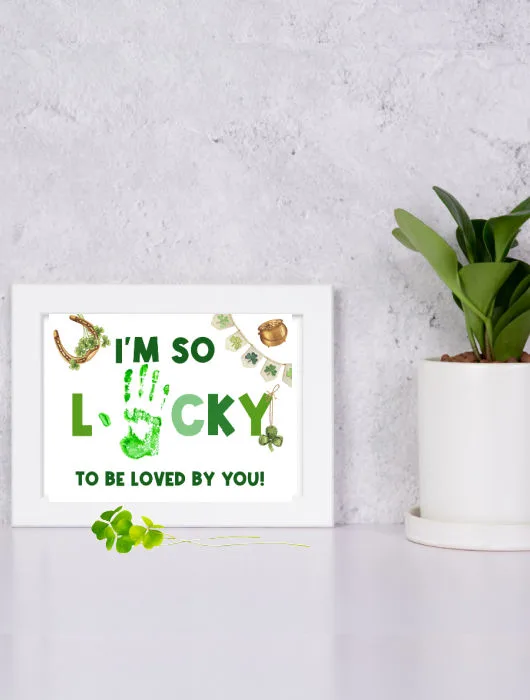 This is the one I use most often in the classroom because it makes such a sweet gift!
It reads, "I'm so lucky to be loved by you" with a space between the 'L' and 'C' for your little one to add a colorful handprint.
This one has some cute lucky charms like a horseshoe covered in shamrocks as well as a pot of old and a cute clover banner.
If you're looking for a sentimental handprint craft that makes a lovely gift, you really can't go wrong with this one.
It's got cute build right in, all it needs is an itty bitty handprint and you'll have the receivers cooing and awwwing.

6. Happy St. Patrick's Day Fingerprint Art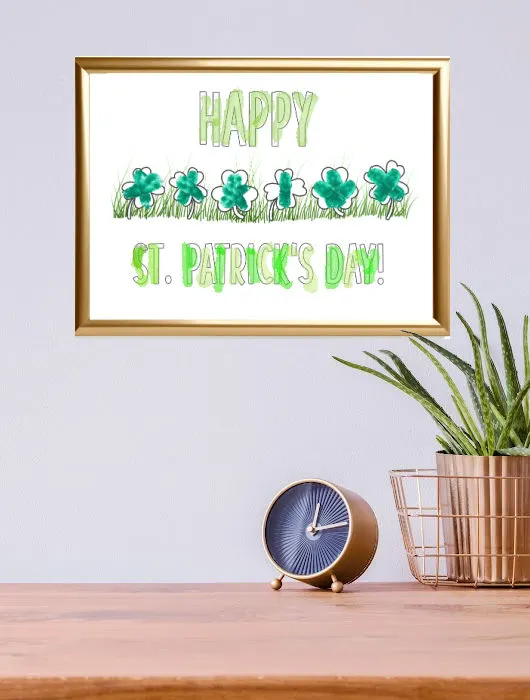 Here's a cute Happy St. Patrick's Day picture featuring a bunch of clovers growing among the grass.
For this template, I suggest using fingerprints to create your clovers and then you can even finger-paint the text or color it in if you prefer.
Using a bunch of different shades of green would look so pretty for this project. You can layer colors and create a cool effect.
If you want to practice a little color mixing, this would be a fun activity to do it since it's perfect for finger painting.
Let your little one mix up some yellow and blue and watch the magic happen!

7. St. Patrick's Day Leprechaun Handprint Craft Idea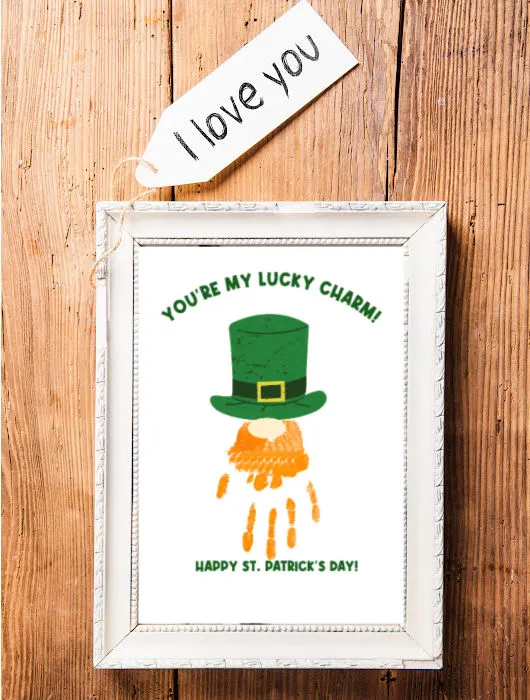 We can't have a St. Patrick's day craft without leprechauns!
Here's an adorable St. Patrick's Day leprechaun handprint craft that the kids love to make.
Your kiddo's hand will make the beard for our little leprechaun so have them select their color of choice and create a cute and friendly gnome-looking leprechaun.
We went with this orangish color which I think works perfectly for our little leprechaun.
I love the text on this one as well, it reads 'You're my lucky charm! Happy St. Patrick's Day!".
This is another sweet one to gift because of its sweet message and super cute print.

8. St. Patrick's Day Handprint Keepsake for Mom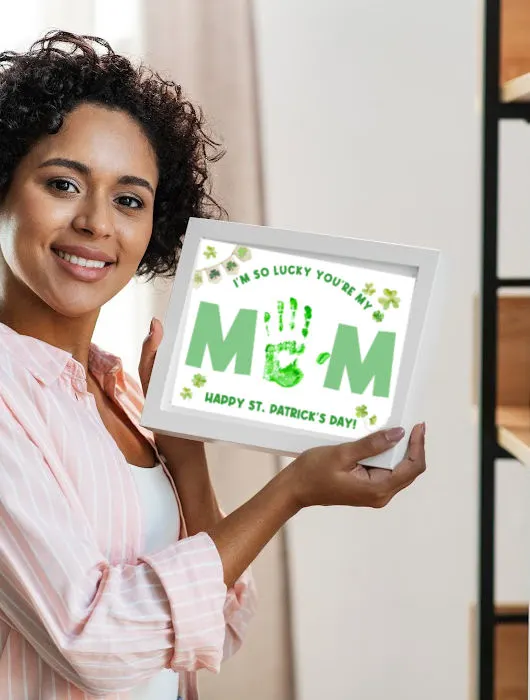 I don't know about you, but I'm a sucker for pretty much anything made with my little guy's handprint.
So of course, I had to include a special St. Patrick's Day handprint craft just for mom (we'll get to dad next).
This cute craft reads: " I'm so lucky you're my mom" with a space between the 'M's' for your little one to place their precious handprint.
This one is sweet and simple and perfect to frame or hang up on the fridge for a special daily reminder that you're the favorite person of a tiny human.
Those hands won't stay that small forever so I love creating handprint art every year and putting it in our craft binder so we can look through them together.
9. St. Patrick's Day Handprint Art for Dad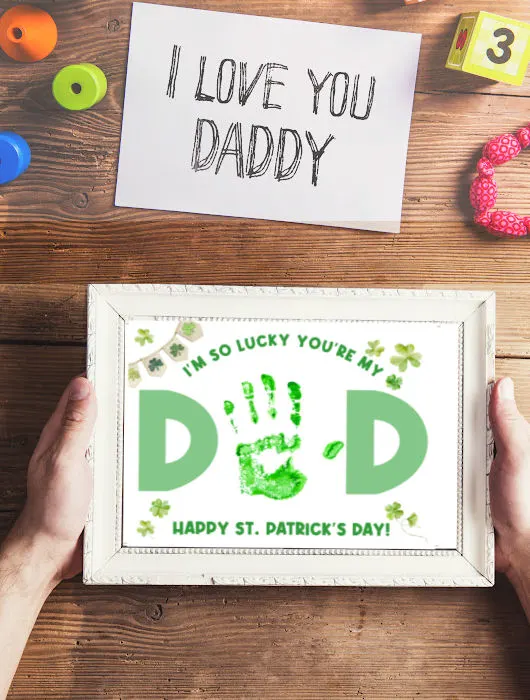 We can't forget dad, can we? So here's the St. Patrick's Day handprint craft for dad!
The mom and dad set complement each other perfectly so you can even hang them up together.
This is another favorite set we make in the classroom and the parents always love them! We even add popsicle stick frames around the outside to make them look all fancy schmancy.

If you loved these St. Patrick's Day handprint craft ideas and want to create your own without any fuss just grab my done-for-you St. Patrick's Day handprint templates that includes all 10 printable templates and get started!
More St. Patrick's Day Printables and Activities for Kids
If you were hoping for some freebies, don't worry, I have some of that for you as well. Check out some of the posts below for some fun and FREE St. Patrick's Day activities.
FREE St. Patrick's Day Coloring Pages PDF
FREE St. Patrick's Day I SPY Game Printable
Fun and FREE St. Patrick's Day Word Search Worksheets
Wrapping Up St. Patrick's Day Handprint Craft Ideas
I hope this post gave you some ideas for some cute and easy St. Patrick's Day handprint crafts! If you want to make the process as quick and easy as possible, grab my St. Patrick's Day handprint Craft templates so that all you need to do is grab some paint and some little hands to help you!
Don't forget to check out some of the free printables listed above if you're looking for more St.Patrick's themed activities to share with your little ones.
Wishing you a lucky day!
Happy St. Patrick's Day friends!