FREE St. Patrick's Day I SPY Game To Print
What games do you play on St. Patrick's Day?
Looking for some fun St. Patrick's Day activities for the classroom or at home?
Then you've got to try this fun and FREE St. Patrick's Day I SPY printable game!
It's the perfect screen-free way to add excitement to your kid's fun holiday celebration! It makes for a great individual activity or a fun game to play with friends and family.
The kids will have loads of fun trying to count (and color, depending on which printable you choose) all the cute St. Patrick's Day-themed icons like pots of gold, shamrocks, 3 leaf clovers, leprechauns, leprechaun hats, and gold coins!
What are we waiting for?!
Let's dive in!


Disclaimer: As an Amazon Associate I earn from qualifying purchases but this comes at no additional cost to you.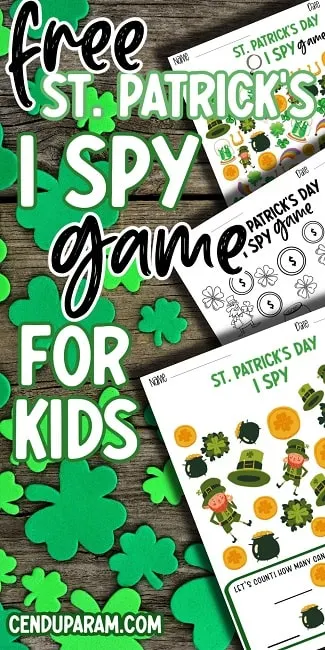 BENEFITS OF I SPY GAMES FOR KIDS

I spy games aren't just fun, they're a great learning tool too! The kiddos are having so much fun they don't even realize they're doing some important work.
Win- Win!
Let's take a look at some of the ways I SPY game help kids build skills in so many different areas like math skills, literacy, memory, and more!

IMPROVES WORKING MEMORY

These types of activities are very beneficial for a child's working memory. Working memory is your child's ability to take in new information and then use it in some way.
During this kind of activity, kids really need to use their working memory to identify each object and distinguish them from other similar items and objects in the image.
It allows children to practice the ability to hold information in their minds while they work on another task that requires that information.

VISUAL DISCRIMINATION SKILLS

Visual discrimination is the ability to analyze and distinguish between differences and similarities between objects, letters, and numbers.
It is a must-have skill for both numeracy and literacy. These kinds of activities are a fun way to work on these necessary skills of learning to discern the details of similar items.
When you're a young learner, it's easy to mix up letters like p,b,q, etc.
We become better with practice, so why not make practice a little more exciting with fun games!

HOW TO PLAY THE ST. PATRICK'S DAY I SPY GAME

This I Spy St. Patrick's Day printable activity is super easy to use and requires very little prep.

All you need to do is print out the game sheets and provide some pencils, markers, crayons, or pencil crayons and ask the kids to count, color, and record all the different items on the list.

If you want to be a little extra, my class loves using these cute little magnifying glasses when they do their hunt and I get to reuse them every time we do an I Spy activity.
You've got quite a few I SPY games to choose from: black and white or color. plus 3 difficulty levels of easy, medium, and hard. Or you could just do them all because why not!

The black and white one is great if you want to extend the activity because the kids can color as well as count and it lets the kids express their creative side.
It's the perfect low prep activity for kids!

HOW TO PRINT THE ST. PATRICK'S DAY I SPY SHEET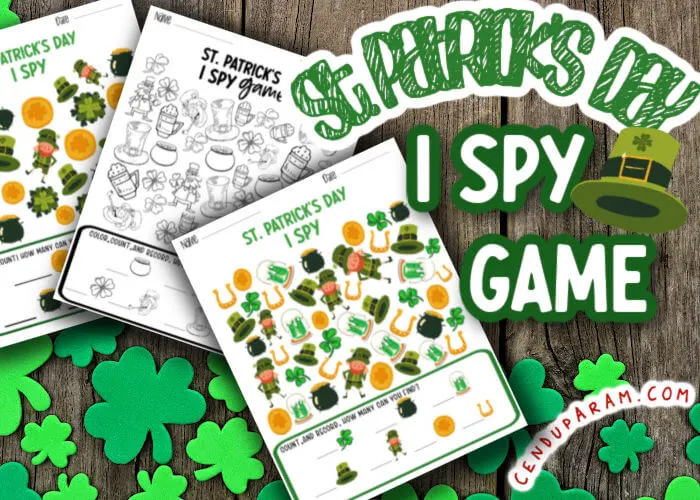 To download and print your St. Patrick's Day I SPY worksheet, simply click the 'download pdf' text under the image you want.
It will open in a new window and display the image.
From here, click the download button in the top right corner of the page.
Once you've downloaded the image, simply print and enjoy your fun activity!

BEST PRINTING PAPER

For this fun low-key holiday activity, you can simply print them on your regular printing paper (8 1/2 X 11) and hand them out to your kids but I personally like to have them printed on something sturdier like this cardstock paper because we reuse ours every year.

HOW TO MAKE YOUR ST. PADDY'S DAY I SPY GAME REUSABLE

After I print them on cardstock paper, I also laminate them so the kids can use dry-erase markers and reuse the activity sheets over and over again.

This Crenova A4 Laminator is awesome because it does a great job and it's super inexpensive!

Score!

This really comes in handy for those long car trips, waiting for appointments, or even when you're dining out and the kids are bored.

ST. PATRICK'S DAY I SPY PRINTABLES

First up is our hardest and most difficult St. Patrick's Day I SPY printable PDF for those who want a little more challenging activity.
These have all your favorites like gold coins, leprechauns, 4 leaf clovers, 3 leaf clovers, and much more!
There are two styles to choose from: the black and white St. Patrick's Day I SPY printable for kids or the color version.

This one is perfect for your older elementary kids and makes for a fun family activity too!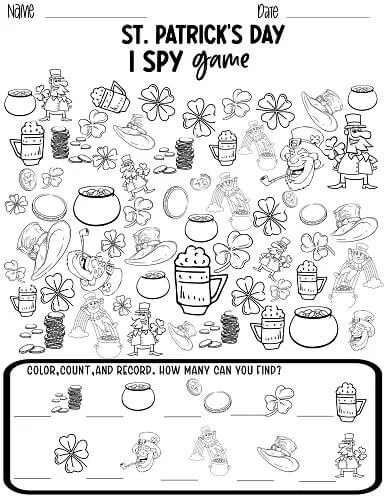 Black and White St. Patrick's Day I SPY – Hard/Difficult
DOWNLOAD PDF ST. PATRICK'S DAY I SPY HARD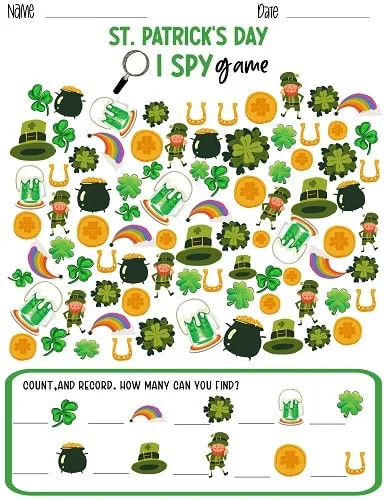 St. Patrick's Day I SPY Game Hard
DOWNLOAD ST. PATRICK'S DAY I SPY HARD

St. Patrick's Day I SPY For Kids
Next up, we have the medium challenging activity. This one has fewer icons and a bit larger images than the hard version.
This game is perfect for the lower elementary kids or make it a family game night and play together for even more fun!
You can race against the clock or each other!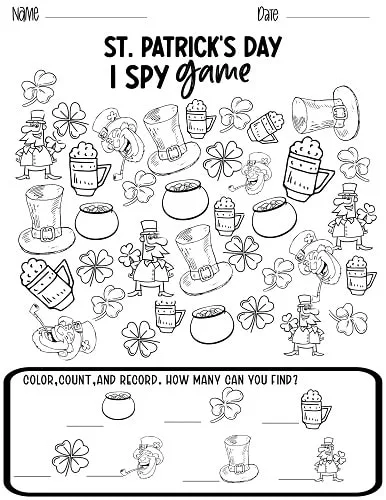 St. Patrick's I SPY – black & white Medium difficulty
DOWNLOAD ST. PADDY'S I SPY B/W MEDIUM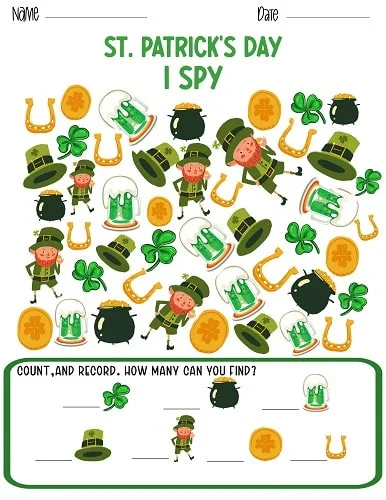 St. Patrick's I SPY Activity Sheet Medium Difficult Color
DOWNLOAD ST. PATRICK'S I SPY ACTIVITY PAGE MEDIUM

ST. PATRICK'S DAY I SPY PRESCHOOL WORKSHEETS

Our last set of St. Patrick's Day I Spy is perfect for preschool, kindergarten, and our toddlers. Your little one will have tons of fun trying to find these lucky charms!
Search for those lucky four-leaf clovers (shamrocks), pots of gold and so much more!
It's the perfect school activity to add to your simple morning basket activity for the day!
Your little ones will love to count and color their printable I spy game.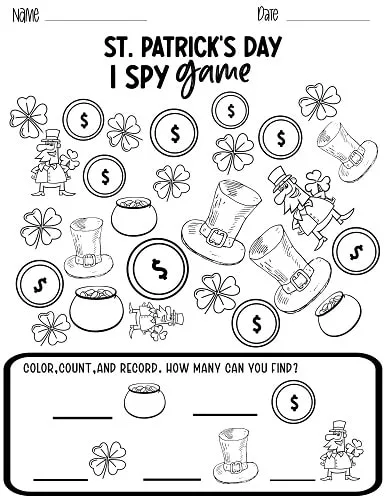 St. Patrick's Day I SPY Preschool Worksheet B/W
DOWNLOAD ST. PATRICK'S DAY PRESCHOOL WORKSHEET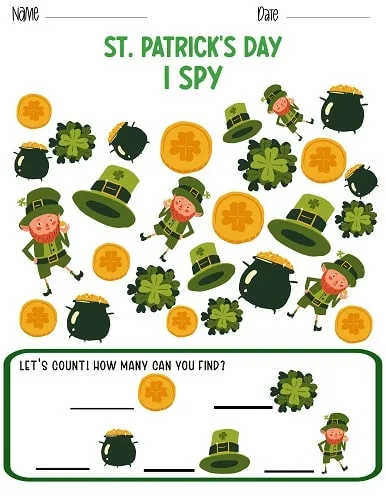 St. Patrick's Day I SPY Preschool Printable Color
DOWNLOAD ST. PATRICK'S DAY PRESCHOOL PRINTABLE

MORE ST. PATRICK'S DAY ACTIVITIES
If you're looking for more free St. Patrick's Day printable worksheets, games, and activities for kids, make sure to check out some of the links below!

St. Patrick's Day Coloring Pages for Kids
St. Patrick's Day Word Search FREE Printable Worksheets
St. Patrick's Day Handprint Art For Kids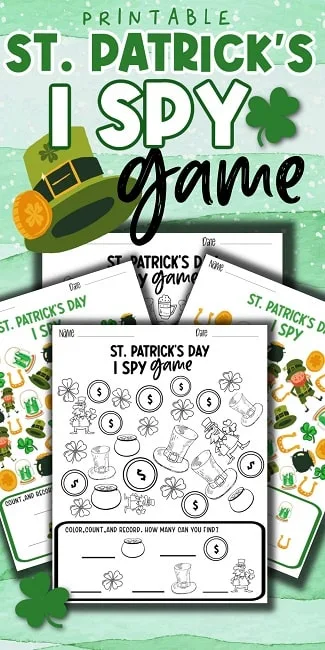 WRAPPING UP ST. PATRICK'S DAY I SPY GAME PRINTABLE

I hope you enjoyed these fun and FREE St. Patrick's Day I Spy games! They're the perfect activity to do at home or in the classroom, on those days leading up to (or on) St. Paddy's Day!
It's both educational and fun!
If you enjoyed them, please share them on your socials because the more the merrier 🙂
Please remember that all printables are for personal use only/classroom use and can't be sold/distributed without permission.
If you'd like to share them on your own blogs please include a do-follow link back to this page so friends can download them here.
Thanks so much for reading!
Happy St.Patrick's Day