Tis the season! We're heading full swing into the holiday season, which means twinkly lights, Christmas trees, and holiday greeting cards! I love making my own Christmas and holiday cards to hand out to family and friends.

That personal touch just makes them extra special.

I've created a few holiday cards that are so easy to make that you can do them with your kids. The best part about these DIY holiday cards is that they actually look super cute and they don't require much skill or products to make.

These handmade cards are easy enough for toddlers to make or preschools as well.
Materials You Need To Make Your Own Holiday Greeting Cards at Home
You can decorate your homemade holiday cards with whatever you like and add sparkles and embellishments for a little fun.
First, decide what kind of paper you'd like to use. Card stock paper gives a really professional look and I would have loved to use that but I just didn't have the time to run out and grab some.
I'm such a last-minute crafter so I almost always just raid the house and use whatever we have on hand.
That's why for this craft I ended up using brown Kraft paper since I had a bunch leftover from another project. I actually loved how they turned out.
The brown paper gives the cards a simplistic and rustic look. Here's what you'll need to recreate all the cards listed below:
Paper (card stock, Kraft paper, construction paper or plain old printing paper will do too)

Glue (white glue or hot glue, just not a glue stick)

scrap paper/newspaper to lay on your work surface

Assorted variety of pasta (different shapes/sizes)

paper plate

Paint + paintbrushes

Sparkles & Glitter

Stickers + Embellishments

Red Cedar Tree Leaves

Black Markers

A circular lid to trace

DIY Pasta + Macaroni Homemade Christmas Card


This is such a fun holiday card to make with your kids because you can get your hands a little messy while creating your masterpiece.

Just choose your color scheme for your card and get creating.

You can create any shape or design you would like.

We went for a traditional Christmas tree in Christmas colors like red, green and gold.
I wanted to make a holiday wreath card using bow-tie pasta but unfortunately I finished the bow-tie pasta before I thought of doing the card.
Maybe next time?

How to Make a Pasta Christmas Card at Home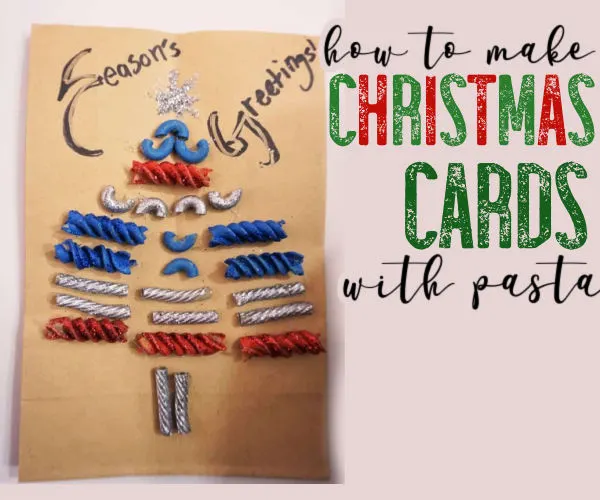 The first step is to choose the types of pasta and the colors of paint you will use. We used some rigatoni, macaroni and noodle pasta.


Lay down some scrap paper or newspapers in your work space if you want to limit the mess.


Pour a variety of pasta on 3-4 disposable plates (depending how many paint colors you'll be using- use 1 plate for each paint color).


Using your paintbrush paint each plate of pasta the desired color.
Add sparkles and glitter if using.


Before you walk away, make sure the pasta is lying in a flat layer and not touching each other as they'll stick and clump while drying.


Once dry, create a triangle shaped design on a piece of paper. Try it out before you glue so you know how it will look.


Glue pasta in place.


Let dry.


Add a greeting with a marker, if you want (they look just as pretty without words).


Share them with family and friends and spread some holiday cheer!


How to Make an Easy DIY Glitter Ornament Holiday Card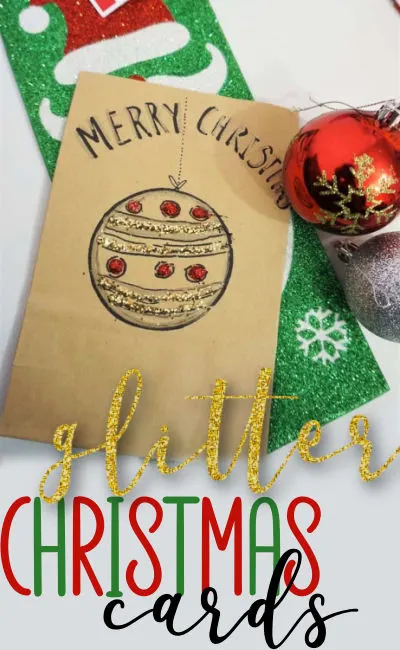 This DIY card is about as easy as it gets and it looks so stunning!

It has my favorite element- glitter! I mean, who doesn't love some glitter, so sparkly.
For this card, you'll just need to find a circle shaped lid you can trace to make the perfect circle (about 4-5cm in diameter) or you can use a protractor (but who even has one of those things or knows how to use it?).
Your little one can let their inner Picasso out and design the ornament however they like.

Steps for Making Hand Made Glitter Ornament Christmas Card With Kids

Find a circular object about 4-5 cm that you can use to trace.


Place the object on the center of the page and trace with a black marker.


Add a black line from the middle of the top of the circle to the top of the page so it looks like your ornament is hanging and add a bow design if you like.


Using a pencil, draw your design within the circle until you're happy with how it looks.


Decide what color glitter each part will be.


Add glue to all areas that are 1 color and then sprinkle on the glitter in these areas, wait a minute or so and then tap off excess glitter onto a clean piece of paper so you can pour it back in the container.


Add glue to all areas of your next color and repeat the process. Do this until all the areas you want glitter on are complete.


Let your card dry completely (we waited overnight).


Using a black marker, outline the edges of the glitter patterns to create some outlines and give a more finished look.


Add a greeting if you like.


Share them far and wide.


DIY Christmas Tree Card Using Leaves & Branches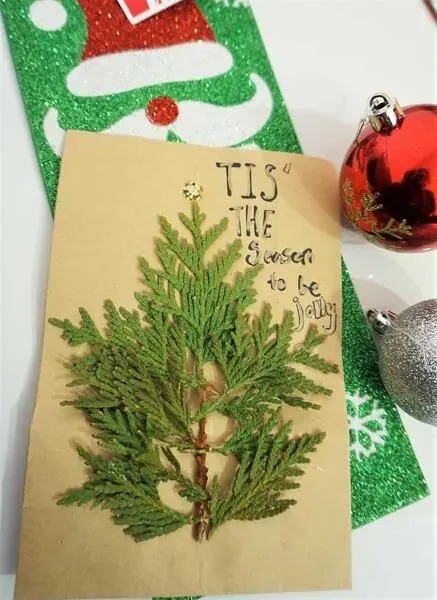 This last card has to be the easiest of them all.
All it requires is for you and the kiddos to head outside and have a little scavenger hunt collecting some leaves/ branches from some evergreen trees.
Don't quote me on this but I think the one we used was from a red cedar tree.
The leaves/branches look a lot like mini Christmas trees so these are a perfect ridiculously simple card to make with toddlers.
All you need is some leaves, some glue an some glitter.

How to Make A DIY Christmas Card Using Tree Leaves & Branches

Head out with your little helpers and collect a mix of evergreen tree leaves and branches. Try to find ones that are long and full.


Choose the perfect branch/leaf from your collection that looks most like a Christmas tree when laid flat.


Remove any stray leaves/branches that prevent it from laying flat.


Add glue to one side of the branch and press down on the center of your Kraft paper/card stock paper.


Add additional leaves/branches if needed to give it a Christmas tree look.


Add a blob of glue above the top of your "tree", then add glitter and tap off excess (you could also use a star shaped sticker for this part).


Add a greeting if you like.


Voila! You're done! Now admire and then send it to a friend.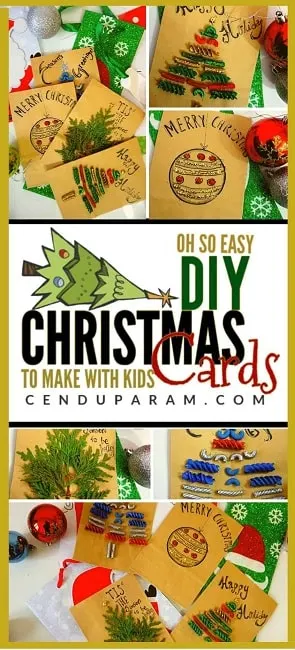 FREE Christmas Printables For Kids
Merry Christmas Snowman Coloring Pages
Simple Gingerbread Man Coloring Pages For Kids
Free Printable Christmas Coloring Pages PDF
Free Christmas Worksheets PDF For Kids
FREE Santa Letter Templates For Kids
Super Easy Home Made Holiday Cards To Try With Kids
There you have it, 3 ridiculously easy holiday cards you can make at home with the kiddos.
Which one was your favorite?
I hope you'll try them out and let me know!
Spread some holiday cheer this season, brighten someone's day and show them just how much they mean to you with an extra special holiday card made by precious little hands (or your own, those are good too).
I think this is one the grandparents will cherish!