VINTAGE BOY NAMES YOU DON'T HEAR ANYMORE
Looking for some vintage boy names?

You'll love this collection of timeless old fashioned baby boy names and meanings from days gone by. I've tried to include a little bit of everything so there are some cute old man baby names as well as the classic and traditional boy names you'd think of from long ago.

There are even some retro cool boy names that are a fun blast from the past like Rex or Max.

Hopefully, you'll find a beautiful timeless vintage boy name you love! These handsome classic boy names just never go out of style so they're a perfect fit.

WHAT ARE SOME OLD FASHIONED BOY NAMES?


So, what are some old fashioned boy names?

For this list of old timey boy names I looked to the 100-year rule. If you aren't aware of it, let me explain. It's simply the idea that, like most things in popular culture, things go in and out of fashion about every hundred years or so.

So that means, names that were popular 100 years ago are likely to start popping up again now. The old lady and old man names that were hits with our grandparents or great-grandparents are making a comeback.

For this list of retro cool baby names, I looked through the government social security site looking at different names by decade to see what was most popular.

I looked through vintage names for boys from the late 1800s and early 1900s ( Alot of these were kind of awful old man names we probably wouldn't use again today).

So, I also included some retro and old school names from the early to mid 1900s as well just to add a better mix of some handsome vintage boy names. This is great because you get some classic baby boy names with a twist. It's not just the typical stuff you always hear.

Disclaimer: This post contains affiliate links which you can learn more about here.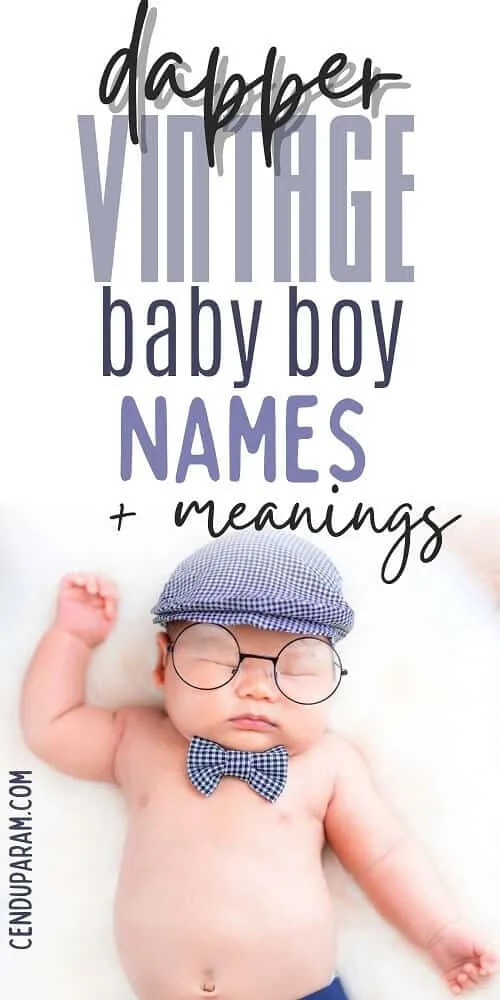 HANDSOME VINTAGE BOY NAMES YOU DON'T HEAR ANYMORE
A
Aaron
Aaron – this beautiful classic boy name is of Hebrew origin and means 'mountain of strength'

Abel
Abel – this traditional biblical boy name means 'breath'

Abraham
Abraham – this Hebrew baby name means 'father of multitudes'

Acton
Acton – is an English baby name meaning 'from the oak tree settlement'

Adam
Adam – is another traditional biblical boy name and it means 'son of the Earth'

Adonis
Adonis – this cute Greek forgotten baby boy name means 'lord'

Albert
Albert – is an old fashioned English boy name meaning 'noble and bright'

Albus
Albus – comes from Latin and means 'white'

Alexander
Alexander – this strong Greek boy name means 'defender of man'

Alfonso
Alfonso – is an Italian vintage boy name meaning 'noble and ready'

Alfred
Alfred – this cute English boy name means 'elf ruler'

Alistair
Alistair – is a boy name of Scottish origin meaning 'defender of men'

Allen
Allen – this cute Irish boy name means 'handsome'

Alonzo
Alonzo – this Spanish vintage boy name can mean 'noble' or 'ready for battle'

Alston
Alston – is an uncommon Old English boy name meaning 'elf stone' or 'old stone' or 'noblemen's settlement'

Alvin
Alvin – is a classic American boy name meaning 'noble friend'

Ambrose
Ambrose – this Greek old timey boy name means 'immortal'

Amos
Amos – is a Hebrew boy name meaning 'to carry' or 'borne by God'
Anders
Anders – this uncommon Greek boy name means 'lion man'


Andrew
Andrew – is a boy name with Greek roots meaning 'manly and strong'

Angus
Angus – this traditional Scottish boy name means 'one strength'

Anthony
Anthony – in Greek this boy name means 'priceless one'

Anton
Anton -is another form of the above name and means 'priceless'
Ansel
Ansel – this German vintage boy name means 'God's protection'

Archie (Archibald)
Archie (Archibald) – this cute historic boy name comes from German and means 'truly brave'
Arlo
Arlo – this uncommon vintage boy name comes from Old English origin and means 'army' or 'fortified troops'


Arnold
Arnold – this strong German boy name means 'eagle power'

Arthur
Arthur – this traditional old fashioned boy name means 'noble and courageous'

Atticus
Atticus – this uncommon Greek boy name means 'man from Attica'

Augustus
Augustus – has Slavic and Latin roots and means 'great, magnificent'

B
Bailey
Bailey – this old English occupational name means 'bailiff' or 'steward'

Barney (Barnaby)
Barney – this English boy name means 'strong as a bear'

Bart (Bartholomew)
Bart – in Hebrew the meaning is 'ploughman' or 'son of Talmai'

Basil
Basil – this unique Greek boy name means 'royal, kingly, brave, valiant, chivalrous'

Baxter
Baxter – is an Old English occupational name meaning 'baker'

Baylen
Baylen – this unique vintage boy name comes from Old French and means 'auburn-haired'

Beau
Beau – this cute French boy name means 'beautiful, handsome'

Benedict
Benedict – this Latin boy name means 'blessed'

Benjamin
Benjamin – this Hebrew baby name means 'son of the right hand'

Bennett
Bennett – was originally a surname of Latin origin but has become more common as a first name and it means 'little blessed one'

Bernard
Bernard – this French boy name means 'bold as a bear'

Bert (Bertram)
Bert – this German boy name means 'bright raven'

Billy
Billy – this short and cute boy name means 'resolute protector' and has German roots

Blaise
Blaise – is a cute French boy name meaning 'lisp'

Booker
Booker – is an old timey English occupational boy name meaning 'scribe'

Bradley
Bradley – comes from Old English and is a place name meaning 'broad clearing'

Brett
Brett – this Celtic name (possible French roots as well) means 'from Britain'

Bruce
Bruce – this English boy name means 'thick brush'

Bruno
Bruno – this cute and classic Old German name means 'brown'

Buster
Buster – this American old timey name means 'tough guy'

Buford
Buford – this Old English place name means 'ford near the aviary'

Butler
Butler – this old English occupational name means 'wine steward; server'

Byron
Byron – is another Old English name and it means 'barn for cows'

C
Caleb
Caleb – this cute Hebrew boy name means 'faithful, devotion, whole hearted, bold, brave'

Calvin
Calvin – this English boy name means 'little bald one'

Cameron
Cameron – is an old school Scottish boy name meaning 'crooked nose'

Cash
Cash – this boy name has English and Latin roots and means 'hollow'

Casper
Casper – this name has many roots (German, Scandinavian, Persian, Dutch) and means 'bringer of treasure' or 'tresurer'

Cassian
Cassian – this uncommon boy name is Latin and means 'hollow'

Carl
Carl – is a German male name meaning 'free man'

Carlisle
Carlisle – this English old fashioned baby boy name means 'from the walled city' or ' from the protected tower'

Carter
Carter – this Old English occupational name means 'transporter of goods by car'

Cecil
Cecil – is of Latin and Old Welsh origin and means 'blind' or 'sixth'

Cedric
Cedric – this cute old man name is of Old English origin and means 'kindly and loved'

Chadwick
Chadwick – is a unique vintage boy name with a cute nickname (Chad) and is of English origin and means 'dairy farm'

Charles
Charles – has German and French roots and means 'free man'

Chester
Chester – is a cute English boy name meaning 'fortress'

Christian
Christian – this name has Latin roots and means 'follower of Christ'

Christopher
Christopher – this traditional boy name means 'bearer of Christ' and has Greek roots

Chuck
Chuck – this is an American rendition of Charles meaning 'free man'

Clarence
Clarence – this Latin boy name means 'one who lives near the River Clare'

Clark
Clark – this English occupational name means 'scribe, secretary, cleric, scholar, clerk'

Claude
Claude – is a popular French boy name meaning 'limping'

Clayton
Clayton – is an English place name meaning 'place with good clay'

Cleveland
Cleveland – this Old English boy name means 'land of cliffs; hilly area'

Clifford (Cliff)
Clifford – this Old English place name means 'cliff-side ford'

Clint
Clint – is another Old English place name and it means 'fenced settlement'

Clive
Clive – this Old English vintage boy name means 'cliff, slope'

Clyde
Clyde – this cute Scottish boy name means 'Clyde river'

Colin
Colin – this historic Old Irish boy name means 'pup' or 'young dog'
Colter
Colter – is an Old English boy name meaning 'colt-herd'

Conrad
Conrad – this classic English boy name means 'bold counsel'

Cornelius
Cornelius – this is a vintage boy name you don't hear anymore and it comes from Latin and means 'horn'

Curtis
Curtis – this name has English and French origins meaning 'polite and curteous'

Cyril
Cyril – is an old timey boy name of Greek origin meaning 'lordly or masterful'

RELATED POSTS:
Pretty Vintage Baby Girl Names + Meanings
Vintage Southern Boy Names That Never Go Out of Style
The Prettiest 2-Syllable Girl Names
Traditional Long Girl Names with Meanings
D
Dalbert
Dalbert – this unique old fashioned boy name is English and means 'bright one, proud'

Dale
Dale – this English boy name means 'valley'

Dallben
Dallben – this old Welsh boy name means 'blind chief'

Damon
Damon – this Greek boy name means 'to tame'

Daniel
Daniel – this Hebrew boy name means 'God is my strength'

Danny
Danny – Hebrew name meaning 'God is my judge'

Darcy
Darcy – this Irish and Gaelic boy name means 'dark haired'

Darnell
Darnell – is an Old French name meaning 'grower of the darnel plant'

Darwin
Darwin – is a cute Old English boy name meaning 'dear friend'

Dashiell
Dashiell – this French boy name is an occupational name meaning 'page boy'

David
David – is a Hebrew biblical boy name meaning 'beloved'

Dean
Dean – this classic English boy name means 'from the valley'

Delbert
Delbert – this uncommon English boy name means 'noble and bright'

Demetri
Demetri – this Greek name means 'follower of Demeter'

Dennis
Dennis – this English boy name has Greek roots as well and means 'devotee Of Dionysos (who was the Greek god of wine)'

Desmond
Desmond – is a handsome Irish place name and means 'one from South Munster'

Dewey
Dewey – this cute Welsh boy name means 'beloved'

Dexter
Dexter – this Latin name means 'one who dyes clothes' or 'right handed'

Dillard
Dillard – this Old English boy name means 'proud and hard'

Donald
Donald – this Scottish boy name means 'world ruler'

Dolores
Dolores – this Spanish name means 'pain and sorrow'

Dominic
Dominic – this boy name comes from Latin and means 'belonging to the lord'

Donovan
Donovan – this old timey boy name is Irish and means 'dark princeling'

Douglas
Douglas – is a Scottish place name meaning 'dark stream'

Draco
Draco – this strong boy name is of Greek origin and means 'dragon'

Drake
Drake – this cool boy name is English and means 'dragon'

Dudley
Dudley – this cute and uncommon boy name is English and means 'from the people's meadow'

Duke
Duke – this English name is often a title of nobility and can also mean 'leader'

Duncan
Duncan – this Irish boy name means 'dark warrior'

Dwight
Dwight – is an English baby name meaning 'fair one' or 'god of wine'

Dylan
Dylan – this classic boy name is of Welsh origin and means 'son of the sea'

E
Earl
Earl – this one syllable old fashioned boy name is German and means 'warrior'

Ebenezer (Eben)
Ebenezer – this is such a traditional old man name means 'stone of help'

Edbert
Edbert – this old school boy name is English and means 'wealthy'

Edgar
Edgar – is another classic English boy name and means 'wealthy spear'

Edison
Edison – was traditionally an Old English surname meaning 'son of Edie'

Edmund
Edmund – is an Old English boy name meaning 'wealthy protector'

Edric
Edric – is an uncommon English boy name meaning 'prosperous ruler'

Edward
Edward – this English boy name means 'wealthy guardian'

Edwin
Edwin – is an Old English boy name meaning 'wealthy friend'

Elbert
Elbert – is a German boy name meaning 'bright, famous'

Eldric
Eldric – is another English boy name and it means 'old, wise ruler'

Elias
Elias – is a Hebrew boy name meaning 'Jehovah is God'

Elijah
Elijah – is another Hebrew boy name and means 'my God is Yahweh'

Ellis
Ellis – this English unisex name means 'the Lord is my God'

Ellery
Ellery – this English baby name means 'cheerful'

Elliot
Elliot – is the English version of the above Hebrew boy names and means 'the Lord is my God'

Elon
Elon – is a Hebrew boy name that means 'oak tree'

Elmer
Elmer – this Old English boy name means 'noble, famous'

Elroy
Elroy – this cute old fashioned French boy name means 'the king'

Elton
Elton – this Old English place name means 'the old town'

Emil
Emil – this Latin boy name means 'rival'

Emmett
Emmett – has multiple roots (Hebrew, German, English) and means 'universal' or 'industrious and strong'

Ephraim
Ephraim – this very old fashioned boy name means 'fruitful, fertile and productive' and is of Hebrew origin

Eric
Eric – this German boy name means 'eternal ruler'

Ermias
Ermias – is a biblical Ethiopian name that means 'God will rise'

Ernest
Ernest – this German boy name means 'serious, warrior'

Erwin
Erwin – is a German boy name meaning 'respected friend'

Ethan
Ethan – this classic boy name is of Hebrew origin and means 'firm, enduring, strong and long-lived'

Eugene
Eugene – is an old timey boy name with Greek roots that means 'noble' or 'well-borne'

Everett
Everett – traditionally an English (with German roots) surname meaning 'brave as a wild boar'

Ezekiel
Ezekiel – this 3 syllable old fashioned boy name means 'God's strength' and is of Hebrew origin

Ezra
Ezra – this Hebrew boy name means 'helpful'

RELATED POSTS
First and Middle Name Combinations That Go Together For Baby Girls
Sophisticated Baby Girl Names with Cute Nicknames
Celestial Space Baby Names For Girls and Boys
Classic Irish Boy Names with meanings
F
Felix
Felix – this cute English boy name means 'lucky' or 'successful'

Fenton
Fenton – this English place name means 'marsh town'

Ferdinand
Ferdinand – has German and Spanish roots and means 'bold protector'

Ferris
Ferris – this old school Irish boy name means 'rock'

Fergus
Fergus – this Gaelic name means 'man-strength, virility'

Fletcher
Fletcher – has English, Scottish and Irish roots and it's an occupational name meaning 'arrow-smith' 'arrow-maker'

Floyd
Floyd – this English boy name means 'gray'

Finch
Finch – is an Old English nature name (bird name) meaning 'to swindle'

Finn
Finn – this Irish boy name means 'fair' or 'white'

Francis
Francis – comes from Latin and means 'Frenchman; free man'

Franklin
Franklin – is a Middle English boy name meaning 'free landholder'

Frederick
Frederick – is the English form of a German name (Friedrich) meaning 'peaceful ruler'

G
Gabriel
Gabriel – this Hebrew boy name means 'God is my strength'

Garfield
Garfield – this cute Old English boy name means 'triangular field'

Garrett
Garrett – this handsome English boy name means "rules by the spear'

Gaston
Gaston – this handsome vintage boy name is French and means 'the foreigner, the guest'

Gautier
Gautier – is another classic French boy name and it means 'ruler of an army'

Geoffrey
Geoffrey – is also a French boy name and means 'pledge of peace'

George
George – is such a classic boy name and it has Greek origins meaning 'farmer'

Gerald
Gerald – this strong boy name is German and means 'ruler with the spear'

Gerard
Gerard – this German name means 'spear strength'

Germaine
Germaine – this French boy name means 'from Germany'

Gideon
Gideon – is a handsome Hebrew boy name meaning 'great warrior'

Gilbert
Gilbert – this Old French boy name means 'bright promise'

Glen
Glen – is a Scottish place name meaning 'from the wooded valley'

Gordon
Gordon – is an Old English and Gaelic name meaning 'large fortification'

Grady
Grady – this Gaelic boy name means 'noble'

Graham
Graham – is a Scottish and English name meaning 'gravelly homestead'

Grant
Grant – is a Scottish boy name meaning 'large'

Gregory
Gregory – is a Greek boy name meaning ' watchful, alert'
Griffin
Griffin – this Welsh boy name means 'strong in faith' or 'mythical creature with the body of a lion and head of an eagle'

Grover
Grover – is actually a North German occupational name meaning 'grave digger' or 'ditch'

Gus
Gus – this short and sweet English boy name means 'great'

Guy
Guy – this name has English and French roots and means 'gentile'

H
Hadwin
Hadwin – this English vintage boy name means 'war friend'
Harlan
Harlan – is an uncommon Old English boy name meaning 'army land'

Harley
Harley – this cute boy name comes from Old English and means 'wood clearing'

Harold
Harold – is another Old English boy name and means 'army power'

Harry
Harry – has German roots and means 'power, ruler'

Harvey
Harvey – is another English classic boy name and it means 'battle worthy, blazing iron'

Hector
Hector – has multiple origins (English, French, Scottish and Spanish, Greek) and means 'restrain'

Henry
Henry – has English, French and German roots and means 'home ruler'

Herbert
Herbert – this uncommon German boy name means 'illustrious warrior'

Herman
Herman – this Old German boy name means 'soldier'
Hiram
Hiram – is a Hebrew boy name meaning 'brother of the exalted one'

Hollis
Hollis – this cute vintage boy name is of English origin and means 'near the holly bushes'

Homer
Homer – is a Greek boy name that means 'pledge'

Horace
Horace – this Latin name means 'man of time'

Howard
Howard – this English boy name means 'brave heart'

Hoyt
Hoyt – is an English boy name that means 'stick' or 'skinny' or 'spirit, soul' in Old Norse

Hubert
Hubert – is a German boy name that means 'mind-bright'

Hugh
Hugh – this German boy name means 'bright in mind and spirit'

Huxley
Huxley – is a vintage boy name from Old English that means 'Hugh's meadow'

I
Ian
Ian – this Scottish name means 'God is gracious'

Isaac
Isaac – is a Hebrew boy name that means 'He will laugh'

Ira
Ira – is a Hebrew boy name that means 'full-grown; watchful'

Irvin
Irvin – is a Scottish boy name that means 'handsome, fair of face'

Irving
Irving – is a Gaelic boy name meaning 'green or fresh water'

Isaiah
Isaiah – is a classic boy name of Hebrew origin that means 'God is salvation'

RELATED POSTS
4-LETTER NAMES FOR BOYS + MEANINGS
Sophisticated Boy Names With Cute Nicknames You'll Love
+600 Organic and Earthy Baby Names
J
Jacob
Jacob – is such a classic and traditional boy name of Hebrew origin and it means 'supplanter'

Jack
Jack – is an traditional English boy name and means 'God is gracious'

Jackson
Jackson – this English name means 'son of Jack'

Jake
Jake – is a Hebrew boy name meaning 'supplanter'

James
James – is another classic name for boys and it's of Hebrew origin and means 'supplanter'

Jarvis
Jarvis – this English boy name means 'spear man'

Jasper
Jasper – this cute English boy name means 'treasurer'

Jarrett
Jarrett – this uncommon English boy name means 'spear warrior'

Jay
Jay – this name has many origins and meanings so I'll go with the English meaning which is 'jaybird'

Jeffery
Jeffery – this cute English name means 'God peace'

Jeremiah
Jeremiah – this Hebrew baby name means 'appointed by God'

Jesse
Jesse – is another Hebrew baby name and it means 'gift'

Jethro
Jethro – is an old fashioned boy name of Hebrew origin that means 'abundance'

Jim
Jim – is an English boy name meaning 'supplanter'

Jiminy
Jiminy – this old timey boy name means 'supplanter' and has English and Hebrew roots

John
John – is a Hebrew boy name meaning 'God is gracious'

Johnathan
Johnathan – this Hebrew name means 'God has given'

Johnnie
Johnnie – this English and Hebrew name means 'the Lord is gracious'

Jonah
Jonah – is an old school Hebrew boy name meaning 'dove' or 'pigeon'

Jose
Jose – this Spanish boy name means 'God will increase'

Joseph
Joseph – is the Latinized version of a Hebrew boy (Yasaf) name and means 'God will increase'

Joshua
Joshua – this biblical Hebrew boy name means 'God is my salvation'

Josiah
Josiah – is another Hebrew boy name and it means 'God will save'

Jude
Jude – this Hebrew boy name means 'praise'

Julian
Julian – comes from Latin and means 'downy' or 'youthful'

Julius
Julius – is another version of the above Latin name and means 'downy' or 'youthful'

K
Karl
Karl – is a German boy name and can mean 'free man' or 'warrior'

Kelvin
Kelvin – comes from Old English and Scottish roots and means 'river man' or refers to a river in Scotland

Kenneth
Kenneth – this classic boy name is Gaelic and can mean 'handsome' or 'born of fire'

Kent
Kent – is an English place name meaning 'high or coastal land'

Kirk
Kirk – this Scandinavian and Old Norse boy name means 'church'

Kit
Kit – this short and cute boy name comes from Greek and means 'bearer of Christ'

L
Lance
Lance – this English boy name means 'long knife or sword' and is often associated with knight Sir Lancelot

Larry
Larry – this English boy name means 'from Laurentium (Italy)'
Lawrence
Lawrence – if you take the English origin it can mean 'laurel' or if you look at the Latin it can be 'man of Laurentum'

Lloyd
Lloyd – this cute Welsh boy name means 'gray-haired; sacred'

Leo
Leo – this short and cute boy name means 'lion' and is of Italian origin

Leon
Leon – is a Greek boy name meaning 'lion'

Leonard
Leonard -this name has German and Greek roots and means 'lion strength'

Leonardo
Leonardo – this classic Italian boy name has Greek and Latin roots and means 'brave lion'

Leopold
Leopold – this vintage boy name is English and means 'people bold'

Leroy
Leroy – this antique baby name means 'king' or 'ruler'

Leslie
Leslie – this Old Irish boy name means 'garden of holly'

Lester
Lester – this Old English place name means 'fortified place' or 'from Leicester'

Levi
Levi – this adorable boy name is Hebrew and means 'joined' or 'attached'

Lewis
Lewis – this strong boy name is English and means 'renowned warrior'

Lincoln
Lincoln – this English name means 'from the lake settlement'

Linus
Linus – is an old school Greek boy name and means 'flax colored'

Lionel
Lionel – this English boy name means 'lion'

Lonnie
Lonnie – this American name means 'noble, ready'

Louis
Louis – this German name means 'famous warrior'

Lowell
Lowell – this cute and uncommon old fashioned boy name means 'little wolf' and is of English origin

Lucas
Lucas – this Greek/Latin boy name means 'man from Lucania'

Lucian
Lucian – is a Latin boy name that means 'light'

Lucius
Lucius – this cute and uncommon Latin boy name means 'light'

Luke
Luke – in Greek this cute boy name means 'light giving'

Luther
Luther – this strong English boy name means 'army of the people'

Lyle
Lyle – this cute Old French boy name means 'the island'

RELATED POSTS
Pretty 4-Letter Girl Names and Meanings
Short and Cute Girl Names That Are 3-Letters
Hippie Earthy Boho Names For Your Flower Child
Sweet Names For Your Last Born
M
Mack (Mackenzie)
Mack – this cute Gaelic name means 'son/daughter of the handsome one'

Malachi
Malachi – this cute vintage boy name means 'messenger of God' and is of Hebrew origin

Malcolm
Malcolm – is a Scottish boy name and means 'follower Of St. Columba'

Manfred
Manfred – is such classic old man name and means 'man of peace' and comes from German

Manuel
Manuel – is a Spanish boy name meaning 'God is with us'

Marcus
Marcus – this cool Latin boy name can mean 'dedicated to (the Roman god) Mars' or 'hammer'

Mark
Mark -is a classic Latin boy name and means 'of Mars, warlike, warrior'

Marlow
Marlow – is an Old English boy name meaning 'driftwood'

Marshall
Marshall – is such a cute French boy name that means 'one who looks after horses' or 'lover of horses'

Martin
Martin- this Latin boy name means 'of Mars, warlike, warrior'

Marvin
Marvin – this German boy name means 'famous/great friend'

Matthew
Matthew – this English boy name comes from Hebrew and means 'gift of God'

Maurice
Maurice – is a French vintage boy name meaning 'dark skinned'

Max
Max – is a cute Latin boy name meaning 'the greatest'

Melvin
Melvin – this German name means 'friend of justice'

Micah
Micah – is such a cute old fashioned boy name and means 'who is like God?' and comes from Hebrew

Michael
Michael – is a Hebrew boy name and means 'who is like God?'

Mickey
Mickey – this classic boy name comes from Hebrew and English and means 'who resembles God?'

Miles
Miles -this cue English boy name means 'soldier' or 'merciful'

Milo
Milo – this English boy name means 'soldier'

Milton
Milton – this English boy name means 'from the mill town'

Mitchell (Mitch)
Mitchell – this English/Hebrew boy name means 'who is like God?'

Montgomery (Monty)
Montgomery – this cute French boy name means 'mountain belonging to the ruler'

Morris
Morris – this English boy name means 'dark skinned'

Mortimer
Mortimer – this uncommon French baby boy name means 'dead sea'

Moses
Moses – this traditional boy name is Hebrew and means 'savior'

Murray
Murray – this Gaelic baby name means 'lord and master'

N
Nathan
Nathan – this cute classic boy name is of Hebrew origin and means ' He gave'

Nathaniel
Nathaniel – this beautiful old fashioned boy name is a Hebrew name and means 'gift from God'

Ned
Ned – this English boy name means 'wealthy guardian'

Neil
Neil – this short and cute Irish boy name means 'champion' or 'passionate'

Nelson
Nelson – this English boy name means 'son of Neil'

Nestor
Nestor – this Greek old-timey boy name means 'traveler'

Neville
Neville – this vintage boy name is French and means 'new town'

Nicholas
Nicholas – comes from Greek and means 'victory of the people'

Nigel
Nigel – is a classic old man name and it means 'champion' or 'black' and has English origins

Niles
Niles – this English boy name means 'son of Neil'

Noah
Noah – this traditional Hebrew boy name means 'rest, peace'

Norbert
Norbert – this cute German boy name means 'bright North'

Norman
Norman – this English baby name means 'man from the North'

O
Oliver
Oliver – this Latin occupational name means 'olive tree planter'

Ollie
Ollie – this cute unisex name comes from Latin and means 'olive tree'

Orson
Orson – this cute old man name means 'bear cub' and is an English name

Oscar
Oscar – this English and Irish boy name means 'God spear', 'deer-lover' or 'champion warrior'

Orwen
Orwen – is an Irish boy name and means 'the Yew tree' or 'youth'

Oswald
Oswald – this English boy name means 'God rule' or 'divine power'

Otis
Otis – this Greek baby name means 'wealth' or 'keen of hearing'

Otto
Otto – is a German baby name that means 'wealth, prosperity'

Owen
Owen – this Irish boy name means 'youth' or 'Yew tree'

Oxford
Oxford – is an Old English boy name meaning 'ford of the oxen'

P
Packard
Packard – this retro boy name means 'pack' or 'bundle'

Palmer
Palmer – is an Old English boy name meaning 'pilgrim' or 'bearing a palm branch'

Patrick
Patrick – this cute English boy name means 'noble man'

Paul
Paul – is a boy name of Latin origin that means 'small' or 'humble'

Peter
Peter – is a Greek baby name meaning 'rock'

Percival
Percival – is a classic forgotten baby boy name of French origin meaning 'pierce valley'

Percy
Percy – this Old French boy name means 'one who pierces the valley'

Perry
Perry – is an English old-timey baby name meaning 'dweller by the pear tree'

Phillip
Phillip – is a Greek boy name meaning 'lover of horses'

Phineas
Phineas – is a Hebrew boy name meaning 'the Nubian' or 'the bronze-colored one'

Pierce
Pierce – is an old fashioned boy name of English origin meaning 'rock'

Preston
Preston – is an Old English place name meaning 'priest's town'

Putnam
Putnam – is such a classic old man name and means 'dweller by the hollow' and is of English origin

Q
Quincy
Quincy – is an Old French boy name meaning 'estate of the fifth son'

Quinton
Quinton – is another Old French name and it means 'queen's settlement'

R
Ralph
Ralph – is an English boy name that means 'wolf counsel'

Randall
Randall – is another classic English boy name and means 'shield-wolf'

Ramsey
Ramsey – is a Scottish boy name that means 'island of garlic'

Raymond
Raymond – is a handsome German boy name that means 'wise protector'

Reginald (Reggie)
Reginald – is an unusual old fashioned boy name of English origin (German roots) meaning 'counsel power'

Regis
Regis – is a French boy (Latin roots as well) name meaning 'kingly'

Remington (Remy)
Remington – traditionally an Old English surname meaning 'raven settlement'

Reuben
Reuben – is a biblical Hebrew baby name that means 'behold, a son'

Rex
Rex – this short and cute boy name has Latin roots and means 'king'

Richard
Richard – this English boy name means 'brave ruler'

Robert
Robert – is a classic German boy name meaning 'fame-bright' or 'glory-bright'

Robin
Robin – is an English boy name meaning 'famed, bright, shining' or 'son of Robert'

Roger
Roger – is an English boy name meaning 'famous spear'

Roland
Roland – originates from Frankish and means 'from the famous land'

Roman
Roman – is a boy name of Latin origin meaning 'from Rome'

Ronald (Ron)
Ronald – is an Old Norse name meaning '"the advice of the ruler'

Roscoe
Roscoe – is a vintage boy name of English origin meaning 'from the deer forest'

Ross
Ross – is a classic Scottish boy name meaning '"upland, peninsula'

Rowan
Rowan – this cute Irish boy name means 'little redhead'

Royce
Royce – is an English boy name meaning 'famous kin'

Rudolph
Rudolph – has multiple origins (French, Italian, Portuguese, Spanish) and means 'fame wolf'

Rufus
Rufus – is a Latin boy name meaning 'red-haired'

Rupert
Rupert – comes from Old High German meaning 'fame-bright'

Russell
Russell – is an Old French name meaning 'little red one'

S
Samson
Samson – is a Hebrew baby name meaning 'sun child' or 'bright sun'

Samuel
Samuel – is a Hebrew boy name meaning 'told by God'

Saul
Saul – is a biblical boy name of Hebrew origin meaning 'prayed for'

Sawyer
Sawyer – is a classic English occupational boy name meaning 'wood cutter'

Sebastian
Sebastian – is a vintage boy name meaning 'venerable' or 'man from Sebastia' and is derived from Latin

Sheldon
Sheldon – is an English place name meaning ' town in the valley'

Sherman
Sherman – is an Old English occupation name meaning 'cloth cutter'

Sidney
Sidney – is also an Old English name and means 'wide meadow'

Silas
Silas – is a beautiful vintage boy name meaning 'man of the forest' and is of Latin origin

Simon
Simon – is a Hebrew baby name and means 'listen' or 'hearing'

Sirius
Sirius – is a Greek boy name meaning 'burning star'

Solomon
Solomon – is a Hebrew baby boy name meaning 'peaceful one'

Spencer
Spencer – is a cute unisex English name meaning 'dispenser of provisions'

Stanley
Stanley – is an English place name meaning 'from the stony field'

Stephen
Stephen – is a Greek boy name and means 'crown' or 'wreath'

Stuart
Stuart – is an Old English name meaning 'steward of the home/castle'

Sylvester
Sylvester – in Latin this name means 'of the woods or forest'

T
Tanner
Tanner – is an Old English occupational name meaning 'leather worker'

Thaddeus
Thaddeus – is such a cute old man name of Greek origin meaning 'courageous heart'
Thatcher
Thatcher – is an English occupational name meaning 'roof thatcher'

Theodore
Theodore – is a cute Hebrew boy name meaning 'God's gift'

Thomas
Thomas – is a Greek boy name meaning 'twin'

Timothy
Timothy – is a Greek boy name meaning 'to honor God'

Tobias
Tobias – is a Greek boy name (with Hebrew roots) meaning 'God is good'

Troy
Troy – is a famous Greek name meaning 'water or foot soldier'

Truman
Truman – is an English boy name meaning 'faithful man'

Turstin
Turstin – is an Old Norse boy name meaning 'Thor's stone'

v
Vance
Vance – is an Old English boy name meaning 'marshland'

Vernon
Vernon – is an English boy name meaning 'Alder tree grove'

Victor
Victor – is a Latin name meaning 'winner' or 'conqueror'

Vincent
Vincent – is also a Latin boy name and means 'victorious'

Virgil
Virgil – is such a classic old man baby name and means 'flourishing' or 'staff-bearer' and is of Latin origin

W
Wallace
Wallace – is a traditional English boy name and means 'foreigner' or 'strange'

Walt
Walt – is an old school classic all American boy name meaning 'army ruler' (German roots as well)

Walter
Walter – is a German boy name meaning 'ruler of the army'

Warren
Warren – is an Old English boy name meaning 'watchman; park warden'

Wayne
Wayne – is an English boy name meaning 'wagon driver'

Webster
Webster – is an English occupational name meaning 'weaver'

Wesley
Wesley – is an English place name meaning 'western meadow'

Wilbur
Wilbur – is a vintage boy name of English origin meaning 'will fortress'

Wiley
Wiley – is a cute Old English boy name meaning 'crafty'

Wilfred
Wilfred – comes from German and Old English and means 'one who desires peace'

Willard
Willard – is an English baby boy name meaning 'resolute or brave'

William
William – is an uber popular German name meaning 'helmet protection'

Willis
Willis – is an English name meaning 'descendent of or servant of Will'

Wilson
Wilson – this English boy name means 'Will's son'

Winston
Winston – is an Old English place name meaning 'wine's town' or 'friend's town'

Wyatt
Wyatt – is a cute Old English boy name meaning 'war or battle' or 'war strength'

X
Xavier
Xavier – has Latin origins and means 'new house' or 'bright'

Z
Zachary
Zachary – is a biblical Hebrew boy name meaning 'God remembers'

Zeke
Zeke – is a Hebrew name meaning 'God will strengthen'

MORE BABY NAME POSTS
Hawaiian Baby Names and Meanings
Badass Unisex Names and Meanings
Boy Names That Mean Strength and Honor
Cool Brazilian Boy Names with Meanings
Unique Middle Names That Go With Noah
Best Middle Names That Go With Theo

WRAPPING UP VINTAGE OLD MAN NAMES FOR BOYS


I hope this list of vintage baby boy names gave you some inspiration to help pick the perfect timeless boy name for your little one. I personally love old fashioned names because they are often unique and meaningful since they have a lot of history behind the names.

Plus, if you're picking a unique vintage boy name you could also pay tribute to a special member of your family, maybe a grandpa or great grandpa. It's just so special to be able to pass down a unique tradition like that.

If you want something more modern for a first name, you could always try a more classic and traditional middle name instead.

Old-timey baby names just have a timeless and lasting charm that survives throughout the decades. You can rest assured that your baby has a name that never goes out of style.

What were some of your favorite retro boy names from this list?

Leave me a comment below! I'd love to know 🙂