Dad is the guy we all love. He's always in our corner, always up for fun and you know you can always count on him. That's why when it's time to celebrate dad, we go all out!

Whether it's Father's Day, his birthday, or any other special holiday, dad deserves something extra special. Even if he's the kind of dad who says he doesn't want anything.

Here's a list of gift ideas for all kinds of dads. Even a dad who doesn't want anything might still enjoy a useful and practical gift. Sometimes they just don't need more fluff gifts so something practical could be great.

Sometimes they just don't want you going out of your way and spending a bunch of money. These gifts have a range of prices for every price point. A great gift for dad can be found on a budget if you take the time to do a little research.

Luckily I've taken care of that part for you by comparing products and customer ratings across several sites and reviews. So go ahead and see if you find the perfect gift for dad below.
Disclaimer: As an Amazon Associate I earn from qualifying purchases but this comes at no additional cost to you.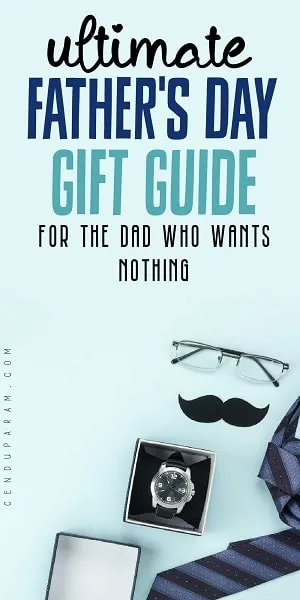 GROOMING AND PERSONAL CARE GIFTS FOR DAD

He's probably the last person to buy personal care items for himself, but that doesn't mean he won't use them if you gift it. Whether he's a self-care aficionado or sticks to a bar of soap for everything, help dad take the best care of himself with one of these thoughtful gifts.

Grooming and personal care gifts are great because it's stuff dad will have to use or buy at some point anyway. He might not splurge on something special though, that's where you come in.
Introduce dad to some more fun and indulgent self-care products.
Who knows?
He might just get hooked!

1. BEARD GROOMING KIT & RAZORS
If dad is a beard guy, he needs the right tools to take care of that facial mane. Without proper exfoliation and moisturizing, it's easy to end up with dry skin and ingrown hairs.
That's why this ultimate beard grooming kit is absolutely perfect! It even includes a beard straightener and beard bible guide (with tips and tricks on caring for and maintaining a boss beard).
It delivers effective results too. This gentleman even included before and after photos in his review, he says he was never able to grow a proper beard before, it's always been patchy.
You gotta see the after photo! Insane results!
If he isn't all about the bells and whistles and you think this is way over the top for your guy, you can't go wrong with a classic electric razor like the Panasonic Arc5 Electric Razor.

This is the one I grabbed my husband last Father's Day and he absolutely loves it. He says one of the best features is that it can be used wet or dry since it's waterproof. This means he can do quick touchups in the shower when he's running late (which is often).

If you're looking for a great option with a friendly price tag, the Norelco Shaver 2300 Rechargeable Electric Shaver has rave reviews at a fraction of the price.
If dad is old school, he might love this classic gentleman's wet shave kit instead, for that classic barbershop shave.

2. Beard King Beard Bib
This thing is an absolute must-have for any guy! You might have seen this little genius contraption on Shark Tank. It's the Beard King Beard Bib.

This Beard bib beard hair catcher apron catches your beard, mustache, sideburns, goatee, and hair trimmings to allow easy disposal with no clogged drains, and no cleaning (it's actually a great gift for mom too because we all hate those little hairs that get left behind after a shave, right?!).
3. SKIN CARE FOR DAD
Even if dad is a no-muss, no-fuss, kind of guy, he might still appreciate a gift that helps him take better care of his skin. Oftentimes, it can be intimidating when you don't know what you need.

Keep things simple and uncomplicated with this basic Tiege Hanley Men's Skin Care System. This simple and straightforward system includes a facial cleanser (face wash), exfoliating scrub, and 2 moisturizers (1 for the day and 1 for the night).

Something like this is a great entry-level gift for dads who aren't big on skincare and could use a little nudge.

Face masks don't hurt either and could be a fun way to help dad relax.

If you know there's no way he'll even give it a try, here's an idea he can't say no to.

How about this MANSCAPED Crop Essentials body wash gift set? He's got to shower sometime, right?
This set includes a hair and body wash, ball deodorant, ball toner, and a shaving mat!

4. COLONGE GIFT SETS
Cologne is one of those classic guy gifts that most dads would appreciate.

Personally, I love men's cologne so much more than women's. Especially woodsy scents like sandalwood and cedar.

Every dad needs that signature scent that reminds you of him. Even if he isn't somebody that uses cologne often, it's a nice gift that he can use on special occasions (like date nights with mom).

Scents are one of those powerful things connected to memory and emotions. The right scent can send you right back to special moments down memory lane so they make a wonderful and thoughtful gift for dad.

My all-time favorite classic men's cologne has got to be CK Eternity, how about you? It's such a clean and refreshing smell that isn't too strong but still lasts all day.

Here are a few fantastic cologne gift sets you can order right from Amazon:
Armani Acqua Di Gio for Men 3 Piece Gift
Armani 5 Piece Set For Men (perfect for the dad who wants to sample a few to find the right one)
The only other thing that dad needs along with these self-care gift ideas is a big plush bath robe to get his relaxation on.

Who says guys can't have spa days?

TECH GIFTS FOR DAD

If dad is more of a tech guy who loves all the latest and greatest ways to do things, one of these gifts might be perfect.
5. Fitbit Fitness and Activity Tracker with Built-in GPS

Help dad reach his fitness goals and track his progress with a handy Fitbit watch. It's both stylish and useful with features like built-in GPS to see your pace and distance on screen during outdoor runs, rides, hikes, and more and see a workout intensity map in the app that shows your heart rate changes along your route.

If you're looking to get this, I suggest grabbing it soon because it's currently on sale.

You could also add a set of Apple AirPods which seems to be the favorite workout headphones for their itty bitty size and reliability.

6. Kasa Smart Plugs
These genius little devices will turn any ordinary outlet into a smart outlet that you can control with your phone, plus they work with Alexa and Google Home Assistant. Turn electronics on and off your smart home devices from anywhere with your smartphone using the case app, whether you are at home, in the office, or anywhere.

No more arguing about who has to turn off the lamp after you're snuggled up under the covers.
7. Tile Mate Bluetooth Tracker

If dad is constantly misplacing his keys or wallet or something else like that, save him the hassle and time of searching with one of these genius gadgets.

The Tile Mate Tracker can be attached to everyday items like keys, wallets, bags and anything else dad might need to keep track of. Then when you can't find said item, just open your Tile app to ring your tile mate ( or you can use your smart home device to find it for you as well).

It's even great for finding your misplaced phone (even when you leave it on silent).

8. Cell Phone Sanitizer and Dual Universal Cell Phone Charger
With this handy little device, dad will be able to sanitize his cell phone while charging it. The PhoneSoap 3 UV Cell Phone Sanitizer kills 99.99% of all bacteria and germs. This is another genius invention you might have seen on Shark Tank.

Dad will seriously thank you because, did you know the average cell phone has approximately 25,127 bacteria per square inch (that's more than a toilet seat or doorknob! Yuck!).

This one is especially handy if there are young kiddos in the house who love putting things in their mouth.

9. Smart Water Bottle
Have you ever heard of the Hidrate Spark 3 Smart Water Bottle? This handy water bottle will help dad reach his daily hydration goals by tracking his intake and syncing his progress to the free hydration tracker app.

One of the coolest features is that it lights up and glows to remind you to keep drinking so you don't fall behind on your daily goal.

If dad is constantly forgetting to stay hydrated, this will help!

PERSONALIZED GIFTS FOR DAD

Here are some ideas for special and memorable gifts for dad. These are those keepsake gifts that he'll treasure for years to come.

Personalized gifts are an awesome way to make dad feel extra special!

These are the thoughtful and sweet gifts that tug at dad's heartstrings.

10. Custom Engraved BBQ Grilling Set
If he's a grill daddy, then he definitely needs a set of personalized engraved grilling tools. This super cute set includes 5 useful BBQ grilling tools- spatula, BBQ fork, tongs, knife, and a basting brush which come in a natural bamboo case.

Make sure to follow the instructions to customize your order!

You should definitely throw in this hilarious apron too!
11. Personalized Drinking Glass
If dad's a whisky or beer guy then he absolutely needs a personalized drinking glass he can enjoy his single malt or craft beer in.

I mean, who wouldn't want a sippy cup with their names on it, right?

Make sure to follow the instructions to personalize this beautiful whiskey glass.
If he's more of a beer guy, I would go with this awesome personalized beer mug.
Or if he prefers a fine wine, there's a personalized glass for that too.

12. Custom Engraved Wallet
Dad can keep his family close wherever he goes with this beautiful custom engraved wallet. You can customize it any way you like, with names, initials, a quote, and even a photo!

Bonus, these wallets are equipped with an advanced RFID SECURE card, a unique metal composite, engineered specifically to block signals and protect the valuable information stored on RFID chips from unauthorized scans. You can't be too careful these days!
If you're wondering how it actually looks in person, this customer included photos of their product in their review so you can take a peek.

13. Personalized Wood Beer Caddy with Bottle Opener

Any beer-loving dad would be over the moon to receive one of these Personalized Wood Beer Caddys that's handcrafted, personalized, and finished individually.
The thick black nylon rope is long enough to keep your knuckles clear of bottle caps and feels much more comfortable than a solid handle does. It hangs nicely while not in use and adds an even more rustic feel to the overall design.
Each Beer Caddy comes with a rustic style bottle opener attached and has powerful rare earth magnets installed to catch the bottle caps as they fall from the opener. Genius!
Don't forget to stock the fridge with dad's favorite brew!


14. Personalized "What I Love About Dad" Book
Here's a sweet and simple idea that dad will love!

A special book all about him, the "What I Love About Dad" Book.
Let dad know all the ways that he makes your day better with this super cute fill-in-the-blank style book.
Just complete each line and voilà: you have a uniquely personal gift he'll read again and again. It's an itty bitty pocket-sized book but it sure packs a punch.

There's about 50 different writing prompts with stuff like:
I love your____________________.
You are my favorite ______________ in the world.
I love hearing stories about your____________ .
I love how talented you are at _______________ .
When we are apart, it makes me happy to think about___________ .

DAD PARAPHERNALIA GIFTS
Dads take their roles seriously and love sporting all the dad gear to show the world who they are. Here are some gifts to celebrate dad with fun dad merchandise like mugs, T-shirts and other fun things with a dad logo.

15. Dad Shirts
Every dad needs a uniform so make sure to add one of these cute shirts for him to proudly wear. You could even get matching sets for kiddos too.

There's so many different kinds to choose from as well. You could stick with a basic dad shirt or go with something funny and creative. There's even one's with themes like star wars dads or gamer dads.

Here's a couple fun options to get you started on your hunt:
RAD DAD T-SHIRT
BEST DAD EVER T-SHIRT
16. Dad Mugs + Drinking Glasses
Of course, every day needs a token 'best dad ever' mug! So if dad doesn't have one already (or even if he does), he definitely needs to add this to his arsenal.

Dad should be enjoying his morning coffee, or kicking back with a beer on the weekend in his designated daddy sippy cup.

There's a lot of classic ones as well as more funny mugs to choose from.
Let's take a peek at some options.
CLASSIC DAD GIFTS
Here are the classic dad gifts you think of when you think about presents for dad. Stuff like watches, tools, socks, and everything in between.

It's pretty much the stuff that I couldn't fit anywhere else but are awesome classic gifts for dads.

17. Socks For Dad
Socks are one of those things you can't have enough of. Especially since 1 sock out of the pair always ends up going missing. But just because you decide to gift dad a pair of socks, it doesn't mean it has to be a boring gift.

Here are a bunch of fun socks for dad!
18. A Classic Dad Watch
A classic timepiece is another dad must-have. It's also one of those things you can't have enough of. Dad definitely needs a few beautiful watches in his collection.

Some fancy ones for special occasions, an everyday watch, a sports watch, you get the idea.

You could even have it engraved with a special message on the back
Personalized Watch with Engraving
19. Car Guy Gifts For Dad
If dad is a car guy, give him the tools he needs to keep his beauty looking spic and span. There's an endless number of gifts for car dads like car cleaning products (this cleaning gel puddy is super cool and perfect for car vents!), model cars or even experience gifts like special vouchers that'll allow dad to experience what it's like to drive a luxury sports car.

Here's a few things I've gotten my car guy over the years.
Chemical Guys 16-Piece Arsenal Builder Car Wash Kit with Foam Gun
Armor All Ultimate Car Detailing Kit
20. Tool Gifts For Dad
Dad needs to have a complete tool kit handy so he can put together all those toys, hang up those lovely family photos and fix things around the house.

Every dad should have the best tools to help him get the job done.

Here are some must-have tools that would put a smile on any handy dad's face.
Switchdriver 2-in-1 Cordless Drill and Driver

MORE FATHER'S DAY POSTS
Cute Father's Day Coloring Pages For Kids Free Printables
The Best Books About Daddy To Gift a New Dad
The Best Gifts For Expecting Dads
The Best Push Presents For Dad
Easy Father's Day Handprint Craft For Kids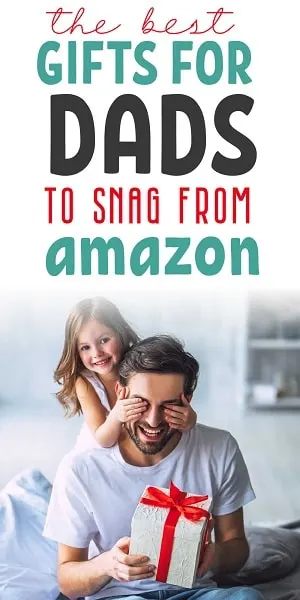 WRAPPING UP BEST GIFTS FOR THE DAD WHO SAYS HE DOESN'T WANT ANYTHING
I hope you found some shopping inspiration for the father figure in your life who has everything and says they need nothing.

If you didn't, maybe you'd like to create a fun DIY gift instead. Check out some of the other related posts listed above for some more inspiration.

Dad will love whatever you choose so have fun picking just the right gift.