Cute Father's Day Coloring Pages Make The Perfect DIY Gift For Dad

Dad is the man! Show him how much he means to you with an easy DIY gift for Father's Day. Choose one of these free Father's Day coloring pages and make dad a special card or gift by framing your picture.

These Father's Day coloring sheets are a fun and easy way to keep the kids entertained while tapping into their creative side. It's a fantastic screen-free activity that's focused and relaxed. Plus it makes a sweet and thoughtful gift for dad.

These coloring pages are great for any age so whether you have a toddler or older kiddo, they can all create something special for dad.

How To Print Happy Father's Day Coloring Pages FREE

These free printable Father's Day coloring sheets are in PDF format and ready to print in just a click or two.
You'll notice the words 'download pdf' under each image.

Just click under each image that you want to print and it should open up in a new tab. From here, just hit the printer icon in the top right corner to print out your Father's Day coloring pages.

If you want to save this page for later, use the gold heart in the corner to favorite this page!

I'm always adding more freebies and holiday printables so keep in touch!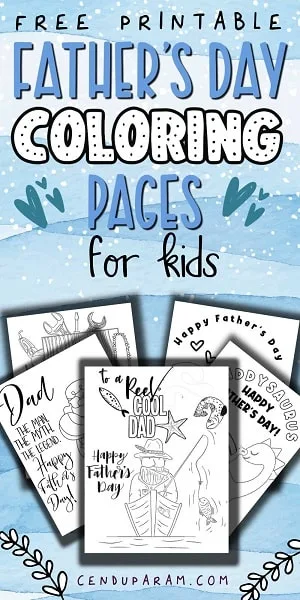 Father's Day Super Hero Coloring Page

Dad is a kid's first hero.

Help celebrate your super dad with this cute superhero Father's Day coloring page.

What's your dad's superpower?

Write a message on your coloring page to let him know all the amazing things you love about him.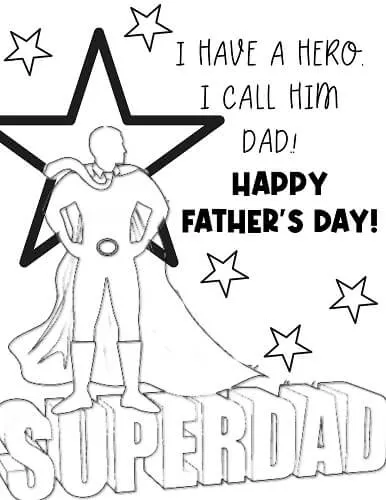 Father's Day Superhero Coloring Page
BEST DAD EVER COLORING PAGES TO PRINT FOR FATHER'S DAY

He makes you laugh, he picks you up when you're feeling down, and he always cheers you on.

Let your dad know how amazing, fantastic and awesome he is with one of these cute best dad ever coloring pages.
This cute dad coloring page features some tools that dad might use when he helps fix things around the house or when he builds a new toy.

The other coloring page is an award for the #1 dad! Give dad a trophy for being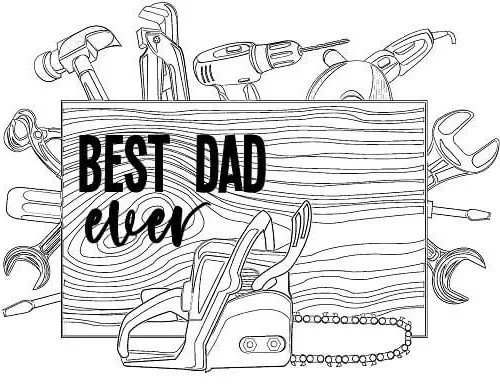 Best Dad Ever + Dad Tools Coloring Page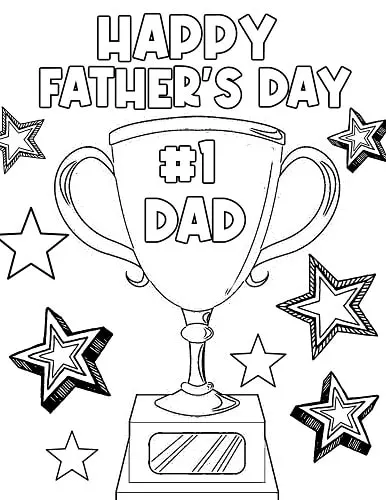 Number One Dad Trophy Coloring Page
DADDY AND ME COLORING PAGES
Here are some cute daddy and me coloring pages for kids. Celebrate this special bond between dad and his kids with one of these cute printables.

There's a dad and son coloring page as well as a daddy and daughter coloring page to choose from.

Which one is your favorite?!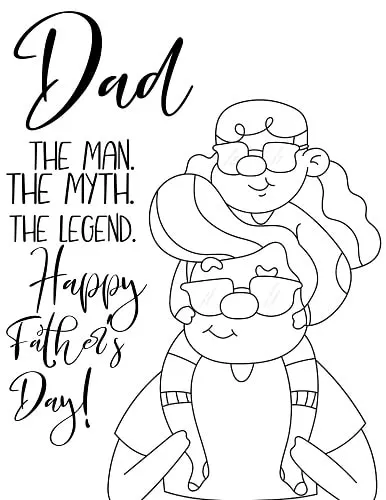 Daddy and Daughter Coloring Page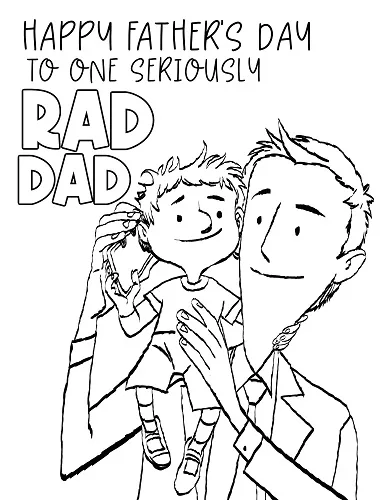 Father and Son Coloring Page
Father's Day Coloring Pages For Preschool

Toddlers and Preschoolers want to celebrate dad too! Try these easy peasy Father's day coloring pages for preschool or toddlers.

These are more simple designs that would be perfect for younger kiddos. Easy and cute coloring pages that are perfect for little kids.

Have your little ones write their names on their art and dedicate it to daddy.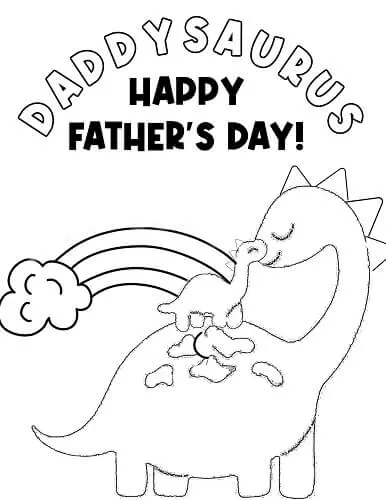 Daddysaurus Dino Dad Coloring Page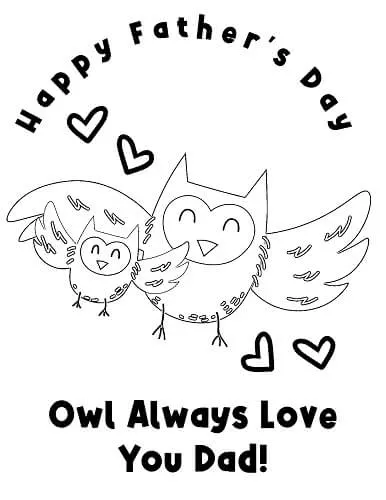 Owl Dad Father's Day Coloring Page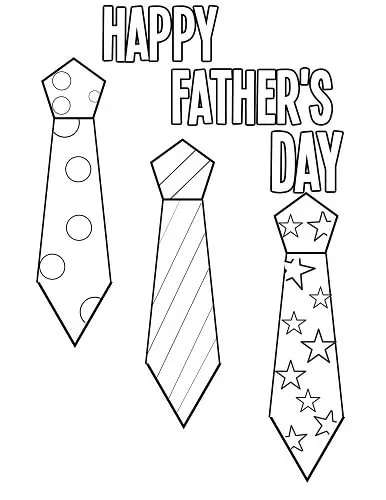 Necktie Happy Father's Day Coloring Pages to Print
Happy Father's Day Coloring Pages Pdf

Here's the rest of the free coloring sheets for Father's day that didn't quite fit into one of the categories above. You could make dad a diy Father's day card using these coloring pages or create a unique piece of artwork for dad to hang. Color your Happy Father's Day coloring page and frame it like artwork from a museum.

Don't forget to add a special message like 'I love you daddy' and sign your present with your name.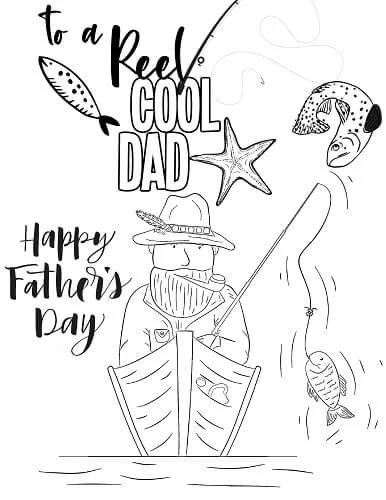 Fishing Dad Father's Day Coloring Page Printable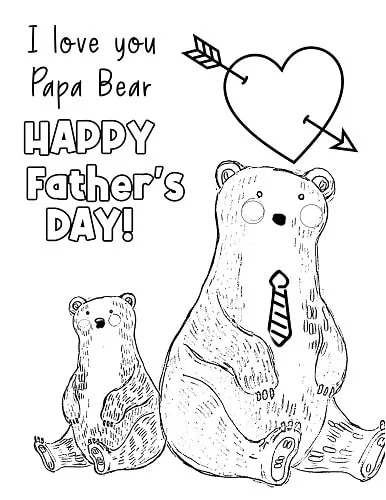 I Love You Daddy Coloring Page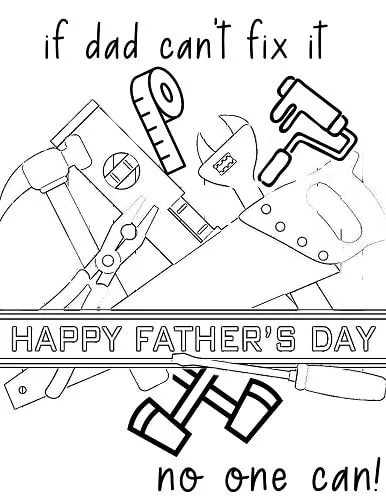 Dad Tools Happy Father's Day Coloring Page PDF

MORE FATHER'S DAY INSPIRED POSTS
The Best Children's Books About Dads To Gift A New Dad
Unexpected Gifts For Expecting Dads That'll Knock His Socks Off
New Dad Gift Ideas That He'll Actually Use
Easy Peasy Father's Day Handprint Craft For Kids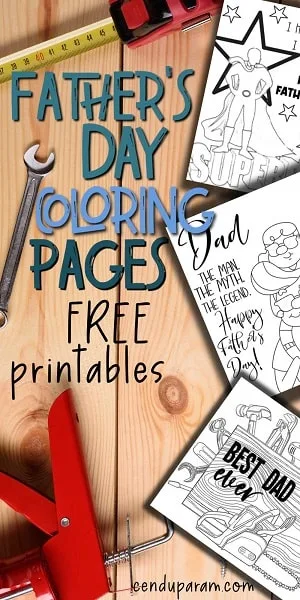 Wrapping Up Fathers Day Coloring Pages To Print Free

I hope you enjoyed these free printable Father's Day coloring pages. There are more Father's Day posts to explore so check out some of the fun stuff above like crafts and books and gift guides for dad.

Dad will love these cute and memorable keepsakes made by little hands. Hang them on the walls, or the refrigerator and remind dad how loved he is.

Happy Father's Day!