Looking for some ways to make Thanksgiving fun for kids? Then, why not try some of these fun and free Thanksgiving worksheet pdfs for kids.

You'll probably be busy preparing an amazing Thanksgiving feast and you really have to keep little hands busy so you can finish your own tasks. These fun printable activities, games, and Thanksgiving coloring sheets are a great way to entertain kids on Thanksgiving Day!

There's a great mix of thanksgiving worksheets and activities for all ages from preschool to elementary.

You'll find:
🦃 FREE THANKSGIVING COLORING PAGES FOR KIDS
🦃 FREE THANKSGIVING GRATITUDE CARDS FOR KIDS
🦃 FREE THANKSGIVING PRINTABLE GAMES & ACTIVITIES ( bingo, matching game, scavenger hunt)
🦃 FREE THANKSGIVING WORKSHEETS FOR KIDS (word search, search and seek, word scramble)
Just click the download button and print your own copies for personal use.

Easy peasy!


Disclaimer: This post contains affiliate links which you can learn more about here.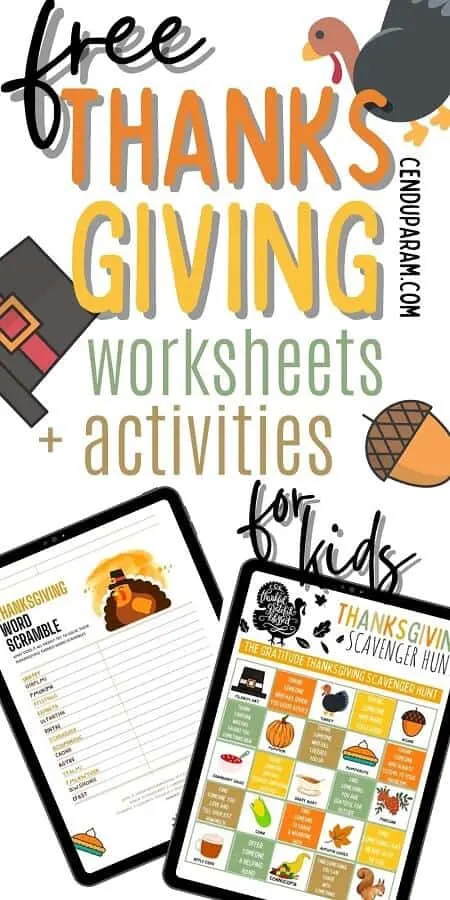 THANKSGIVING COLORING PAGES FREE PRINTABLE PDF

First up are some cute and fun thanksgiving themed coloring pages for kids featuring all your favorite thanksgiving classics like turkeys, pie, and pilgrims.

These are all absolutely free (you don't even have to sign up for anything!)

Just print and use at home or in the classroom.


THANKSGIVING CORNUCOPIA COLORING PAGE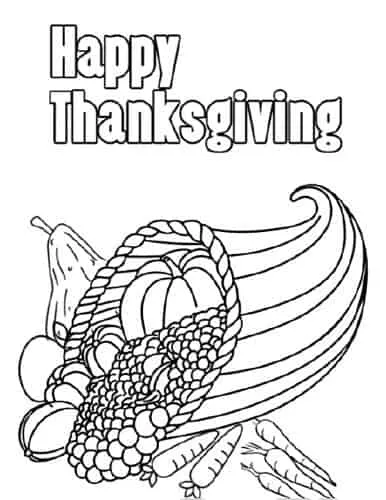 THANKSGIVING TURKEY COLORING PAGE FOR KIDS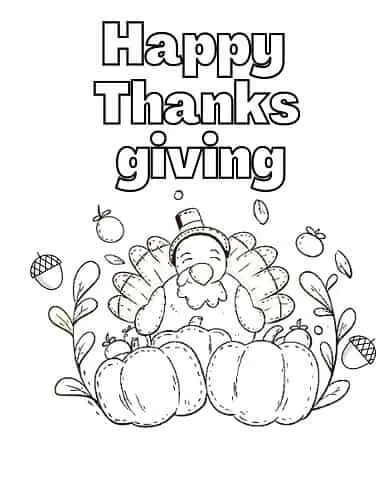 THANKSGIVING THAKNFULNESS COLORING PAGE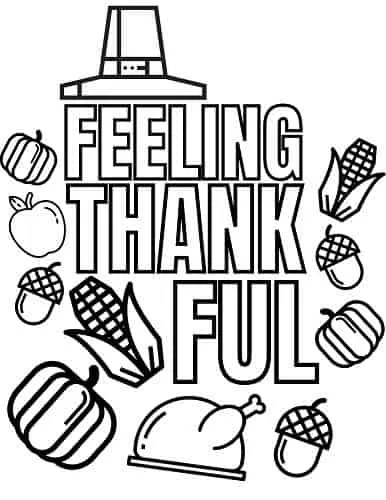 These were the ones I made and it's pretty time consuming so I couldn't make a bunch more like I wanted.

If you're looking for some more Thanksgiving coloring sheets for kids, check out these free options:

Free Thanksgiving Coloring Pages from Crayola
15 Free Thanksgiving Coloring Sheets from Parents
Disney Thanksgiving Coloring Pages from Family Disney

RELATED POST: Free Halloween Worksheets and Activities for Kids

THANKSGIVING I SPY COLOR AND COUNT PRINTABLE WORKSHEET


Here's a Thanksgiving color page that includes a little bit more work for little ones.

Have your kiddos try to find and color all the Thanksgiving themed items in the picture like turkeys, acorns, pumpkins, and more.

Then count and record how many of each they found.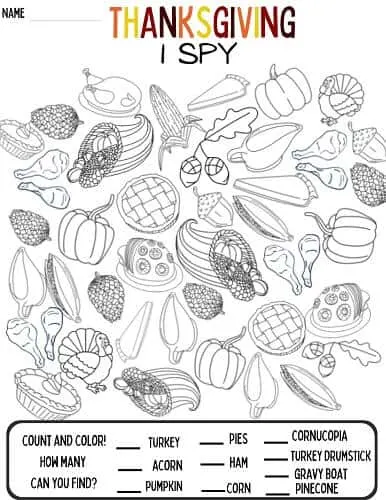 THANKSGIVING WORD SEARCH WORKSHEET PDF


For older kids, why not try this fun and free Thanksgiving word search to practice their Thanksgiving vocabulary words.

Can you find all the Thanksgiving inspired words like: pilgrims, Mayflower, turkey, Natives and more?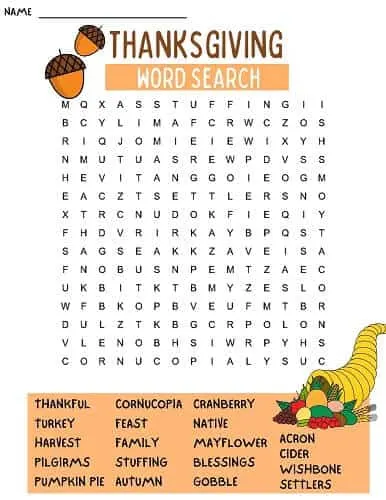 PRINTABLE THANKSGIVING BINGO CARDS


Another fun activity that never gets old is BINGO! I've created a sample card below which you can print and use. However, you're more than welcome to create your own.

If you've got a few kiddos playing together, print out the templates and have them glue the pieces however they like and create their own playing cards.

The PDF includes my sample as well as blank template your child can customize.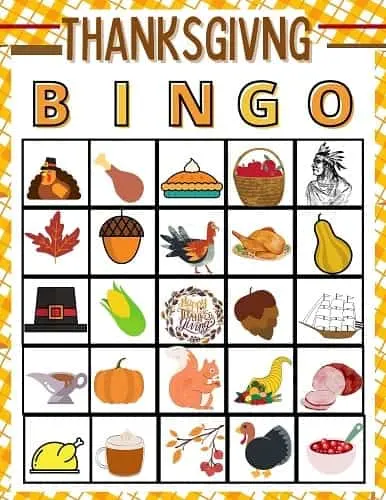 RELATED POST: All Things Autumn Printable Activity Sheets For Kids

THANKSGIVING MATCHING GAME


I always loved those memory matching games as a kid. You know the ones, where you flip over cards until you find a matching pair?

It's a great one you can play by yourself (but even more fun with a sibling).

This Thanksgiving themed memory matching game can be played by toddlers and preschoolers or elementary kids. You can change up the difficulty level depending on age.
I've made a matching set of words so that kids can work on vocabulary and memory at the same time but if you've got a toddler or younger kiddos you could simply print out 2 copies of the Thanksgiving picture cards and match those instead.
Just click the link to download your free Thanksgiving matching game printable pdf.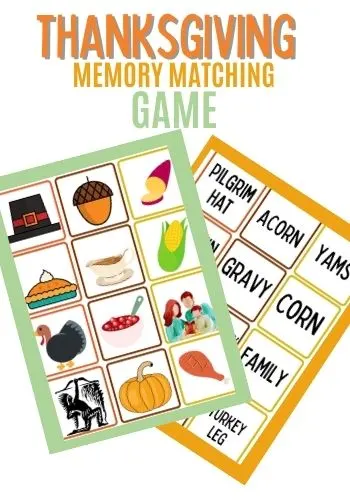 THANKSGIVING WORD SCRAMBLE WORKSHEET PDF


Here's another fun Thanksgiving worksheet for the older kids. Can you unscramble all the Thanksgiving-themed words in the list?

Fear now, if you can't quite figure them all out, there's an answer key at the bottom.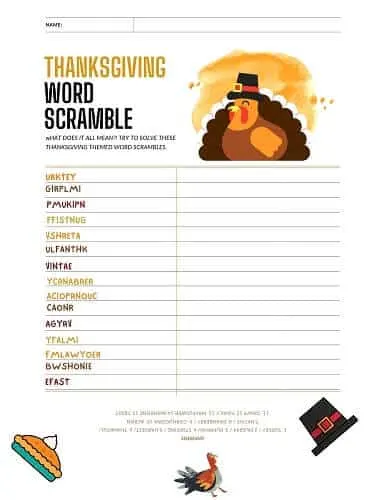 FREE PRINTABLE THANKSGIVING GRATITUDE CARDS FOR KIDS


Another great activity to keep kids busy is to have them write out little gratitude cards to hand out to family and friends. They'll love writing a special message of thanks and delivering their messages to loved ones.

This is one of the most popular Thanksgiving activities from our classroom. The kids absolutely loved making little mailboxes and delivering their letters to classmates and friends.

They make such a sweet keepsake too! I love doing this one with the adults at the table too. We add them to our scrapbook and bring them out to read each year while we add our new cards.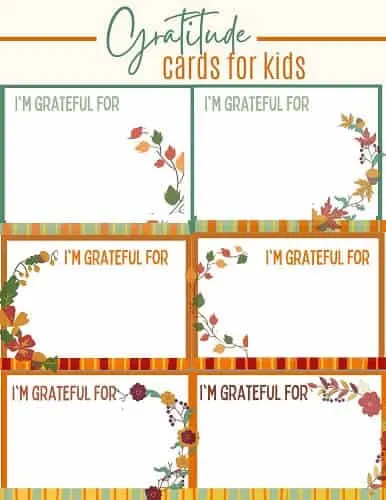 THANKSGIVING GRATITUDE SCAVENGER HUNT


Last, but certainly not least is this fun Thanksgiving gratitude scavenger hunt. This isn't your typical scavenger hunt because it includes lots of fun gratitude activities as well.

After all, this time of year is all about giving thanks for our many blessings.

This scavenger hunt features some typical thanksgiving stuff to find like: a turkey, cranberry sauce, leaves, and acorns.

But, there's also some more thoughtful stuff like thanking someone who's taught you something new. Or finding something in nature you love. Or finding something that's meaningful to you. You could even use the gratitude cards above with this activity.

Gratitude is something we need to practice with kids all year long. That's why I always gift my students this 3 -Minute Gratitude Journal every year.

It's the perfect way to start our mornings in the classroom. It is a self-exploration journal designed to focus on being thankful for what we have, the big things in life, as well as the simple joys.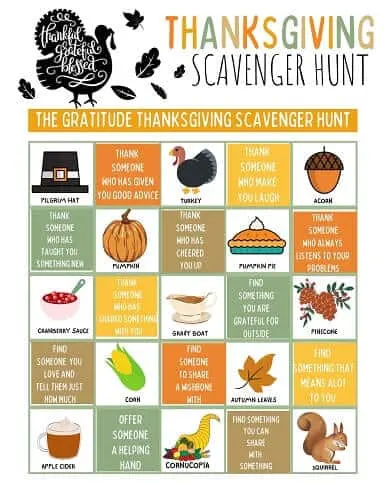 WRAPPING UP THANKSGIVING WORKSHEETS FOR KIDS


I hope you've found tons of fun Thanksgiving activities and games to keep the kids busy (whether that's for the classroom or at home while you're busy cooking up a fabulous meal).

Have yourself a wonderful Thanksgiving and don't forget to count your blessings. There's so much to be grateful for.

If you loved these, I want to hear it! Leave me a comment. Or if you're looking for something you couldn't find, let me know. I'm always adding more stuff.