UPDATED MAY 5, 2020

Looking for a super easy last minute Father's Day craft that a toddler or even a baby can do?

You're in the right place.

Try this insanely easy hand print DIY gift that's so simple a baby could do it (granted- with a little help).

Your little one will have tons of fun making their own special handmade gift for dad.

Father, dad, dada, appa,pops, my old man, daddy, whatever you call him, he's the coolest guy around, right?

He chases away the monsters, he fights the bad guys with you, he makes you fly high above the world, he makes you laugh out loud, he picks you up when you fall down and he always has your back.

Dads are pretty great!

That's why, even though last year was my little man's first father's day (he was just an itty bitty baby), we really wanted to make something special for his dad.

We had to come up with something memorable that a baby could do.



Disclaimer: as an Amazon Associate I earn from qualifying purchases. This comes at no extra cost to you.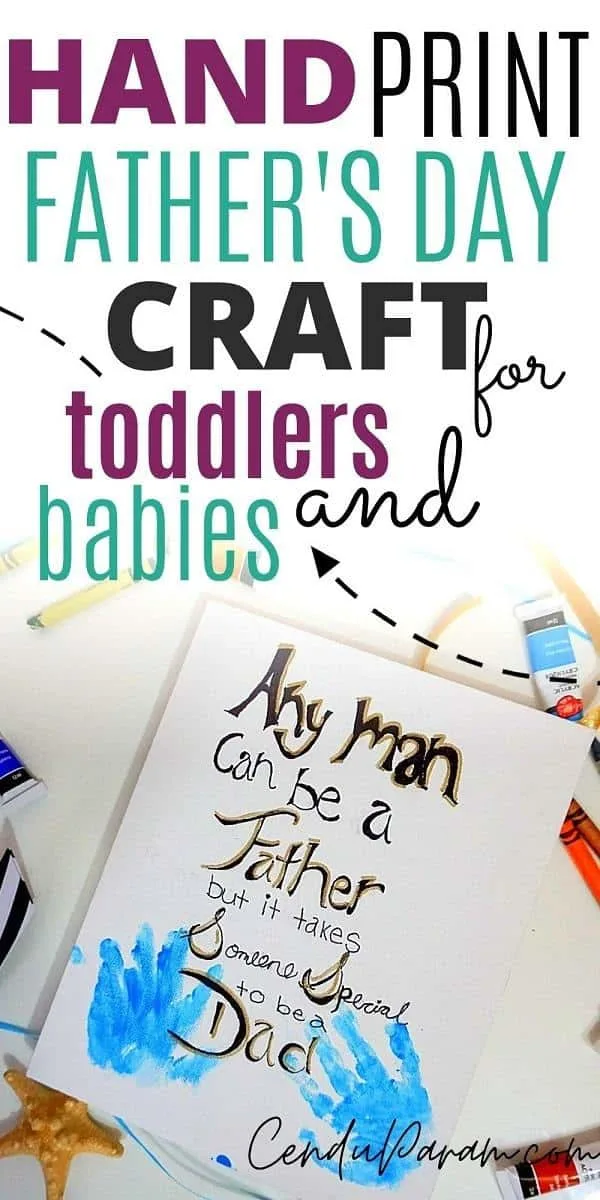 Nav was only about 9 months old at the time so his art abilities were pretty limited.

We came up with this easy Father's Day craft any little kiddo can master (with a little help).

I think anything that immortalizes your little humans hands or feet are frame worthy so we created this cute little canvas painting featuring a quote about dad complete with baby hand prints.

Our dad has his proudly hanging in his office at work.


RELATED POST: Best Father's Day Gifts For New Dads
ITEMS YOU NEED FOR YOUR FATHER'S DAY CRAFT


We used 11 x 14 painting canvases like these ones above.
This one even comes with wood stretcher keys!



If you have a toddler that really wants to help, a set of larger pencils like these ones are easier to grip and designed for the early stages of writing.


Make sure you have a black sharpie or permanent marker (not regular washable ones).


A larger flat paint brush like this one makes applying the paint on little hands and feet a bit easier.



Although acrylic paint gives better results, a washable non toxic paint like these ones will be easier to wash off of baby hands and feet, as well as clothes in case of any spills or accidents.

WET WIPES/ BABY WIPES/ PAPER TOWELS


Make sure you have lots of baby wipes or wet wipes on hand to clean up as soon as you're done.

You'll want to wipe the paint off as soon as you've done your print before your baby or toddler has a chance to give themselves a paint facial.


HOW TO MAKE A FATHER'S DAY HAND PRINT CRAFT


1. Find a Quote or Make Your Own

The first step is deciding what you want to say to dad.

If you have a special message in mind, that's great! Maybe an inside joke, or a saying or phrase that dad always says would be so perfect!

If you don't, fear not, that's where pinterest comes in handy.

I've included some of our favourites below to give you some ideas.

I think something short and sweet works best with this kind of craft, otherwise you will have to make the font small or use a really large canvas.

You can go the sentimental and sweet route or something to make dad LOL because we all know dads love a good (bad) dad jokes!


DAD QUOTES AND FATHER'S DAY QUOTES


♡ "To the world, you are a father but to our family you are the world."
♡ "My father gave me the greatest gift anyone can give another person: he believed in me."

Any man can be a father

but it takes someone special

to be a dad


♡ "There's this guy. He's my hero. But I just call him Dad."

♡ "A father is neither an anchor to hold us back nor a sail to take us there but a guiding light whose love shows us the way"

♡ Dad you've always been the coolest! Like all those times you said "yes" when mom said "no".

♡ Some people don't believe in heroes. But they haven't met my dad.

♡ Dad taught me everything I know. Unfortunately, he didn't teach me everything he knows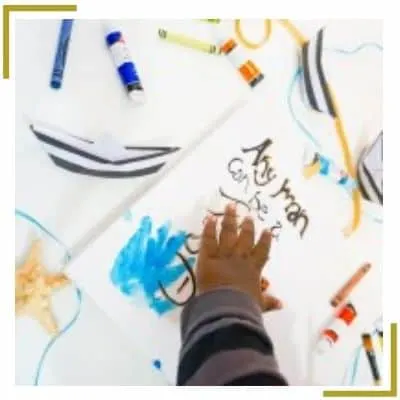 2. Design or Free-hand Your Quote



You can either design the quote on the computer, print it out, cut it and trace the quote onto your canvas or if you're a little more artsy, you can just free hand it like I did.

I'm not a perfectionist when it comes to kiddie crafts so I just wrote it out myself. If you have older kiddos, it would be just as cute to have older kids write out the quote in their own hand writing.

I would use a pencil for this part in case you need to fix any mistakes.

If you are designing your quote, an excellent free resource I always use to design is Canva.

They have beautiful fonts and lots of free graphics to play with. When you are designing, make sure you map out where you want your hand prints to go and leave enough space to add them later.


3. Trace and Fill In Your Quote


Now, use a sharpie or permanent marker to trace and fill in your fathers day quote about dad. You can be as colorful and creative as you like with this part.

There are a whole host of colors and finishes available.

I added some gold details (with this pen)to really make the picture pop.

You could opt to paint in the letters instead of using a permanent marker but this could be a little messier.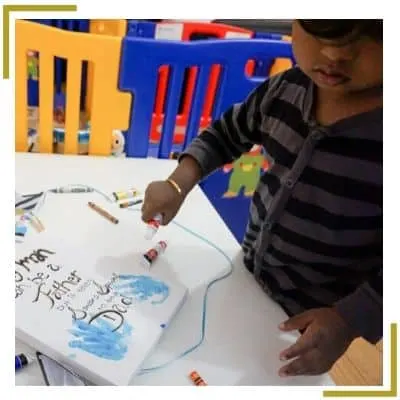 4. Paint Those Little Hands (or Feet)


Now, for the fun (and messy) part.

This one is simple enough.

Pick your color, paint one hand using a paint brush.

Press your child's hand firmly onto the canvas and hold down for a few seconds.

Slowly, pull the hand away and wipe with a wet wipe or baby wipe and repeat. If you can get a second set of hands to help, even better.

Have the second person ready to clean up the messy hands with wipes while you work on the next one.

PRO TIP: If you're doing this craft with a baby or fussy toddler, you may want to wait till your child is asleep.

That's what I did the first time around since my little guy was too young to really understand what to do. Waiting until he was deep asleep made it much easier to manipulate his little hands and get a fairly neat hand print.

You might also consider using foot prints instead for babies because they tend to hold their hands in a tight fist a lot.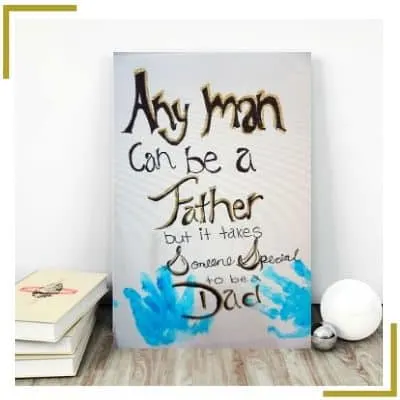 5. Set Aside To Dry

Well, that's pretty much it!

Your masterpiece is complete.

Just set it aside in a warm dry place to let it set.

You can tie a nice ribbon around it if you like and present it to your amazing dad to how him just how awesome you think he is!