UPDATED FEBRUARY 11, 2020


If you've stumbled into my corner of the internet, that must mean you're looking for ways to celebrate your child's birthday without a party. I was in the same place just a little while ago googling two year olds birthday ideas (no parties please) as my little guy's big day was drawing near. I didn't find much but decided I would brainstorm and make my own list of birthday party alternatives.

Birthdays were always a big deal when I was growing up.

I would get so excited for my birthday I would start counting down in April. I had a song, April, then May, then my birthday.

Now that I'm the parent, the birthday traditions are my job but birthday parties today aren't what they used to be. We're living in the age of over-the-top, extravagant, stress-inducing birthday party bonanzas.

I planned one of these pinterest worthy birthday parties for my son's first birthday and it practically had me breaking out in hives so for his second birthday I wanted an alternative to extravagant birthday parties.

If you too, are wondering what to do instead of having a birthday party, I've got a few ideas to make your child feel super special without driving yourself crazy trying to keep up with insta worthy birthday parties.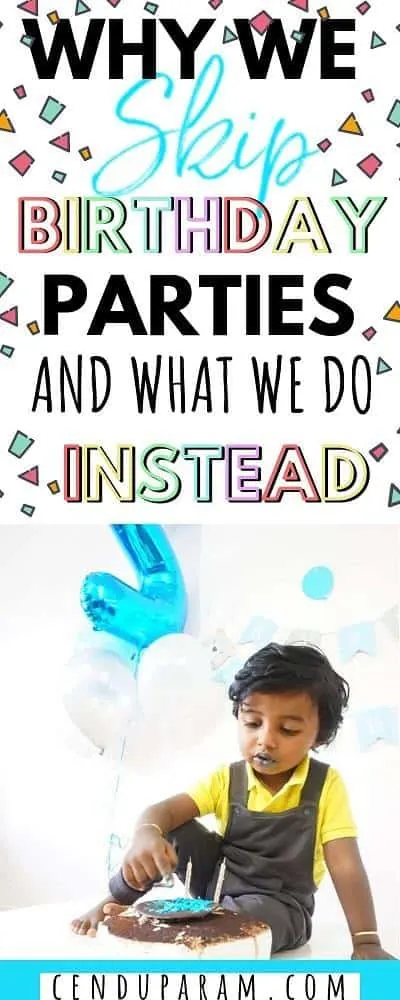 Why I'm Choosing to Skip the Birthday Party

If you love party planning then maybe you enjoy throwing beautiful, planned-to-the-very-last-detail birthday parties.

I, however, do not.

Planning my son's first birthday felt like wedding planning stress all over again. There's so much to get done and so many things to remember, especially when you're doing it on your own.

I found that I was overwhelmed the entire time, even at the party. I didn't really enjoy myself and my little guy was obviously too young to know what was going on.

Birthday Party Planning Stress

At the end of it all, I was asking myself if all this stress was worth it.

To me, it was a resounding NO!

What's the point of a birthday party if you don't have fun? With so many people in attendance, I was running around making sure people were fed and comfortable so I couldn't really focus on the actual celebrating part.

Birthday Party Expenses

Today's fancy-pants parties don't come cheap. You will most definitely be spending a small fortune if you want all the fixings.

With a tight budget, we ended up spending a few thousand dollars on our first birthday party.

I imagine the lovely family vacation we could have taken instead.

I found that the costs of birthday parties today can quickly snowball out of control. Because of this, I did a lot of DIY when it came to the backdrop setup and decor.

This again, was super stressful and time consuming.

Kid's Birthday Parties are Overrated and Miss the Point

I think we are at the point where kid's birthday parties aren't even about them anymore. It's more about keeping up with everyone else.

Everyone today is trying to one up each other with crazy birthday party trends.

Showing your child how loved they are and how special they are doesn't mean having to throw excessive parties. I find that the kids don't really care about all the fancy decor and picture perfect cake.

They just want to have fun. Today's birthday's are more about getting the perfect shot for instagram and having your child pose for the umpteenth time next to their gloriously expensive backdrop. This is hardly what any kid would call fun.

My little guy wasn't having any of it! He was so over the photos about 15 minutes in. All our pictures are him flailing about.

Too Many Neglected Presents


I don't know about you, but in our house, space is limited.

We really don't need a ton more toys my kid isn't going to play with for more than 5 minutes.

I prefer a minimalist approach to toys because too many choices can be difficult and overwhelming for younger children.

Plus, they won't learn to value their things when they have them in excess. You throw one on the floor and move on to the next.
Then of course, the present exchange dance continues. You will forever be in a loop of attending and throwing birthday parties and giving and receiving gifts.

Birthday Parties for the Child with No Friends


What do you do if your child doesn't have a ton of friends?

We're still at the early stages and my little guy only has a handful of little friends so his birthday party would be mostly adults. I'm not sure how much fun that would be for him.

What about the shy or awkward school-aged child who doesn't have many friends? Having a birthday party where few or no kids show up could be just as painful to deal with so these birthday party alternatives could be just the right fix.

What to do instead of a birthday party?


I'm not saying you should never ever throw another birthday party again. I would probably venture to say I may throw another big party sometime in the future for a big milestone birthday (don't quote me on that though).

However, I'll be skipping the annual giant birthday bashes. Instead, we focus on fun activities we can do together and possibly have mini birthday parties with the immediate family and possibly a best friend or two.
There will, of course, still be cake and decorations and balloons but the focus is on the child, not a party so things don't need to be insta perfect.

I much prefer a no pressure birthday that celebrates the child.

One way to make your child feel super special is through creating birthday traditions that they look forward to every year, no party required because these are better!

Birthday Traditions To Make Your Child Feel Special

Here are a few birthday traditions you can start with your child to show them how truly special they are. These will quickly become family favorites that your children will look forward to every year.


Birthday Countdown



If your kiddo is like me, they will love a birthday countdown! You can use this super cute countdown clock, white board, countdown chalkboard or just a regular calendar to count down until your child's big day arrives.

They will love changing the numbers or crossing out the dates each day and it builds excitement leading up to their special day.

Decorate the House on Birthdays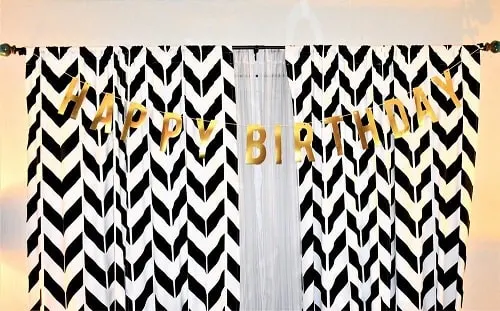 Just because you're skipping the party, doesn't mean you have to skip the decorations. I love to decorate the house the night before so the child can wake up to a birthday celebration.

I love hanging streamers from the door so they are hit with birthday excitement from the moment the wake up.

You can even tape the streamers like a web so your kids will have to break through them which is tons of fun!
Don't forget the birthday banner.

Growing up, we had this one multi-colored happy birthday sign and it was used for every single birthday for like 15 years. I always associate birthdays with that banner.

You can buy one or make your own and even add your child's name for a special touch. You can even get all-in-one decoration kits these days.

Birthday Number Helium Balloon


One tradition I wanted to start with my little guy was waking up to birthday balloons.We love getting helium balloons and include a number balloon to show how old they will be that year.

It makes for adorable photos that you can collect throughout their life.

Try out the customary number balloon in bed shot.

Bonus, kids love helium balloons and my little guy was occupied by his for days! It lasted almost 2 weeks!

I know these foil number balloons can be pricey when you buy them directly at the party supply store.

If you want to save a little cash, order the balloon separately ahead of time and just pay to have it filled.

Another bonus of buying ahead is having a wider selection to choose from. There are tons of sizes, colors and themes available.
Birthday Breakfast


What better way to start a birthday than with a birthday breakfast?

You can make your child's favourite breakfast whether it be pancakes, waffles or their favourite cereal.

If you really want to add some flare, you can even create a "design your own waffle/pancake station" with all the fixings like fruits, whipped cream, syrup and even sprinkles.
Why not use some fancy birthday cutlery too?

You can get disposable birthday cutlery at your local party store or reusable special birthday plates like this one with an insert for a candle. How cute is that?!

Birthday Interview

I think this is such a cute idea!

Basically, you do an annual interview with your kids, asking a series of questions every birthday and recording their answers. You can opt for a video interview and record the whole thing or do a traditional pen-and-paper style.

Collect them every year to create a wonderful keepsake for years to come.

You'll see how their answers change throughout the years which will be fun for you both to look back on.

If you're stumped on what kind of questions to ask I've included a free printable birthday interview in another post.

Measure Their Growth on a Growth Chart


Kids love to see how much they've grown and how tall they are now.

Make it an annual tradition to mark their growth chart every birthday and count how much they've grown.

I love this giant ruler one that you can hang on their walls.
Birth Story Memories


I love the idea of retelling the story of their birth on their birthdays.

I actually wrote a letter to my son before he was born outlining how I was feeling and all the things I couldn't wait to share with him.

This letter was added to a personalized keepsake box along with other items from his many "firsts".

Like, his first baby blanket, first hand print, a few favorite onesies and many other little trinkets I've saved along the way.

We love to read, On the Night You Were Born, and talk about that special night.
Birthday Present Scavenger Hunt


Another idea I love is going on a mini adventure to find your elusive birthday present.

You can start the hunt with the birthday breakfast where you present the first clue and have your kid solve fun riddles or answer questions to track down their presents.

I love including the whole family in this tradition so each person gets to present a clue or question.

If you need some gift ideas I have a list of non toy gifts that are super great and another list of practical and useful gift ideas for kiddos.

We have WAY too many toys that barely get used so these are great toy alternatives.

Special Birthday Wrapped Lunch


If your child is off to school on their birthday, have a special surprise lunch ready for them.

You can even wrap their lunch in gift wrap so it feels like a special treat.

Don't forget your special birthday card and maybe even a birthday cupcake.
Let them Eat Cake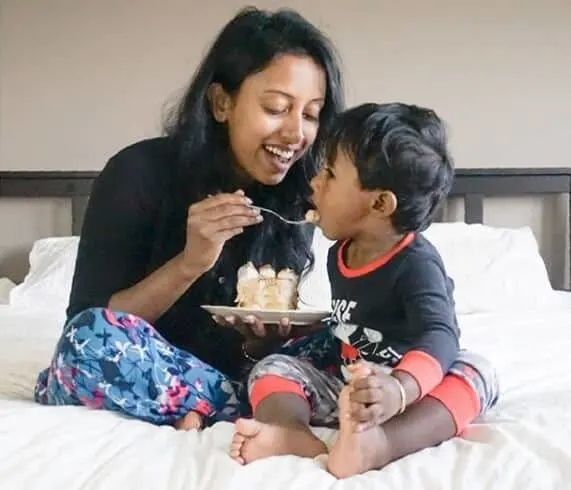 If there's one thing I can't live without on my birthday, it's cake. If there's an excuse to have some cake, I'll find it.

So one of my most favourite birthday rituals is to eat a piece of my birthday cake for breakfast until it's done!

LOL I get you probably won't want your kids eating too much cake so even just 1 day where they get to eat cake for breakfast is such a treat.
What I Love About You


Another special way to celebrate the birthday child is for everyone to share just what they love about the guest of honor.

You can do this during your birthday breakfast.

Go around the table and make a special birthday toast where each person adds something special about the birthday child or a special memory from that year about the birthday kid.

This could also be added as part of the birthday interview series too.
You've Got Mail


One of my favorite parts about my birthday growing up was receiving special birthday cards in the mail from relatives who lived overseas.

I loved them so much I saved them all.

Send your child a birthday card (you don't actually have to post it, just put one in the mailbox for them to go take out).

You could even include a special letter outlining all their greatest achievements or milestones from the past year.

Birthday Party Alternatives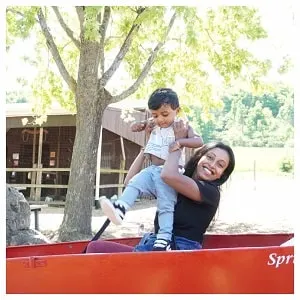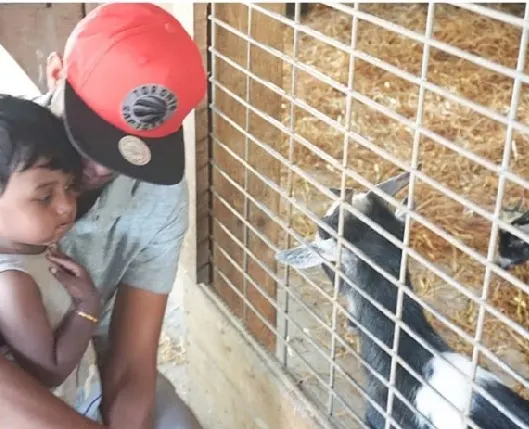 Now, for some fun ways to celebrate your child's birthday without a big party.

You know your child best, think about what things they love or places they enjoy visiting or activities they enjoy doing.

My little guy loves the farm so this year we took a trip to the farm with him and his best buddy.

It was a super simple low key birthday but it was all about him and he absolutely loved it.

Here are some activities you can do instead of having a birthday party.


Special Movie Experience with all the extras– let your child pick a movie they'd like to see and indulge in a VIP movie experience with a special dinner before the show (some VIP theaters even have a in movie dining plan) and let them get special treats like popcorn, candy and maybe even a cupcake


Go to an Amusement Park– does your child have a favourite amusement park? It would have been my dream come true to go to Disney World on my birthday. You can take your child and allow them to bring a friend for extra fun.


Visit the farm– for younger children, a trip to the farm could be an awesome party. Some farms host birthday parties and have some activities and games too


Go Bowling or Mini-Golfing– if you have a child that loves some competition, you can opt to do something active and fun like bowling, mini-golf, or archery tag


Laser Tag– this is a great one for lots of family fun that gets everyone active


Visit an arcade or carnival– if you have any local carnivals happening, that could be a great way to celebrate your birthday. If not, why not visit a play place or arcade.


Grant 3 wishes– if you're not sure just what your birthday prince or princess would love, give them a magic lamp and let them make 3 wishes for what they would like to do that day


Visit the Zoo or Animal Sanctuary– if you have a little animal lover, consider taking them to the zoo, animal sanctuary or petting farm


Birthday Sleepover– host a small birthday sleepover with your child's BBF or cousins. If that sounds too stressful, have a family Sleepover in the living room or backyard where the child gets to stay up late and do some fun family activities like board games.


Birthday Picnic– visit your child's favourite place (maybe a park)and have a fun birthday picnic. Don't forget the birthday crown.


Have a low-key get together– invite a few close family or friends over to sing happy birthday and cut cake together


Take a trip– take a family trip or weekend away to celebrate or even a day-trip or road trip


See a show– why not see a show, a play or a concert to celebrate?


Visit the aquarium– I've always loved all things under the sea. If you're little one is the same, take your little mermaid or merman on a trip to the aquarium


Visit a water park– the other thing I loved was all things water. If you've got a warm weather birthday, you can plan a beach trip. If not, you can plan a trip to an indoor water park


Go-Karting– if your little one is a little speedster, they may enjoy a day of go-karting or bumper cars


Hotel Day– plan a day of pampering at the hotel. Book an awesome room, eat room service, jump on comfy beds, order movies, the works! Have your little one feel like a superstar with a day at the hotel. Basically live out your "Home Alone" fantasies.


Day of Giving- teaching our children about gratitude and giving back can be a part of their birthdays too. Does you child have toys they can pick out that they would like to donate? Wrap some lightly used gifts to donate and reward their generosity by allowing them to pick a gift of their choosing on their birthday.


Cake Smash– if you've got a toddler and need a special way to celebrate their early years, plan a cake smash. I've got a great post with all the tips and tricks for an epic diy cake smash.

Making Kids Feel Special On Their Birthday


I don't believe indulgent birthday parties are a necessity to make a child feel special on their birthday.

You certainly don't need to break the bank and throw epic parties every year.

There are tons of fun and free ways to celebrate birthdays that kids love.

It's about making them feel extra loved and cherished so ditch the mom guilt and the extravagant birthdays if it stresses you out.

Make birthdays super special with memorable birthday traditions and activities.
What are your thoughts on parties? How do you celebrate? What do you do to make your child feel special? I'd love to know.

Leave me a comment 🙂