Fall lends itself so well to crafting because the colours are so bright, vibrant and beautiful. Pops of red, orange, yellow and brown bring us thoughts of cozy autumn days watching leaves fall while sipping apple cider. The beauty of fall inspired this fun and easy fall tree art project for my toddler.
We decided we would make a tribute to the beautiful autumn trees as they change colour and fall off. We gathered up our fall colours and a few items to paint our autumn trees with. You can always just use your fingers too! However, I know some children are sensitive about their sense of touch and the feeling of paint can be overwhelming. If this sounds like your little learner, you can opt to use something else instead of fingers, like: sponges, leaves, pine cones, a paintbrush, cotton balls or whatever else you may have around the house.
Pre-Activity Fall Reading about Leaves Changing Colour in Autumn
If you like, you can jump ahead and start the painting activity. However, I'm a teacher, so every activity comes with some learning objectives. This activity lends itself well to learning about colours, fall, trees and leaves. There are a bunch of wonderful books round these topics that you and your little one can read first to really learn while you play. I have a list of awesome fall books and activities with worksheets you can check out.
Here are a few great books for young learners that talk about autumn and trees and how the leaves change color and fall off.
Fletcher and the Falling Leaves by Julia Rawlinson
We're Going on a Leaf Hunt by Miki Sakamoto
Mouse's First Fall by Lauren Thompson
The Leaves on the Trees by Thom Wiley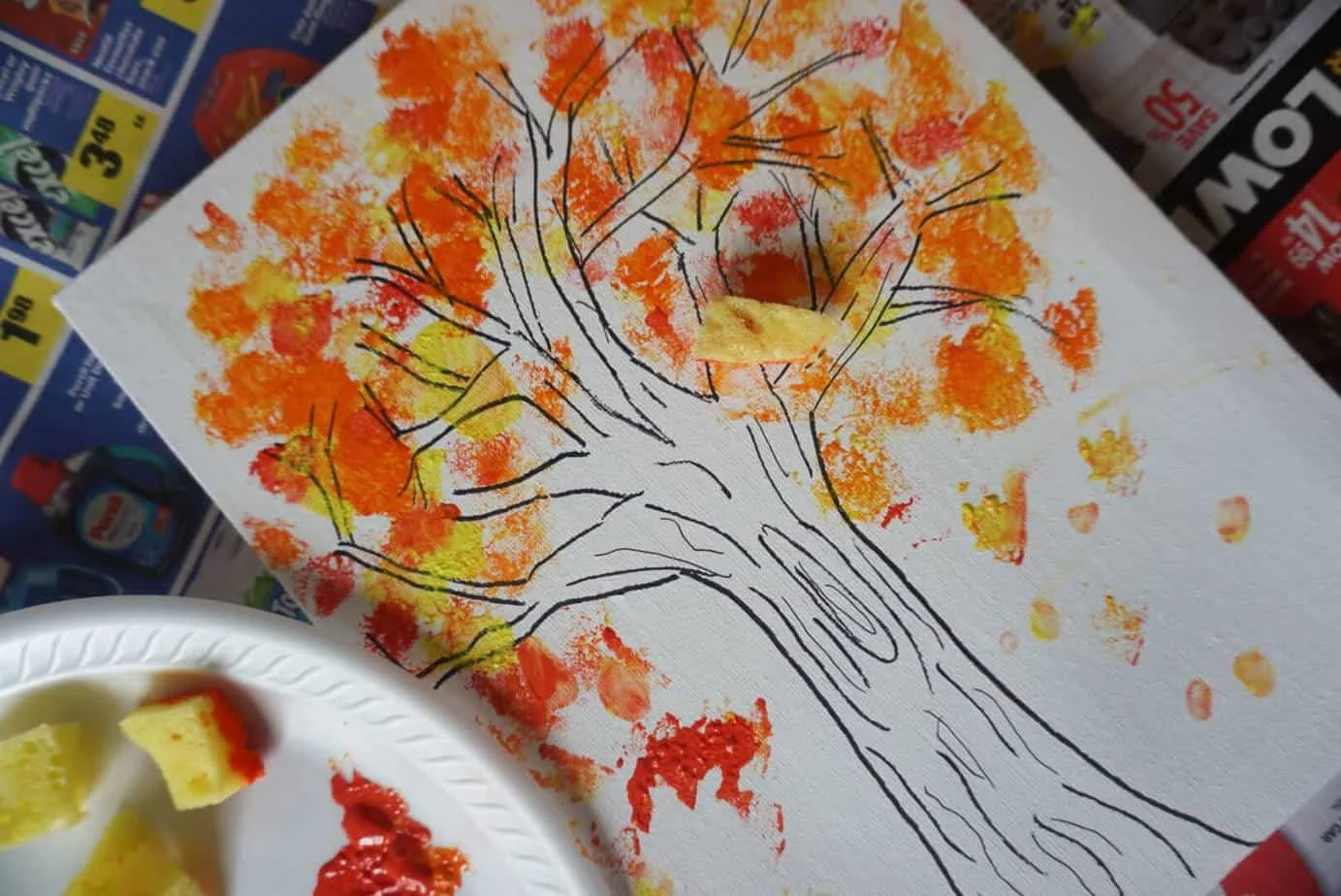 What Materials Do You Need To Make An Autumn Tree Painting Craft For Kids?




I wanted to make something nice that we could do together and hang up as decor for autumn so I opted for a small paint canvas from the dollar store but feel free to use paper instead.
As I mentioned earlier, you can either use your fingers to paint or make this a sensory play opportunity and use different items around the house to paint with. I find our little learners love this best. We ended up using our fingers as well as whatever else was within reach.
Paint Canvas or Paper
Newspaper or plastic table cloth
Non-toxic paint in fall colours (red, yellow, orange, brown)
Pencil
Marker & Sharpies
fingers
cotton balls
Q-tips
leaves
pine cones
sponges
straws
small potatoes or apples
tree craft template (optional free printable at bottom)
What Are The Instructions For Creating Your Autumn Tree Art with Toddlers and Kids
1. The first thing I did was draw the tree stump and branches using a pencil and added squiggly lines to create a bark-like texture.


Depending on the age of your little one, you may be able to let them draw it out themselves.

My little guy is only 2 so I drew the bark for him.

Another way to create the bark if you don't like to draw is to use construction paper and cut out a rectangle and glue it to your paper.

You would add branches in the same way with thinner rectangles.


2. Outline your tree bark and branches with a marker to make it really stand out.


3. Paint your tree bark and branches brown and let dry before continuing. If you rather not wait, colour in with markers or use construction paper.

If you aren't keen on cleaning up a giant mess after this activity, lay down newspapers or a disposable plastic table cover that you can toss once you're done.

Now for the fun part!
4. Have your little artist use their fingers and any other sensory items to dab the red, yellow, orange and brown paint to create colourful leaves on the trees.
You can also put blobs of paint and use a straw to blow the paint around creating beautiful designs.

5. Leave somewhere away from little hands so it can dry.

6. Once it's dry you have two options. You can leave your painting as it is. Or you can add some more detail like leaves and outlines of the edges of the tree with a sharpie like we did.


Now, proudly hang your little Picasso's masterpiece for all to see. Oohing and Aaahing is encouraged.


Alternative Fall Tree Painting Ideas



This autumn tree finger painting craft was such a fun and easy art project that even my 2 year old could do it with a little supervision. You can increase or decrease the level of assistance and complexity depending on the age of the child.

This tree art project is perfect for preschool all the way to grade school.

You can try different kinds of paints or other mediums instead like colored tissue paper.

Older children with better motor control can try a detailed painting by dabbing a q-tip in the paint and creating an autumn tree that way!

Another idea I had was to use a toilet paper role and bend the opening into a leaf shape. This can act as a leaf stamp.


The possibilities are endless

If you or your child aren't the most artsy, I've also included a free tree template at the bottom that you can print and paint as well.

If you're looking for more fall art ideas also check out these fun ideas at country living.

If you decide to recreate it, I would love to see your awesome fall tree art!

I would love to hear what kind of project you made or if you have some other ideas. Let me know in the comments.