UPDATED JUNE 13, 2020
Looking for a free printable summer bucket list for 2021?

Oh my goodness! How did June sneak up on us already?!

It's almost everyone's favourite time of year again (or at least the kids, anyway). That's right, time to welcome summer break! Two whole months of freedom! What in the world will you do with a house full of kids and two months off?
A little screen time is fine but I'm sure you don't want the kids staring at the TV in zombie mode or playing on their Ipads all day long.

How do you keep little hands entertained without an Ipad in hand though?

Well, I was thinking back to my own childhood before all the handy electronics made an appearance.
I remember lazy afternoons at the beach, slurping slushies, chasing butterflies and the sunshine.

I want to share more of those simple times with my little guy like the 90s kids of the past.

I've essentially created a list of every summer activity I ever did growing up.

You may not get though them all in one summer (especially with everything going on in the world right now) but it'll give you some fun ways to spend time together without a screen.


Disclaimer: as an Amazon Associate I earn from qualifying purchases. This comes at no extra cost to you.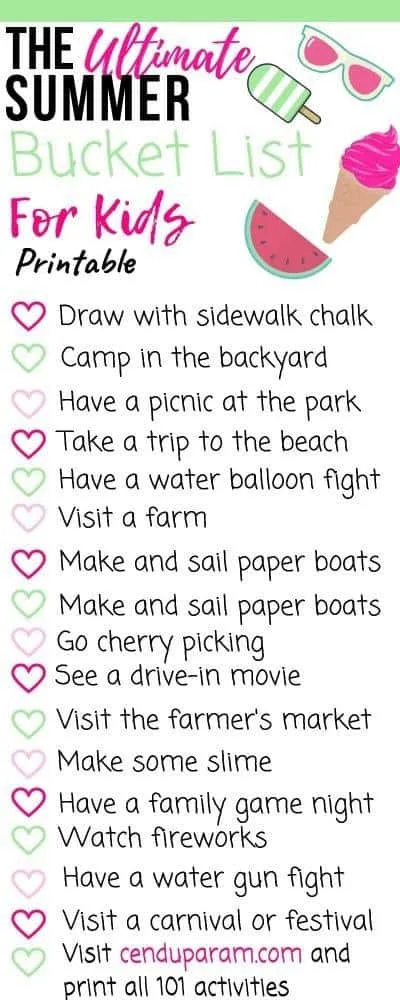 2020 ULTIMATE SUMMER BUCKET LIST PRINTABLE PDF FOR KIDS


1. Visit playgrounds you've never been to before

2. Plan a trip to the splash pad

3. Blow bubbles

4. Have a water balloon fight (these instant self sealing ones are awesome!)

5.Plan a trip to the Zoo ( or maybe a virtual zoo day because of current circumstances)

6. Have a sleep over

7. Camp out in the backyard and make smores

8. Take a trip to the beach

9. Build the ultimate sand castle

10. Go for a swim at the pool

11.Go to a drive-in movie or outdoor movie (or grab a projector and watch your own outdoor movie in the backyard with the stars!)

12. Have a water gun fight

13. Play in the sprinklers

14. Take a trip to the museum (or virtual museum tours this year)

15. Join the library's summer reading club or start your own!

16. Visit the aquarium (here's more virtual tours)

17. Watch or do fireworks (sparklers anyone)

18. Have a picnic at the park

19. Make sidewalk art with chalk

20. Play hopscotch

21. Skip rope or play double dutch

22. Collect and paint rocks

23. Have family game nights

24. Have family movie nights either at home or at the movies

25. Have an outdoor BBQ

26. Visit the farm

27. Go cherry or strawberry picking

28. Take a road trip

29. Play at the arcade

30. Go to a baseball game or better yet, play ball!

31. Create a lemonade stand

32. Go for a bike ride

33.Go rollerblading

34. Plan a trip to the farmer's market

35. Visit a night market or carnival

36. Make a craft or some slime

37. Bake cookies

38. Build a fort

39. Play board games

40. Parents say "YES" to everything day (use with caution LOL)

41. Visit a national park

42. Make ice cram at home or have an ice cream date at the ice cream parlor

43. Play hide and seek

44. Make and sail paper boats

45. Write and illustrate your own book

46. Attend an outdoor concert or festival

47. Have a scavenger hunt

48. Lay down on the ground and play " That cloud looks like…"

49. Look for stars and planets with a telescope

50. Make a pinecone bird feeder

51. Learn oragami

52. Make and eat Popsicles

53. Make your own pizza

54. Play capture the flag

55. Have a car wash

56. Have a paint night

57. Go to the library

58. Play card games like go fish

59. Fly a kite

60. Have a pillow fight

61. Play different versions of tag

62. Play mini golf

63. Plant a vegetable garden

64. Make a story with flashlight hand puppets

65. Pick flowers and make a bouquet to give someone

66. Buy ice cream from a truck

67. Visit a water park

68. Create art finger painting

69. Climb trees

70. Take a nature walk or hike taking pictures of local plants, bugs and animals

71. Do a science experiment

72. Write a letter to a pen pal or friend

73. Play with a Frisbee

74. Play on a slip and slide

75. Feed the ducks

76. Visit an amusement park

77. Take a camping trip

78. Raise a caterpillar into a butterfly with a kit like this

79. Go bowling (or lawn bowling)

80. Learn a new hobby or skill

81. Master the hoola hoop

82. Visit a flea market or garage sale

83. Take a fishing trip

84. Take a cottage trip

85. Make tie-dye shirts – this kit makes it easy

86. Ride a train or subway

87. Practice yoga

88. Have a dance party

89. Play charades

90. Play red rover

91. Take a trip to the mall

92. Make your own ice cram sundae

93. Visit a relative or friend (while social distancing of course so maybe a drive by with a sign)

94. Start a collection- Whatever you like: stickers, stamps, rocks, cards

95. Have a talent show with your family and friends (virtually – try zoom)

96. Make a summer memories scrapbook

97. Start a summer daily journal (my class loved these 3 minute gratitude journals I gifted them)

98. Make your own comic book (yup, there's a kit for that)

99. Be a super hero for a day (dress up and perform random acts of kindness)

100. Make a (youtube) video

101. Host a yard sale


SUMMER BUCKET LIST PDF


There you have it, 101 ways to occupy your little humans all summer long! I know you won't be able to do all of these things this year (I actually made this list last year when things weren't crazy) but there's still quite a few fun things you can do without even leaving your house.

I truly miss and long for the old days of simple summer fun where the fun relies on your imagination instead of electronics.

Go ahead and print out our bucket list below so you and the kids can get to work ticking off as many as you can this summer and then keep working on it every summer.

Let me know which ones were your favourite or if you've got some awesome ideas I've missed so I can add them to the list.

TO DOWNLOAD THE PDF